Rich, moist, and flavorful butter cake/pound cake infused with sweet tangy Mandarin oranges. The recipe doesn't require egg separation. All the tips you need to make this cake successfully at home.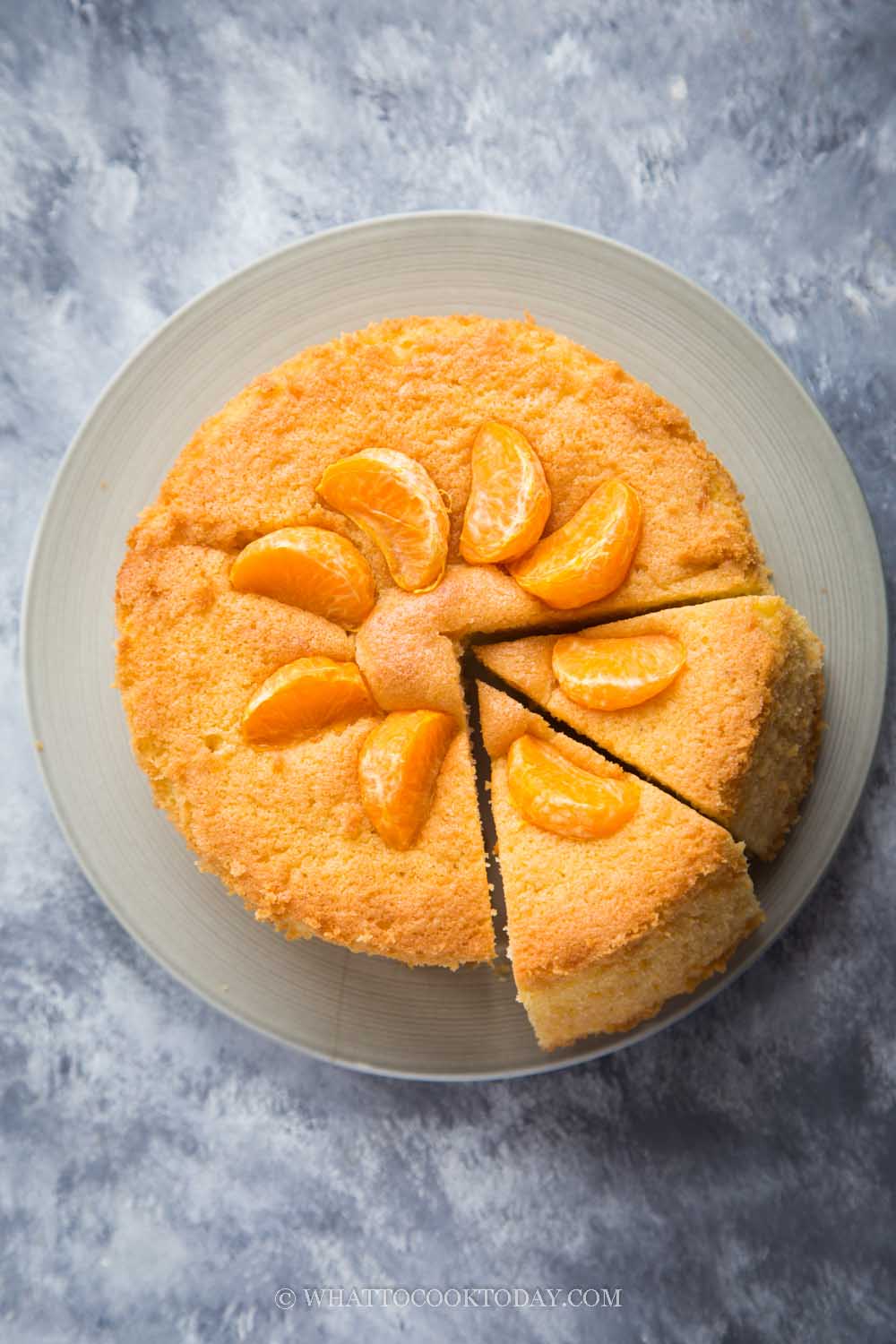 Sweet Mandarin orange and buttery moist cake, what not to love about that? I would have add chocolate too if I thought of it earlier. I love the combination of chocolate and orange too, but anyway, just the orange in the butter cake is really good too!
I made this Mandarin orange butter cake without using the egg separation method as I did with Mrs. Ng SK Pandan Butter Cake. I actually prefer the whole-egg method as it is simpler and I like a more "dense" (in a good way) traditional butter cake too.
The recipe rundown
Taste: Buttery with a nice amount of sweetness and a nice tang from the orange. It has enough orange flavor without adding any extract
Texture: Moist and dense crumbs
Difficulty: Medium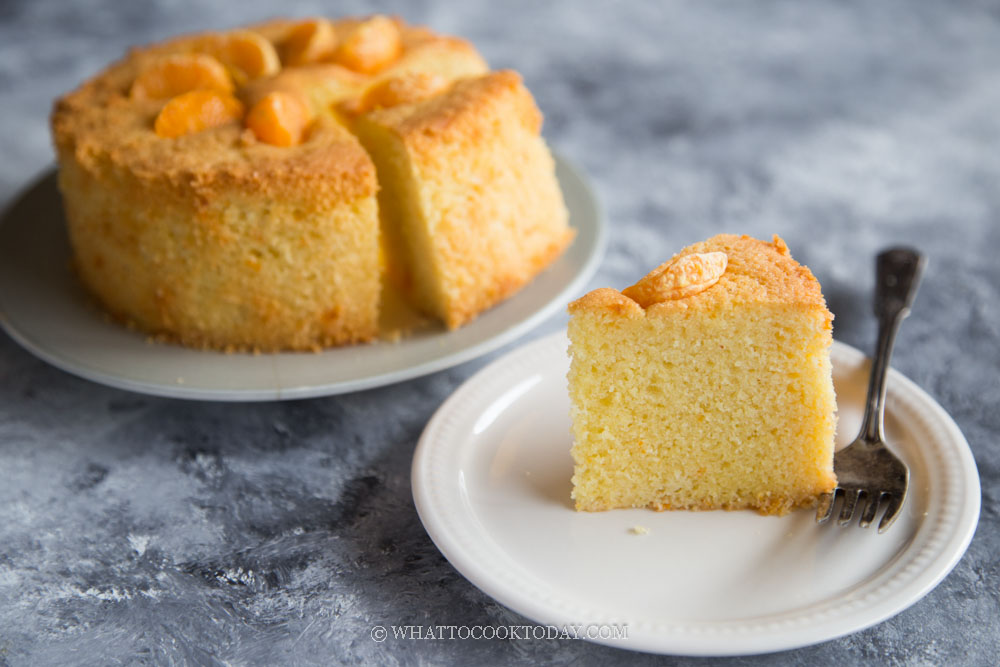 How to bake Mandarin orange butter cake
1.Peel one Mandarin orange. Remove the skin and then cut into small chunks. Set aside. Squeeze out about 50 ml of juice from another fresh Mandarin orange and zest 2 Mandarin oranges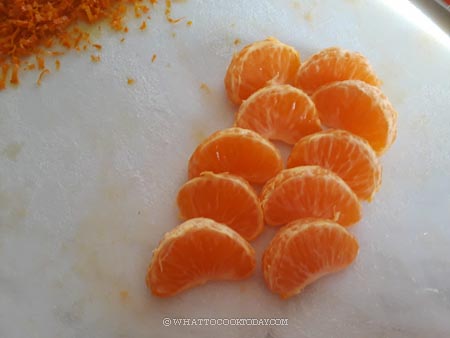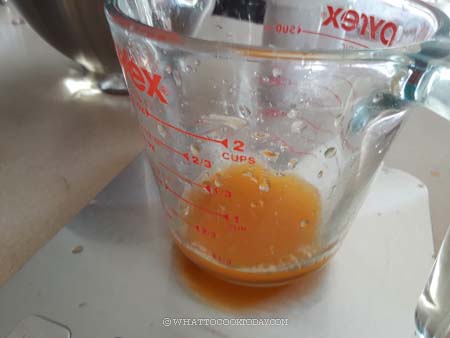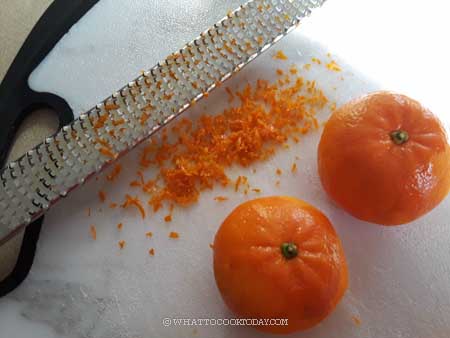 2. Crack eggs in a bowl and beat with a whisk to combine. Cream the butter and sugar until creamy, light, and fluffy with a stand mixer or hand mixer over high speed. The color turns pale too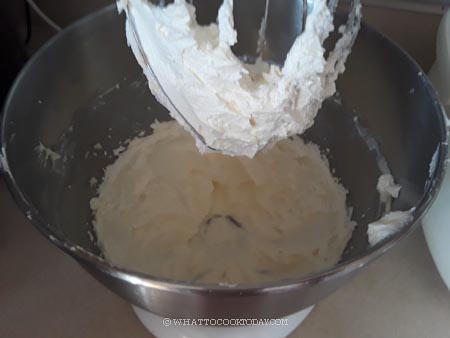 3. Then slowly add 1/3 of the egg and continue to beat until it's mixed before adding the next 1/3 until you run out of the egg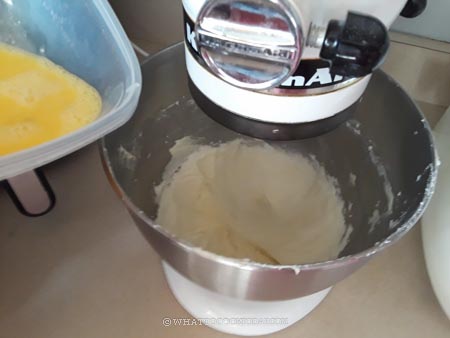 4. Add the orange zest. Sift in 1/3 of the flour mixture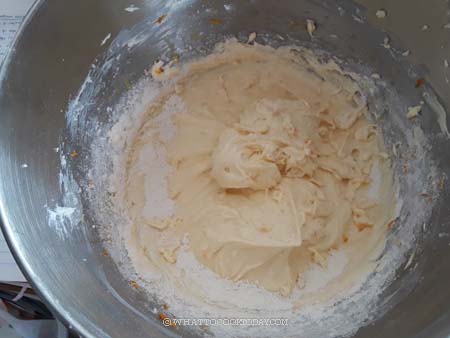 5. Mix over low speed and continue to add until you run out of the flour mixture. Add the orange juice into the cake batter and mix over low speed briefly to combine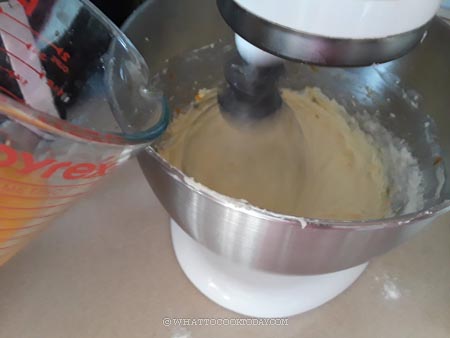 6. Fold in the fresh orange cubes you cut earlier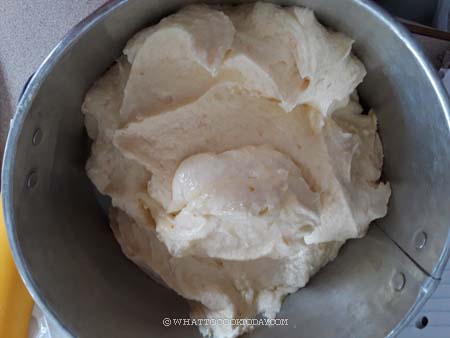 7. Pour the batter into the prepared pan. Decorate the top with orange segments, about 8-10 slices are good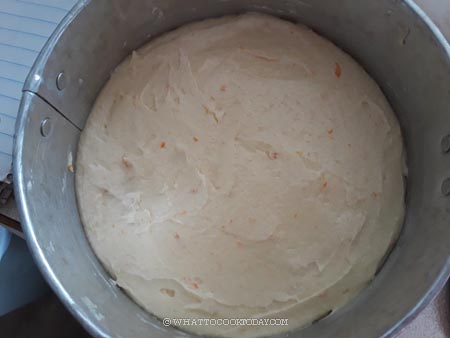 8. Place the cake pan in the middle rack. Bake at 350 F (180 C) bottom heat only or 340 F (170 C) top and bottom heat for 50-55 minutes or until golden brown and a cake tester inserted comes out clean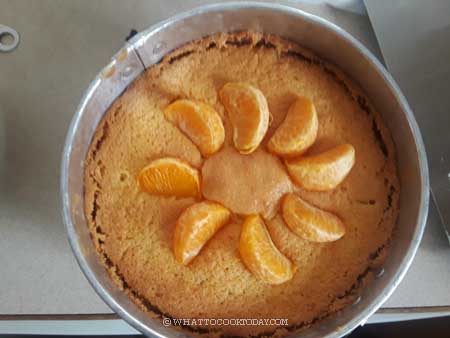 Size and types of pan you can use for this recipe
1. Loaf pan
My loaf pan measures 8.5 x 4.5 inches at the bottom and 9 x 5 inches at the top part. The height is 2.5 inches. So it's not a perfect rectangle. So, I think I better list it as 9 x 5 loaf pan instead of 8 x 4 inches like I did before to prevent overflowing of batter in the oven!!
2. Bundt pan
This recipe can fit into 10-inch (8 cups) bundt pan
3. Square pan
You can also use 8 x 8 inch pan with at least 2.5 inches height
4. Round pan
You will 9 inch round pan with at least 2.5 inches height
Important tips
1. The butter needs to be soft but not melty. This is very important to get a good butter cake. You can also try to cream the butter and sugar over a bowl of ice cubes if it's really hot where you are
2. Whisk the eggs until combined before adding into the batter, instead of cracking one egg at a time into the batter to mix works much better
3. It is important not to overmix the flour
Serving suggestions
It is best to serve the orange butter cake the next day (at least 24 hours). The flavor has time to develop and the cake will be pleasantly moist and dense like how butter cake is supposed to be
How to store
1. Let the cake cools down completely on a wire rack
2. Wrap it with a cling wrap and it can be stored at room temperature for 2-3 days
3. You can keep it in the fridge in an air-tight container for no more than 3 days. The longer you keep them in the fridge, the drier they get. When ready to serve, let it sits at room temperature and the cake will soften as the butter softens
4. For longer storage, freeze the cake by wrapping it tightly with a cling wrap and put inside a freezer bag. It can be kept for up to 1 month. When ready to serve, let it sits at room temperature and the cake will soften as the butter softens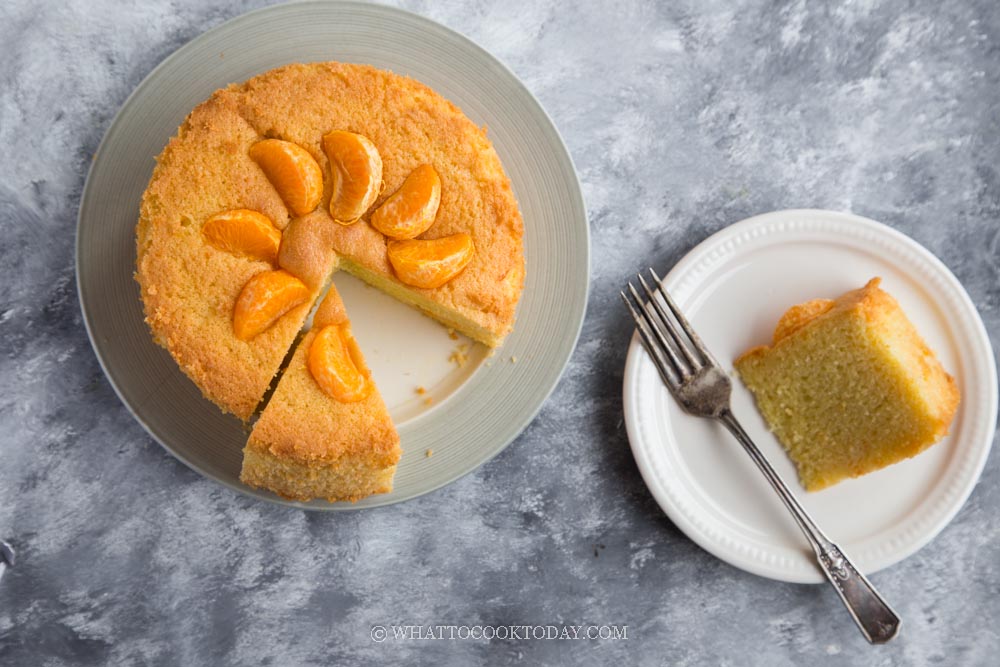 Did you make this Mandarin orange recipe?
I love it when you guys snap a photo and tag to show me what you've made 🙂 Simply tag me @WhatToCookToday #WhatToCookToday on Instagram and I'll be sure to stop by and take a peek for real!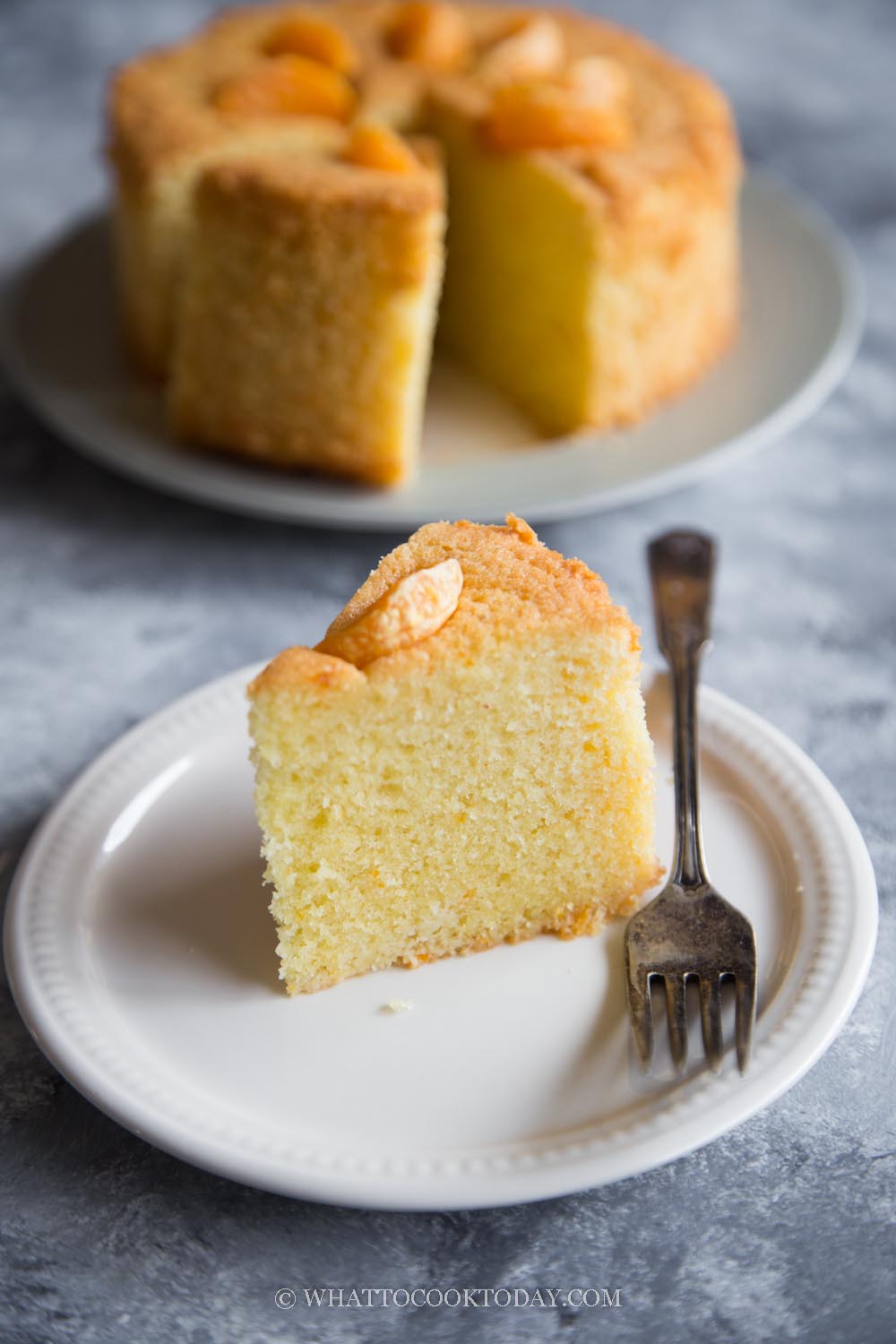 You may also like these butter cakes
Mandarin Orange Butter Cake (No Egg Separation)
Ingredients
200

gr

butter

softened

130

gr

granulated sugar

4

large

eggs

room temperature, about 58-60 grams each with the shell

50

ml

Mandarin orange juice

1

Mandarin orange

Zest from the 2 Mandarin oranges
For decorating:
12

slices

Mandarin orange segments
Instructions
Line the bottom of the pan with parchment paper. Preheat oven at 350 F (180 C) for conventional oven (bottom heat). For convection oven, you can try 340 F (170 C)

Peel one Mandarin orange. Remove the skin and then cut into small chunks. Set aside. Squeeze out about 50 ml of juice from another fresh Mandarin orange
Prepare cake batter:
Mix the flour, salt, and baking powder. Set aside

Make sure the butter is soft but not melty. You can easily push it with your finger. If it's melty, put it in the fridge for a bit but not too long that it becomes cold solid again

Crack the eggs in a bowl and whisk them. Set aside. It's better to do this than cracking an egg one by one into the cake batter later. The eggs incorporate into the batter much better

Cream the butter and sugar until creamy, light, and fluffy with a stand mixer or hand mixer over high speed. The color turns pale too. Then slowly add 1/3 of the egg and continue to beat until it's mixed before adding the next 1/3 until you run out of the egg

Add the orange zest. Sift in 1/3 of the flour mixture and mix over low speed and continue to add until you run out of the flour mixture. It's okay if it's not thoroughly combined yet at this point

Add the orange juice into the cake batter and mix over low speed again to combine. Fold in the fresh orange cubes you cut earlier with a rubber spatula and if you still see any loose flour, you can gently fold it in until combined

Pour the batter into the prepared pan. Decorate the top with orange segments, about 10-12 slices are good
Baking:
Place the cake pan in the middle rack. Bake for 50-55 minutes or until golden brown and a cake tester inserted comes out clean. The time is just for reference. Your oven may need shorter or longer time. You can start checking at about 50-minute mark
Serving:
The butter cake is not meant to be served on the same day. I suggest let the cake cools down completely and then wrap it up with a cling wrap and keep at room temperature for 24 hours before serving (trust me, it worth the wait). The cake will be moist and develop a full flavor after 24 hours and longer
Recommended products:
Nutrition
Serving:
1
slice
|
Calories:
250
kcal
|
Carbohydrates:
25
g
|
Protein:
4
g
|
Fat:
15
g
|
Saturated Fat:
9
g
|
Polyunsaturated Fat:
1
g
|
Monounsaturated Fat:
4
g
|
Trans Fat:
1
g
|
Cholesterol:
98
mg
|
Sodium:
228
mg
|
Potassium:
58
mg
|
Fiber:
1
g
|
Sugar:
12
g
|
Vitamin A:
567
IU
|
Vitamin C:
2
mg
|
Calcium:
39
mg
|
Iron:
1
mg