Mashed fried plantain and black-eyed peas or known as adalu in Ghana, is popular staple as how normally rice is eaten with other dishes.
Plantain is considered one of the important staple foods in Africa. Plantain has different taste and texture with banana. While banana is sweet, plantain is not and it is more firm to compare to banana. Unlike banana, plantain needs to be cooked before consumption.
The South of Sahara cookbook suggested to serve this mashed fried plantain and black-eyed peas with Sunday stew. I mentioned before in previous post that I like eating this mashed fried plantain and black-eyed peas on its own without the stew, but this is just my personal preference.
The mashed friend plantain and black-eyed peas are slightly sweet and salty, which is really nice. My husband said "this maybe good with ice cream too" hmmm….. I'll let him try and let me know how it's like!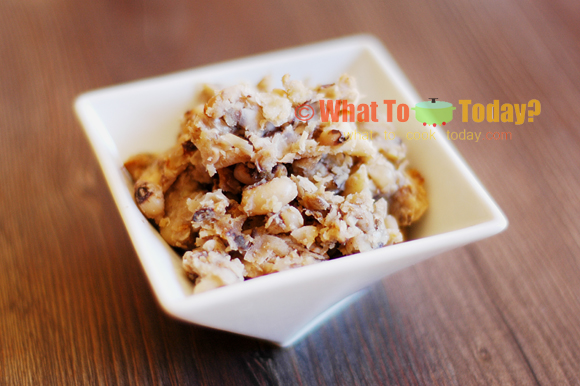 I highly encourage to weigh ingredients with a digital kitchen scale instead of using measuring cups as they are not very accurate especially when it comes to recipe that requires precision.
GRAMS TO CUPS CONVERSION (UNSIFTED)
INGREDIENTS
1

cup

*200 gr) dried black-eyed peas

-

, soaked overnight, or 1 can cooked

2

ripe plantains

-

(yellow with black spots)

1/2

tsp

ground red peppercorns

1

tsp

salt

2

Tbsp

palm oil or peanut oil
INSTRUCTIONS
Cover the black-eyed peas with water in a medium saucepan and bring to a boil. Simmer about 45 minutes or until they are soft. Drain. If you are using canned peas, simply drain

Peel plantain by cutting through peel with a sharp knife lengthwise, then slide your fingers underneath to pull it off. Slice in rounds and place in saucepan with enough water to partially cover. Bring to a boil and simmer about 20 minutes or until very soft and mashable. Drain

Mash peas and plantains together coarsely in a medium sized bowl. Add ground red pepper, salt and mix well

In a medium skillet, heat the oil. Add the mashed pea mixture and stirring occasionally, about 10 minutes