If you like soft and chewy oatmeal cookies, you will absolutely want to make this matcha oatmeal chocolate chunks cookies. They are as good as it sounds!!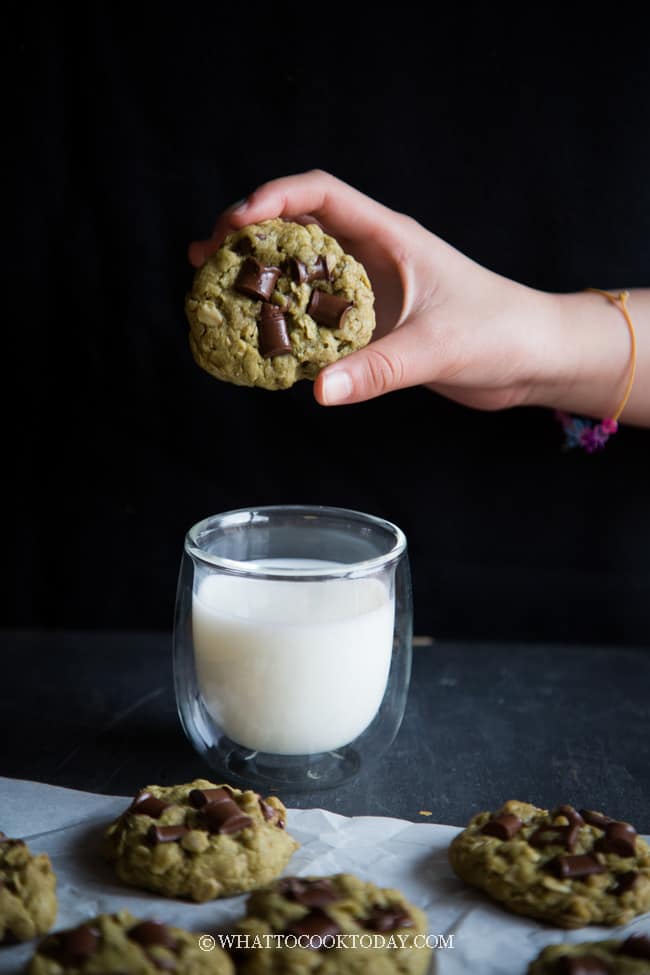 WHY YOU NEED THIS OATMEAL CHOCOLATE CHUNKS COOKIES IN YOUR LIFE
I know there are probably millions of oatmeal chocolate chunks cookies recipes out there, but I can tell you this soft and chewy matcha oatmeal chocolate chunks cookies should be in your recipe archive. I don't bake cookies often, but when I do, I need to make sure they worth every darn calorie!! These cookies are soft, slightly chewy, mild matcha flavor infused into the cookies (you can omit matcha too if it's not your cup of tea), gooey melty chocolate chunks in every bite, and good old fashion oats in there give a nice balance of chewiness. I simply cannot be responsible if you end up overeating these cookies like I did!!!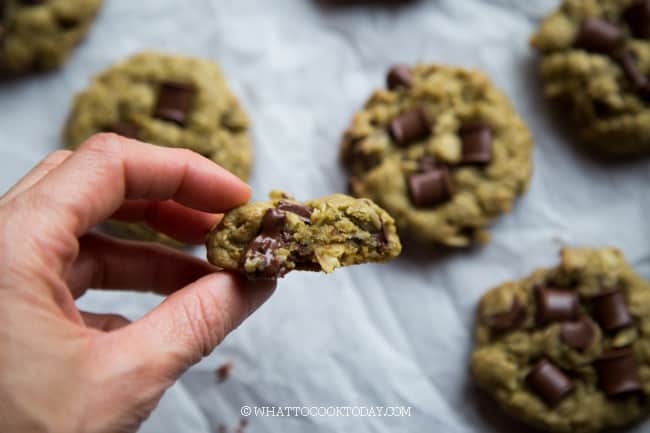 WHY YOU'LL LIKE THIS RECIPE
1. EASY NO FUSS RECIPE
It's truly no fuss and even for a horrible baker like me to be able to pull this off and to tell you that you need these cookies in your life, means you can do it too.
2. TASTE SO DARN GOOD
Yes, I've said that, but this should be enough of a reason to even bake these cookies. You won't regret it!
3. CAN BE MADE AHEAD
I freeze some of the cookie doughs and we can have freshly baked cookies anytime we want them (as dangerous as it sounds to the waistline, there's no stopping us!)
My husband says there is a delivery service for freshly baked cookies anytime you want them, even at 2 am in the morning! Well, you too can have that at home and it's not going to cost you $10 for freshly baked cookies! (plus getting to smell them too when they are baking!)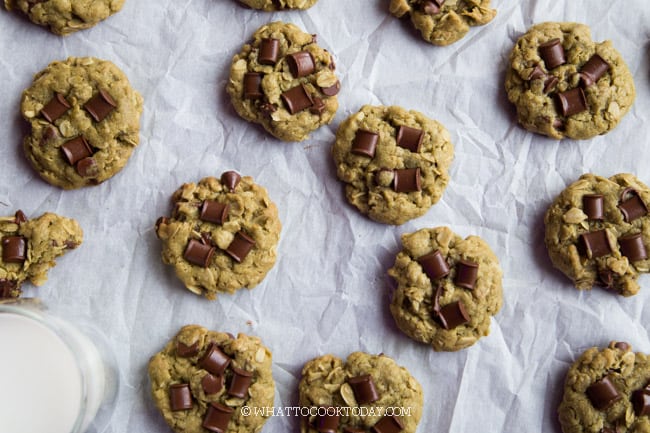 INGREDIENTS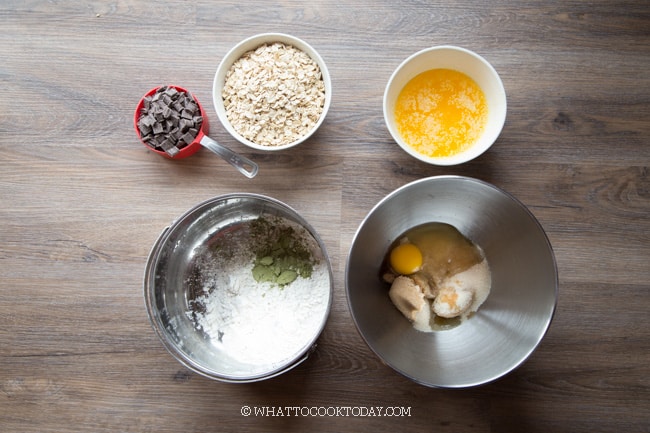 You probably have most of the ingredients in your pantry already. Matcha powder may not be in everyone's pantry, but as popular as it is these days, the majority of people have it. If you don't or if you don't like it, simply omit it!
You will need: semi-sweet chocolate chunks, raw oats, dry ingredients (flour, baking soda, salt, matcha powder), wet ingredients (brown sugar, granulated sugar, egg, vanilla, melted butter)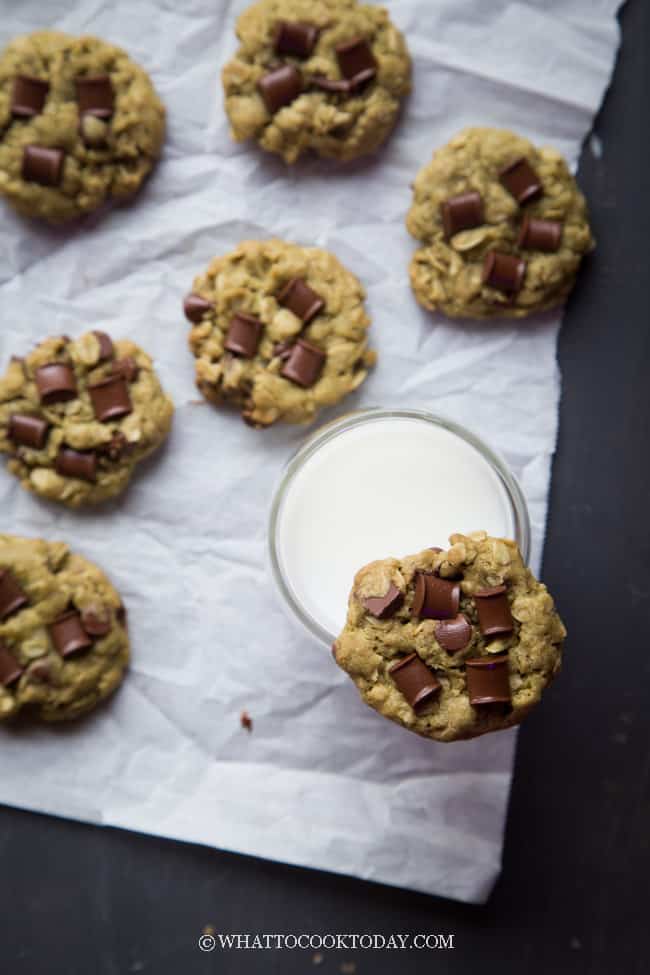 WHAT KIND OF OATS TO USE
Please use old fashion oats. This gives a nice chewy texture to the cookies. I will not recommend using quick-cooking oats as they are cut thinner so they cook faster and the texture of the cookies won't be as nice. Steel-cut oats are too tough for these cookies (my kids hate steel-cut oats lol!)
HOW TO MAKE SOFT AND CHEWY MATCHA OATMEAL CHOCOLATE CHUNKS COOKIES
Okay, enough of typing! Let's get to how to easily make these cookies shall we?
1. Mix the dry ingredients
In this case: all-purpose flour, baking soda, salt, matcha powder. Whisk them to combine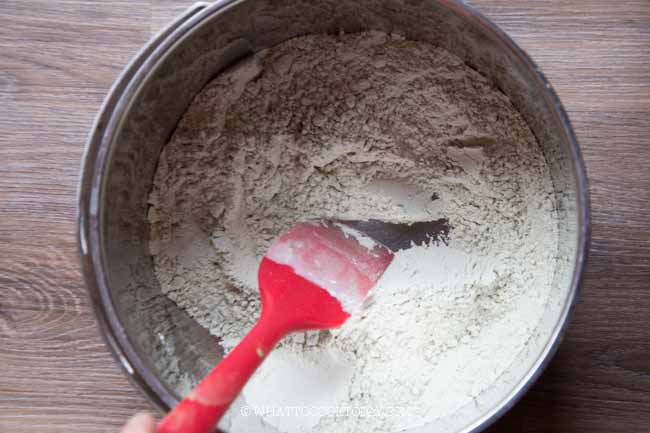 2. Mix the wet ingredients
In this case: brown sugar, granulated sugar, vanilla extract, egg. Whisk them to combine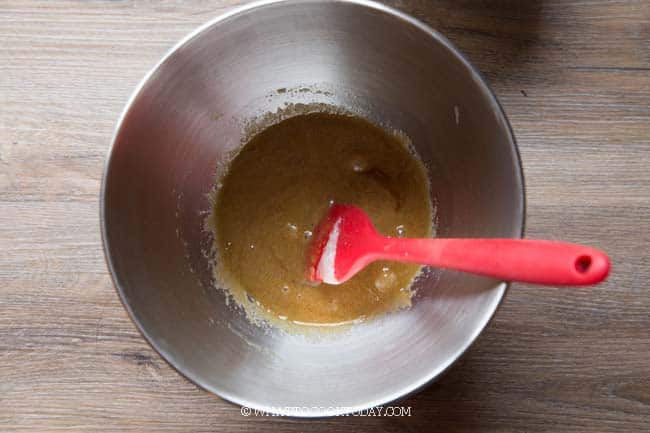 And then add in the melted butter and stir to combine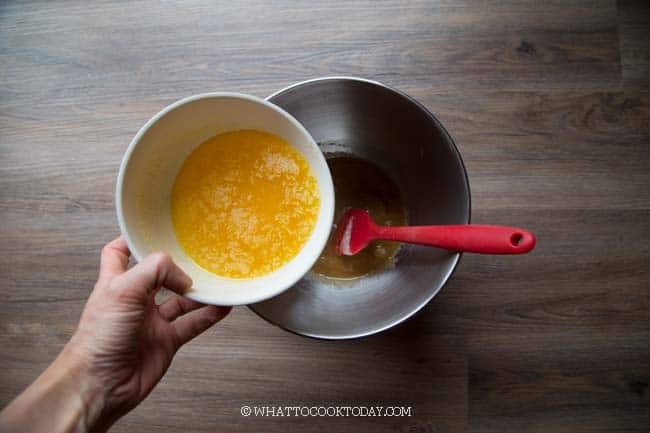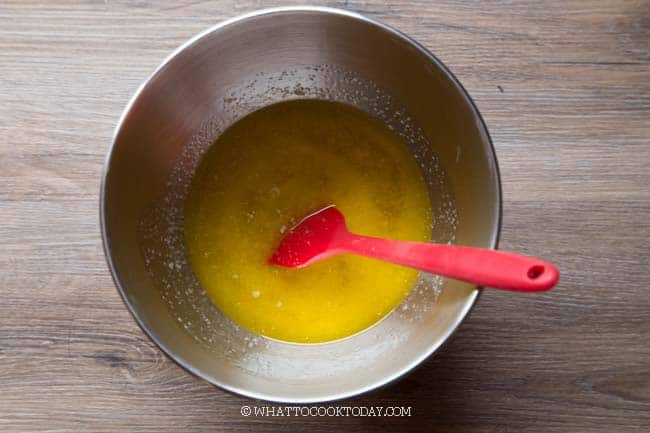 3. Fold in the dry mixture to the wet mixture
Stir in about 1/3 and then combine and then another 1/3 and so on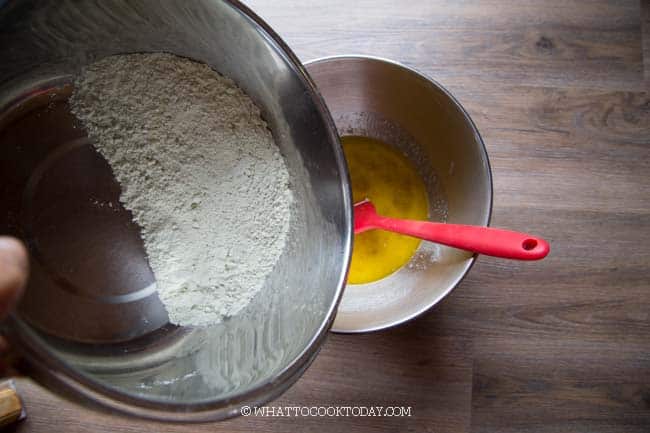 Stir until combined. Take care not to over stir too much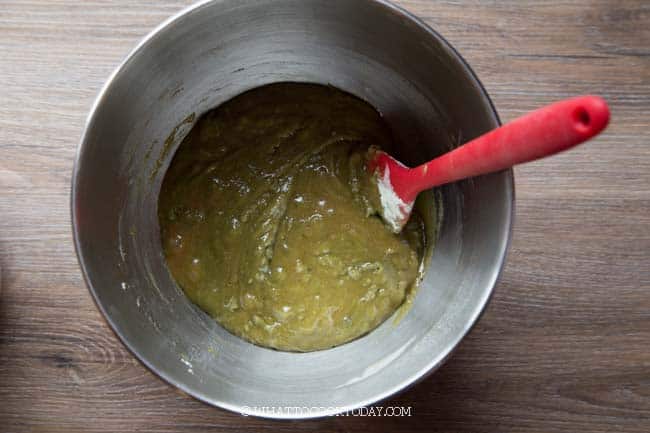 4. Fold in the raw oats
Gently stir to combine the oats into the cookie batter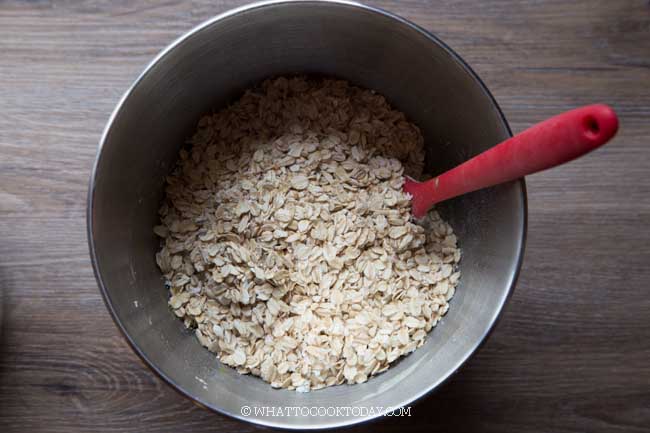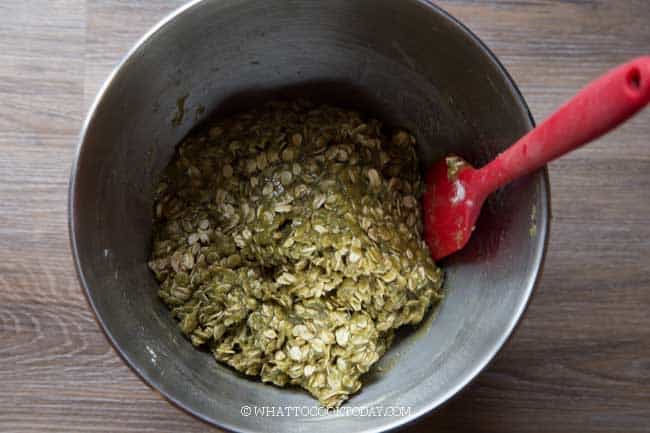 5. Add chocolate chunks and/or chips
Gently stir to combine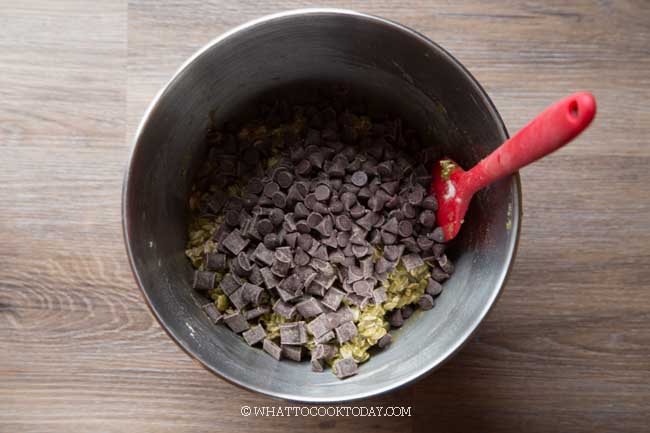 6. Shape the cookie dough
I use a small cookie scoop to do the job. You can just pinch off the dough and roll into a dough ball. You can make the cookies larger too if you like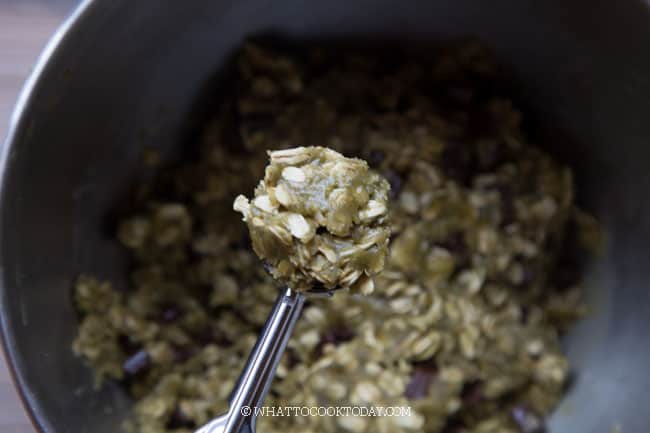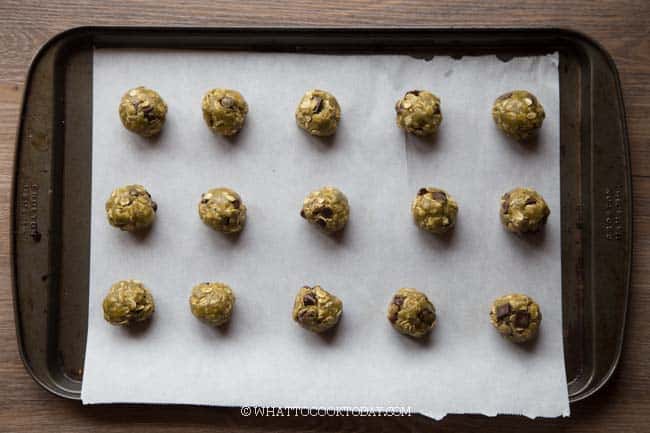 Then slightly flattened the cookie doughs with your palm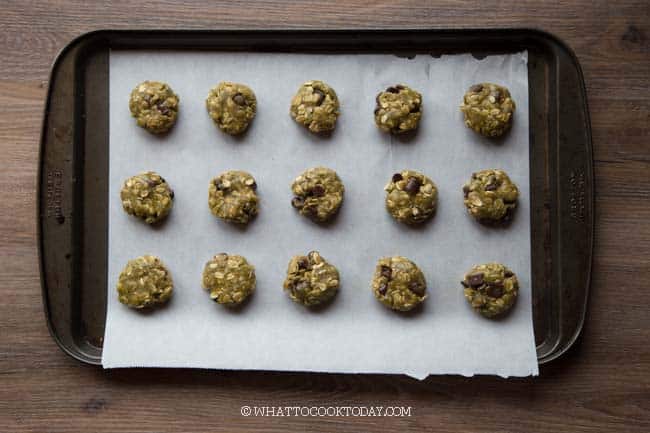 7. Chill the cookie dough
The purpose of chilling the cookie dough is so that the cookies won't spread out too much when they are baked. Chill them in the refrigerator for 30 minutes to 1 hour if you have the time. I did 1 hour
8. Bake the cookies
Preheat oven at 350 F. Place the baking sheet 3rd rack from the top and bake for 12 minutes
9. Dot with MORE CHOCOLATE chunks!
Remove from the oven and dot with more chocolate chunks when they are hot. Let them cool down on the baking sheet for 5 minutes
Transfer to a cooling rack to let them cool down completely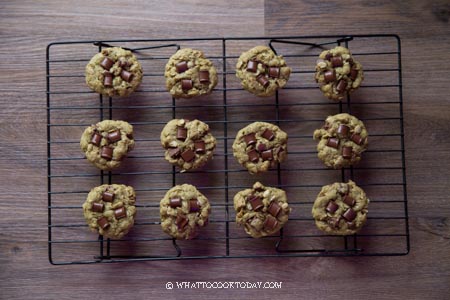 And there's all to that! Now you can binge eating these cookies says no one ever!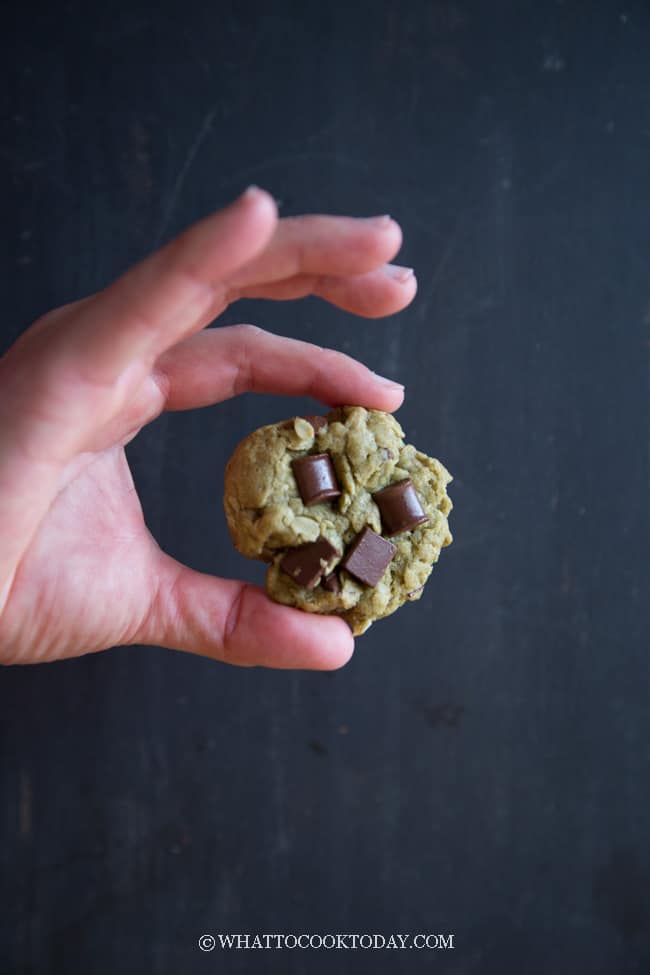 BAKING WITH OIL INSTEAD OF BUTTER
If you do not want to use butter, I've measured the amount of melted butter in weight and you can simply substitute that with healthier cooking oil like olive oil, avocado oil, grapeseeds oil, or other oil of your choice.
Here are few things to note when baking with oil :
1. Baking time
Baking time will be a bit shorter compared to if you use butter. With 12 minutes baking time, it will be soft and chewy if you use butter, but with oil, they will be crispy. You can try between 8-10 minutes and see. Bake them just until they turn slightly golden on the edge but may still appear to be very very soft in the middle (no worries, they will continue to "cook" even after you pull them out from the oven).
2. Flavor
Flavor will not change dramatically, well if you are a true hard-core maybe you can tell, well, no flavor of butter 🙂
3. Texture
If you use oil, when you crack the cookies opened, the inside may appear a bit "oiler" but not in a bad way, just so you know
HOW TO FREEZE AND BAKE COOKIE DOUGH
1. Once you've shaped the cookies, place them in the freezer for 1 hour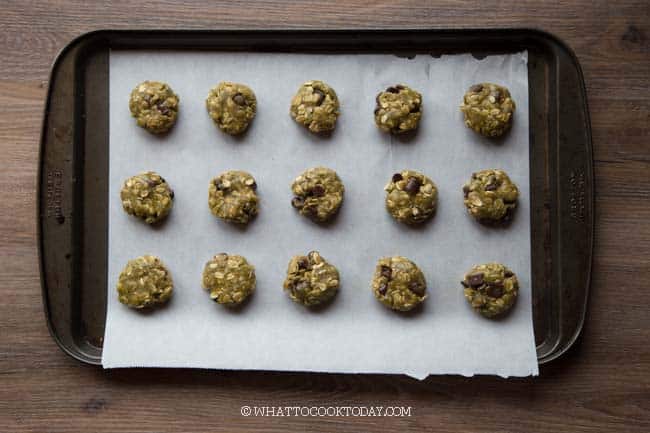 2. Transfer to a freezer bag and they won't stick to each other anymore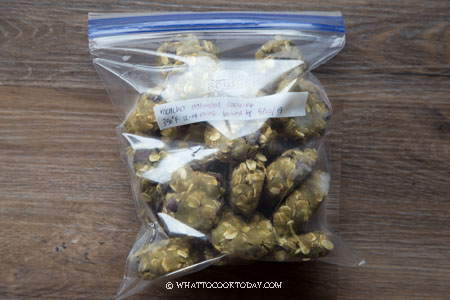 3. To bake cookies, you don't have to thaw. Simply preheat oven at 350 F and add additional 1-2 minutes (depending on how large your cookies are) of baking time. So in this case, about 13-14 minutes.
Now, let's have some cookies!!! and don't even try to resist!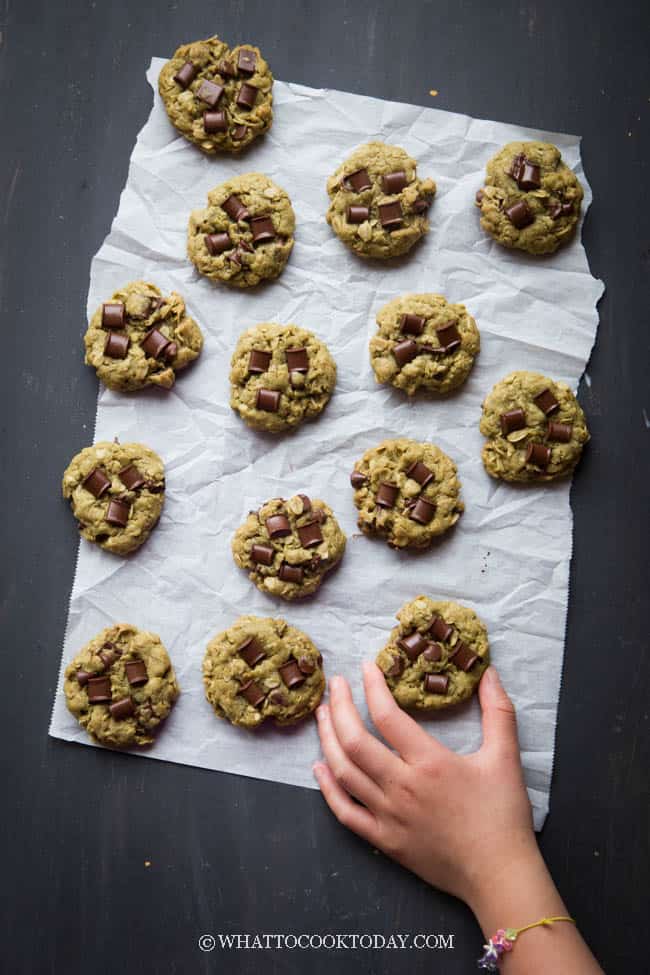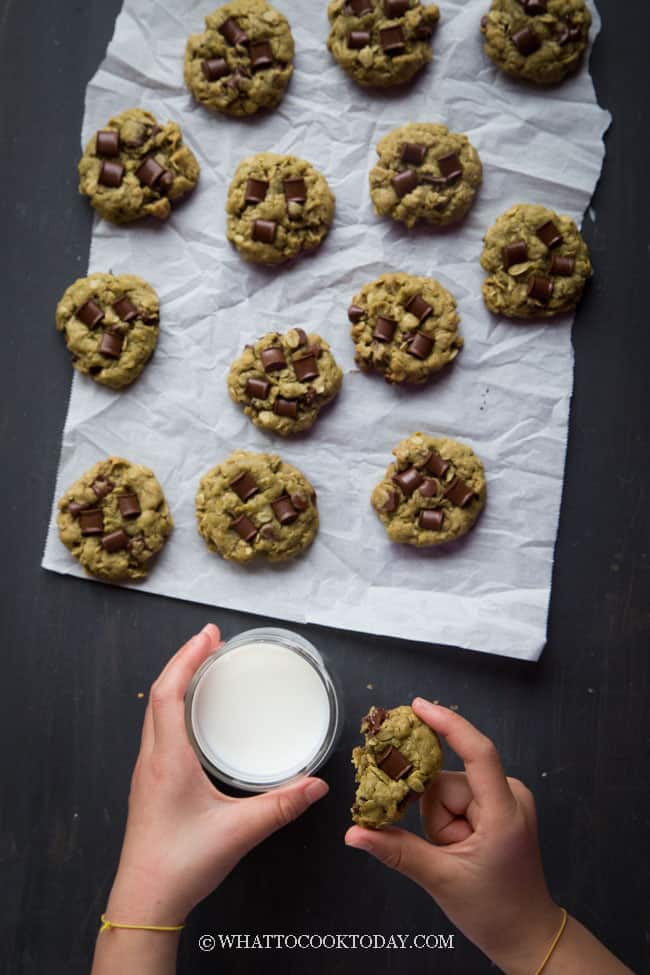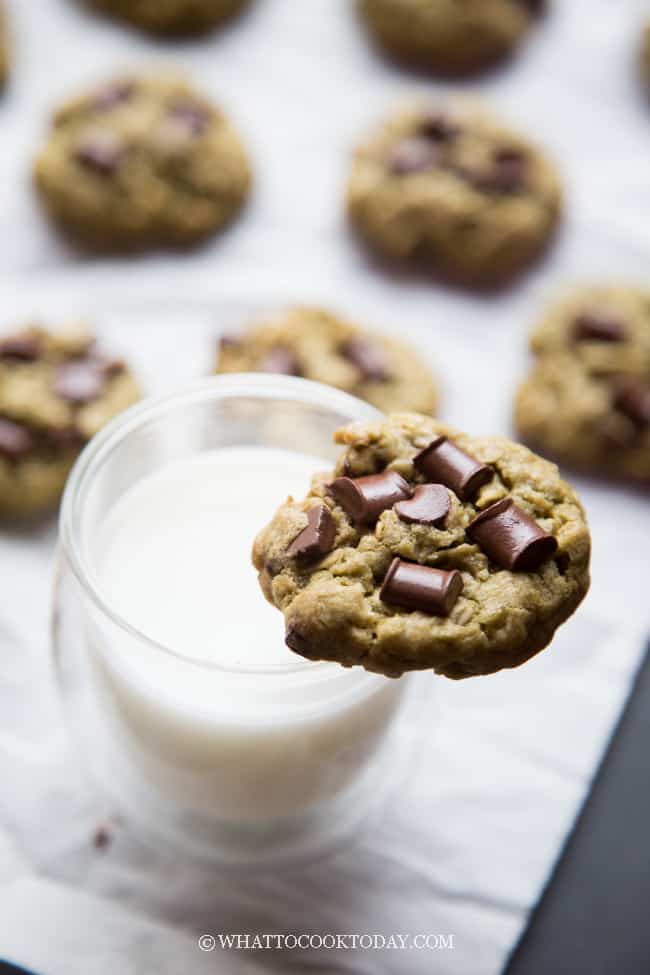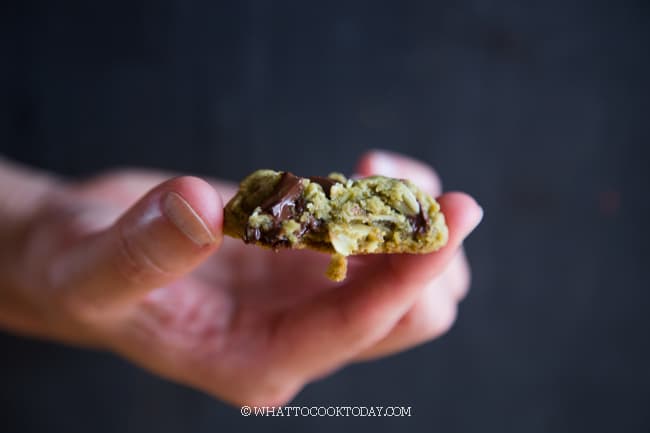 Soft Chewy Matcha Oatmeal Chocolate Chunks Cookies (Simply The BEST!)
Ingredients
Wet ingredients:
170

gr

butter (before melting)

before melting, see notes 2

140

gr

light brown sugar

55

gr

granulated sugar

see notes 1

1

Tbsp

vanilla extract

1

large

egg (room temperature)

from 58-60 grams with the shell, beaten

235

gr

old-fashioned oats

don't use instant oats or quick-cooking oats

210

gr

semi-sweet chocolate chunks or chips or both

or you can use white chocolate chips too
For dotting the cookies:
85

gr

semi-sweet chocolate chunks

you can definitely add more if you want more chocolate chunks
Instructions
Mix dry ingredients:
Combine all-purpose flour, baking soda, salt, matcha powder. Whisk them to combine
Mix wet ingredients:
Combine brown sugar, granulated sugar, vanilla extract, egg. Whisk them to combine
Fold in the dry mixture to the wet mixture:
Stir in about 1/3 of the dry ingredients into the wet ingredients and then combine and then another 1/3 and so on


Stir until combined. Take care not to over stir too much

Gently stir to combine the oats into the cookie batter

Add chocolate chunks and/or chips

Gently stir to just combine
Shape the cookies:
Line a baking sheet with parchment paper. I use a small cookie scoop to do the job. You can just pinch off the dough and roll into a dough ball. You can make the cookies larger too if you like

Scoop the cookie dough and place on baking sheet about 1 1/2-2 inches apart

Then slightly flattened the cookie doughs with your palm. Chill the cookie dough in the refrigerator for at least 30 minutes to 1 hour
Bake the cookies:
Preheat oven at 350 F. Place the baking sheet 3rd rack from the top and bake for 12 minutes. If you are using cooking oil, reduce baking time to 8-10 minutes or bake just until the edge started to brown but the middle still seems very soft for soft gooey texture. 12 minutes will give you a crispy light texture if that's what you prefer

Remove from the oven and dot with more chocolate chunks when they are hot. They will still be very soft. Let them cool down on the baking sheet for 5 minutes and then transfer to a cooling rack

Transfer to a cooling rack to let them cool down completely
Notes
I don't like my cookies to be too sweet, but you can definitely increase the amount of sugar up to 1/2 cups (110 gr) if you like sweets.
The recipe calls for 3/4 cup solid butter. You can substitute with 1/2 cup + 1 Tbsp of cooking oil like olive oil (not extra virgin olive oil), avocado oil, grapeseeds oil, etc instead 
Nutrition
Serving:
1
small cookie
|
Calories:
142
kcal
|
Carbohydrates:
18
g
|
Protein:
2
g
|
Fat:
7
g
|
Saturated Fat:
4
g
|
Trans Fat:
1
g
|
Cholesterol:
10
mg
|
Sodium:
64
mg
|
Potassium:
79
mg
|
Fiber:
1
g
|
Sugar:
8
g
|
Vitamin A:
125
IU
|
Calcium:
13
mg
|
Iron:
1
mg