Delicious noodle and seafood served in rich coconut milk broth is one of the city of Palembang's signature noodle dishes.

The city of Palembang is located in South of Sumatra island and known for its seafood dishes like pempek Palembang and this mie celor. Celor or celur means blanching. The ingredients are basically blanched before all put together and served in rich coconut milk and shrimp shells stock. The base of the broth is made with shrimp stock. It is very similar to mie rebus Medan, but mie celor also has beaten eggs stirred into the broth, making it similar to egg drop soup.
TYPE OF NOODLE TO USE
Mie celor is usually served with egg noodles, but you can certainly use spaghetti or fettucini noodles or other eggless wheat noodles.
HOW TO MAKE MIE CELOR PALEMBANG (EASY VERSION)
1. PREPARE THE SHRIMP STOCK
Peel the shrimp and save the shells. Remove the black vein and discards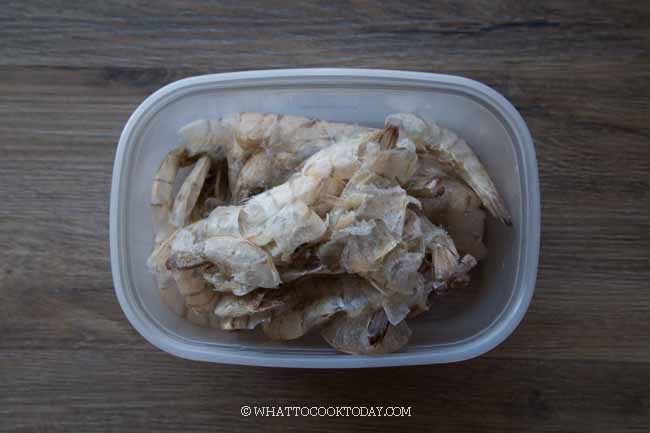 Bring 1200 ml of water to a boil in a large pot. Add the shrimp shells and lower the heat to let it simmer for the next 30 minutes.


Strain the stock and discard the shells. Put the stock back into the pot. Add coconut milk and seasonings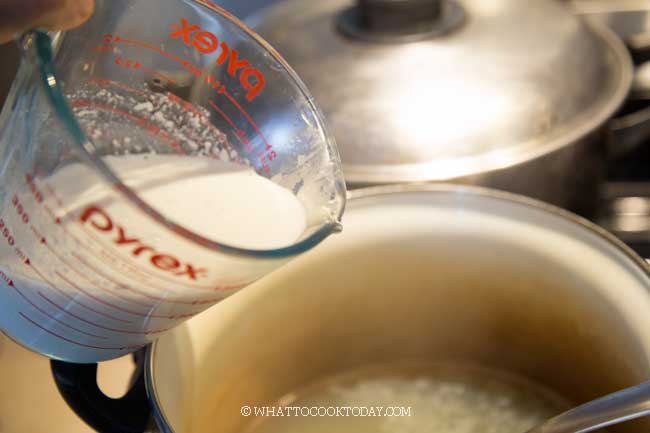 Bring the shrimp stock back to a gentle simmer Add the shrimp and let them cook until they turn pink and then remove and set aside.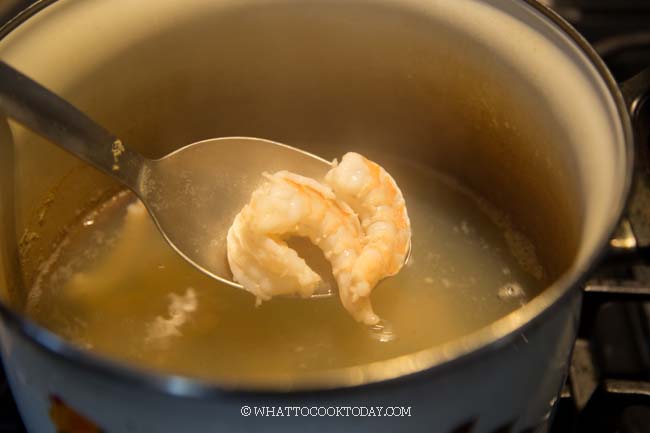 2. WHEN READY TO SERVE
While one hand is stirring, the other hand pour the beaten eggs into the broth, it's like making an egg-drop soup.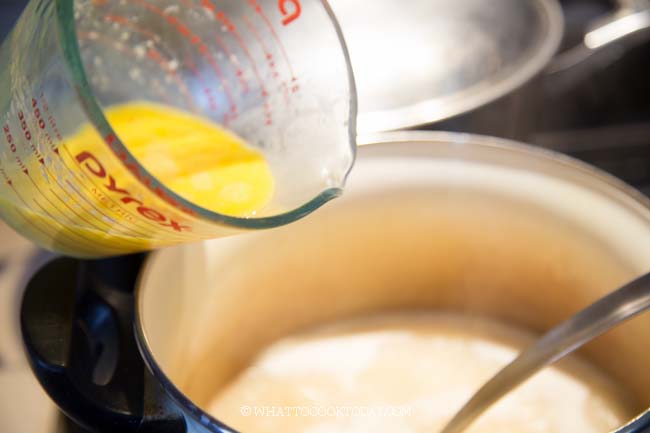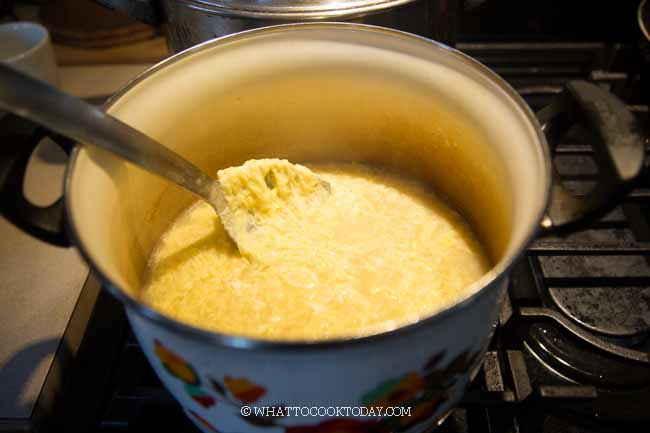 Mix the cornstarch with water and stir this into the broth until it is thickened and smooth. Have a taste. Add more salt and/or sugar as needed to suit your taste.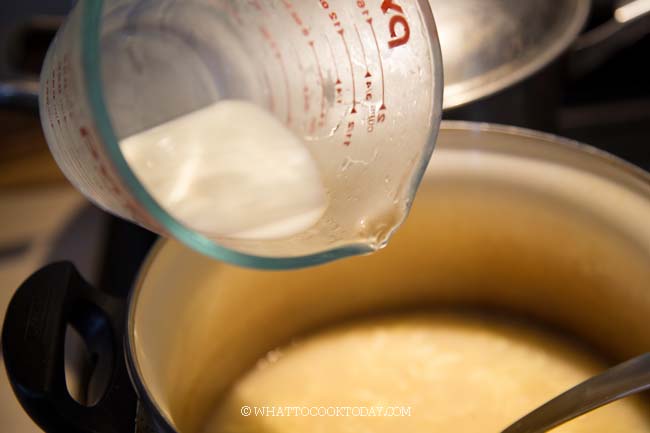 Portion the cooked noodles into an individual serving bowl or platter. Add 3-4 shrimp, beansprouts, hard-boiled eggs. Generously ladle the broth over everything. Garnish with bawang goreng and green onion. Serve immediately.

IF YOU WANT TO ADD MORE FLAVOR
ADD EBI (DRIED SHRIMP) AND AROMATICS
This will immediately add and extra flavor to the broth. Soak the ebi in warm water until soft and then finely chopped them. Stir fry 3 cloves of garlic (finely minced) in 1 Tbsp of oil until fragrant, about 10 seconds and then add ebi and stir fry for about 1 minute. Add this to the strained shrimp stock
YOU CAN PREP AHEAD
1. Make the shrimp stock in big batch and freeze them into serving size portion
2. When ready to serve, you just need to add coconut milk and blanch some noodles, shrimp and thicken the broth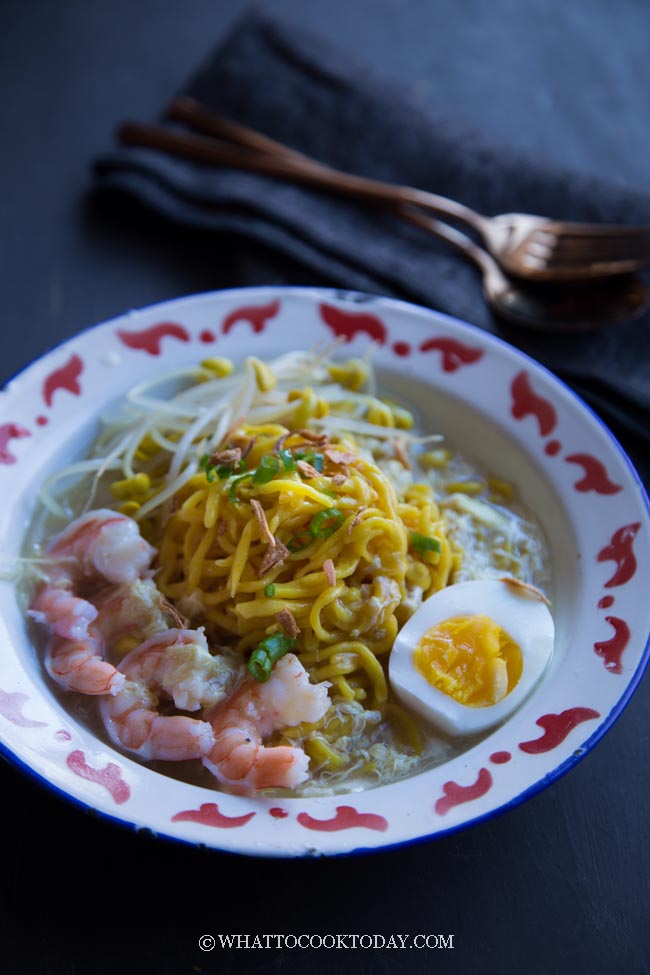 DID YOU MAKE THIS MIE CELOR PALEMBANG RECIPE?
I love it when you guys snap a photo and tag to show me what you've made 🙂 Simply tag me @WhatToCookToday #WhatToCookToday on Instagram and I'll be sure to stop by and take a peek for real!

Mie Celor Palembang (Seafood Noodle in Coconut Broth)
Ingredients
Instructions
Cooking the noodles and blanching beansprouts:
Cook the egg noodles according to instructions. Do not overcook the noodles. Blanch the beansprouts in boiling water for 1 minute and then remove and refresh in cold water. Set aside
Prepare the shrimp stock:
Peel the shrimp and save the shells. Remove the black vein and discards

Bring 1200 ml of water to a boil in a large pot. Add the shrimp shells and lower the heat to let it simmer for the next 30 minutes. After that, strain the stock and discard the shells. Put the stock back into the pot. Add coconut milk and seasonings. Bring to a gentle boil and then lower the heat to let it simmer. You can prepare ahead up to this point

If you want to add extra flavor, preheat 1 Tbsp of oil in a skillet. Add garlic and stir fry for about 10 seconds and then add the finely chopped soaked ebi and stir fry for 1 minute. Add this to the strained shrimp stock

Bring the shrimp stock back to a gentle simmer Add the shrimp and let them cook until they turn pink and then remove and set aside

While one hand is stirring, the other hand pour the beaten eggs into the broth, it's like making an egg-drop soup

Mix the cornstarch with water and stir this into the broth until it is thickened and smooth. Have a taste. Add more salt and/or sugar as needed to suit your taste
Serve:
Portion the cooked noodles into an individual serving bowl or platter. Add 3-4 shrimp, beansprouts, hard-boiled eggs. Generously ladle the broth over everything. Garnish with bawang goreng and green onion. Serve immediately
Recommended products: