You don't need an ice cream machine to make this easy and creamy no-churn ice cream with pandan flavor. What a refreshing and delicious treat for warm weather. This is an incredibly easy recipe with no cooking required.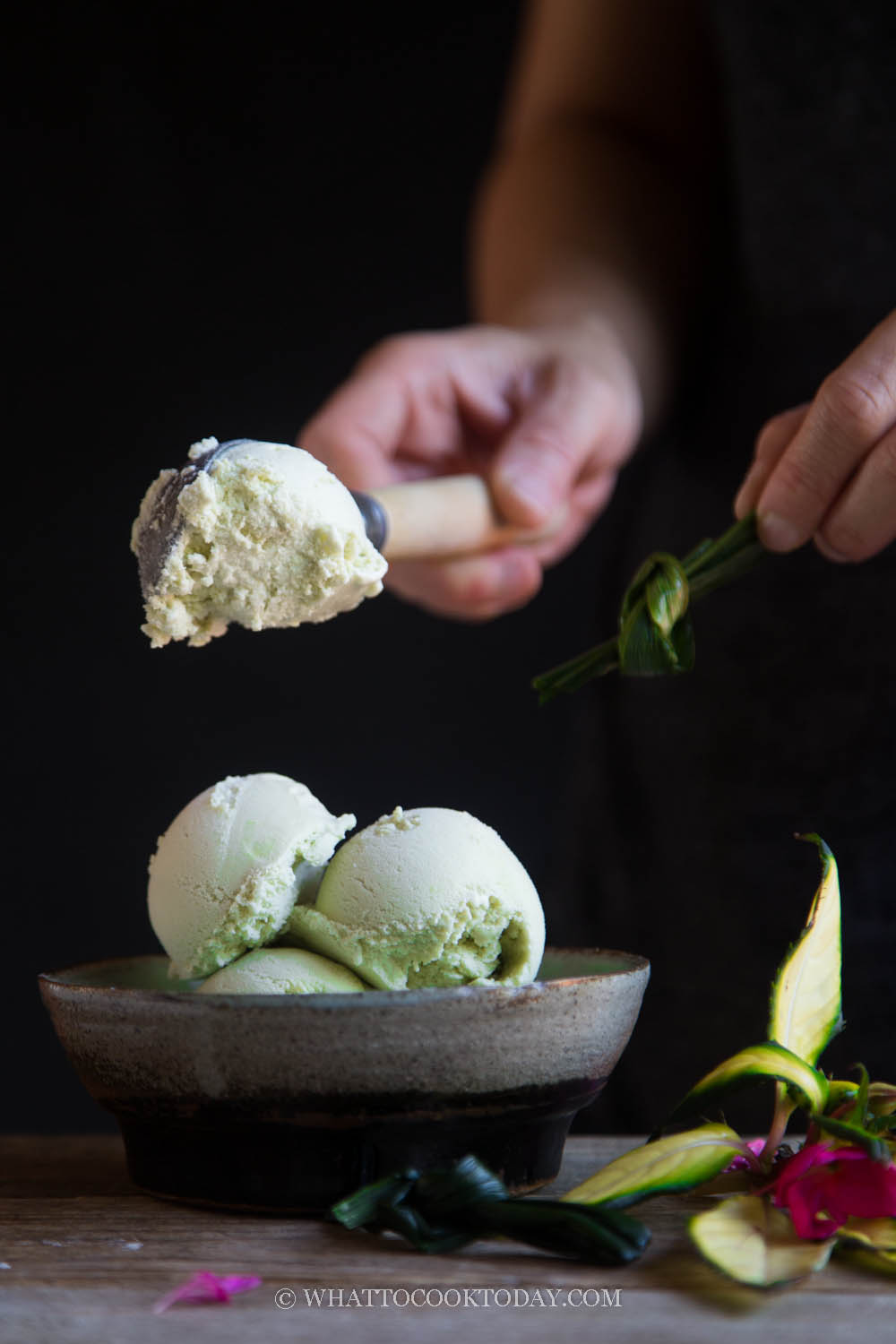 Pandan is indeed the "vanilla" of Southeast Asia. That's what I keep telling people who are not sure what pandan is. The great floral aroma is so hard to describe in words. Pandan has that pleasant and sweet note to it. I love pandan everything in case it's not obvious already! This easy no-churn pandan ice cream is seriously easy.
Tips for success
1. Follow the recipe exactly
Don't cut down on any of the ingredients to achieve the creamy texture
2. Strongly encourage to use full-fat milk and heavy cream
Fat-free or low-fat milk will not give you a smooth texture
3. The condensed milk is crucial in this no-churn ice cream recipe
The condensed milk helps to give that creamy texture and the ice cream won't form ice crystals

Ingredients for no-churn pandan ice cream
1. Pandan leaves
I can only get frozen pandan leaves most of the time. If you can't get a hold of pandan leaves, you can simply omit making pandan juice and just use a pandan essence
2. Whole milk
To get creamy ice cream, full-cream/full-fat dairy is the best to use. I do not recommend using low-fat or non-fat
3. Heavy cream
Heavy cream is the heart of making creamy ice cream. Do not substitute with half and half. You will not get good result
4. Condensed milk
Condensed milk is another key ingredient in no-churn ice cream. Besides acting as a sweetener, it also prevents ice crystals from forming in your no-churn ice cream because of its low freezing point
5. Pinch of salt
A pinch of salt will kick things up a notch. You'll be surprised how a small pinch of salt can give a more well-rounded taste to a sweet treat like this
6. Pandan essence (optional)
If you want a stronger green color and a more intense pandan flavor, you can use pandan essence to amplify that
How to make no-churn pandan ice cream
1. Combine pandan milk, condensed milk, cold heavy cream, salt, and pandan essence in a large mixing bowl. If you don't use pandan essence, the ice cream will have a very light green color, which is normal for the natural green color of pandan leaves. The pandan essence gives more intense color, so don't overuse it


2. If you use a stand mixer, use a whisk attachment. Whip until the mixture is thickened and has a soft peak. Do not overwhip or you will end up with a grainy texture and might even turn into butter if you whip for too long. You want a smooth, creamy, thick, and soft peak


3. Transfer this into a freezer-safe container or ice cream container if you have one


I just use a loaf pan and cover with a cling wrap touching the surface of the cream directly. Freeze for at least 6-8 hours, or best overnight

How to store the no-churn pandan ice cream
Keep it in a freezer in an air-tight container or an ice cream container for up to one month for the best result. The ice cream will not form ice crystals
Did you make this no-churn pandan ice cream recipe?
I love it when you guys snap a photo and tag to show me what you've made 🙂 Simply tag me @WhatToCookToday #WhatToCookToday on Instagram and I'll be sure to stop by and take a peek for real!

Easy No-Churn Pandan Ice Cream
Ingredients
12

blades

pandan leaves

100

ml

whole milk

200

ml

heavy cream

chilled

175

gr

condensed milk

⅛

tsp

Pinch of salt

2

tsp

pandan essence
Instructions
If using fresh pandan leaves:
Cut the pandan leaves into small pieces with kitchen shears. Put them inside a blender. Add the milk and blend until the pandan leaves are pulverized

Strain the mixture and squeeze out extra liquid from the pandan pulp. Make sure you collect 100 ml of this greenish color milk
Whip everything:
Combine pandan milk, condensed milk, cold heavy cream, salt, and pandan essence in a large mixing bowl. If you don't use pandan essence, the ice cream will have very light green color, which is normal for natural green color from pandan leaves. The pandan essence gives a more intense color, so don't over use it

If you use a stand mixer, use a whisk attachment. Whip until the mixture is thickened and has a soft peak. Do not overwhip or you will end up with a grainy texture and might even turn into butter if you whip for too long. You want a smooth, creamy, thick, and soft peak
Freeze:
Transfer this into a freezer-safe container or ice cream container if you have one. Freeze for at least 6-8 hours, or best overnight
To serve:
The ice cream will freeze hard. If you use low-fat milk, then the mixture will be icy as expected (more water content gives more icy texture). You can take it out and let it sit at room temperature for a minute or two (depending on how warm it is where you are) and it will be easier to scoop
Nutrition
Serving:
1
serving (about 1 cup)
|
Calories:
327
kcal
|
Carbohydrates:
26
g
|
Protein:
6
g
|
Fat:
23
g
|
Saturated Fat:
14
g
|
Polyunsaturated Fat:
1
g
|
Monounsaturated Fat:
6
g
|
Cholesterol:
75
mg
|
Sodium:
153
mg
|
Potassium:
249
mg
|
Sugar:
27
g
|
Vitamin A:
898
IU
|
Vitamin C:
1
mg
|
Calcium:
189
mg
|
Iron:
1
mg