Enjoy this comforting Japanese-style fish cake stew the simple and easy way right at home. I prepared it two ways, non-spicy and the spicy version inspired by Guan Dong Zhu Mala Oden using clay pot and Instant Pot. A short video tutorial is included.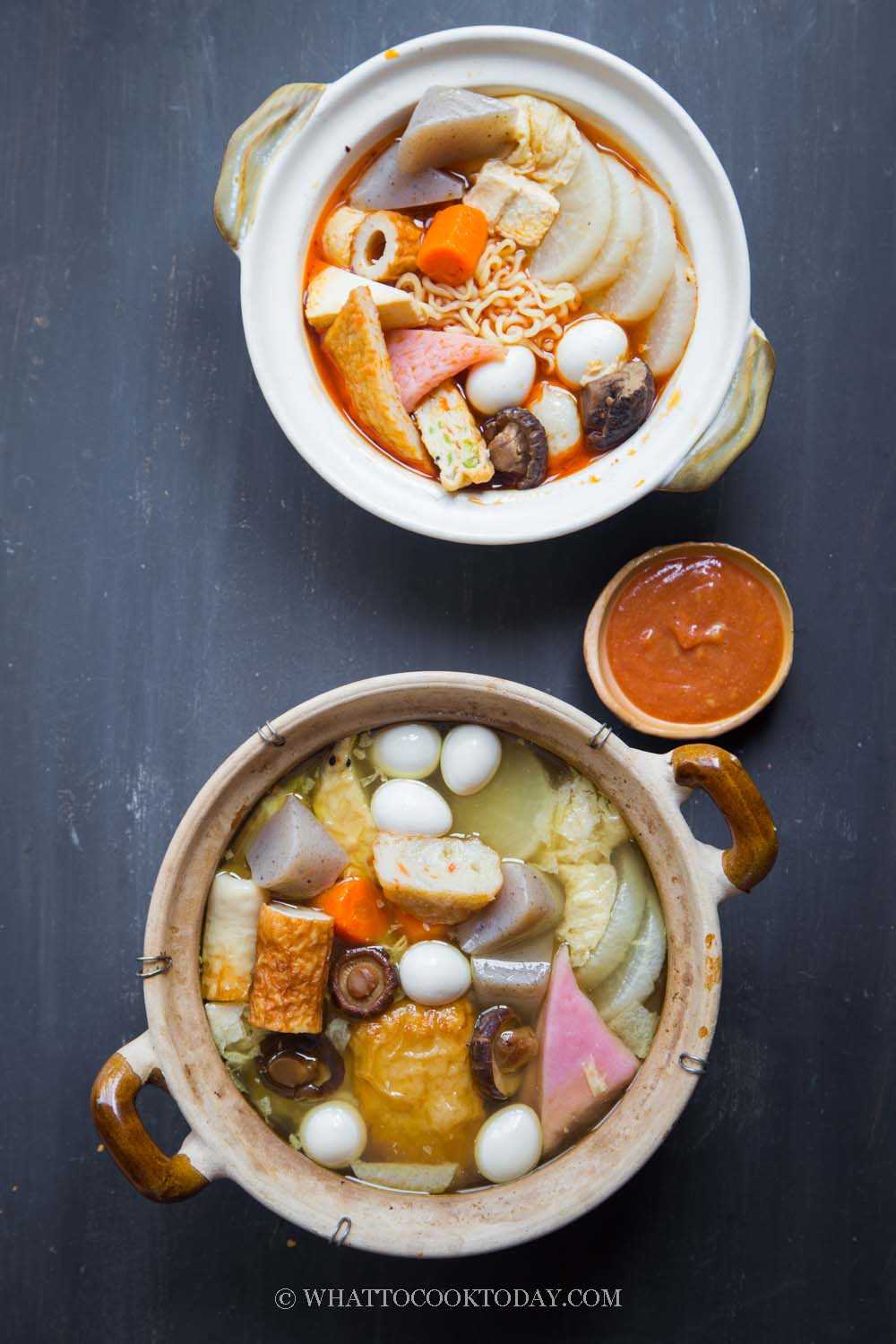 If you are looking for comfort food similar to a Chinese hot pot/steamboat recipe, then oden is another one that fits the bill. I enjoy doing hotpot or a one-pot dish like oden at a comfort of my own home.
What is oden?
Oden is probably not new to you anymore. You have heard it and perhaps had it before when you eat out or when you visited Japan. It's basically a Japanese hot pot consists of different varieties of processed fish cakes, veggies, eggs cooked in light and flavorful dashi broth. To put it simply from a Indonesian/Malaysian/Singaporean perspective, it's pretty similar to Yong Tau Foo
What is mala oden?
Mala oden craze has been on the rise since 2020 in Singapore and Malaysia, just like how pretty much anything mala now is super popular these days. Mala oden is sold in a form of instant noodle cup. Instead of curly ramen instant noodles, it comes with glass noodles (tang hoon/mung bean thread noodles) in spicy mala sauce and some fish cakes. They are spicy, numbing, with generous amount of varieties of fish cakes and oh..people just can't move on once they have it. They want more 🙂 The most popular brand of mala oden in China (and now Singapore) is Guan Dong Zhu Mala Oden brand.
My version of mala oden
So, as I was cooking this oden, I thought, why don't we do the mala oden then? I used Hai Di Lao mala hot pot sauce as a shortcut and since I don't have glass noodles that day (what a bummer), I use instant ramen noodles, not a deal breaker, but could be better with tang hoon for sure. Well, I can't say it's 100% duplicate, but enough to satisfy that cravings for mala oden.
How to cook simple oden and mala oden at home
1. The store-bought oden pack usually includes variety of fish cakes in there. I find it pretty convenient. Of course you can also buy different varieties of Japanese-sytle fish cakes separately on your own


2. Lightly wipe kombu with a damp cloth on both sides


3. Bring water to a boil in a large pot then turn off the heat and add kombu pieces. Cover with a lid and let stand for 15 minutes.


4. After 15 minutes, remove kombu pieces and add bonito flakes or dashi powder


5. Bring dashi kombu broth back to a boil, add daikon, carrots, and mushrooms. Cover and let them simmer for about 15 minutes or until they are soft


6. Add konnyaku pieces, fish cakes pieces, quail eggs and let them simmer for another 5 minutes


7. Add the fried beancurd rolls the last and turn off the heat. They will soften by residual heat.


8. Have a taste and adjust the seasonings to your taste and serve


9. For mala oden: Cook noodles according to instruction. Add the spicy hotpot sauce. The amount is up to how much you can tolerate the spiciness. Add noodles, portion out some fish cakes and the rest of the ingredients and ladle the soup over

And there you have it! A simple version of oden, which you can turn into mala oden 🙂
You can also make oden at home using Instant Pot. The details are in the recipe card and the short video tutorial.

Did you make this recipe?
I love it when you guys snap a photo and tag to show me what you've made 🙂 Simply tag me @WhatToCookToday #WhatToCookToday on Instagram and I'll be sure to stop by and take a peek for real!

You may also like this Easy Chinese hotpot/steam boat
How To Cook Simple One-pot Oden and Mala Oden (Fish Cake Stew)
Ingredients
Instructions
The store-bought oden pack usually includes variety of fish cakes in there. I find it pretty convenient. Of course you can also buy different varieties of Japanese-sytle fish cakes separately on your own
Prepare dashi kombu broth:
Lightly wipe kombu with a damp cloth on both sides. Bring water to a boil in a large pot then turn off the heat and add kombu pieces. Cover with a lid and let stand for 15 minutes. After 15 minutes, remove kombu pieces and add bonito flakes or dashi powder

If using Instant Pot, press saute mode and bring water to a boil and then turn off saute mode. Add kombu pieces. Cover with a lid and let stand for 15 minutes. After 15 minutes, remove kombu pieces and add bonito flakes or dashi powder
Prepare oden broth:
Bring dashi kombu broth back to a boil, add daikon, carrots, and mushrooms. Cover and let them simmer for about 15 minutes or until they are soft

If using Instant pot, add daikon, carrots, and mushrooms. Cover and turn the steam release valve to "sealing". Press "pressure cooker", make sure it's on "high pressure". Set the timer to 5 minutes. Then you can release pressure
Add other ingredients:
Add konnyaku pieces, fish cakes pieces, quail eggs and let them simmer for another 10 minutes and add the fried beancurd rolls the last and turn off the heat. They will soften by residual heat. If using Instant Pot, press saute mode again and simmer for another 10 minutes then add the fried beancurd rolls the last. Turn off saute mode

Have a taste and adjust the seasonings to your taste and serve
For mala oden:
Cook noodles according to instruction. Add the spicy hotpot sauce. The amount is up to how much you can tolerate the spiciness. Add noodles, portion out some fish cakes and the rest of the ingredients and ladle the soup over
Recommended products: