I'm sharing how to prepare an easy Chinese steamboat or hot pot at home with an easy homemade and healthier steamboat soup base, essential ingredients, and basic equipment you can use to throw a steamboat/hot pot party at the comfort of your home.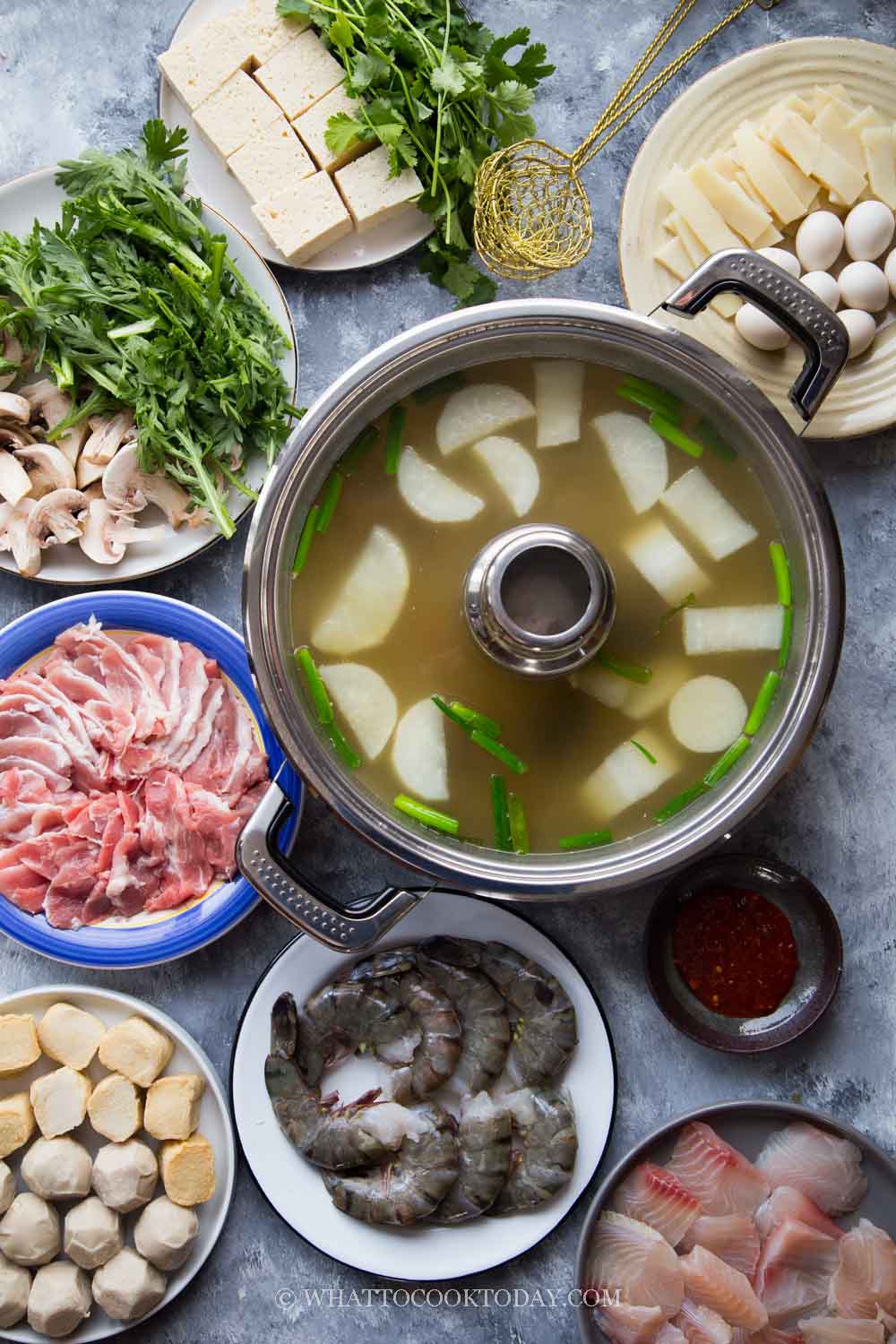 What is a steamboat/hot pot?
Hot pot is known as "huo guo" in Chinese. It is a more popular term used in North America and other parts of the world. But if you go to Indonesia, Malaysia, Singapore, Thailand, and perhaps other Southeast Asian countries, we call this a steamboat. Steam what? yup, a steamboat. A large round pot with a built-in tube in the middle (similar to a chiffon cake tube pan) for steam to escape during cooking is usually used as a vessel for people who gather around it to cook the food on the table. Steamboat/hotpot is a communal feast in a nutshell.
How to prepare an easy Steamboat/hot pot at home
To make a simple yet delicious hotpot you just need to cover few basics here:
1. The soup base
2. Essential steamboat ingredients
3. Dipping sauces
4. Basic equipment
Steamboat/hot pot soup base
The soup base is one of the most important things in throwing a steamboat/hot pot party. You can use homemade or store-bought soup base paste, spicy or non-spicy. The spicy steamboat soup base is very popular. Some hot pot is split into two, with one well filled with spicy soup base and the other one is filled with the non-spicy soup base.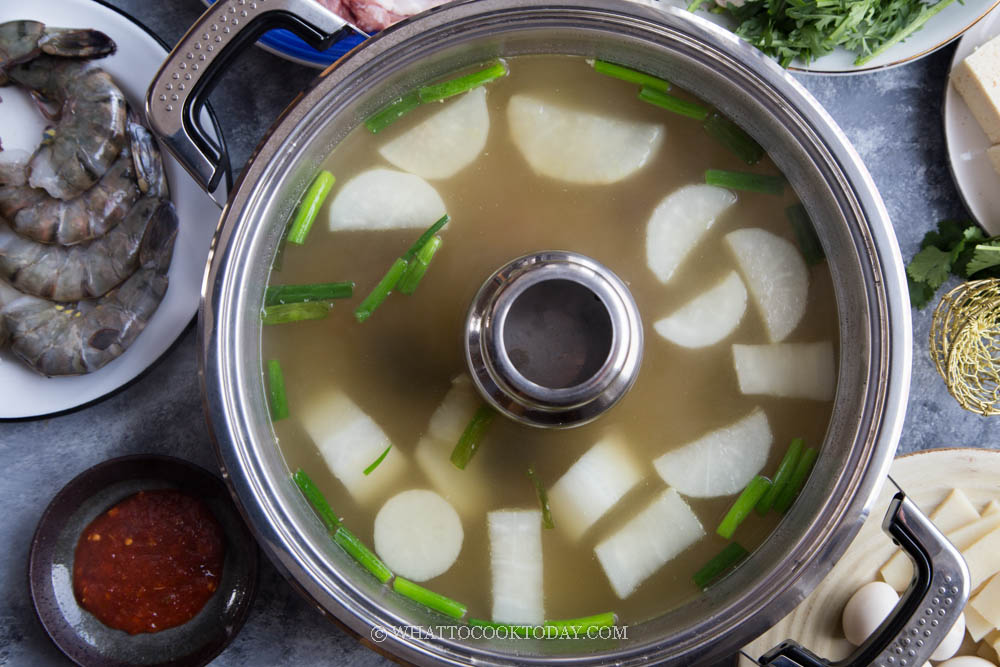 A very simple yet delicious steamboat/hot pot soup base (non-spicy)
I didn't make the soup base spicy because my kids can't eat too spicy, the version I'm sharing here is a pretty simple clear soup base without using MSG.
1. Bones
I use pork neck bones. They are cheap. You can use chicken carcass too
2. Chicken broth or water
You can use good-quality store-bought chicken broth. I usually have some from cooking some chicken and I usually save the juice
3. Daikon
Daikon/Chinese radish is a wonderful ingredient to brew a soup base. It's naturally sweet and my family loves to eat those chunks of daikon too
4. Red/black dates
I like to add red dates/black dates for that natural sweetness too
5. Better-than-Bouillon
I like to use Better-than-Bouillon (Roasted Chicken base) as it is MSG-free but it adds a nice richer taste and aroma to the soup. In Indonesia, Malaysia, and Singapore, most home cooks like to add chicken powder too
6. Salt, sugar, and pepper
Just basic seasonings you already have in your pantry most likely. A small pinch of sugar also kicks things up a notch without having to add MSG to your soup
7. Scallions
I like to add scallion stalks to the soup too
8. Ginger slices
What if I want a spicy soup base?
If you prefer a spicy soup-base, you can easily add a ready-to-use spicy soup base such as this Spicy Sichuan Soup Base. I have tried this Hai Di Lao Szechuan soup base before and it was really good too.
Essential steamboat/hot pot ingredients
Most of the steamboat ingredients you want to add to the pot are mostly store-bought. It's one of my favorite parts in preparing for a steamboat. The kids also have fun picking out what they want to include in the steamboat.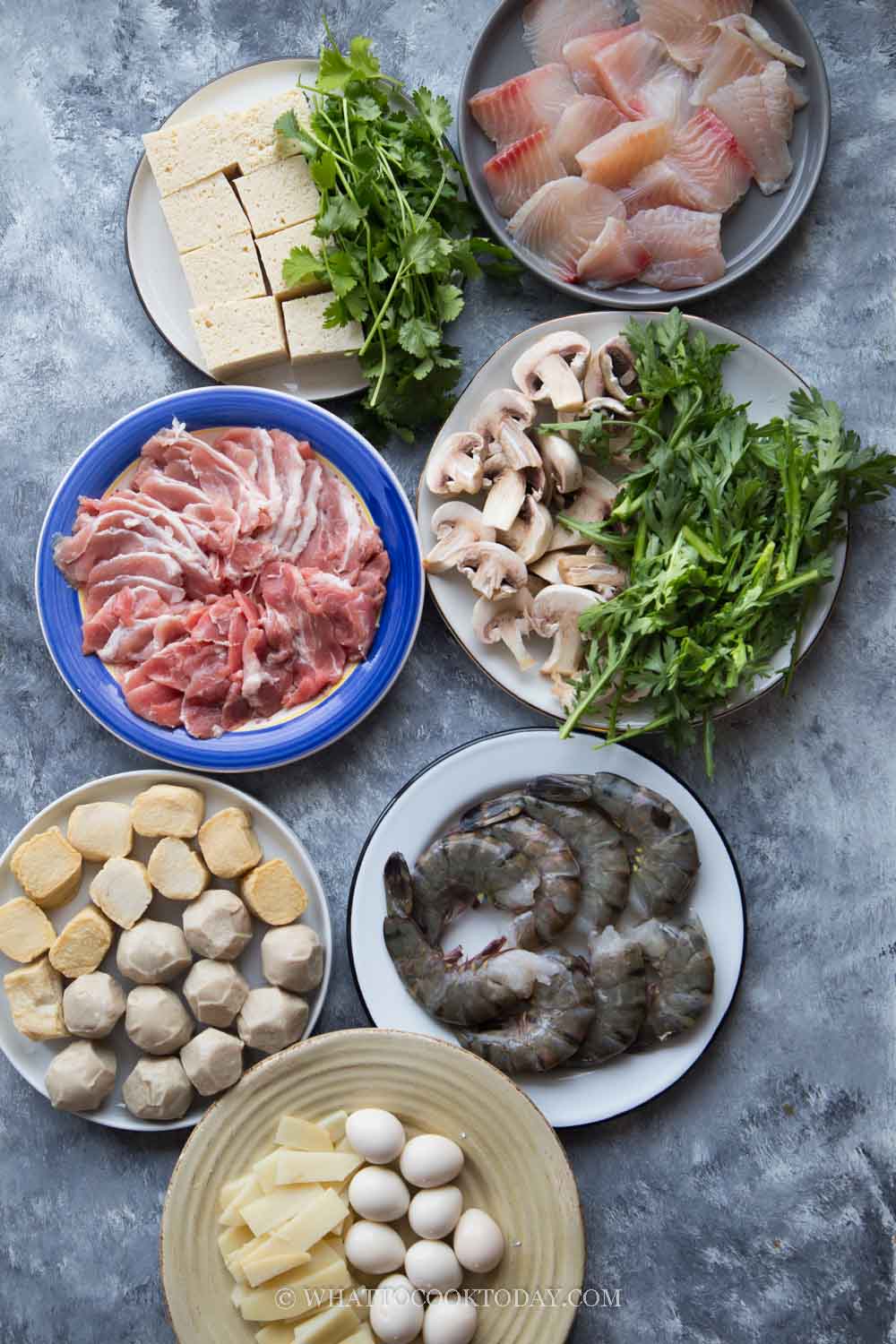 1. Meat
Thinly sliced chicken, beef, lamb, pork, or other meat of your choice can be used here. For chicken I like to use thighs, for beef, you can use well-marbled meat like rib-eye. You can even try pastrami. For pork, you can use pork loin and pork belly
In some Asian grocery store, you will find machine-sliced meat especially for steamboat/hot pot, but if you can't find any, don't sweat. It's pretty simple to thinly slice your own meat.
Here's how you can thinly sliced beef, chicken, pork, lamb, etc:
1. Wrap the meat you want to use in a cling wrap or put it in the freezer bag and push all the air out. Put them in the freezer for about 1 hour or until it's firm enough for you to slice but not rock hard that you can't slice through it
2. Use a very sharp knife to slice across the grain of the meat using a sawing motion. It's important that your knife is very sharp. If at any point the meat gets soft and it's hard to slice, put it back in the freezer to firm it up again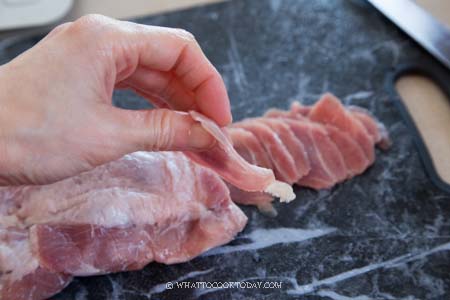 2. Meatballs
Besides thinly sliced meat, I like to include some Asian-style meatballs like pork balls or beef balls. These are widely available at the Asian grocery store. The meatballs are chewy and bouncy type. If you fancy making your own meatballs, you can try this chicken meatballs recipe (bakso ayam)
3. Seafood balls
For seafood, I usually like to include store-bought fish balls, fish cakes, tofu fish cakes, shrimp balls, or something similar
4. Shellfish
One of the easiest and most popular shellfish to include in a hot pot is shrimp/prawns. I usually leave the shells intact. I usually bought large/jumbo shrimp. Regardless of the size, they cook quickly too
5. Fish
Fish slices are also popular steamboat ingredients. You can pretty much use whatever fish fillet you like. I've used halibut, tilapia, flounder, sole, salmon before
6. Meatless protein
I also like to include tofu and quail eggs. Quail eggs may not be a popular steamboat/hot pot ingredients, but my mom always had this when we were kids and now my son LOVES quail eggs and so it's a must for us to include this 🙂
One new thing I learned about tofu is to use frozen tofu in a steamboat/hot pot. I used to always buy fried tofu puffs from the Asian store for steamboat/hotpot because they soak up all the soup base like a sponge. To create that sponge-like texture, you can easily do so by freezing a whole block of tofu! (and no deep-frying necessary too!). I learned about this frozen tofu from here.
How to easily freeze tofu block for an amazing texture:
1. You need to use tofu that is packed in a tray with water in it. This method won't work with tofu packed in carton material. Extra-firm tofu works best as it gives you the best spongey texture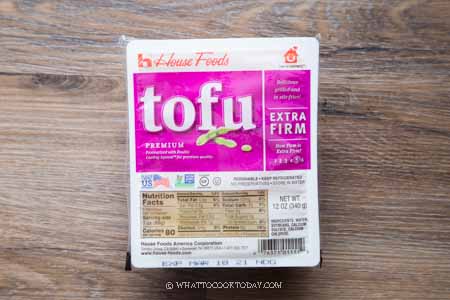 2. Place the whole block of tofu in the freezer and let it freezes for 24 hours or longer
This gives the best result versus cutting them into cubes and then freeze them
3. Simply thaw them overnight in the fridge
Drain off the water and this was how it looked like after thawed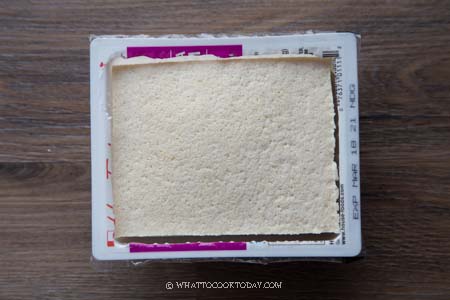 4. Defrosted tofu sponge is ready to be used
The water that is packed together with the tofu expands and creates all these nooks and crannies inside the tofu, making it sponge-like. It's amazing to cook with a soup or stew because they will soak up all the good stuff

7. Vegetables
I like to use fresh vegetables like Napa cabbage, yu choy, bok choy, tang oh (garland chrysanthemum), or kai lan, etc. You can include one or more than one, it's really up to you. Make sure you cut them into smaller chunks. Vegetables usually don't take a long time to cook, so make sure to watch them. I also like to use canned bamboo shoots slices packed in water, which are usually have been pre-cooked
8. Mushrooms
Usually, fresh mushrooms are used. You can use fresh shitake mushrooms, oyster mushrooms, enoki mushrooms, cremini mushrooms, really…whatever you fancy.
9. Noodles and Rice
I usually cook some rice in case somebody wants some, but usually, the family goes for noodles. I like to use dried mung bean thread noodles for steamboat/hot pot. But you can use any fresh noodles like hor fun, rice noodles such as pho noodles, udon noodles. Dried noodles can be used as well. Some required pre-soaking and for rice stick noodles, you need to boil them separately before using them for steamboat/hot pot
Easy dipping sauces for steamboat/hotpot
Growing up in Indonesia, our dipping sauce was a simple and spicy one such as fresh-cut bird's eye chili doused in soy sauce. You can really use whatever you like. Below are just some examples of what you can use as dipping sauces:
1. Sesame paste + a bit of sesame oil + grated ginger
2. Sesame oil + soy sauce + Chinese black vinegar + small pinch of sugar
3. Sesame oil + grated ginger + grated garlic
4. Chinese shacha sauce
5. Sriracha chili sauce
I love having steamboat with this as well
6. Sambal oelek
My husband must have this for steamboat. It's not traditional, but hey, use whatever you like
Basic equipment for steamboat/hotpot
1. The hot pot
duh? of course! I don't have a split pot. If you plan to get one, get a split pot like this so your guests can have the option of either the clear broth or spicy broth (or perhaps both). The one I have, has this built-in tube in the middle similar to this one. The nice thing about it is that you don't need a separate portable cooker as it is built-in.
You can also use equipment you already have at home if you prefer such as: electric skillet, rice cooker, or Instant Pot.
How to use a rice cooker as a steamboat/hot pot?
As poor college students, we use a rice cooker for our steamboat party before. It worked out great too. Here's how:
1. Fill up the inner pot of the rice cooker with the soup base
2. Press "cook" on the rice cooker and let the soup base comes to a boil
3. Start adding ingredients. If the soup boils too much, you can always turn it off, or keep it warm if there's such function in your rice cooker. Simple as that
How to use an Instant Pot as a steamboat/hot pot?
Most people here in the U.S. own Instant Pot multicooker and you can use it as a "hot pot". It's not the most ideal, but it works if you don't want to invest in another pot specifically for steamboat/hot pot. Here's how:
1. Fill up the inner pot with the broth
2. Use a saute function to bring it to a boil and then use the – (less) feature to decrease the heat to let the broth simmer. You can always turn it off too if the soup is boiling too vigorously
2. You may need a ladle to fish things out from the pot as it is a deeper pot
2. Portable stove
You can use a portable gas stove like this. This requires butane gas, which you can purchase from pretty much anywhere like Walmart. You can also use a portable induction stove. I have had steamboat/hotpot using portable induction before too. Just make sure the pot you are using is suitable for induction top
How to set up steamboat/hot pot
1. A round table is the most ideal, but if your table is not, I won't sweat it
2. Put the portable stove in the middle of the table where everyone can easily get to it
3. Arrange ingredients in a similar category in one plate
For example meat with meat and seafood with seafood. Don't mix raw food with vegetables
4. Arrange the plates of steamboat ingredients around the stove. Only put out enough food for everyone. Keep the rest in the fridge and replenish as needed
5. Prepare sets of utensils like chopsticks to pick up raw food and sets of utensils for guests to use for eating. So you don't want to mix to prevent cross-contamination
What to do with leftover steamboat/hot pot ingredients
We always have leftovers of something after the steamboat/hot pot party is over. Usually, there will be some protein, noodles, and veggies left. You can turn them into a noodle soup like this. I usually save some chicken broth for this purpose. All I need to do is bring the chicken broth to a simmer then add the protein and veggies. If the noodles are not cooked, put them in last and then bring them to a simmer or until heated through or cooked through (for raw items like meat). Remember, they don't take long to cook on the stove too.
How To Prepare Easy Chinese Steamboat /Hot Pot At Home
Ingredients
Easy soup base (clear broth):
2

lbs

pork neck bones

10

cups

chicken broth

store-bought or homemade

1

lb

daikon

cut into large chunks

10

red dates

pitted

2

green onions

White parts only, cut into 3-inch length
Seasonings for soup base:
1

Tbsp

Better-than -bouillon chicken base

or as needed

½

tsp

sugar

¼

tsp

freshly ground white pepper

Salt to taste
Protein:
4

oz

fish fillet

cut into slices

8

oz

thinly sliced beef

or other meat of your choice

8

oz

shrimp

with shells intact

6

oz

fish cake

6

oz

beef balls

6

oz

fish balls
Meatless protein:
canned quail eggs

14

oz

extra firm tofu
Vegetables (one or more of the following):
4

oz

Napa cabbage

4

oz

tang oh

4

oz

fresh mushrooms

enoki, shiitake, cremini

10

oz

Bamboo shoots
Dipping sauce (any one of these or combination of these are fine):
Instructions
Prepare the easy soup base on the stove:
Pour the chicken broth/water into a large pot. Bring to a boil and add the pork neck bones. Add red dates, ginger,white parts of green onion, and seasonings. Bring back to a boil and then lower the heat to let them simmer and partially covered over medium-low heat for 2 hours. Have a taste and adjust to your liking. Strain the stock and discard the solids
Prepare the easy soup base with Instant Pot pressure cooker:
Pour the chicken broth/water into the inner pot of Instant pot. Add pork neck bones, red dates, ginger,white parts of green onion, and seasonings. Close the lid and turn the pressure release valve to sealing. Press pressure cooker and make sure it's on high pressure. Set the timer to 45 minutes and then do natural release. Have a taste and adjust to your liking. Strain the stock and discard the solids
How to freeze tofu:
You need to use tofu that is packed in a tray with water in it. This method won't work with tofu packed in carton material. Extra-firm tofu works best as it gives you the best spongey texture

Place the whole block of tofu in the freezer and let it freezes for 24 hours or longerThis gives the best result versus cutting them into cubes and then freeze th

Simply thaw them overnight in the fridge. Drain off the water and the defrosted tofu is ready to be used
How to enjoy steamboat/hot pot:
Transfer the soup base to the hot pot. Put the portable stove and hot pot on top of the stove. Put this in the middle of the table where everyone can easily get to it

Arrange ingredients in a similar category in one plateFor example meat with meat and seafood with seafood. Don't mix raw food with vegetables

Arrange the plates of steamboat ingredients around the stove. Only put out enough food for everyone. Keep the rest in the fridge and replenish as needed5. Prepare sets of utensils like chopsticks to pick up raw food and sets of utensils for guests to use for eating. So you don't want to mix to prevent cross-contamination

When the soup base comes to a simmer, maintain the heat level. everyone can start putting ingredients they want to eat into the soup base. Remember, the ingredients do not take long to cook so you want to remember what you put in

In case something get lost in the soup, use a separate clean ladle to fish them out, don't use your personal chopstick or spoon that you use to get things out