Sweet and savory butter cheese cookies coated with aromatic palm sugar you will love to munch on. They are easy to make and popular cookies in Southeast Asia.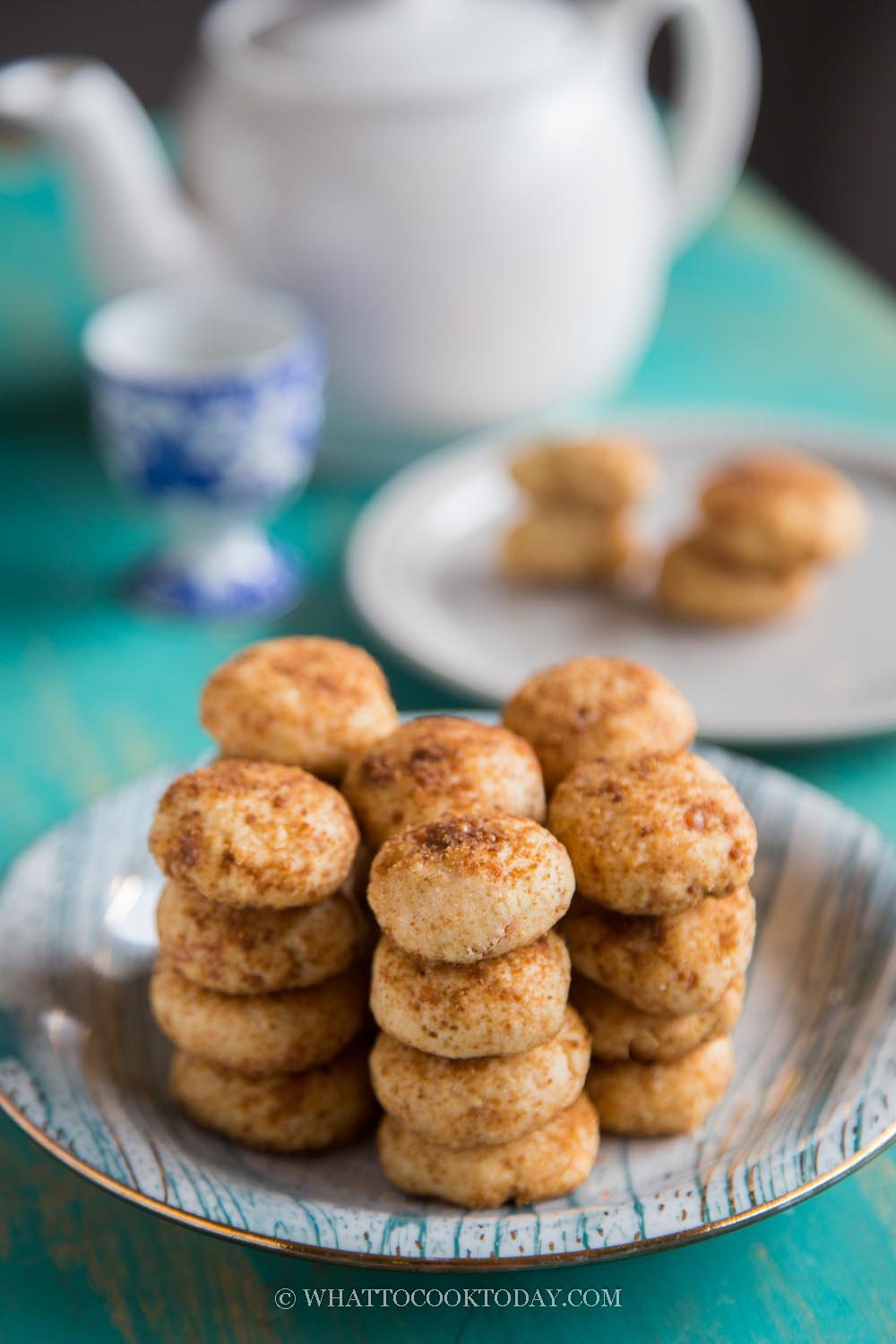 What are palm cheese cookies?
Palm cheese cookies are butter and cheese-based cookies coated with palm sugar on the outside. When you bite into it, you will taste the lightly sweet and aromatic palm sugar taste and the savory cheese. It's hard to stop munching on these little cookies. Palm cheese cookies are popular, especially during celebrations such as Hari Raya, Christmas, and Chinese New Year.
What is palm sugar?
Palm sugar is made from the sap of date palm trees. It can be in a form of syrup (palm syrup) or solidified/crystallized and sold in a form of blocks. In Indonesia, we call palm sugar gula Jawa or gula merah. A darker and softer version is called gula Aren. In Malaysia and Singapore, it is called gula Melaka.
The closest substitute for palm sugar
It is not easy to find palm sugar here in the U.S. Only certain Asian grocery stores carry them. The best substitute for palm sugar is coconut sugar. Coconut sugar and palm sugar are often used interchangeably here in the U.S., but they are actually not exactly the same thing. Coconut sugar is made from coconut palm blossoms. They both have a very similar taste and smell profile. Palm sugar is darker but they both have that nice caramel toffee-ish flavor. Thankfully, coconut sugar is widely available nowadays and I have been using coconut sugar to substitute for most of the palm sugar calls for in the recipes.

How to make palm cheese cookies
1. Please make sure the butter and egg yolk are at room temperature. Combine all the dry ingredients and set them aside. Put softened butter (but not melting) and icing sugar in a large bowl. Use a stand mixer with a paddle attachment or a hand mixer to beat the butter and sugar until combined and creamy. You can also manually do this with a balloon whisk


2. Add the egg yolk and vanilla extract and whisk to combine


3. Add the cheese and sift in the dry ingredients


4. Use a spatula to mix until you don't see pockets of flour. Cover and chill in the fridge for at least 30 minutes


5. Preheat the oven to 320 F (160 C) for a conventional oven. 300 F (150 C) for a convection oven. Line two large baking sheets with parchment paper. Position the oven racks 3rd from the top and 3rd from the bottom. Pinch off about 8-10 grams of dough and shape it into a round dough ball


6. Flatten the dough slightly (you can leave it round too) and roll into palm sugar and put on a baking sheet, about 1/2 inch apart. The cookies do not spread much


6. Place the baking sheets on the positioned racks. Bake for 30 minutes. Rotate the pan front to back, top to bottom halfway through baking. Check for doneness at 25 minutes as every oven can be different. The cookies should be dark golden brown because of the palm sugar, but shouldn't be burnt. They will appear to be soft when just come out from the oven. Cool on the pan set on top of a cooling rack for 5 minutes before transferring to a cooling rack to cool down completely

How to make the cookie dough ahead
You can prepare the dough ahead, and flatten it into a disc. Wrap tightly in cling wrap and it can be kept frozen for up to one month.
When ready to use the dough, let it soften at room temperature and then proceed to shape and bake
How to store the baked palm cheese cookies
Let them cool down at room temperature and then keep them in an air-tight container. They can be kept for weeks. You can even freeze the baked cookies. They can be kept for up to one month. I won't do any longer than that. Simply thaw at room temperature and they are ready to be served


You can prepare the cookie dough ahead, flatten into
Did you make this recipe?
I love it when you guys snap a photo and tag it to show me what you've made 🙂 Simply tag me @WhatToCookToday #WhatToCookToday on Instagram and I'll be sure to stop by and take a peek for real!

Palm Cheese Cookies
Ingredients
150

gr

butter

unsalted, softened

25

gr

icing sugar

20

gr

egg yolk

about 1 egg yolk

½

tsp

vanilla extract

60

gr

Edam cheese

Parmesan, Gouda, Cheddar can be used too
For coating:
100

gr

Palm sugar

or substitute with coconut sugar
Instructions
Prepare the cookie dough:
Please make sure the butter and egg yolk are at room temperature. Combine all the dry ingredients and set aside. Put softened butter (but not melting) and icing sugar in a large bowl. Use a stand mixer with a paddle attachment or a hand mixer to beat the butter and sugar until combined and creamy. You can also manually do this with a balloon whisk. Add the egg yolk and vanilla extract and whisk to combine

Add the cheese and sift in the dry ingredients and use a spatula to mix until you don't see pockets of flour. Cover and chill in the fridge for at least 30 minutes
Shaping:
Preheat the oven to 320 F (160 C) for a conventional oven. 300 F (150 C) for a convection oven. Line two large baking sheets with parchment paper. Position the oven racks 3rd from the top and 3rd from the bottom

Pinch off about 8-10 grams of dough and shape it into a round dough ball. Flatten the dough slightly (you can leave it round too) and roll into palm sugar and put on a baking sheet, about 1/2 inch apart. The cookies do not spread much
Baking:
Place the baking sheets on the positioned racks. Bake for 30 minutes. Rotate the pan front to back, top to bottom halfway through baking. Check for doneness at 25 minutes as every oven can be different. The cookies should be dark golden brown because of the palm sugar, but shouldn't be burnt. They will appear to be soft when just come out from the oven. Cool on the pan set on top of a cooling rack for 5 minutes before transferring to a cooling rack to cool down completely
Store:
Once the cookies have cooled down completely, transfer them to an air-tight container and they can be kept for weeks
Nutrition
Serving:
1
cookie
|
Calories:
45
kcal
|
Carbohydrates:
5
g
|
Protein:
1
g
|
Fat:
3
g
|
Saturated Fat:
2
g
|
Polyunsaturated Fat:
1
g
|
Monounsaturated Fat:
1
g
|
Trans Fat:
1
g
|
Cholesterol:
10
mg
|
Sodium:
41
mg
|
Potassium:
12
mg
|
Fiber:
1
g
|
Sugar:
2
g
|
Vitamin A:
79
IU
|
Vitamin C:
1
mg
|
Calcium:
13
mg
|
Iron:
1
mg