Learn how to make this delicious and iconic Italian panettone with easier and much simpler steps but with a great result. The panettone can be baked with or without the panettone mold. I made two different panettones, one with almond paste topping and chocolate panettone.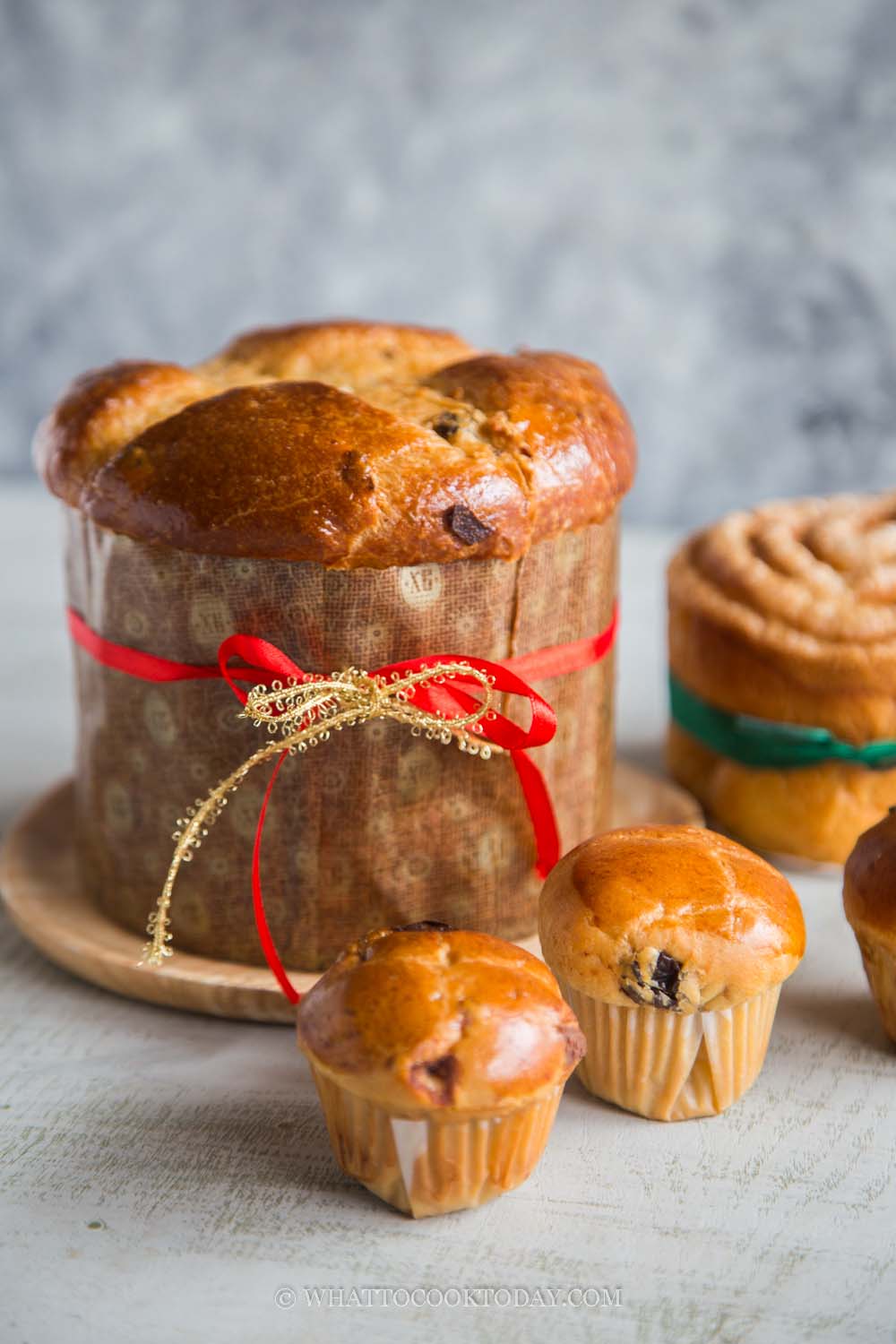 I decided to make my own panettone this year. It's been on my to-bake list for a while and finally, I just started making the sponge and there's no turning back.
What is panettone?
Panettone is also known as Italian Christmas bread/cake. It is characterized by its tall shape with a dome on top and is usually baked in decorative panettone mold or liner. The traditional panettone is leavened with sourdough. So, you gotta have a sourdough on hand, or start making one and then the dough preparation itself take about 2-3 days. Yep, it's a long process, but lots of passive time. You just have to wait and be patient. It's the long fermentation that gives panettone its incredible flavor and texture.
Why you will like this recipe
1. The process has been simplified a lot because we are not using a sourdough starter
Nothing against sourdough starter, I'm just not up at that level yet. This recipe is suitable for people who want to make panettone for the first time, like me.
2. The recipe uses the sponge dough method, which is very simple and can be done overnight
3. Despite its simpler steps, the recipe still yields a good result. The bread has a light and airy texture and good crumbs, though of course, I can't say it's as good as the one made solely with sourdough starter, it's still really good
To use bread flour or all-purpose flour for panettone
I highly recommend using bread flour for panettone. Bread flour has higher gluten content that will give you a higher rise and a more stable structure.

How to make overnight panettone with the sponge method
1. Mix all ingredients for the sponge. Cover and put it in the fridge to let it rise overnight (about 12 hours)


2. Soak the dried fruits in the rum (or water). Cover and set aside until the next day


3. Take the sponge dough out from the fridge at least 1 hour (2 hours if possible) to let it come to room temperature before you start preparing the main dough
4. Drain off excess liquid from the soaked dried fruits and set aside


5. Use a paddle attachment (beater), beat butter and honey until smooth, about 1-2 minutes on medium speed (speed 6 on KA). Then drizzle in the beaten egg and vanilla extract and beat for another minute


6. Switch to the dough hook attachment and add the sponge dough and flour and mix on low speed (speed 2) for 5 minutes. Increase speed to medium (speed 4) and knead for 10 minutes. The dough is very soft and sticky at this point. You need to stop several times during kneading to scrape the side of the bowl with a rubber spatula and continue to knead


7. Knead until the dough reaches a windowpane stage, meaning, when you stretch the dough thin very gently, it won't break


8. Then add the soaked dried fruit, lemon and orange zest, and chocolate chips and mix until combined


9. Oil a large mixing bowl and your hands and pick up the dough to shape it into a round ball and place it inside the prepared bowl. Cover and let the dough rise at a warm place until double in size. The dough is very rich and it's going to take some time for the dough to double in size, depending on the temperature where you are too. It may take 2 to 3 hours or longer for it to double in size


10. Once the dough is doubled in size , transfer the dough to a lightly oiled work surface and your hands. Push the air out


11. I only have a 5-inch panettone mold, so I portioned out about 650 grams (about 23 oz) of dough and the rest I put in a 4-inch regular round pan. If you use 6 or 7-inch mold or bigger, you don't need to portion the dough. Round the dough into a ball by pulling and tucking the dough underneath with both of your hands

11. If you use panettone mold: Put the shaped dough inside a 6 or 7-inch panettone liner/molds. It will yield shorter panettone in 7-inch size
12. If you don't use panettone mold: You can also use a round cake pan with at least 4 to 5 inches in height. Grease the bottom and the sides of the pan. Line the sides with strips of parchment paper, about 2 inches higher than the pan. Line the bottom of the pan with parchment paper as well for easier release

13. Lightly cover the dough and let it rise again until it is about 1 inch below the rim of the mold or the rim of the parchment paper you lined inside the pot. 5 minutes before the end of the second proofing, preheat the oven at 350 F (180 C). This is for my conventional bottom-heat only oven (no fan). If you are using convection with top and bottom heat, lower the temperature by 20 degrees


14. If using almond paste for topping the panettone:
Skip the egg wash. Mix all ingredients for the almond paste. It should be a paste consistency and can be piped but not watery. Add egg white as needed to reach that consistency


15. Transfer the paste to a piping bag or plastic bag, snip the corner, big enough to allow the paste to be piped out and pipe in a circular motion on the surface of the dough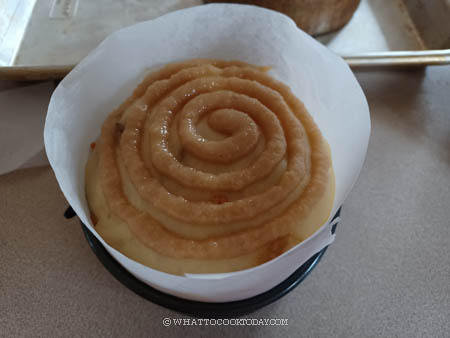 16. If not using almond paste and using egg wash instead:
Prepare the egg wash by whisking a whole egg with water. Gently brush the surface with egg wash
17. Use a sharp razor or bread lame or very sharp knife to score a cross on the surface of the dough. It may be a bit tricky to do so as the dough is wet and sticky, but just do it gently the best you can. This will allow the bread to rise properly as it bakes
Put a small piece of butter in the middle of the cross or on each one of the slit (like I did). It's up to you


18. Put the mold on top of a baking sheet and transfer it to the oven and place on the middle rack and bake for about 40-45 minutes or until the top has nice dark golden brown. If the bread gets too dark halfway during baking, you can tent with a foil (shiny side up) and continue to bake. If you are baking muffin size, it will take about 20-25 minutes
19. Remove the bread from the oven and immediately use two metal skewers to poke through the bread near the bottom (as shown in the photos above) or use 4 bamboo skewers, 2 on each side (because bamboo skewers are not long enough to go through the bread). If you are not using panettone mold, carefully remove the bread by lifting on the parchment paper on the side and carefully use two metal skewers or bamboo skewers. Invert the bread upside down in a tall pot or stockpot, deep enough without the bread touching the base of the pot. Let it cools down upside down until the next day. This allows the bread to maintain its height without collapsing on its own weight and to maintain that light fluffy texture (thanks to gravity pulling on the bread)


20. Panettone is best served after 24 hours to allow the flavor to develop. Dust with some powdered sugar before serving if you wish or serve as is or toast them and spread some butter on it (heaven on earth!)

Did you make this overnight panettone recipe?
I love it when you guys snap a photo and tag to show me what you've made 🙂 Simply tag me @WhatToCookToday #WhatToCookToday on Instagram and I'll be sure to stop by and take a peek for real!
The recipe is adapted from Sugar Geek Show's

Overnight Panettone (Italian Christmas Bread) - Sponge Method
Ingredients
Main dough:
113

gr

unsalted butter

softened

60

gr

honey

1

large

egg

room temperature, beaten

½

tsp

vanilla extract

170

gr

bread flour

6

gr

lemon zest

6

gr

orange zest

½

tsp

salt
Dried fruits:
30

gr

raisins

30

gr

dried cranberries

30

gr

dried currants

15

gr

candied orange peel

¼

cup

rum

or you can use water
For chocolate panettone:
170

gr

semi-sweet chocolate chip morsels
For almond paste topping:
20

gr

almond flour

5

gr

cornstarch

10

gr

icing sugar

plus more for dusting

10

gr

egg white

or more as needed
You will need:
Instructions
Day 1 evening: Prepare sponge dough
Mix all ingredients for the sponge. Cover and put it in the fridge to let it rise overnight (about 12 hours)

145 gr bread flour,

8 gr instant yeast,

115 gr water

Soak the dried fruits in the rum (or water). Cover and set aside until the next day

30 gr raisins,

30 gr dried cranberries,

30 gr dried currants,

1/4 cup rum,

15 gr candied orange peel
Day 2 morning: Prepare the main dough
Take the sponge dough out from the fridge at least 1 hour (2 hours if possible) to let it come to room temperature before you start preparing the main dough

Drain off excess liquid from the soaked dried fruits and set aside

Use a paddle attachment (beater), beat butter and honey until smooth, about 1-2 minutes on medium speed (speed 6 on KA). Then drizzle in the beaten egg and vanilla extract and beat for another minute

113 gr unsalted butter,

60 gr honey,

1 large egg,

1/2 tsp vanilla extract

Switch to dough hook attachment and add the sponge dough and flour and mix on low speed (speed 2) for 5 minutes. Increase speed to medium (speed 4) and knead for 10 minutes.The dough is very soft and sticky at this point. You need to stop several times during kneading to scrape the side of the bowl with a rubber spatula and continue to knead.

Knead until the dough reaches a windowpane stage, meaning, when you stretch the dough thin very gently, it won't break.

Then add the soaked dried fruit, lemon and orange zest, and chocolate chips and mix until combined

6 gr lemon zest,

6 gr orange zest,

1/2 tsp salt,

30 gr raisins,

30 gr dried cranberries,

30 gr dried currants,

15 gr candied orange peel,

170 gr semi-sweet chocolate chip morsels
First proofing:
Oil a large mixing bowl and your hands and pick up the dough to shape it into a round ball and place inside the prepared bowl. Cover and let the dough rise at a warm place until double in size. The dough is very rich and it's going to take some time for the dough to double in size, depending on the temperature where you are too. It may take 2 to 3 hours or longer for it to double in size
Shape the dough:
Once the dough is doubled in size , transfer the dough to a lightly oiled work surface and your hands. Push the air out

I only have a 5-inch panettone mold, so I portioned out about 650 grams (about 23 oz) of dough and the rest I put in a 4-inch regular round pan. If you use 6 or 7 inch mold or bigger, you don't need to portion the dough

Round the dough into a ball by pulling and tucking the dough underneath with both of your hands
To bake with panettone mold:
Place the shaped dough inside the mold and proceed to second proofing step
To bake without panettone mold:
You can also use a round cake pan with at least 4 to 5 inches in height. Grease the bottom and the sides of the pan. Line the sides with strips of parchment paper, about 2 inches higher than the pan. Line the bottom of the pan with parchment paper as well for easier release

Place the dough inside the pan and proceed to second proofing
Second proofing:
Lightly cover the dough and let it rise again until it is about 1 inch below the rim of the mold or the rim of the parchment paper you lined inside the pot

5 minutes before the end of the second proofing, preheat the oven at 350 F (180 C). This is for my conventional bottom-heat only oven (no fan). If you are using convection with top and bottom heat, lower the temperature by 20 degrees
If using almond paste for topping the panettone:
Skip the egg wash. Mix all ingredients for the almond paste. It should be a paste consistency and can be piped but not watery. Add egg white as needed to reach that consistency

20 gr almond flour,

5 gr cornstarch,

10 gr icing sugar,

10 gr egg white

Transfer the paste to a piping bag or plastic bag, snip the corner, big enough to allow the paste to be piped out and pipe in a circular motion on the surface of the dough. Dust with some icing sugar on top
If not using almond paste and using egg wash instead:
Prepare the egg wash by whisking a whole egg with water. Gently brush the surface with egg wash

1 large egg,

1 Tbsp water
Scoring the bread:
Use a sharp razor or bread lame or very sharp knife to score a cross on the surface of the dough. It may be a bit tricky to do so as the dough is wet and sticky, but just do it gently the best you can. This will allow the bread to rise properly as it bakes

Put a small piece of butter in the middle of the cross. Why? this part I'm not so sure. It's probably the tradition? Please enlight me if you know why 🙂
Baking:
Put the mold on top of a baking sheet and transfer it to the oven and place on the middle rack and bake for about 40-45 minutes or until the top has nice dark golden brown. If the bread gets too dark halfway during baking, you can tent with a foil (shiny side up) and continue to bake

If you are baking muffin size, it will take about 20-25 minutes
Invert the bread upside down:
Remove the bread from the oven and immediately use two metal skewers to poke through the bread near the bottom (as shown in the photos above) or use 4 bamboo skewers, 2 on each side (because bamboo skewers are not long enough to go through the bread)

If you are not using panettone mold, carefully remove the bread by lifting on the parchment paper on the side and carefully use two metal skewers to poke through the bread near the bottom of the bread or use 4 bamboo skewers, 2 on each side (because bamboo skewers are not long enough to go through the bread)

You do not need to invert the muffin size panettone. They are small enough to maintain the height
Cool down:
Invert the bread upside down in a tall pot or stockpot, deep enough without the bread touching the base of the pot. Let it cools down upside down until the next day. This allows the bread to maintain its height without collapsing on its own weight and to maintain that light fluffy texture (thanks to gravity pulling on the bread)
Serve:
Panettone is best served after 24 hours to allow the flavor to develop. Dust with some powdered sugar before serving if you wish or serve as is or toast them and spread some butter on it (heaven on earth!)
How to store panettone:
Let panettone cools down completely and then wrap it with a cling wrap and put inside an air-tight container or a zipper bag (push all the air out and seal). It can be stored at room temperature for one week if it's not humid where you are

Panettone also freezes well. Wrap it with double layer of cling wrap and then put inside a freezer bag. Push all the air out and seal. They can be kept frozen for one month. I personally won't go beyond one month for the best result
Recommended products:
Nutrition
Serving:
1
large slice (with chocolate chips and almond paste)
Calories:
475
kcal
Carbohydrates:
59
g
Protein:
10
g
Fat:
23
g
Saturated Fat:
12
g
Polyunsaturated Fat:
1
g
Monounsaturated Fat:
6
g
Trans Fat:
1
g
Cholesterol:
60
mg
Sodium:
172
mg
Potassium:
283
mg
Fiber:
4
g
Sugar:
22
g
Vitamin A:
405
IU
Vitamin C:
2
mg
Calcium:
41
mg
Iron:
2
mg