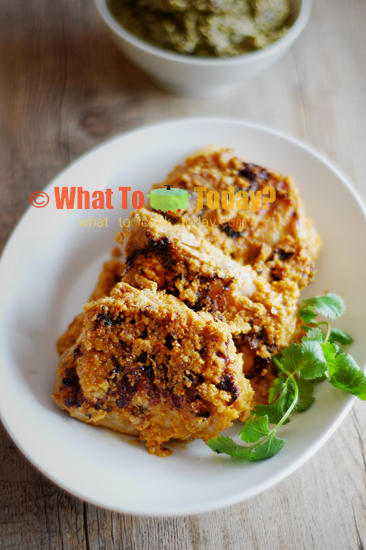 Duck roasted in bumbu rujak is another one of the popular dishes in the west and central Java in Indonesia. Rujak in Indonesian language means "mixture". Most common type of rujak is made with fruits. However, as mentioned in The Indonesian Kitchen cookbook by Sri Owen, there is a difference between the sauce used in different type of rujak. This recipe calls for "bumbu rujak". Bumbu rujak used spices like candlenuts/kemiri (candlenuts are very commonly used in Indonesian kitchen), shallots, garlic galangal, lemongrass, chili, shrimp paste, tamarind water and some salt and sugar.
The fruit rujak usually used "sambal rujak" which is a relish with chilis used as a dressing for the fruits and darker in color thanks to the Indonesian sweet soy sauce/kecap manis in the sauce. Though sambal rujak is sometimes used in cooking chicken dishes as well.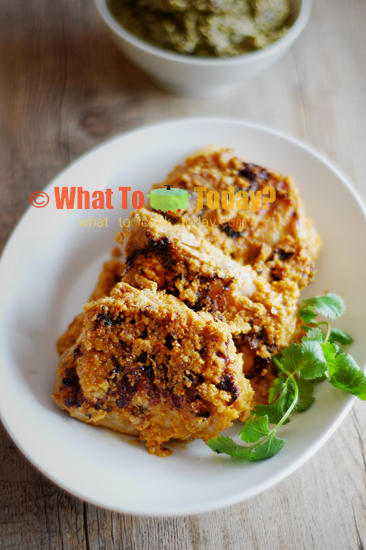 I highly encourage to weigh ingredients with a digital kitchen scale instead of using measuring cups as they are not very accurate especially when it comes to recipe that requires precision.
GRAMS TO CUPS CONVERSION (UNSIFTED)
INGREDIENTS
1

duck

-

about 3-4 lb, halved lengthwise or into smaller pieces (you can use chicken too if you like)

3

Tbsp

peanut or coconut oil

-

to fry the paste

4.5

cups

coconut milk

FOR THE BUMBU

-

PASTE:

10

candlenuts/kemiri or macadamia nuts

-

chopped

6

shallots

-

chopped

6

garlic cloves

-

chopped

2

tsp

chopped galangal

2

tsp

chopped lemongrass

-

soft inner part only

4-6

large fresh red chilis

-

seeded and chopped

1

tsp

crumbled terasi

-

shrimp paste

2

Tbsp

tamarind water

-

see recipe below

1

tsp

soft brown sugar

2

tsp

salt
INSTRUCTIONS
If you are using a lot of tamarind water, which I did with Southeast Asian cooking, it is worthwhile preparing it in larger volume. Boil a whole 7 oz block of tamarind in about 2 1/4 cups water. Boil for 20 minutes, and use wooden spoon to break up the block. Sieve over a glass bowl, and store in an airtight container jar and keep in the refrigerator for 10 days (longer than that and molds will start to grow). You can freeze them in ice cube trays and it will keep for up to 2 months with no loss of flavor. Portion 1 or 2 or 3 Tbsp in each trays so that you know the portion and can easily use it for cooking.

Wash the duck halves. Cut off and discard any loose skin, and remove excess bones and any excess fat. Pat the duck dry with paper towels

Put all the ingredients for the bumbu, or paste, in a blender, and blend until smooth. Heat the peanut or coconut oil in a saucepan, and stir-fry the paste in it for 4 minutes. Add the coconut milk, bring to a boil, and add the duck halves. Stir to coat the duck all over with the paste and coconut milk. Cover the pan, and cook the duck over medium heat for 45 minutes

Remove the lid from the pan, increase the heat, and continue cooking the duck until the sauce becomes very thick

Check the seasoning, adding more salt if necessary. Up to this point, this can be prepared well in advance. Take out the duck and keep to one side on a plate. Transfer what remains in the pan of the very thick sauce to a bowl

When you are ready to serve, grill the duck halves/pieces, preferably over charcoal, but otherwise under a grill on the highest possible setting, for 3-4 minutes on one side. Turn over and grill the other side while brushing the reserved sauce onto the duck

Grill for another 4 minutes until quite brown or even just a little charred, but not burned. Serve hot with rice, pasta or potatoes, and cooked vegetables or salads