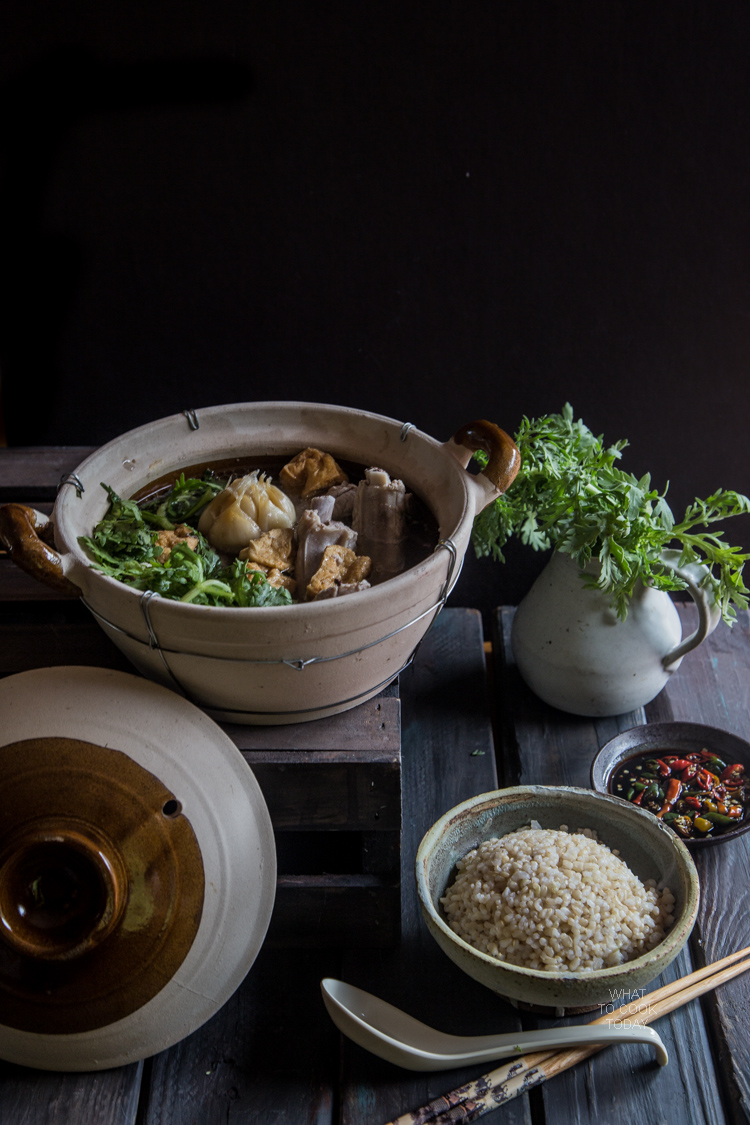 Pork bone tea soup or in a hokkian dialect known as bak (meat) kut (bone) teh (tea) usually is made of meaty pork ribs simmered in a broth brewed with Chinese herbs for hours. The color of the soup may be darker or lighter, depending on the herbs used. This is may favorite food since I was a little kid. I remember my first exposure to bak kut teh was in Kuala Lumpur, Malaysia. This famous stall (20 something years ago) was often packed with people and the unforgettable thing about that stall to me was the girl who would calculated our bill out loud and ever so fast without any calculator. It was quite a show on its own 🙂
Bak kut teh is usually eaten with rice and soy sauce and sometimes dark soy sauce are also preferred condiments to drizzle on the soup. The taste of the soup is somewhat garlicky and peppery. Additional ingredients some people may include in bak kut teh are offal, varieties of mushrooms, veggies like tang oh/ garland chrysantemum (as shown in the photo), choy sum, and pieces of fried tofu puffs (one of the best part). Another one of my favorite one-pot meal without much fuss and it's always a hit in our family.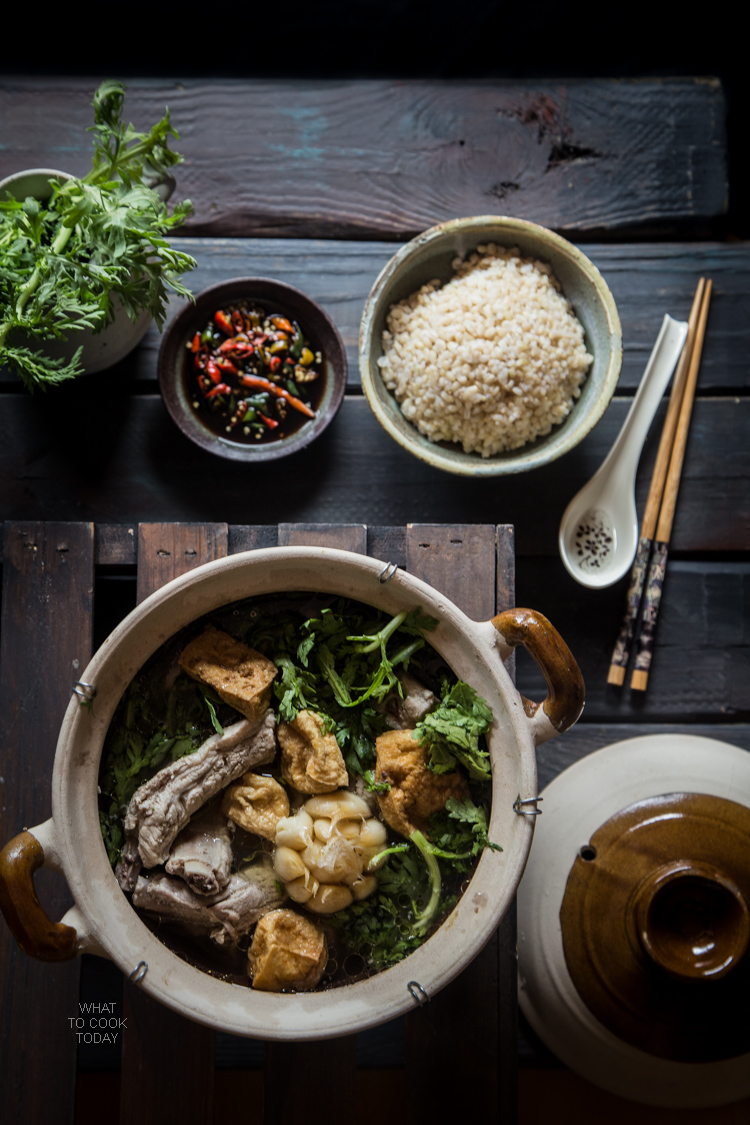 For baking/ kueh making: I highly encourage to weigh ingredients with a digital kitchen scale instead of using measuring cups as they are not very accurate especially when it comes to recipe that requires precision.
GRAMS TO CUPS CONVERSION (UNSIFTED)
INGREDIENTS
2

lbs

of pork ribs

-

separated into individual rib

6

cups

of water

2

big bulbs of garlic

-

wash clean but do not peel or separate them

5-6

Shiitake mushrooms -

soaked in warm water until soft and cut into half or quarters

3

Tbsp

of soy sauce or more to taste

Pinch of salt
Chinese herbs (or you can simply use store-bought bak kut teh sachet):
1

piece

of dang shen

-

codonopsis

2

pieces

of dried dong quay

-

angelica root

3

pieces

of chuan xiong

-

Szechuan lovage rhizome

1

piece

star anise

1

Tbsp

of white peppercorns
Garnishes:
Large bunch of fresh Tang Oh vegetables

-

garland chrysantemum, trim off bulky stalks and blanch in hot water for 3 minutes

Small bunch of cilantro leaves

3

stalks of spring onion

-

finely chopped
Chili with soy sauce:
5-6

red chilis

-

chopped

2

cloves

garlic

-

peeled and finely chopped

1-2

Tbsp

Soy sauce
INSTRUCTIONS
Rinse the dried spices with water and lightly pat dry. Place them (except for wolfberries) in a cheese cloth and tied it up into a bouquet garni. Set aside.

Place the pork ribs in a pot and cover with water. Bring to a boil and blanch for about 5 minutes. Discard the water and rinse the pork ribs with cold running water. Clean the pot and place the pork ribs back into the pot and add in water, the bouquet garni, garlic, shiitake mushrooms, and soy sauce. Bring to a boil and then lower the heat and let it simmer for the next 2 hours or until the pork ribs are really tender. 1 minute before end of cooking time, add in the wolfberries. Add in pinch of salt and have a taste and add more seasoning to your taste

When ready to serve, place some tang oh on the bottom of the bowl and ladle the pork ribs along with the soup and some mushrooms over. Sprinkle some cilantro leaves and chopped spring onion. Serve with a bowl of white rice, and chili doused in soy sauce