I'm still cooking with Jamie Oliver as you can see 🙂 This is another wonderful recipe from his Happy Days with the Naked Chef.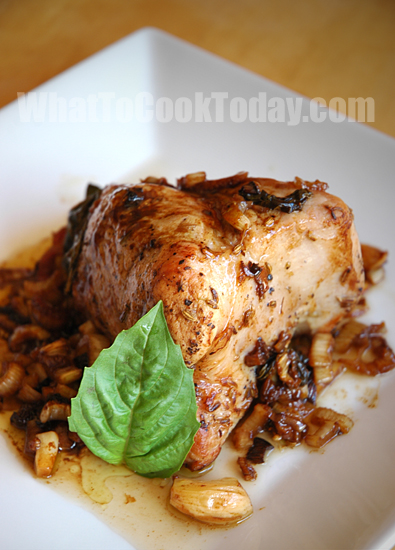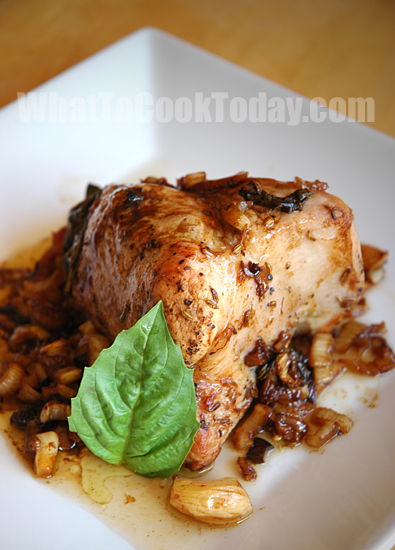 POT-ROASTED PORK IN WHITE WINE WITH GARLIC, FENNEL AND ROSEMARY (6 servings)
3 1/2 lbs boneless pork loin
1 Tbsp fennel seeds
2-3 large pats of butter
8 cloves of garlic (skin left on)
1 handful of fresh rosemary (leaves picked)
4 bay leaves
1 fennel bulb (sliced)
1/2 a bottle of chardonnay of your choice
Salt and Pepper to taste
COOKING METHOD:
1. Preheat oven to 400 F. With 2 or 3 bits of string, tie up your pork loin- do this anyway you like. It doesn't have to be fussy, you just want to keep the meat in a snug shape whilte it's cooking.
2. Season the meat generously with salt and pepper, then roll the meat in the fennel seeds until covered
3. In a casserole pan or roasting pan, fry the meat for a couple of minute in half of the butter and a little of olive oil, until nice and golden
4. Throw in the garlic, herbs, fennel and wine, then cover the pan loosely with some wet wax paper and place in the oven for 1 1/4 hours. As the pork loin is off the bone it cooks very quickly
5. Remove from the oven and allow the meat to rest on a plate. Then, without using any more heat, finish off your sauce in the pan. Remove any large bits of rosemary stalk if you prefer
6. Correct the seasoning and squash open a couple of the garlic cloves, when cooked they go nice and sweet and add a lovely taste to the sauce