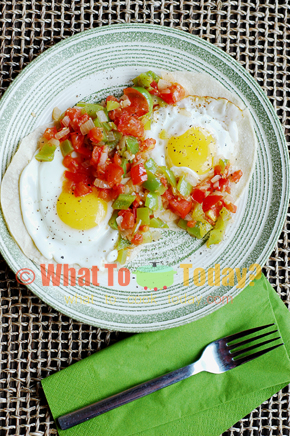 Huevos a la Mexicana and Huevos Rancheros are two favorite egg dishes of Mexicans. This popular ranch-style eggs were commonly eaten for the late breakfast, but now you can find them on menus all day long, served with extra tortillas.
The old saying of "If you have eggs, you have a meal" can't be any more true. Huevos rancheros is definitely a complete meal on its own. I love having huevos rancheros for dinner too when I want to keep thing simple and dining on my own.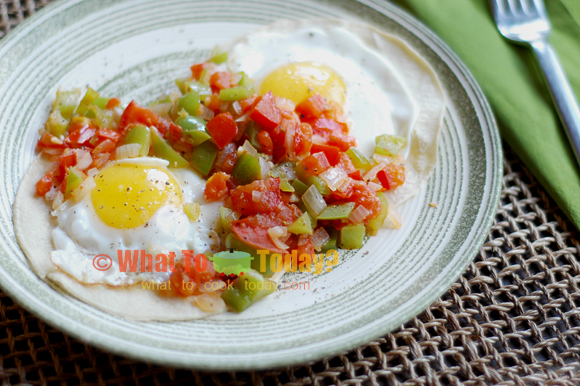 I highly encourage to weigh ingredients with a digital kitchen scale instead of using measuring cups as they are not very accurate especially when it comes to recipe that requires precision.
GRAMS TO CUPS CONVERSION (UNSIFTED)
INGREDIENTS
2

Tbsp

finely chopped onion

1/2

cup

finely chopped green bell pepper

1

clove

garlic

-

finely chopped

1

cup

finely chopped tomatoes

2

chile serrano

-

finely chopped

1/4

tsp

salt and freshly ground black pepper

4

corn tortillas

4

eggs

2

Tbsp

of canola oil
INSTRUCTIONS
Place the corn tortillas on a skillet on very low heat to keep them warm while preparing the rest.

Heat 2 Tbsp of oil in a small saucepan, add the onion and garlic and saute until transparent. Add the tomato and bell peppers and cook for 2 minutes. Add the chile, salt and pepper and cook another 3 minutes. Correct the seasonings if needed

In another non-stick skillet. Heat up 2 Tbsp of oil, add the eggs and fry until set. Place the tortilla on a plate, top with fried eggs and cover with the sauce. Best when serve hot