Shrimp is one of my favorite seafood. I like to cook with seafood because they usually don't take a long time to cook. In fact, it is very easy to overcook seafood like shrimp, fish, and crab. Once you overcook them, they turn tough and rubbery (especially with shrimps) and they just aren't that appealing anymore.
It is not easy to get fresh seafood here in the U.S. compares to in the Asia countries. Only small amount of fresh seafood actually come from the U.S. So, most of the time, they are in the frozen state when they arrived. Fresh doesn't always mean "fresh" too because sometimes they might have been previously frozen. Frozen doesn't always mean that it's bad either (have I lost you yet?). It is best if you can purchase the individually quick-frozen seafood. You can thaw the amount you need instead of thawing the entire package only to use half of them. Once you thaw the seafood, you need to remember that you CANNOT freeze them again. The texture and the quality of the seafood decline quickly when you do that. So, find the individually quick-frozen if you can or even better the fresh ones if you live near the coastal area.
This shrimp stew is really easy to make and it is my husband's favorite. It's my favorite too. It taste really flavorful with all the spices and herbs and the best part is is so very easy to whip this up. This is really a dish to impress someone you know who enjoy seafood 😉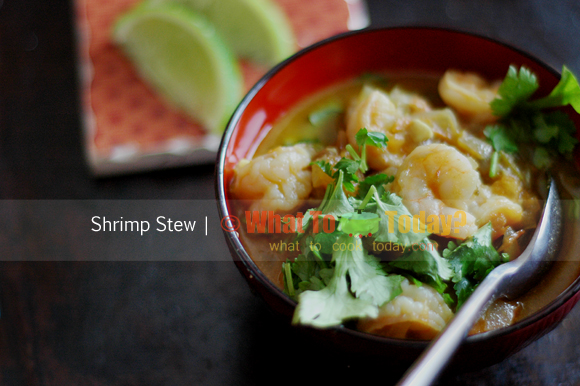 I highly encourage to weigh ingredients with a digital kitchen scale instead of using measuring cups as they are not very accurate especially when it comes to recipe that requires precision.
GRAMS TO CUPS CONVERSION (UNSIFTED)
INGREDIENTS
1

lb

of uncooked large shrimp

-

(peeled and deveined)

1/4

tsp

turmeric powder

1

Tbsp

of fish sauce

2

fresh medium-size tomatoes

1

serrano peppers or you can use 2-3 green Thai chilis

-

(chop into small pieces)

1

cup

water

Salt to taste

3

Tbsp

of grape seeds oil or peanut oil
Ingredients to be grind:
10

shallots

-

(peeled)

3

cloves

garlic

-

(peeled)
Garnishes:
Small bunch of coriander leaves

1

lime

-

(cut into wedges)
INSTRUCTIONS
In a food processor, chop the shallots and garlic into very fine pieces. Preheat the oil in a heavy-bottom pot. Add in the shallots, garlic, turmeric, chilis and stir fry until fragrant and the shallots are soft, about 2 minutes. Add in the tomatoes and continue to stir fry for another 1 minute. Add in the water and bring it to a boil. Lower the heat and let it simmer until the tomatoes are really soft and fell apart

Add in the fish sauce and shrimp. Cook until the shrimp started to turn pink. Have a taste and add more salt if needed

When ready to serve. Ladle the stew over to a serving bowl and garnish with some coriander leaves. Serve with lime wedges on the side