This shop has been compensated by Collective Bias, Inc. and its advertiser. All opinions are mine alone. #DareToPair #CollectiveBias
The snow is out of sight and the rain is pouring in now. YES, it's officially Spring in Minnesota ! I feel like it's kinda early for Minnesota's standard, but hey…I'm not complaining! I would take rain over snow 🙂 Despite the rain, I love Spring. The grass is green everywhere, my perennials are showing up, and fresh colorful produce is abundant. It just makes my heart happy seeing all the colors. Another thing I really like about the warmer weather is that I can let the kids play at the backyard while I'm preparing lunch and dinner (and taking photos 🙂 ). When they come back in, they are usually starving and eager to eat.
We have pretty active lifestyles. My husband and I hit the gym 4-5 times/week. While we enjoy good food on the weekends, we are trying to keep things in balanced with lighter meals during the weekdays. I cook a lot with fresh produce and trying to avoid processed food as much as we can. My kids know that we will have fresh vegetables for lunch and dinner every day and so my daughter often asks "What's veggie you cooked today mom?" In a way, I'm happy because my effort of trying to cook wholesome delicious meal for my family, somehow pays off. Variety is another thing that I'm trying to include in my daily cooking. Mainly because I have kids and one of them is rather a picky eater (it's getting better) and my philosophy when it comes to this is "Try it before you say you don't like it". The kids know this mantra by now.
My daughter loves noodles and pasta of any kind. So, needless to say, these show up a lot in our menus. I'm beyond thrilled to find that Barilla whole grain pasta is made of 100% whole wheat. The kids love it too.
So, I'm pairing Barilla whole grain spaghetti with fresh produce like asparagus, leeks, cherry tomatoes and delicious pesto ala Genovese made from scratch with fresh basil. My mom cooks a lot with leeks and she likes to use them to stir fry Asian noodles. I don't see leeks being used very often in pasta dishes and so I thought leeks would definitely give this spaghetti dish a nice flavor, and they did.
Spring spaghetti with chicken and pesto ala Genovese (4 servings)
Ingredients
1

lb

Barilla Whole Grain Spaghetti

cook to al dente or according to package

1

large leeks

1

lb

of boneless skinless chicken breast/thighs

cut into 1-inch pieces

1

lb

asparagus

trim the stalky ends

1

cup

cherry tomatoes

halved

1

Tbsp

of cooking oil

Salt to taste
Pesto ala Genovese:
2

cups

fresh basil leaves

3

Tbsp

toasted almond

3

cloves

garlic

1/2

cup

Parmigiano-Reggiano

grated

1/2

cup

extra virgin olive oil
Instructions
You can prepare the pesto the day before and keep in refrigerator:
Put the basil, almond, and garlic in food processor and process until they are finely chopped. Gradually add in the oil while the food processor is running until you get a nice smooth pesto. Store in a glass jar with lid and keep in the refrigerator until ready to use
Prepare the leeks:
Leeks need to be thoroughly clean before using as they have lots of layers and retaining lots of dirt and soil. Thinly slice the leeks crosswise into 1/4-inch and then push out each layer and transfer into a large bowl of cold water. Stir them a little bit to loosen up the dirt and let them sit for 5 minutes. The dirt will settle to the bottom of the bowl. Use your hand to scoop out the leeks into another clean large bowl and pat dry with paper towel. Repeat if you think its necessary. Leeks are ready to use now
Cooking:
Cook the spaghetti according to direction or to al dente. Reserve about 1/4 cup of the cooking liquid

In a large skillet, preheat 1 Tbsp of cooking oil. Add in the leeks and saute until they are soft, about 5 minutes or so. Add in the chicken pieces and cook until the chicken pieces turn into opaque in color. Add in the asparagus and let it cook until it's soft (but not mushy) and the chicken pieces are cooked through. Add in the cherry tomatoes, give it a quick stir. Turn off the heat. Add in the cooked spaghetti and the pesto sauce you made. Toss the pasta to make sure the sauce is coating the noodles and everything else. Add in the reserved liquid from cooking the pasta earlier if you think it's too dry. Have a quick taste and season with some salt if necessary. Serve immediately
The flavor of the leeks and the pesto ala Genovese paired so well with the spaghetti, chicken and everything else in this dish.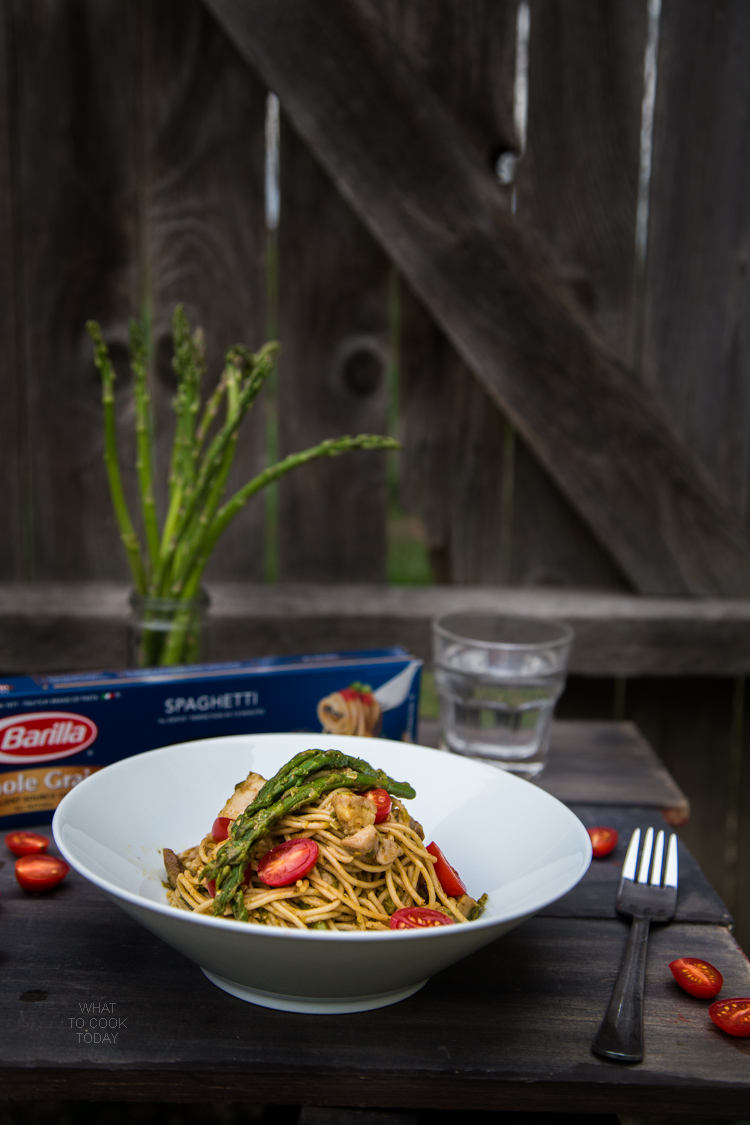 I love the color of this Spring spaghetti with chicken and pesto ala Genovese. It's light, but flavorful, and most importantly, everyone was happy about this meal. What else could I ask for ? Maybe a second serving 😉
Check out Barilla Better for you Pasta at the pasta aisle at Walmart. You can buy any 3 select varieties and earn $1.00 with this offer too.

Sorry I have to show you one more shot of me eating it. I deserve it right ? 🙂