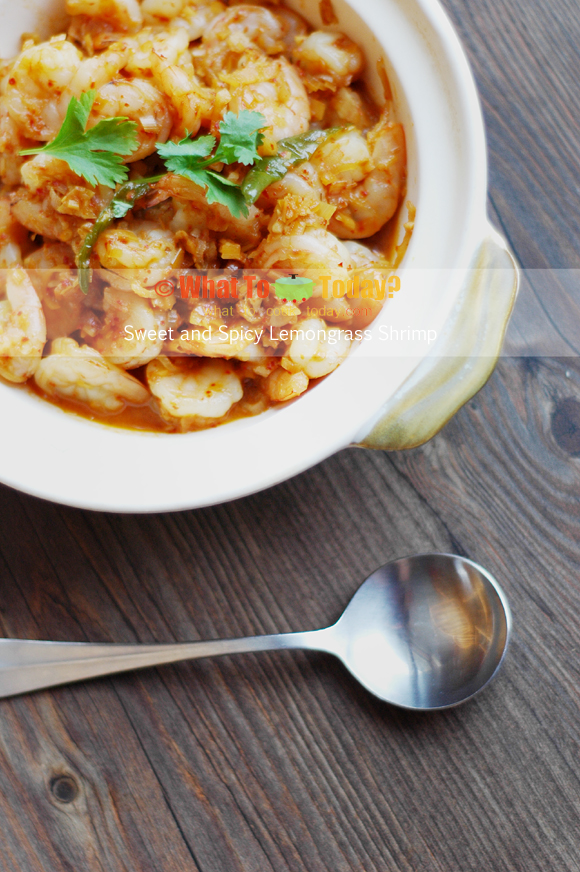 Yes, I'm still cooking with lemongrass. This is to show you how versatile lemongrass is. I absolutely love this sweet and spicy lemongrass shrimp. The thought of actually eating the lemongrass stalk itself was kinda scary to me at first. But after you minced it up, it's really nice. The lemongrass adds some "crunch" to the dish while being flavorful at the same time. The dish tastes slightly spicy and sweet. This is a dish you can whip up in no time and impress yourself and others!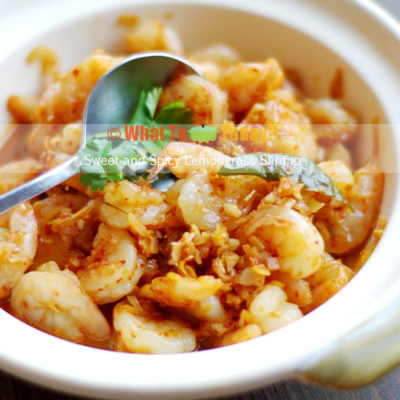 **The recipe is written in Metric and sometimes I include U.S. Measurements**
Please weigh ingredients with a digital kitchen scale instead of using measuring cups as they are not very accurate especially when it comes to recipe that requires precision.
INGREDIENTS
1

lb

large uncooked fresh or frozen shrimp

-

thawed if frozen, peeled and deveined

2

shallots

-

peeled and thinly sliced

1

stalk of lemongrass

-

trim the woody bottom and the skinny woody stalks on top and then peel off several outer layers and then slice the stalks thinly into rings and then chop them finely with your knife

4

cloves

garlic

-

peeled and finely minced

1

piece

of 1-inch ginger

-

peeled and finely minced

1

green Thai chili

-

seeded and cut into julienne

1/2

Tbsp

of red chili flakes

-

more or less to your liking

1/4

cup

of water

1/3

cup

of dark brown sugar

1

Tbsp

of fish sauce or more to taste

1

Tbsp

of grape seeds oil
INSTRUCTIONS
Preheat the oil in the wok or skillet, add in the shallots, garlic, ginger, and saute until the shallots are soft and really fragrant, about 2 minutes

Tip in the chili flakes and lemongrass and continue to saute until the lemongrass is fragrant, about 1 minute. Add in water and bring to a boil. Add in the brown sugar and fish sauce and stir to mix everything. Bring it back to a boil. Add in the shrimps and cook for another minute and stir to make sure the sauce coats the shrimp. Have a taste, it should be sweet, spicy, and savory. Adjust by adding more brown sugar and/or fish sauce if needed