Learn how to easily cook sweet mung bean soup (green bean soup) with sago pearls and coconut milk using an Instant Pot pressure cooker or on the stove. It is a popular dessert in SoutheastAsia.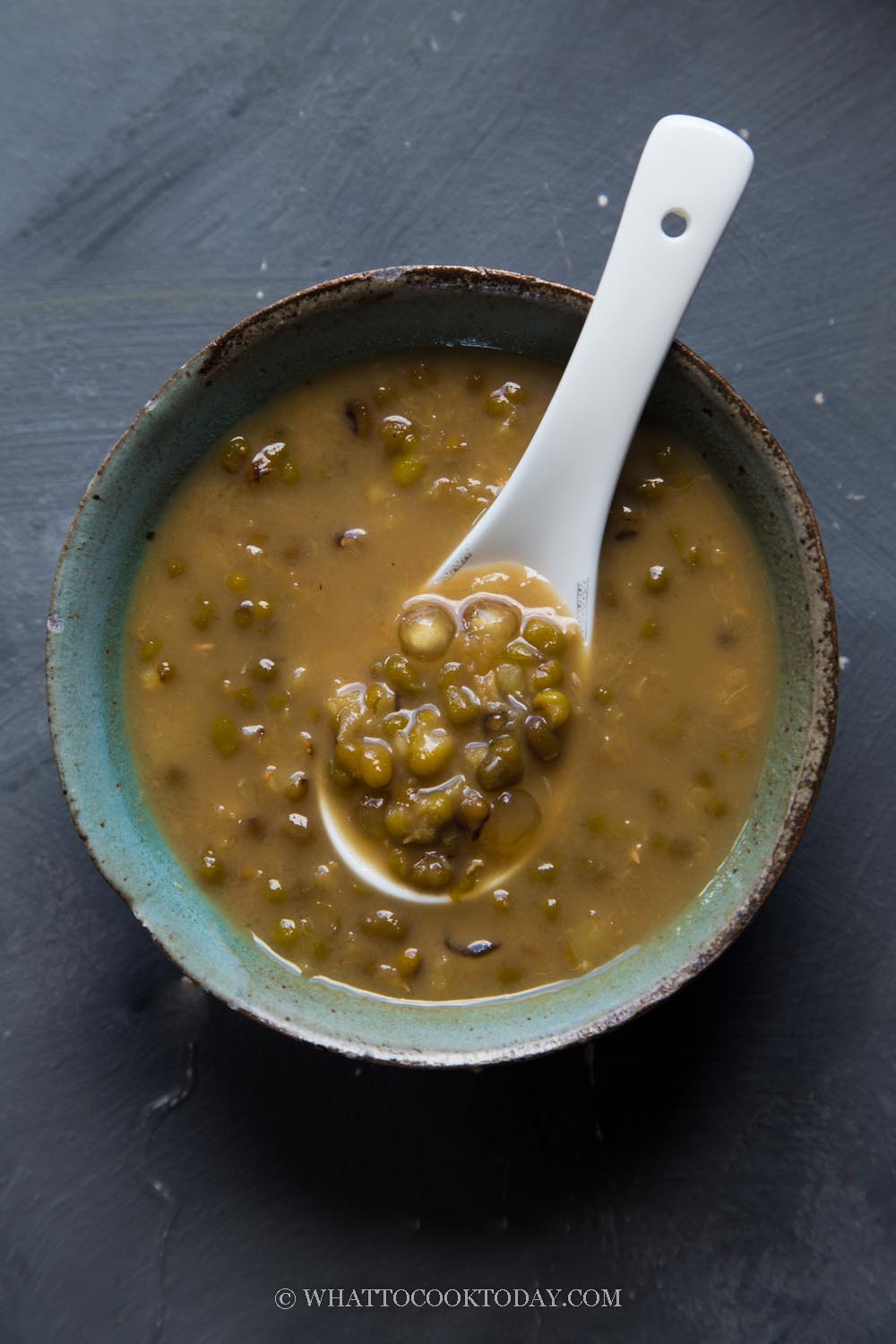 Mung Beans (Green Beans)
Mung beans are also often called green beans (綠豆) in Asia because of their green color. Not to be confused with the green bean vegetables. Mung beans are often served as a sweet or dessert in Asia or known as tong sui (sugar water). In Indonesia, Singapore, and Malaysia, more often than not, gula Melaka, pandan leaves, and coconut milk are used to cook sweet mung bean soup. We call it bubur kacang hijau because of its thicker, porridge-like consistency.
Whole mung beans can also be sprouted to be mung bean sprouts like in this how to sprout mung beans post.
Green bean soup is cooling
In traditional Chinese Medicine (TCM), mung beans are considered a "cold" ingredient, meaning, they are able to "tame" that body heat. I remember my mom liked to give us green bean soup when we had a fever as a kid. My mom also shared that those who are "cold" in nature, may not want to consume too many green beans. Sometimes she likes to add ginger into the soup so it won't be as "cold". In general, green beans are nutritious. They are high in fiber, protein, and have detoxifying properties. BUT, I'm no doctor, just sharing some information.
Ingredients
1. Whole mung beans
Whole dried mung beans are green in color. If the husk is removed, it has yellow color or often known as split mung beans. We want to use whole mung beans in this recipe. They are widely available in pretty much any Asian store
2. Sago pearls/tapioca pearls
You can use large or small sago pearls. If you are cooking with a pressure cooker, I recommend using large pearls. If you are cooking on the stove, you can use small pearls so they cook faster
3. Pandan leaves
Since I'm making Southeast Asian style sweet mung bean soup, the addition of pandan leaves and coconut milk are almost a must 🙂 well, you don't have to, but we love our pandan leaves and coconut milk in Southeast Asia.
4. Coconut milk
I use canned coconut milk. If you like a thicker creamier consistency, you can use coconut cream
5. Sweetener of choice
The Chinese sweet mung bean soup usually uses rock sugar as a sweetener. I use a combination of coconut sugar and granulated sugar. You can use brown sugar, gula Jawa/gula Melaka, or any sweetener of your choice
6. Salt
A small pinch of salt really brings out the overall flavor. I love it with just that hint of salt in there. You can barely taste it but you know it's there
Do you need to soak mung beans before cooking?
Yes, if you cook the beans on the stove. Otherwise, they will take a long time to cook. If you cook with a pressure cooker, you don't need to soak the beans 🙂 I know soaking is a passive activity, but without having to soak, I can pretty much plan to have this sweet mung bean soup dessert whenever I crave it. So, I highly recommend using a pressure cooker if you have one.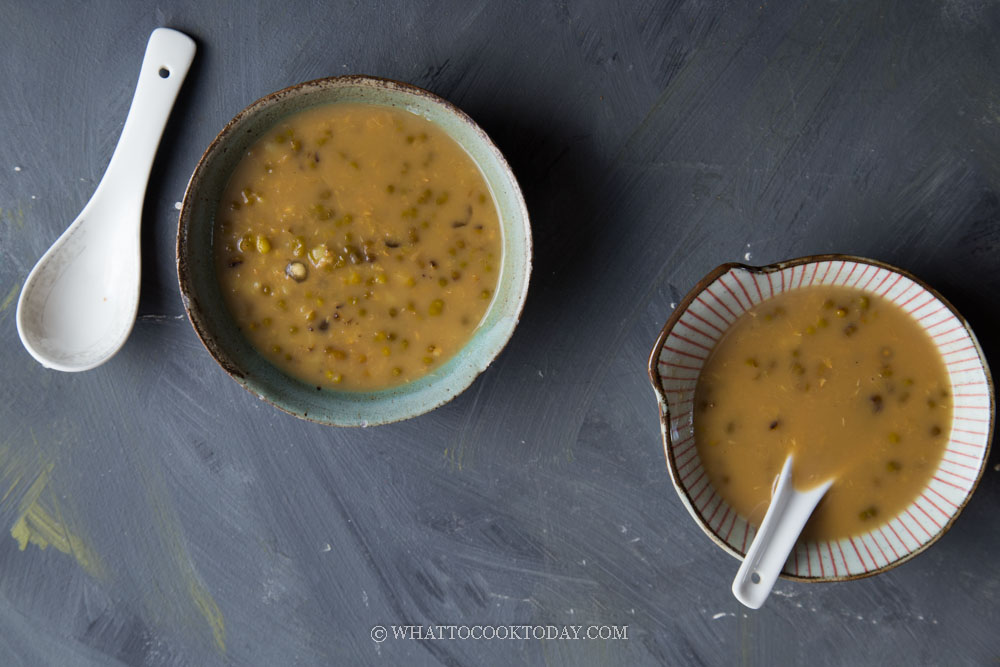 How to cook sweet mung bean soup in Instant Pot Pressure Cooker
1. You don't need to soak the mung beans if using a pressure cooker. Put mung beans and water in the inner pot of Instant Pot. Press "saute" to bring the water to a boil.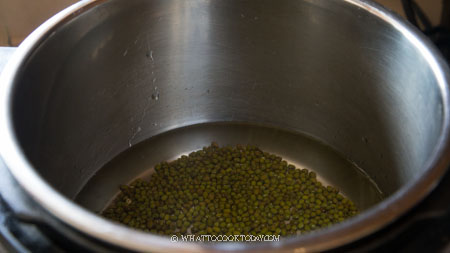 2. When it boils, add pandan leaves and large tapioca pearls (if you choose to use the large one like I did). If you are using the small pearls, add them after the beans are done cooking or they will turn into mush in pressure cooker.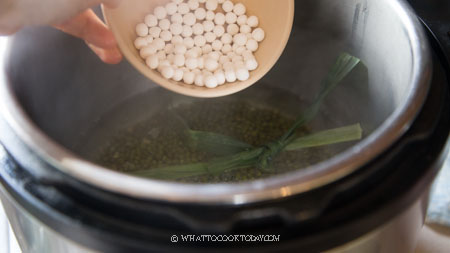 3. Give them a stir and turn off the saute mode. Close the lid and press "pressure cooker" and make sure it's on "high pressure". Set the timer to 40 minutes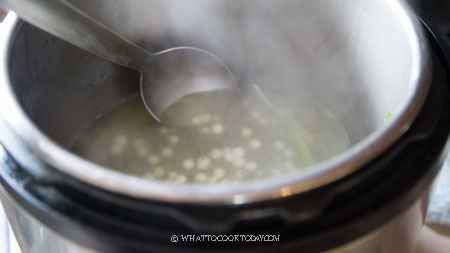 4. When it's done cooking, wait 5 minutes and then release pressure. I'm using large tapioca pearls. The beans should have broken up or split open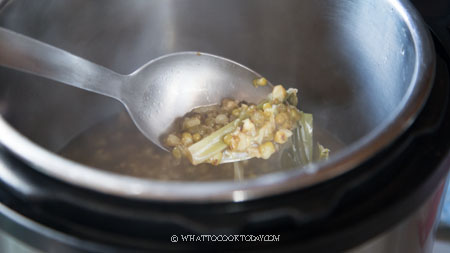 5. Stir in the sweetener of your choice. I use a mixture of coconut sugar, granulated sugar, and a small pinch of salt,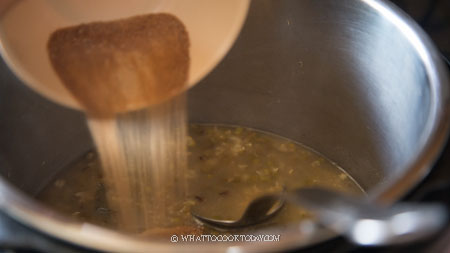 6. Stir in the coconut milk. Don't boil the coconut milk. The residual heat will melt the sugar and warm the coconut milk up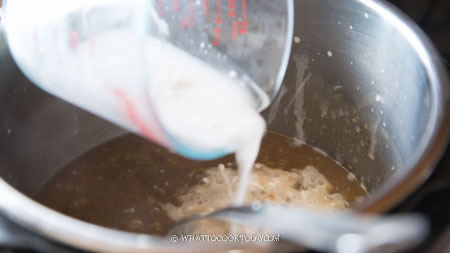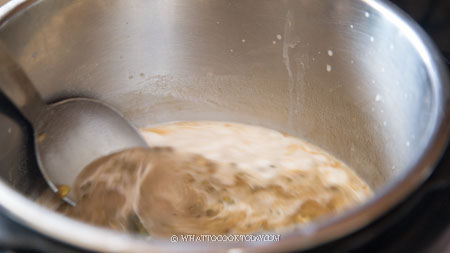 7. They can be served warm or after chilling in the refrigerator on hot summer days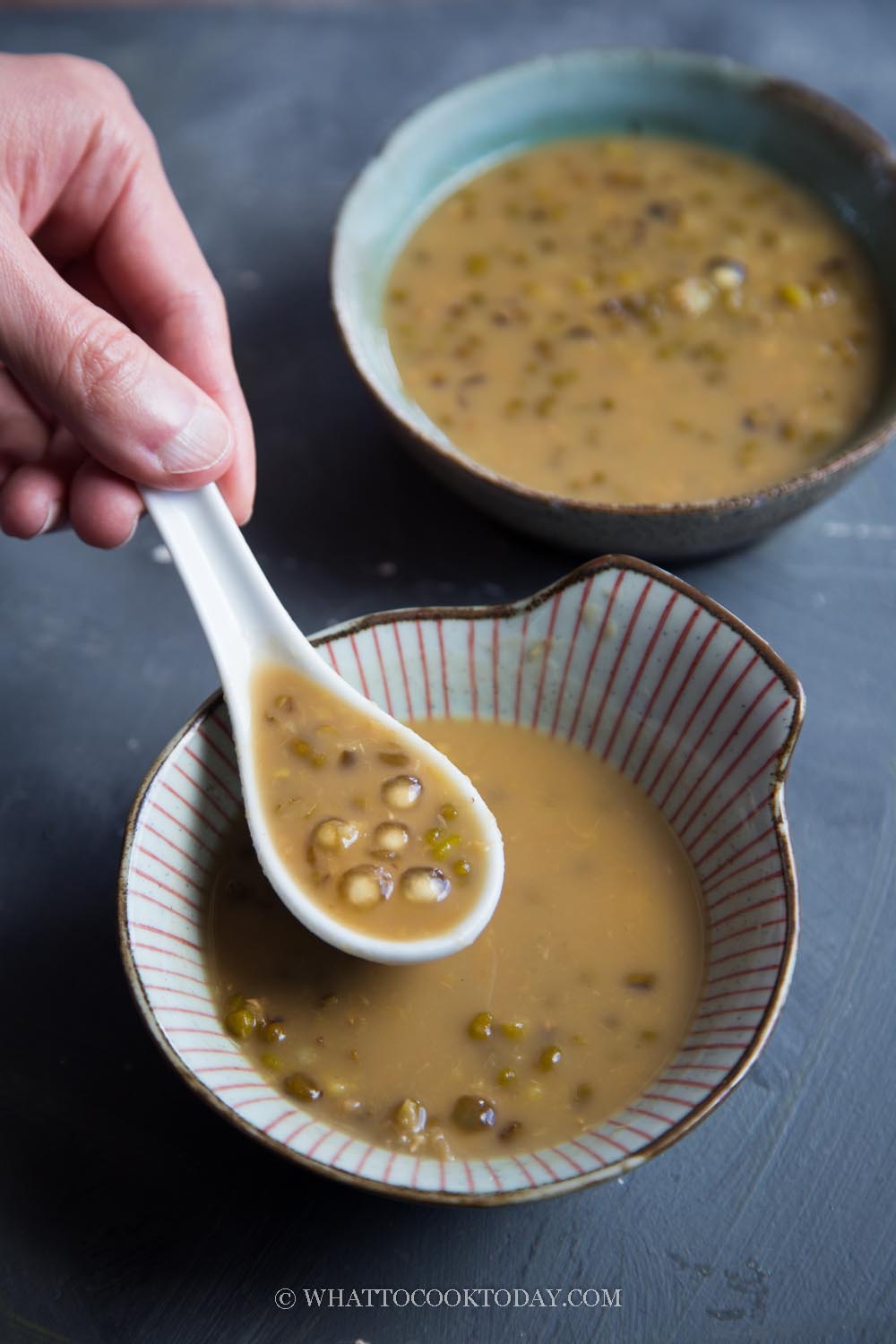 Variations
–Sweet potato mung bean soup dessert
This is another popular variation. You can add the sweet potatoes to the last 8-10 minutes of cooking and cook until they are fork-tender but not mushy.
–Green mung bean popsicles
Does anyone remember green mung bean popsicles? This was like my childhood favorites. My grandma made them all the time to combat the summer heat. She would cook the green bean soup and then pour into long plastic bag (there wasn't popsicle mould back then) and then tied the end and freeze. We would open the fridge and grabbed one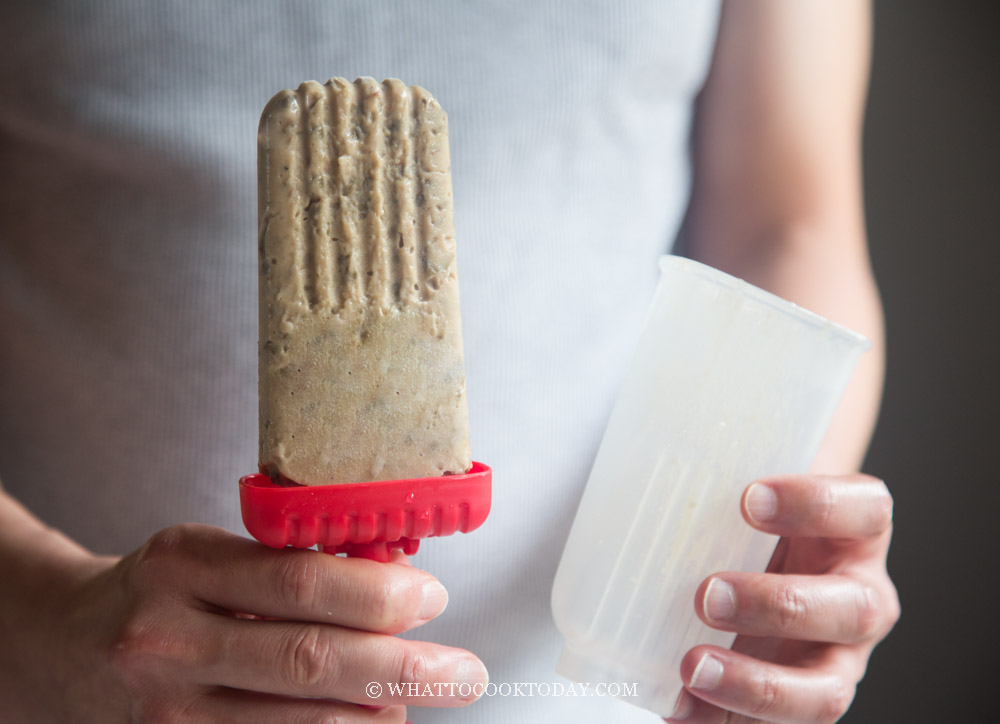 How to store leftovers
Let the sweet mung bean soup cools down completely. Transfer to a container with a lid and it can be kept in the fridge for up to one week. Simply serve chilled or reheat if you prefer the warm version.
If you cook in big batch, they can also be portion out into a freezer-friendly container and kept frozen for up to one month. Simply thaw in the fridge overnight or at the counter and then reheat on the stove or in the microwave. The coconut milk may not be as smooth anymore after being frozen though, so keep that in mind.
Did you make this sweet mung bean soup (bubur kacang hijau) recipe?
I love it when you guys snap a photo and tag to show me what you've made 🙂 Simply tag me @WhatToCookToday #WhatToCookToday on Instagram and I'll be sure to stop by and take a peek for real!

Sweet Mung Bean Soup with Sago Pearls
Ingredients
200

gr

mung beans

100

gr

tapioca pearls

I used large tapioca pearls

6

cups

water

3

pandan leaves

knotted

150

ml

coconut milk

Small pinch of salt
To sweeten the soup: (you can use any of the following):
Instructions
Rinse the mung beans in several changes of water until clean.
If cooking on the stove:
Soak mung beans for at least 4 hours or overnight. Discard the soaking water

Bring 6 cups of water to a boil. Add mung beans and pandan leaves. Bring water back to a boil and then lower the heat to let it simmer partially covered, for the next 30 minutes or until most of the beans break open and tender. Add the sago pearls and continue cooking for another 10 minutes or until the sago pearls turn translucent. You may still see some white spots in the pearls, but as long as they are soft and chewy, they are done cooking. The sago pearls may thicken the soup slightly too

Turn off the heat and stir in coconut milk, a small pinch of salt, and sweetener of your choice.
If cooking with Instant Pot pressure cooker:
You don't need to soak the mung beans if using a pressure cooker. Put mung beans and water in the inner pot of Instant Pot. Press "saute" to bring the water to a boil. When it boils, add pandan leaves and large tapioca pearls (if you choose to use the large one). If you are using the small pearls, add them after the beans are done cooking. Give them a stir and turn off the saute mode. Close the lid and press "pressure cooker" and make sure it's on "high pressure". Set the timer to 40 minutes

When it's done cooking, wait 5 minutes and then release pressure. If you are using small tapioca pearls, press "saute" again. When the soup comes to a boil. Add the small tapioca pearls and let them cook for about 10 minutes. They will turn translucent. You may still see white specks in the pearls, but as long as they are soft and nicely chewy (Not tough), they are done cooking. Turn off the saute mode

Stir in the sweetener of your choice. I use a mixture of coconut sugar and granulated sugar, a small pinch of salt, and stir in the coconut milk. Don't boil the coconut milk. The residual heat will melt the sugar and warm the coconut milk up
Recommended products:
Nutrition
Serving:
1
serving
|
Calories:
337
kcal
|
Carbohydrates:
55
g
|
Protein:
13
g
|
Fat:
9
g
|
Saturated Fat:
7
g
|
Sodium:
30
mg
|
Potassium:
708
mg
|
Fiber:
8
g
|
Sugar:
4
g
|
Vitamin A:
57
IU
|
Vitamin C:
3
mg
|
Calcium:
88
mg
|
Iron:
5
mg