Pillowy soft and fluffy chiffon cake studded with tender and flavorful bak kwa pieces. A great combination of sweet and savory taste and flavor merged together in a form of cake.
I'm always a sucker for savory and sweet food, especially in desserts or cakes! It's like such an exciting combination in one bite! Instead of just tasting sweet, you have that savory and sometimes umami flavor in the picture.
I love eating homemade bak kwa on their own too, but because I also love to explore the possibility of what else I can put in chiffon cake, I decided I must try bak kwa chiffon cake. I was really intrigued after seeing an article from here that features Bee Cheng Hiang's bak kwa chiffon cake and Swiss roll.
The recipe rundown
Taste: Lightly sweetened cake with sweet and savory taste of the bak kwa pieces
Texture: The cake is so soft and spongy
Level: Intermediate

How to make bak kwa chiffon cake
Let's get to baking shall we?
1. Cut the bak kwa into tiny pieces. If the pieces are too large, they will most likely sink to the bottom of the pan. Coat the bak kwa pieces with the cake flour. This will help the bak kwa pieces float in the cake during baking. Sieve out any excess flour. Set aside


2.Preheat oven at 330 F (165 C). My oven is a conventional oven with bottom heat. Whisk the cake flour, baking powder, and salt together until combine. Set aside. In another mixing bowl, mix egg yolks, sugar, oil, milk, and vanilla extract until combine.


3. Sift in the flour mixture into the egg mixture and stir until combined and smooth. Set aside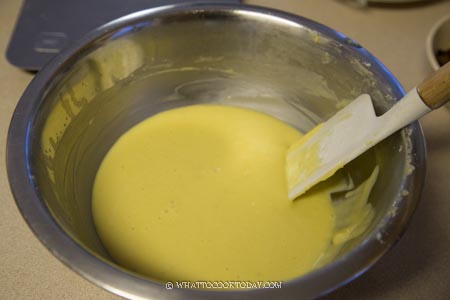 4. Put the egg whites in a grease-free mixing bowl or stand mixer bowl. Whip over medium speed until frothy, then add the acid and whip again for another minute. Add the sugar gradually in 3 batches and increase the speed to high and whip until the egg whites just reach a stiff peak. You can always stop halfway to check. The meringue should hold its shape if you turn it upside down and has a slight bend on the tip that doesn't move. Stop beating once you reach this stage


5. Fold in 1/3 of the meringue into the cake batter. You can use a rubber spatula or a wire whisk to fold. I actually prefer to use wire whisk lately. Swipe down and fold over to combine the meringue with the cake batter. Once incorporated, continue with the next 1/3 and so on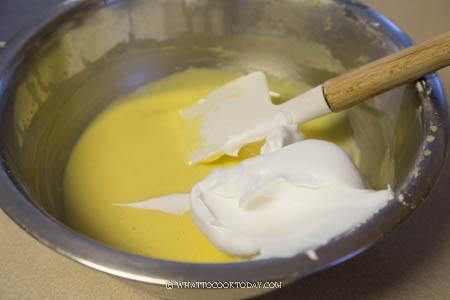 6. You want to work gently but efficiently. Don't overmix that you deflate most of the air in the meringue. You shouldn't see any more white meringue in the cake batter. This is after all meringue is fully combined with the cake batter. It should be voluminous and fluffy


7. Fold in the coated bak kwa pieces and fold gently to combine


8. Pour the cake batter into an UNGREASED chiffon cake pan. Smooth the surface with a rubber spatula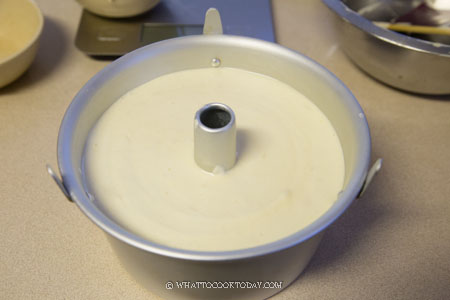 9. Tap the cake pan on the counter 3-4 times. I use a bamboo skewer and run through the batter to pop air bubbles inside


10. Put at the middle rack inside the oven and bake for 40-45 minutes, then lower temperature to 300 F (150 C) and bake for 5-10 minutes or until tester comes out clean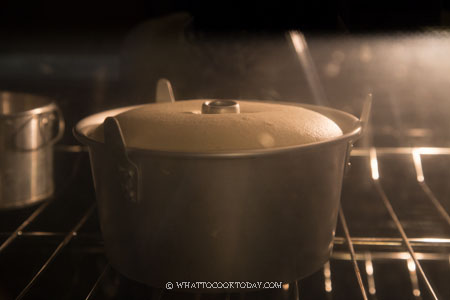 11. Immediately drop the cake pan from about 10 cm height on the counter to minimize shrinkage about 2-3 times and invert the tube pan upside down to let it cools down completely in this position


12. Once it has cooled down completely, use an offset spatula to run through the edge and the outer center of the tube to help release the cake. Gently push the base to lift the cake out. Use the offset spatula again to run through the base of the pan and then carefully release the cake onto a serving platter

And there you have it, pillowy soft and spongey bak kwa chiffon cake.

Variations
If you don't have bak kwa pieces, you can also use store-bought meat jerky, bacon bits, or uncured hard salami or pepperoni bits. My kids love any of these variations (especially the bacon one LOL).

You may also like these recipes using bak kwa
Did you make this bak kwa chiffon cake recipe?
I love it when you guys snap a photo and tag to show me what you've made 🙂 Simply tag me @WhatToCookToday #WhatToCookToday on Instagram and I'll be sure to stop by and take a peek for real!

Soft Fluffy Bak Kwa Chiffon Cake
Ingredients
Meringue:
½

tsp

lemon juice

or vinegar

3

egg whites

room temperature, about 30 grams each

70

gr

granulated sugar
To fold into the cake batter:
Instructions
Get the eggs out from the fridge 30 minutes before you plan to make the cake. Alternatively, you can fill up a bowl with warm water (NOT hot water, you don't want to cook the eggs). It should feel comfortably warm if you put your hand in the water. Put the eggs in there for about 5-10 minutes. This will bring the eggs to room temperature.

Cut the bak kwa into tiny pieces. If the pieces are too large, they will most likely sink to the bottom of the pan. Coat the bak kwa pieces with the cake flour. This will help the bak kwa pieces float in the cake during baking. Sieve out any excess flour. Set aside
Prepare the cake batter:
Preheat oven at 330 F (165 C). My oven is a conventional oven with bottom heat. Whisk the cake flour, baking powder, and salt together until combine. Set aside. In another mixing bowl, mix egg yolks, sugar, oil, milk, and vanilla extract until combine. Sift in the flour mixture into the egg mixture and stir until combine and smooth. Set aside
Prepare the meringue:
Put the egg whites in a grease-free mixing bowl or stand mixer bowl. Whip over medium speed until frothy, then add the acid and whip again for another minute. Add the sugar gradually in 3 batches and increase the speed to high and whip until the egg whites just reach a stiff peak. You can always stop halfway to check. The meringue should hold its shape if you turn it upside down and has a slight bend on the tip that doesn't move. Stop beating once you reach this stage

Fold in 1/3 of the meringue into the cake batter. You can use a rubber spatula or a wire whisk to fold. I actually prefer to use wire whisk lately. Swipe down and fold over to combine the meringue with the cake batter. Once incorporated, continue with the next 1/3 and so on. You want to work gently but efficiently. Don't overmix that you deflate most of the air in the meringue. You shouldn't see anymore white meringue in the cake batter

Fold in the coated bak kwa pieces and fold gently to combine
Baking:
Pour the cake batter into an UNGREASED chiffon cake pan. Smooth the surface with a rubber spatula. Tap the cake pan on the counter 3-4 times. I use a bamboo skewer and run through the batter to pop air bubbles inside

Put at the middle rack inside the oven and bake for 40-45 minutes, then lower temperature to 300 F (150 C) and bake for 5-10 minutes or until tester comes out clean
Cooling down:
Immediately drop the cake pan from about 10 cm height on the counter to minimize shrinkage about 2-3 times and invert the tube pan upside down to let it cools down completely in this position

Once it has cooled down completely, use an offset spatula to run through the edge and the outer center of the tube to help release the cake. Gently push the base to lift the cake out. Use the offset spatula again to run through the base of the pan and then carefully release the cake onto a serving platter
Nutrition
Serving:
1
slice
|
Calories:
191
kcal
|
Carbohydrates:
18
g
|
Protein:
7
g
|
Fat:
10
g
|
Saturated Fat:
2
g
|
Trans Fat:
1
g
|
Cholesterol:
74
mg
|
Sodium:
161
mg
|
Potassium:
57
mg
|
Fiber:
1
g
|
Sugar:
3
g
|
Vitamin A:
117
IU
|
Vitamin C:
1
mg
|
Calcium:
33
mg
|
Iron:
1
mg