A super easy Asian-style green mung bean popsicles are so simple yet such a refreshing and healthy treat in the hot summer month. All you need are three ingredients. The recipe is dairy-free and vegan.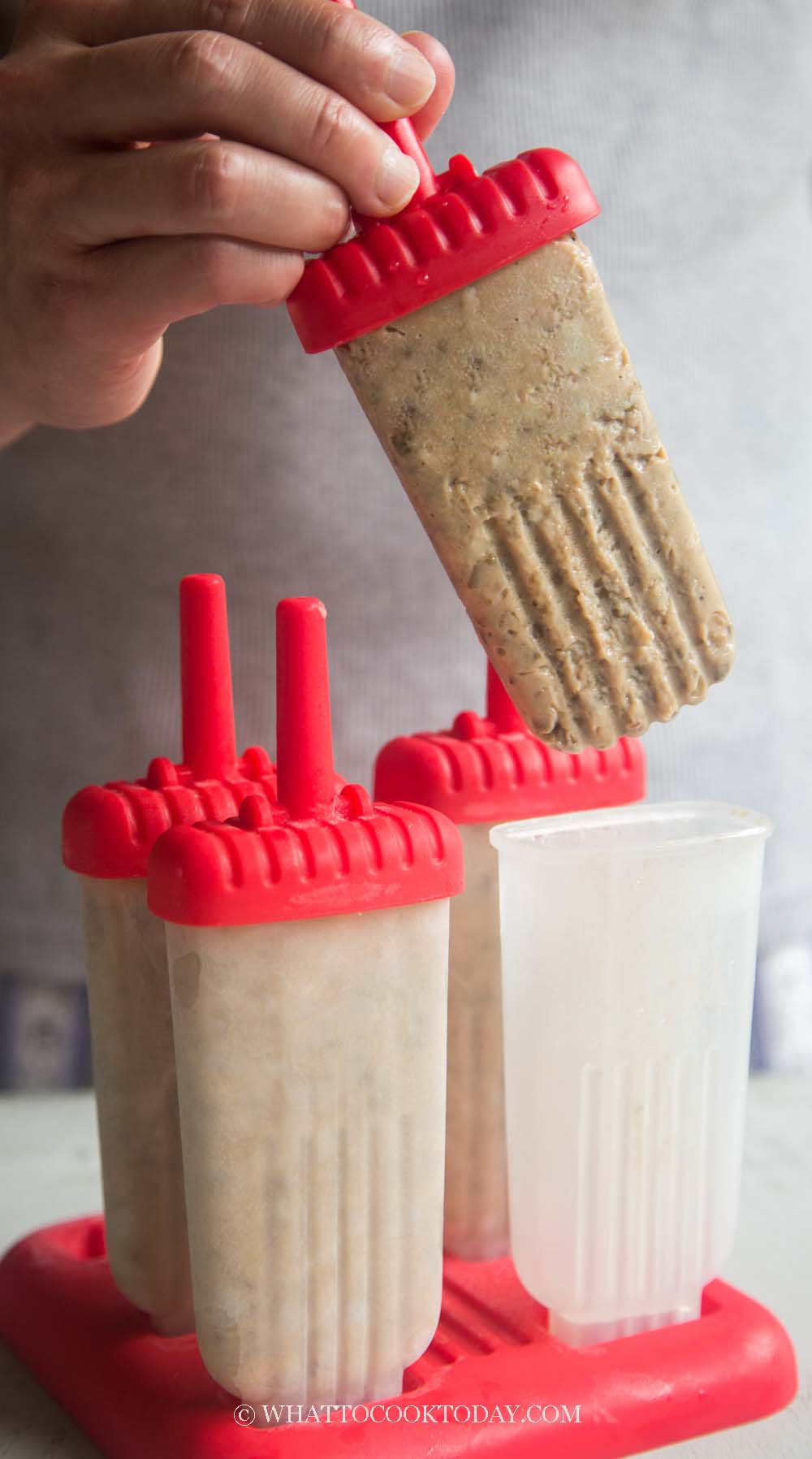 This mung bean popsicle is part of my childhood (and pretty much any Asian kids back in those days). Looking at it really makes me feel all nostalgic. We call this Es Kacang Ijo or Es Lilin Kacang Ijo in Indonesia. My late grandma used to make this A LOT! Back then she didn't have any fancy popsicle molds like the one we have now. She cooked the sweet mung bean soup, let it cool down, and then poured it into disposable ice pop bags that shape like long tubes.
I could easily go through 2-3 of these mung bean popsicles. They are so refreshing because it's pretty icy (water-based), just lightly sweetened and I love biting into bits of mung beans at the same time. Who would have thought something so simple and humble could bring so much joy to kids and adults!

You only need 3 ingredients
1. Mung beans
These green mung beans are available at Asian grocery stores. They are popular in Asia and are often used to make tong sui like this sweet mung bean soup dessert and as a sweet filling for Chinese pastries. They aren't eaten as much in savory dishes, at least not in our family
2. Sugar
I use granulated sugar. You can use another natural sweetener of your choice such as raw sugar, honey, dates, etc
3. Water 
The old-fashioned mung bean popsicles are made with water, nothing fancy. For a creamier texture, you can use dairy or non-dairy milk. Simply drain off the cooking liquid and blend the cooked beans with milk and sugar/sweetener of your choice instead
How to easily make mung bean popsicles
I use Instant Pot pressure cooker to cook the beans. I don't need to soak the beans. Instruction for cooking on the stove is available on the recipe card below.
1. Rinse the beans with clean water. Put them in the inner pot of the Instant Pot. Pour in water. /Give it a brief stir. Close the lid. Turn the pressure release valve to "sealing". Press "pressure cooker" and make sure it's on high pressure. Set the timer to 40 minutes and then natural release. Carefully unlock the lid. Give it a stir and add sugar and stir until sugar dissolves. Have a quick taste. Add more sugar if you think it's necessary. Proceed to the next step below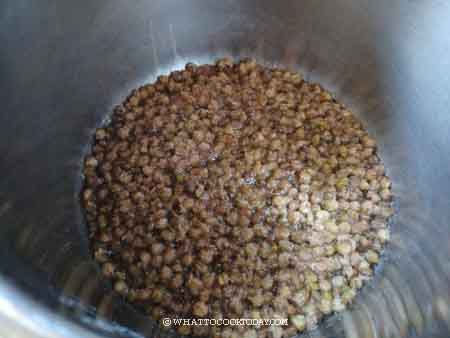 2. Scoop up about 1/2 cup of the cooked beans and set aside. Let the mung bean soup cool down completely. Carefully pour the mung bean soup into a blender and pulse several times to break down the beans. It's up to you if you want them really smooth then you can blend them until smooth. I didn't blend it entirely all smooth. If it's too thick for your liking, you can always add a bit more water to thin out. Fold in the beans that you reserve earlier and stir to combine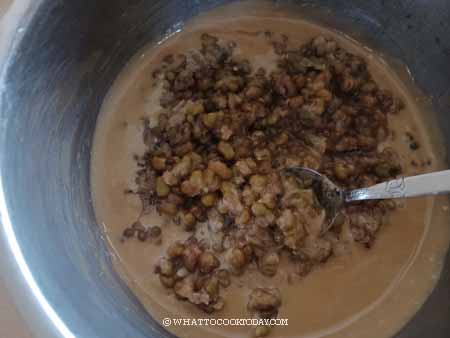 3. Portion out the blended soup mixture into each mold, leaving about 1/4-inch gap on top because the mixture will expand as it freezes. Tap the mold on the counter top a few times to break any bubbles so there won't be any "holes" in your popsicles later. Cover with the popsicle lid and freeze in the freezer for at least 6 hours

4. It may be hard to get the popsicle out of the mold. Let it sit for about 1-2 minutes (this also depends on how warm your surrounding is) or until you can easily pull the popsicle out of the mold. You can also dip the mold in water for 20-30 seconds and it helps to release the popsicle from the mold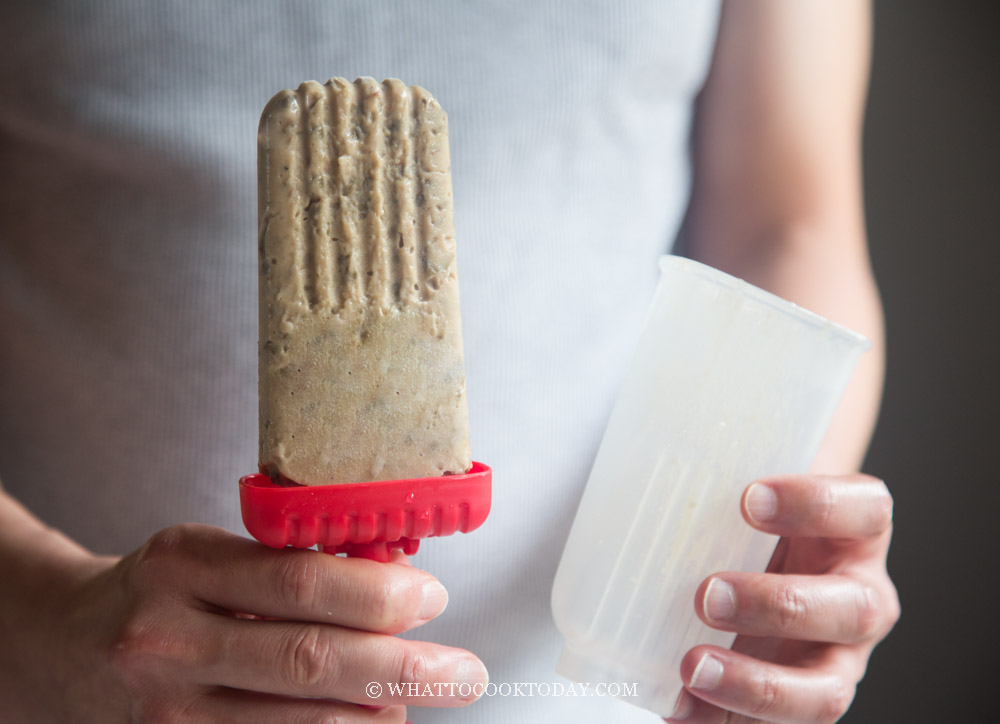 Did you make this easy mung bean popsicles recipe?
I love it when you guys snap a photo and tag to show me what you've made 🙂 Simply tag me @WhatToCookToday #WhatToCookToday on Instagram and I'll be sure to stop by and take a peek for real!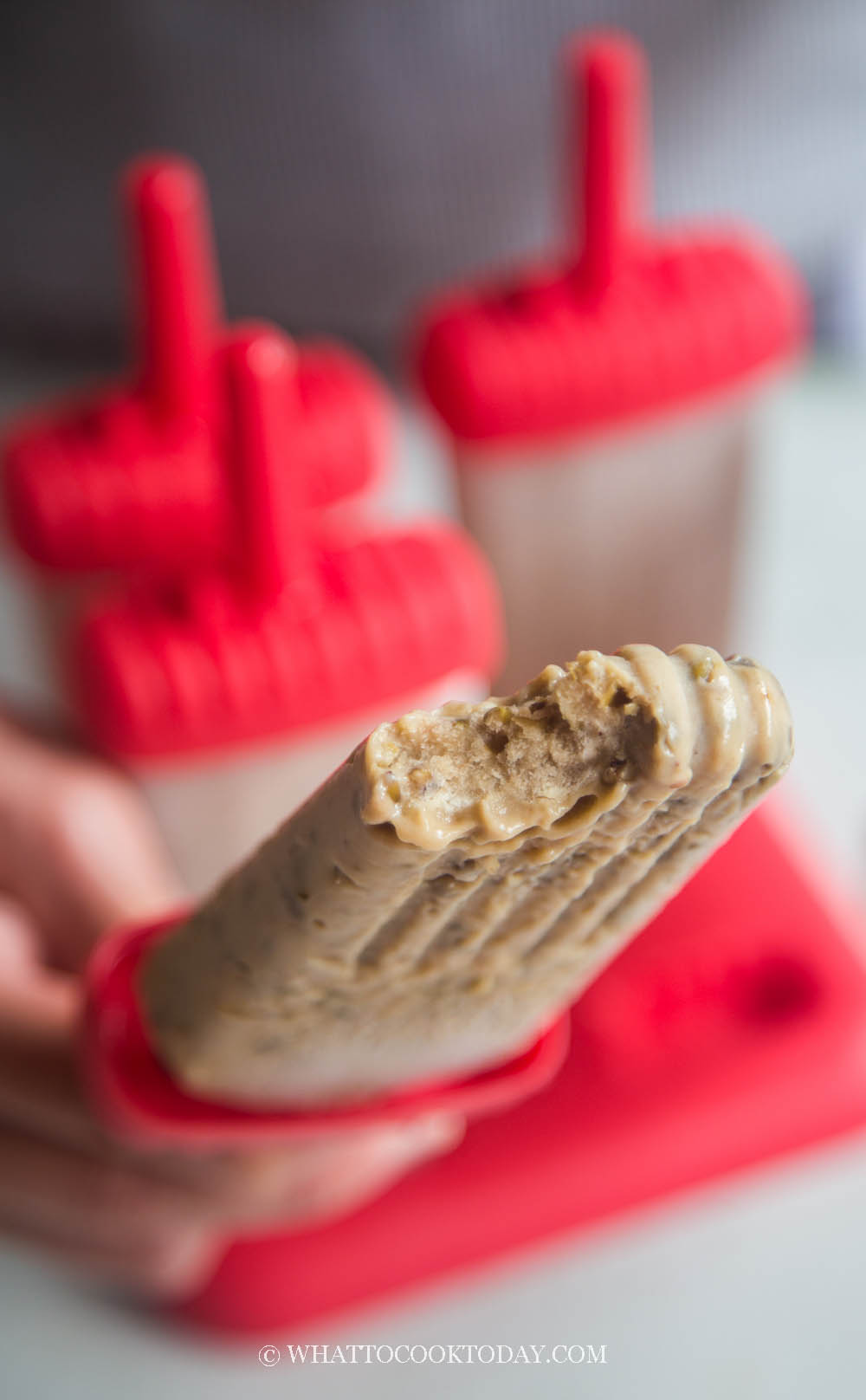 Easy Mung Bean Popsicles / Es Kacang Ijo
Ingredients
100

gr

mung beans

720

ml

water

or more as needed

80

gr

sugar

adjust the sweetness to your preference
Instructions
Cook the mung bean soup (stove-top) :
If you are going to cook the beans on the stove, soak them for at least 2 hours in a water

Drain off the soaking liquid. Add 3 cups of fresh water and bring to a simmer. Cook for the next 35-40 minutes or until the beans split and are soft. Stir in Have a taste and add more sugar if necessary. Proceed to the next step below
Cook the mung bean with a pressure cooker:
You don't have to soak the beans if using a pressure cooker. I use an electric pressure cooker, Instant Pot. Rinse the beans with clean water. Put them in the inner pot of the Instant Pot. Pour in water. /Give it a brief stir. Close the lid. Turn the pressure release valve to "sealing". Press "pressure cooker" and make sure it's on high pressure. Set the timer to 40 minutes and then natural release. Carefully unlock the lid. Give it a stir and add sugar and stir until sugar dissolves. Have a quick taste. Add more sugar if you think it's necessary. Proceed to the next step below
Cool the mung bean soup:
Scoop up about 1/2 cup of the cooked beans and set aside. Let the mung bean soup cool down completely
Blend the soup:
Carefully pour the mung bean soup into a blender and pulse several times to break down the beans. It's up to you if you want them really smooth then you can blend them until smooth. I didn't blend it entirely all smooth. If it's too thick for your liking, you can always add a bit more water to thin out. Fold in the beans that you reserve earlier and stir to combine
Assembling:
Portion out the blended soup mixture into each mold, leaving about 1/4-inch gap on top because the mixture will expand as it freezes. Tap the mold on the counter top a few times to break any bubbles so there won't be any "holes" in your popsicles later. Cover with the popsicle lid and freeze in the freezer for at least 6 hours
To serve:
It may be hard to get the popsicle out of the mold. Let it sit for about 1-2 minutes (this also depends on how warm your surrounding is) or until you can easily pull the popsicle out of the mold. You can also dip the mold in water for 20-30 seconds and it helps to release the popsicle from the mold
Recommended products:
Nutrition
Serving:
1
popsicle
|
Calories:
109
kcal
|
Carbohydrates:
24
g
|
Protein:
4
g
|
Fat:
1
g
|
Saturated Fat:
1
g
|
Polyunsaturated Fat:
1
g
|
Monounsaturated Fat:
1
g
|
Sodium:
9
mg
|
Potassium:
208
mg
|
Fiber:
3
g
|
Sugar:
14
g
|
Vitamin A:
19
IU
|
Vitamin C:
1
mg
|
Calcium:
26
mg
|
Iron:
1
mg