Shaved iced topped with creamy avocado, sweet coconut meat, sweet jackfruit, and sweetened with condensed milk is one of the most popular dessert drinks in Indonesia.


Similar to es kachang in Singapore/Malaysia, es cendol and, es campur in Indonesia, es teler is super popular in Indonesia. I grew up with this delicious and refreshing es teler. I remember a popular chain selling es teler was and still is Es Teler 77. The company has now owned hundreds of store worldwide.
What is es teler?
Es means ice and teler means drunk in Indonesian language. There is no alcohol in the drink. I believe it is named as such because of how delicious es teler is, it makes one feel "drunk" and forget about all the unhappy things when he/she eats es teler 🙂
If you ask me, es teler is like a hybrid between a sweet beverage and a dessert. You definitely need a spoon to eat es teler. It is basically a shaved ice topped with fruits like creamy avocado,sweet coconut meat, jackfruit, and drizzle of condensed milk. Of course nowadays, es teler has many things added to it such as: grass jelly (cincau), toddy palm seeds (attap seeds), tapioca pearls, etc.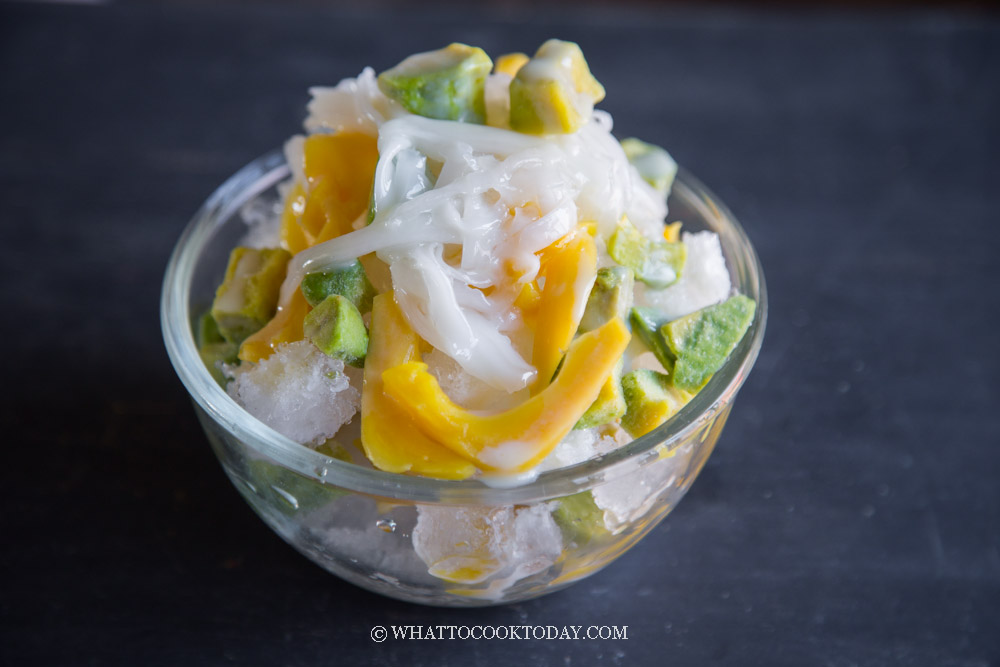 Basic ingredients in es teler
1. Avocado
I use one large hass avocado. Choose the ripe one of course
2. Jackfruit
I used canned jackfruit packed in syrup. I don't use the syrup, but you can if you want. This can be found in Asian grocery store too. You can also use fresh ripen jackfruit
3. Young coconut meat
You can get young coconut meat from Asian store. If you can't find any, you can always use something like coconut jelly (Nata De Coco)
4. Shaved ice or ice cubes
5. Condensed milk
How to easily make es teler at home
1. Cut jackfruit into smaller pieces, but not too small. The appearance should be rustic. You can just use a spoon to scoop the avocado out from the skin
2. Put the avocado, jackfruit, coconut meat in a bowl. Topped with some shaved ice or ice cubes. If you use ice cubes, the es teler will be more watery as the ice melts. drizzle with condensed milk. The amount is up to how sweet you want it to be
3. That is it and serve immediately
Es teler recipe is highly flexible
To me, to be defined as es teler, it has to have at least avocado, jack fruit, shaved iced and drizzle of condensed milk. That's the most basic. But if you have trouble finding some of the ingredients, you can definitely substitute with other fruit of your choice.
Did you make this easy es teler recipe?
I love it when you guys snap a photo and tag to show me what you've made 🙂 Simply tag me @WhatToCookToday #WhatToCookToday on Instagram and I'll be sure to stop by and take a peek for real!
Es Teler (Indonesian Shaved Ice with Avocado, Coconut, Jackfruit)
Ingredients
200

gr

jackfruit

1

large

avocado

200

gr

young coconut meat

Shaved ice
Sweet coconut milk sauce (optional, not typically used but makes it taste better):
Instructions
Coconut sauce (optional-I didn't use):
Whisk all ingredients until combined. Put on the stove and cook over medium-low heat until slightly thickened. Set aside to cool down
Assembling es teler:
Cut jackfruit into smaller pieces, but not too small. The appearance should be rustic. You can just use a spoon to scoop the avocado out from the skin

Put the avocado, jackfruit, coconut meat in a bowl. Add the coconut sauce if you make some. Topped with some shaved ice or ice cubes. If you use ice cubes, the es teler will be more watery as the ice melts. drizzle with condensed milk. The amount is up to how sweet you want it to be