Soft and colorful bread is topped with a sweet, unicorn-inspired color, and a crispy streusel-like topping that is scored like a shell (concha). This super popular Mexican pan dulce (sweet bread) is a must to try.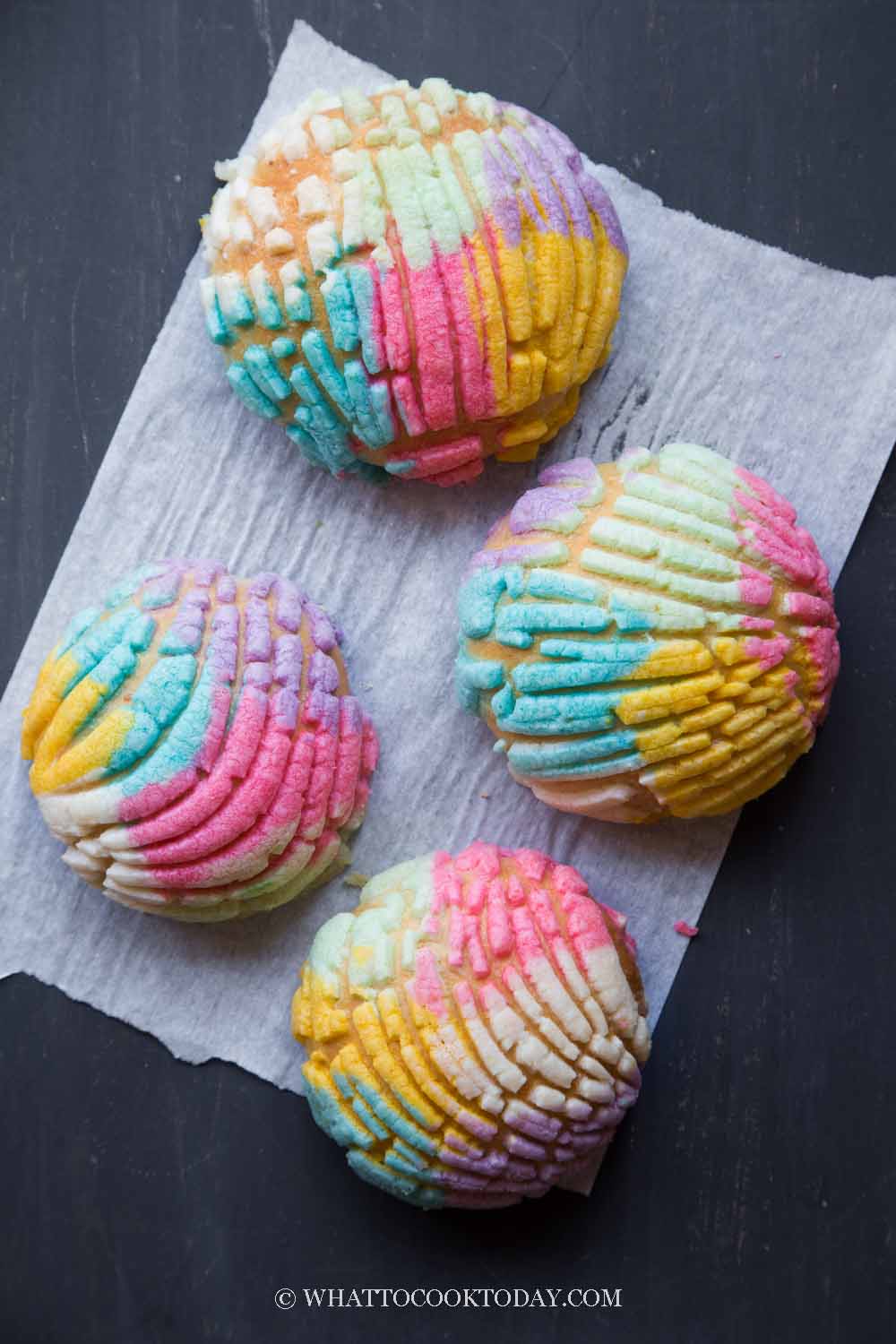 When I visited a Mexican panaderia not too long ago, the first thing that attracted my attention was the rows and rows of buns with different colors of topping: red, white, chocolate, yellow, on top of the buns and looked like shells. I later found out that it is called concha, which literally means shell. I saw these conchas on almost everyone's tray who walked in there. I, of course, was intrigued and grabbed a couple for my kiddos. My kids like the Chinese polo bao and the concha reminds me of that. Needless to say my kiddos love conchas as well.
I use poolish
I love making bread using a poolish preferment. This is not a "traditional" recipe for Mexican concha buns of course, but it yields really soft buns and the preferment adds more flavor to the bread too.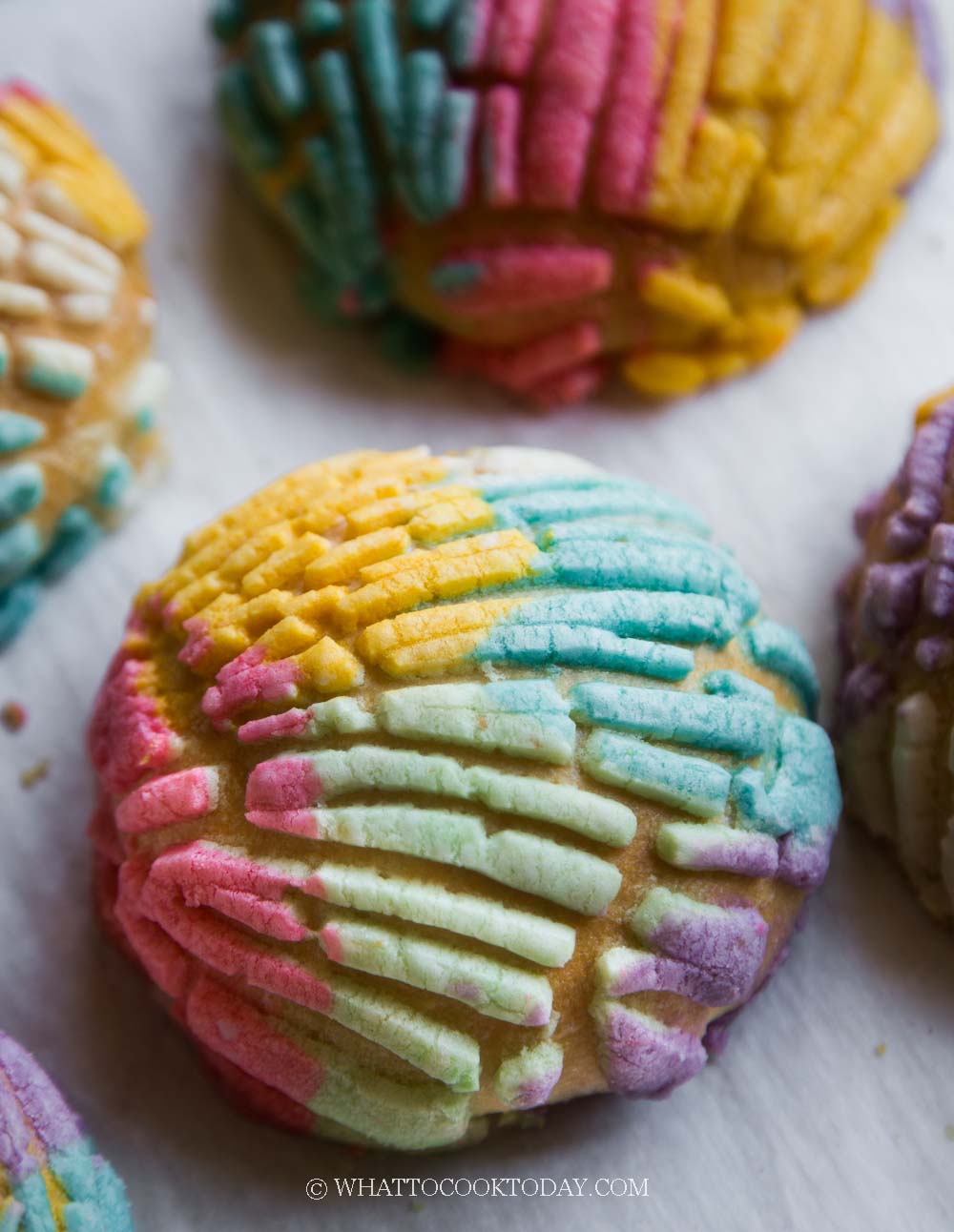 How to make unicorn concha with a poolish
1. Mix all ingredients for poolish and let it sit for 8-10 hours. You can even put this in the fridge until the next day when you are ready to use them. They can be kept in the fridge for up to 5 days. Simply let it comes to room temperature for an hour or so before using


2. Put all ingredients for the dough and the poolish in a mixing bowl of a stand mixer fitted with a dough hook attachment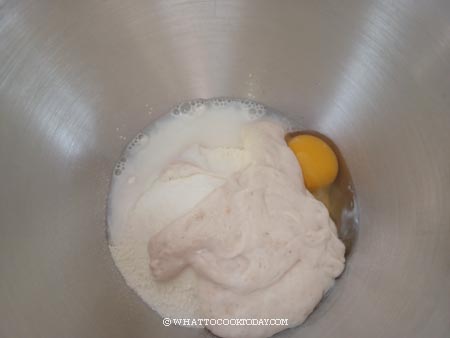 3. Start the mixer on low ("stir" on KA) and knead for about 2 minutes. It should come to a rough dough. If it's too dry, you can add a bit more of the egg. Once you get a rough dough that is slightly sticky, increase speed to 2 and knead for 7-8 minutes, the dough should be smoother and a bit stretchy at this point, but the dough will tear if you pull it. Add the softened butter and continue to knead for another 5-6 minutes until you pass the windowpane test. When you stretch the dough thinly, it won't break. You can stop kneading at this point


4. Oil the bowl and cover and let the dough rise at a temperature of about 77-86 F (25-30 C) until they are double in size. This may take 1 hour or longer depending on the temperature. If it's really warm where you are, it may not take that long


5. When you poke the dough with your lightly oiled finger, the indentation stays. This means the proofing is done and the dough has doubled in size


6. While the dough is almost done proofing, prepare the topping. Mix all ingredients into a dough


7. Divide into 4 equal size. Divide each dough into 8 pieces


8. Use a drop or two of the food gel into each dough and knead to distribute color


9. Divide each colored dough into 8 pieces


10. Gather one color each from the topping dough and stick them together. Repeat with the rest. So you have 8 toppings total. Keep them covered while you shape the buns

11. Lightly oil your working surface and your palms. I use non-stick cooking spray and deflate the dough, pushing out all the air. Divide the dough into 8 smaller doughs, about the same size. Keep them covered

12. Work with one dough at a time and keep the rest covered. Take one dough and pull the edge into the middle to shape like a round ball. Place seam side down on a large baking sheet lined with parchment paper


13. Use a rolling pin to roll each colorful dough into a thin disk, about 1/4 inch in thickness and slightly larger than the size of the bun


14. Drape this on top of the bun


15. Use a concha cutter to gently push down on the dough to score it if you have one. I don't have one and so I use a sharp knife to score the topping to resemble a shell. Repeat with the rest of the toppings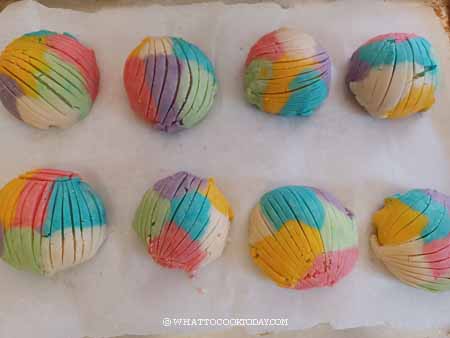 16. Loosely cover them and let them proof again for the second time until it almost double in size. This may take 30 minutes to 1 hour or longer, depending on the room temperature you are at. A warm temperature will make the dough rises a bit faster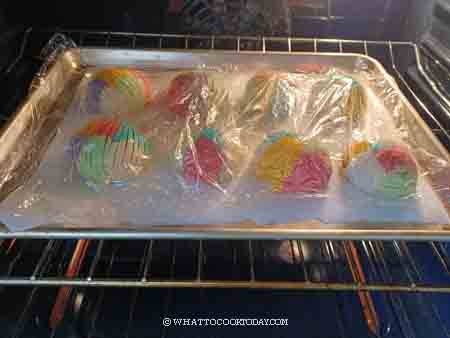 This is how it looks like after proofing for the second time. The topping also expands and cracks


17. Preheat the oven to 350 F (180 C) for a conventional oven, 330 F (165 C) for a convection oven. Bake in the middle rack for 15-18 minutes or until they bottom are golden brown


18. Remove from the oven and let them cool down on the pan for 5 minutes and then transfer to a cooling rack. They can be served warm or at room temperature

Did you make this unicorn concha pan dulce recipe?
I love it when you guys snap a photo and tag to show me what you've made 🙂 Simply tag me @WhatToCookToday #WhatToCookToday on Instagram and I'll be sure to stop by and take a peek for real!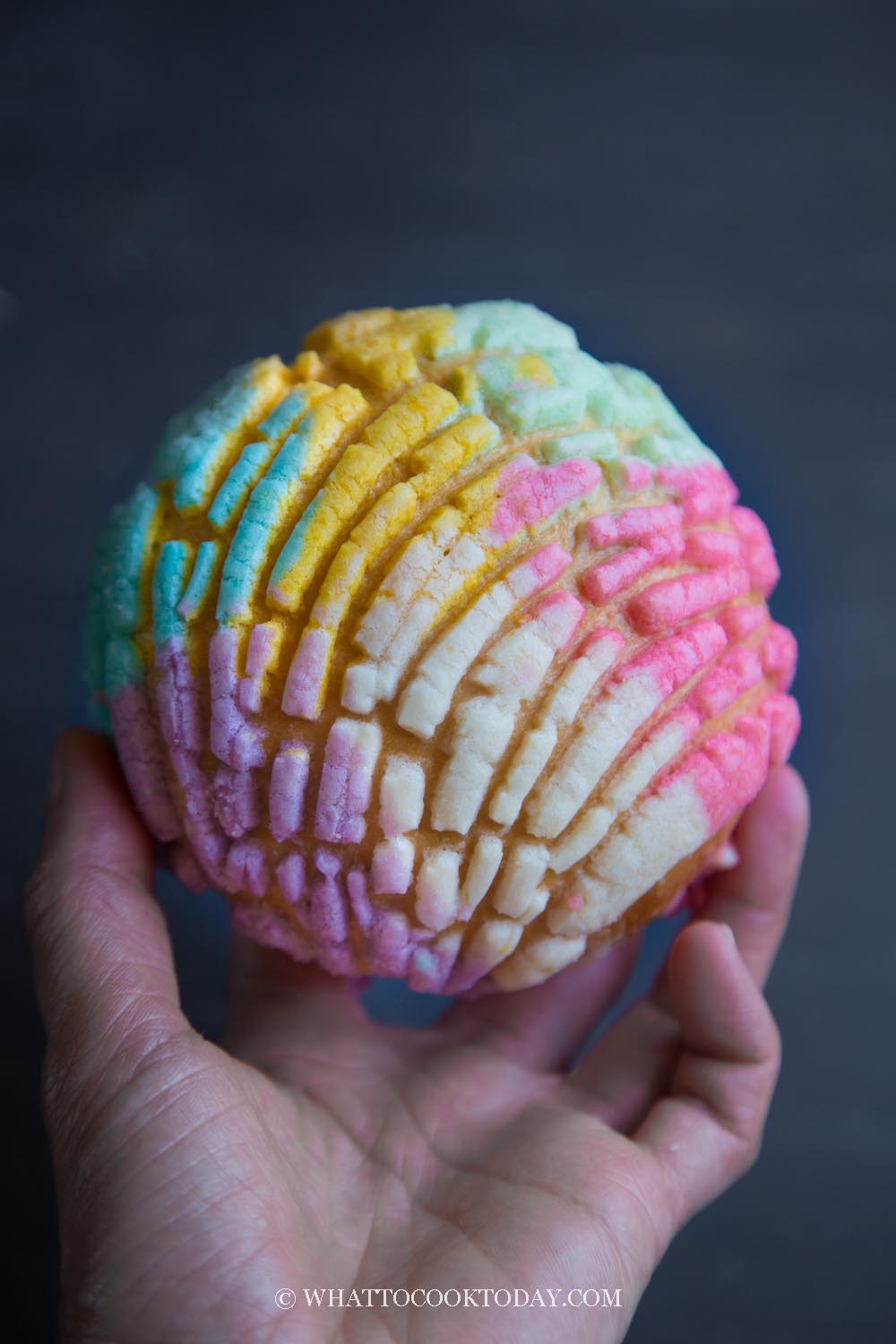 Unicorn Concha Pan Dulce (with a Poolish)
Ingredients
Main dough:
210

gr

bread flour

1

tsp

active dry yeast

50

gr

sugar

5

gr

salt

1

large

egg

50

ml

whole milk

25

gr

softened butter
Instructions
Prepare the poolish (the day before you plan to make the bread):
Mix all ingredients for poolish and let it sit for 8-10 hours. You can even put this in the fridge until the next day when you are ready to use them. They can be kept in the fridge for up to 5 days. Simply let it comes to room temperature for an hour or so before using
Prepare the dough:
Put all ingredients for the dough and the poolish in a mixing bowl of a stand mixer fitted with a dough hook attachment

Start the mixer on low ("stir" on KA) and knead for about 2 minutes. It should come to a rough dough. If it's too dry, you can add a bit more of the egg. Once you get a rough dough that is slightly sticky, increase speed to 2 and knead for 7-8 minutes, the dough should be smoother and a bit stretchy at this point, but the dough will tear if you pull it. Add the softened butter and continue to knead for another 5-6 minutes until you pass the windowpane test. When you stretch the dough thinly, it won't break. You can stop kneading at this point
Bulk fermentation:
Oil the bowl and cover and let the dough rise at a temperature about 77-86 F (25-30 C) until they are double in size. This may take 1 hour or longer depending on the temperature. If it's really warm where you are, it may not take that long

When you poke the dough with your lightly oiled finger, the indentation stays. This means the proofing is done and the dough has doubled in size
Prepare topping:
While the dough is almost done proofing, prepare the topping. Mix all ingredients into a dough. Divide into 4 equal sizes. Use a drop or two of the food gel into each dough and knead to distribute color. Divide each colored dough into 8 pieces

Gather one color each from the topping dough and stick them together. Repeat with the rest. So you have 8 toppings total. Keep them covered while you shape the buns
Shaping:
Lightly oil your working surface and your palms. I use non-stick cooking spray and deflate the dough, pushing out all the air. Divide the dough into 8 smaller doughs, about the same size. Keep them covered

Work with one dough at a time and keep the rest covered. Take one dough and pull the edge into the middle to shape like a round ball. Place seam side down on a large baking sheet lined with parchment paper

Use a rolling pin to roll each colorful dough into a thin disk, about 1/4 inch in thickness and slightly larger than the size of the bun

Drape this on top of the bun. Use a concha cutter to gently push down on the dough to score it if you have one. I don't have one and so I use a sharp knife to score the topping to resemble a shell. Repeat with the rest of the toppings
Second proofing:
Loosely cover them and let them proof again for the second time until it almost double in size. This may take 30 minutes to 1 hour or longer, depending on the room temperature you are at. A warm temperature will make the dough rises a bit faster
Baking:
Preheat the oven to 350 F (180 C) for a conventional oven, 330 F (165 C) for a convection oven. Bake in the middle rack for 15-18 minutes or until they bottom are golden brown
Cool down:
Remove from the oven and let them cool down on the pan for 5 minutes and then transfer to a cooling rack. They can be served warm or at room temperature
Recommended products:
Nutrition
Serving:
1
bun
|
Calories:
305
kcal
|
Carbohydrates:
46
g
|
Protein:
6
g
|
Fat:
11
g
|
Saturated Fat:
6
g
|
Polyunsaturated Fat:
1
g
|
Monounsaturated Fat:
3
g
|
Trans Fat:
1
g
|
Cholesterol:
33
mg
|
Sodium:
326
mg
|
Potassium:
77
mg
|
Fiber:
2
g
|
Sugar:
14
g
|
Vitamin A:
318
IU
|
Vitamin C:
1
mg
|
Calcium:
19
mg
|
Iron:
1
mg