Naturally sweet honeydew melon or cantaloupe pieces are served in melon puree, soft and chewy small tapioca/sago pearls, and coconut milk concoction. It is such a light and refreshing dessert.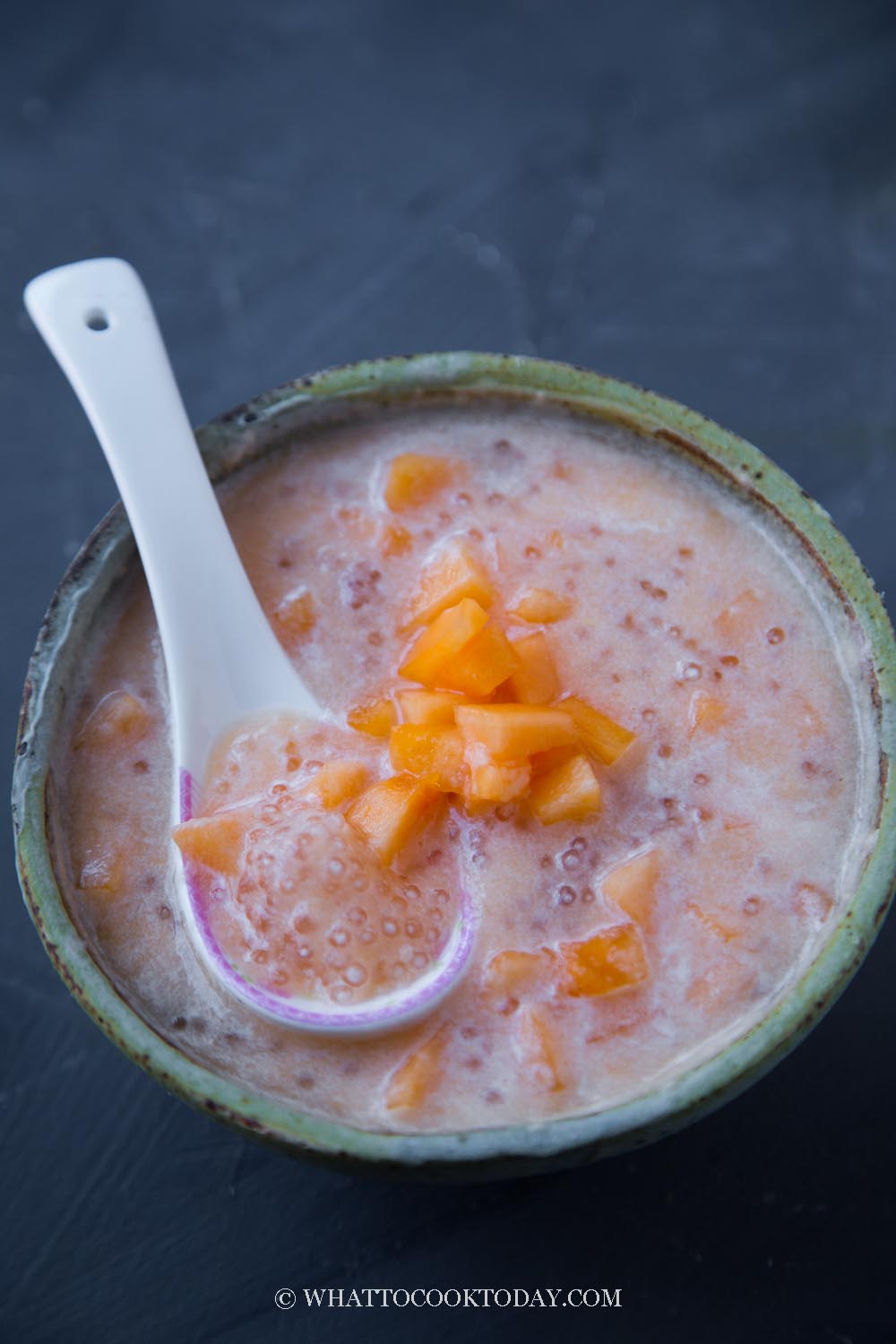 What is sai mai lo?
Sai mai lo is a popular Chinese dessert/tong sui you will see being served at dim sum restaurants or Asian dessert places. Sai mai lo is usually prepared by using fruit such as melon, watermelon, mango, or roots like taro/yam served with sago/tapioca pearls and creamy sweet milk concoction. They are usually served chilled. One thing in common is that, whatever sai mai lo you prepare, it has to have the sago/tapioca pearls in the dessert.
Ingredients
1. Melon
You can use honeydew melon or cantaloupe/rock melon. It is best if you use the melon that has ripened so they taste sweet
2. Small tapioca/sago pearls
The tapioca pearls I use cannot be soaked in cold water or they will turn into mush. They have to be cooked in boiling water
3. Evaporated milk
I use evaporated milk, but it's flexible what kind of milk you want to use. You can use coconut milk, non-dairy milk such as coconut milk
4. Sugar
The sugar is used to prepare a simple syrup that you can add to the dessert. The amount depends on how sweet the fruit you use. So you can adjust accordingly
How to make honeydew sago dessert
1. Bring water and sugar to a boil until just sugar melts. Turn off the heat and let it cool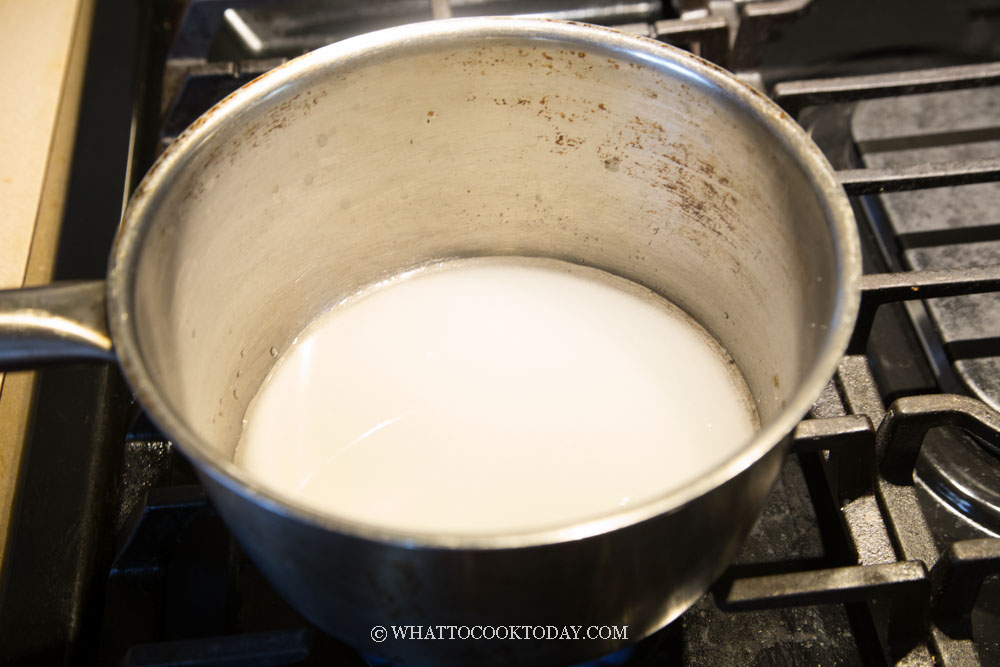 2. Bring 750 ml of water to a boil.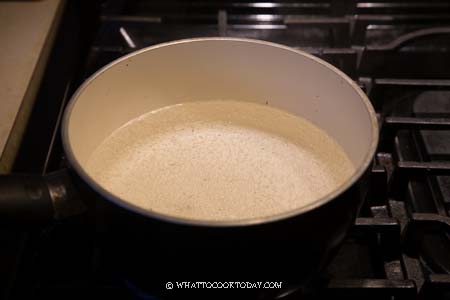 3. Add tapioca pearls. Stirring every now and then to prevent the pearls from sticking to the bottom of the pot.


4. Let it cook over medium-low heat for 10 minutes. Turn off the heat and cover. Let the pearls sit for 10 minutes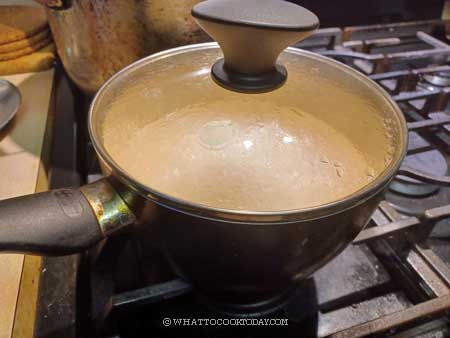 3. After 10 minutes, the tapioca pearls should be cooked through. You may still see some white center in the pearls, but as long as the pearls are soft and chewy, they are done cooking. Do not overcook them or they will turn gooey instead


4. Drain off the cooking liquid and rinse the pearls in running water to get rid of the extra starch. Keep the pearls soaked in cold water while you prepare other things. This is to prevent the pearls from sticking to each other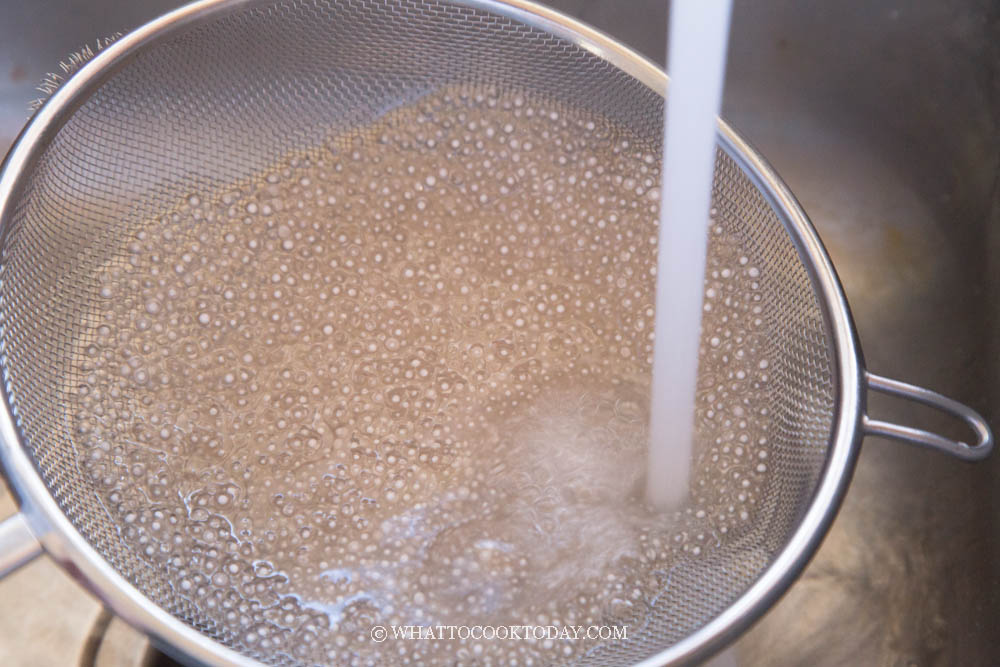 5. Use half of the melon to prepare melon milk. Put the melon, evaporated milk, salt in the blender and blend until smooth. Pour into a large bowl. Add the syrup according to your taste and the sweetness of the melon. You may use all or you may not. Stir to combine. Cover and keep it chilled in the fridge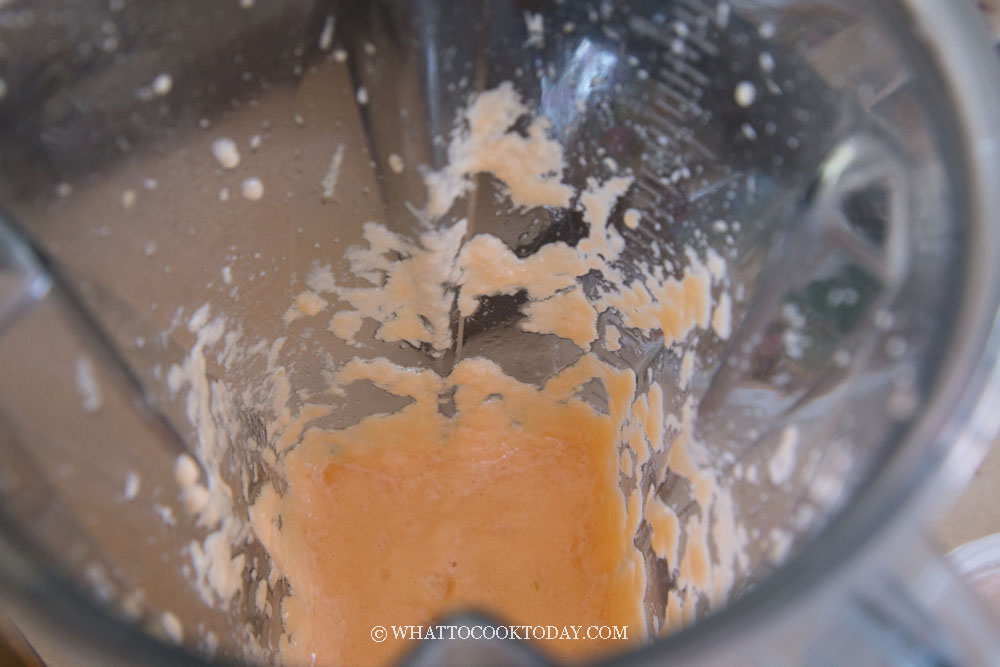 6. Dice the other half of the melon into bite-size pieces. I don't have a melon baller, if you do, you can use that instead for a prettier presentation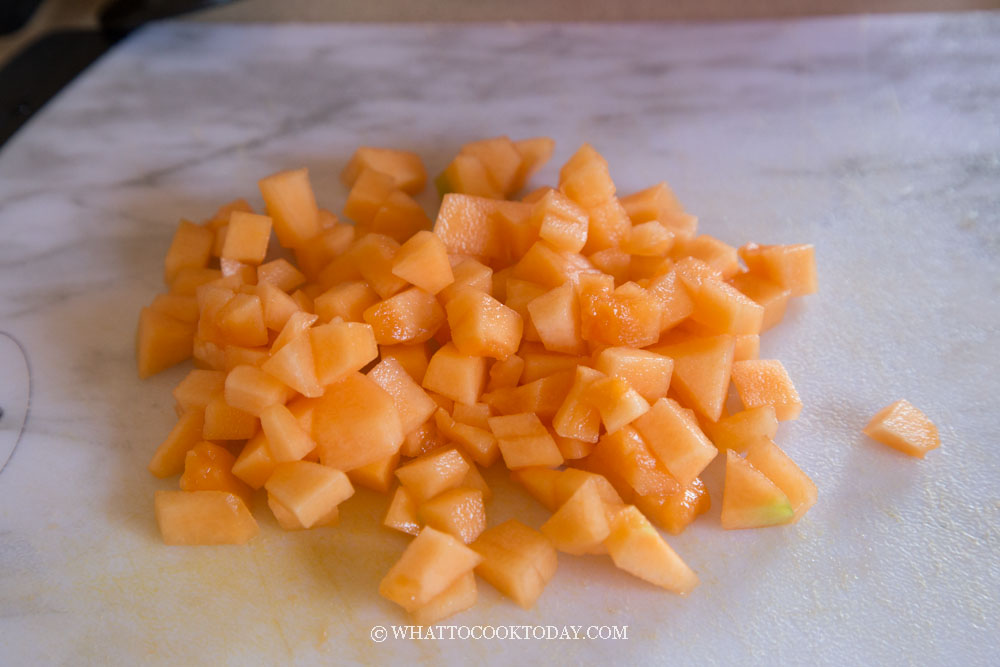 7. Drain off the soaking water for tapioca pearls. Add the pearls and the melon pieces into the milk mixture. Cover and let them chill for 2-3 hours before serving. Serve chilled. You can also add some ice cubes just before serving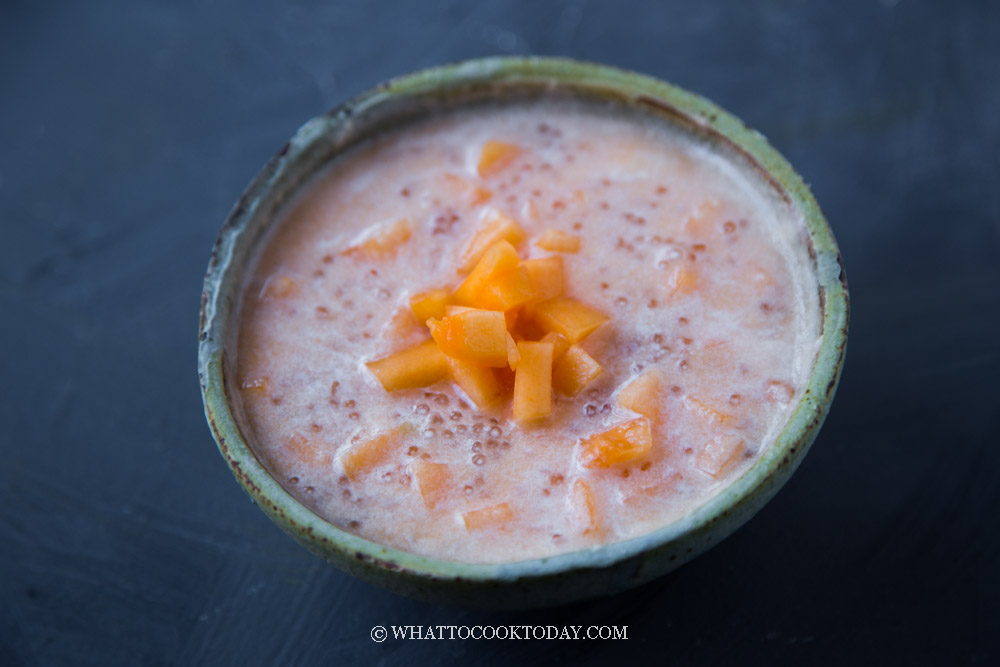 Did you make this honeydew sago dessert recipe?
I love it when you guys snap a photo and tag to show me what you've made 🙂 Simply tag me @WhatToCookToday #WhatToCookToday on Instagram and I'll be sure to stop by and take a peek for real!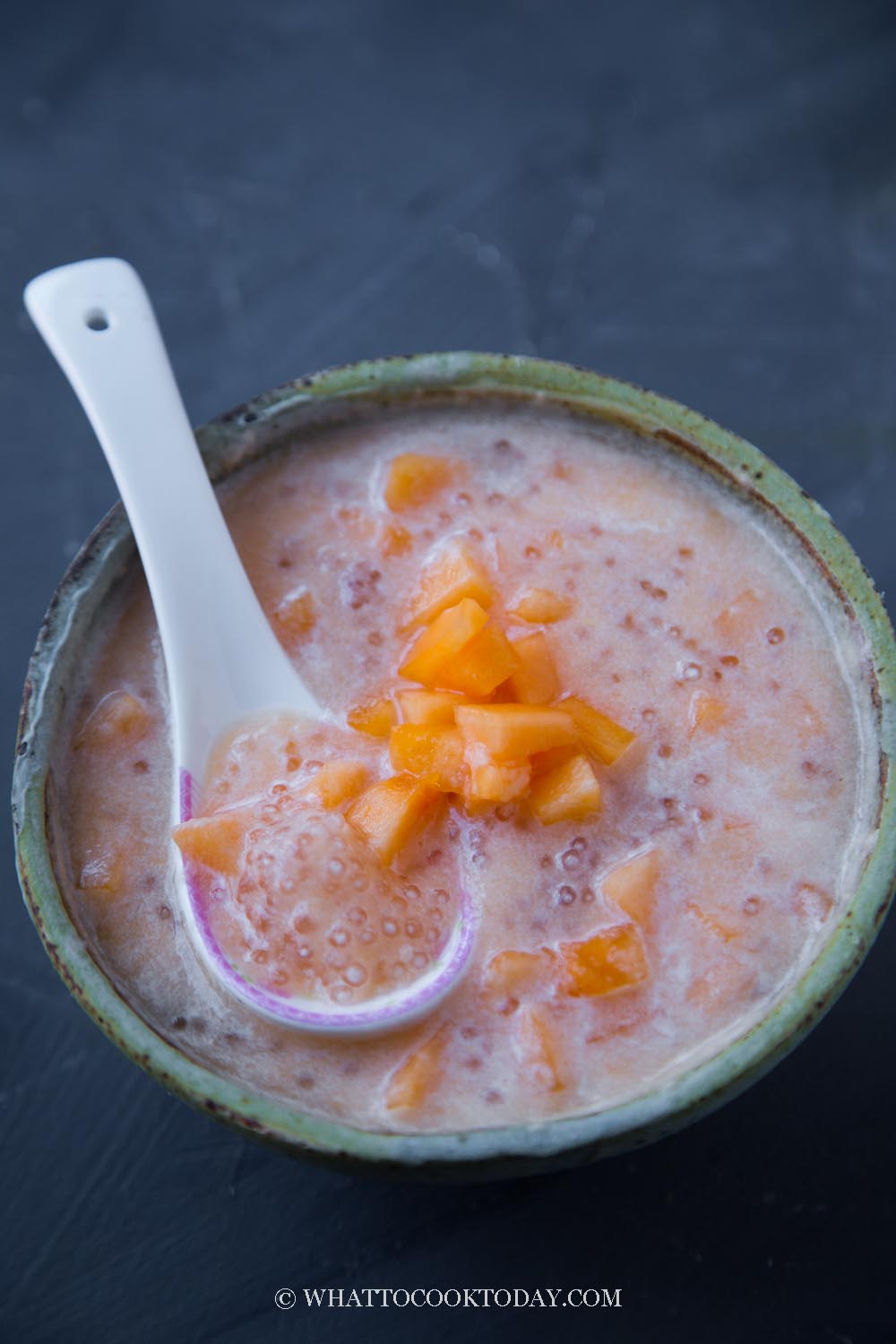 Honeydew Melon Sago Dessert (Sai Mai Lo)
Ingredients
450

gr

honey dew melon/ cantaloupe

250

ml

evaporated milk

you can also use coconut milk, cow's milk, or other milk of your choice

⅛

tsp

salt
To cook tapioca pearls:
90

gr

small tapioca pearls

750

ml

water
Instructions
Prepare the syrup:
Bring water and sugar to a boil until just sugar melts. Turn off the heat and let it cool
Cook the small tapioca pearls:
Bring 750 ml of water to a boil. Add tapioca pearls and let it cook over medium-low heat for 10 minutes. Stirring every now and then to prevent the pearls from sticking to the bottom of the pot. Turn off the heat and cover. Let the pearls sit for 10 minutes

After 10 minutes, the tapioca pearls should be cooked through. You may still see some white center in the pearls, but as long as the pearls are soft and chewy, they are done cooking. Do not overcook them or they will turn gooey instead

Drain off the cooking liquid and rinse the pearls in running water to get rid of the extra starch. Keep the pearls soaked in cold water while you prepare other things. This is to prevent the pearls from sticking to each other
Prepare melon milk:
Use half of the melon to prepare melon milk. Put the melon, evaporated milk, salt in the blender and blend until smooth. Pour into a large bowl. Add the syrup according to your taste and the sweetness of the melon. You may use all or you may not. Stir to combine. Cover and keep it chilled in the fridge

Dice the other half of the melon into bite-size pieces. I don't have a melon baller, if you do, you can use that instead for a prettier presentation
Assembling:
Drain off the soaking water for tapioca pearls. Add the pearls and the melon pieces into the milk mixture. Cover and let them chill for 2-3 hours before serving
Serve:
Serve chilled. You can also add some ice cubes just before serving
How to store:
The leftovers can be kept in the fridge for 3-4 days
Nutrition
Serving:
1
serving
|
Calories:
360
kcal
|
Carbohydrates:
69
g
|
Protein:
7
g
|
Fat:
7
g
|
Saturated Fat:
4
g
|
Polyunsaturated Fat:
1
g
|
Monounsaturated Fat:
2
g
|
Cholesterol:
26
mg
|
Sodium:
236
mg
|
Potassium:
619
mg
|
Fiber:
1
g
|
Sugar:
42
g
|
Vitamin A:
291
IU
|
Vitamin C:
29
mg
|
Calcium:
259
mg
|
Iron:
1
mg