Turmeric Cauliflower Fried Rice helps to satisfy that craving for fried rice but with so much fewer carbs and it doesn't feel like you are eating a vegetable. Can be made with Instant pot or regular skillet/wok


When my father in law came this past Summer, he thought I was making fried rice when I served this Turmeric Cauliflower Fried Rice for dinner. "This is cauliflower? wow…I didn't know!" was his expression. He loved cauliflower fried rice a lot. I made it almost twice every week with different varieties and both husband and father in law enjoy this dish.
I like to add turmeric to fried rice because it's an easy way to sneak in some turmeric into our diet. Turmeric (kunyit in Indonesia) is a common ingredient used in many cooking in Indonesia. Back in the old days, they are used as medicine for many illnesses and ailments. A lady with a bamboo basket on top of her head will walk from house to house trying to sell her traditional drink, known as Jamu in Indonesia, made with spices, herbs, and turmeric is one of the ingredients used. The native swears by Jamu to keep them healthy and strong.


Cauliflower used to not getting much love in our house 🙂 I didn't cook them as often, but now, it's a weekly thing with this cauliflower fried rice. Nowadays you can see cauliflower is being sold in a grain/rice form. So if you don't want to make your own cauliflower rice, they are readily sold at the store.
I don't mind making my own cauliflower rice because I think it's not that complicated. I use a food processor to pulse the cauliflower florets into grain consistency. You can process the cauliflower into rice consistency and keep them in the fridge and they are good for up to 3 days.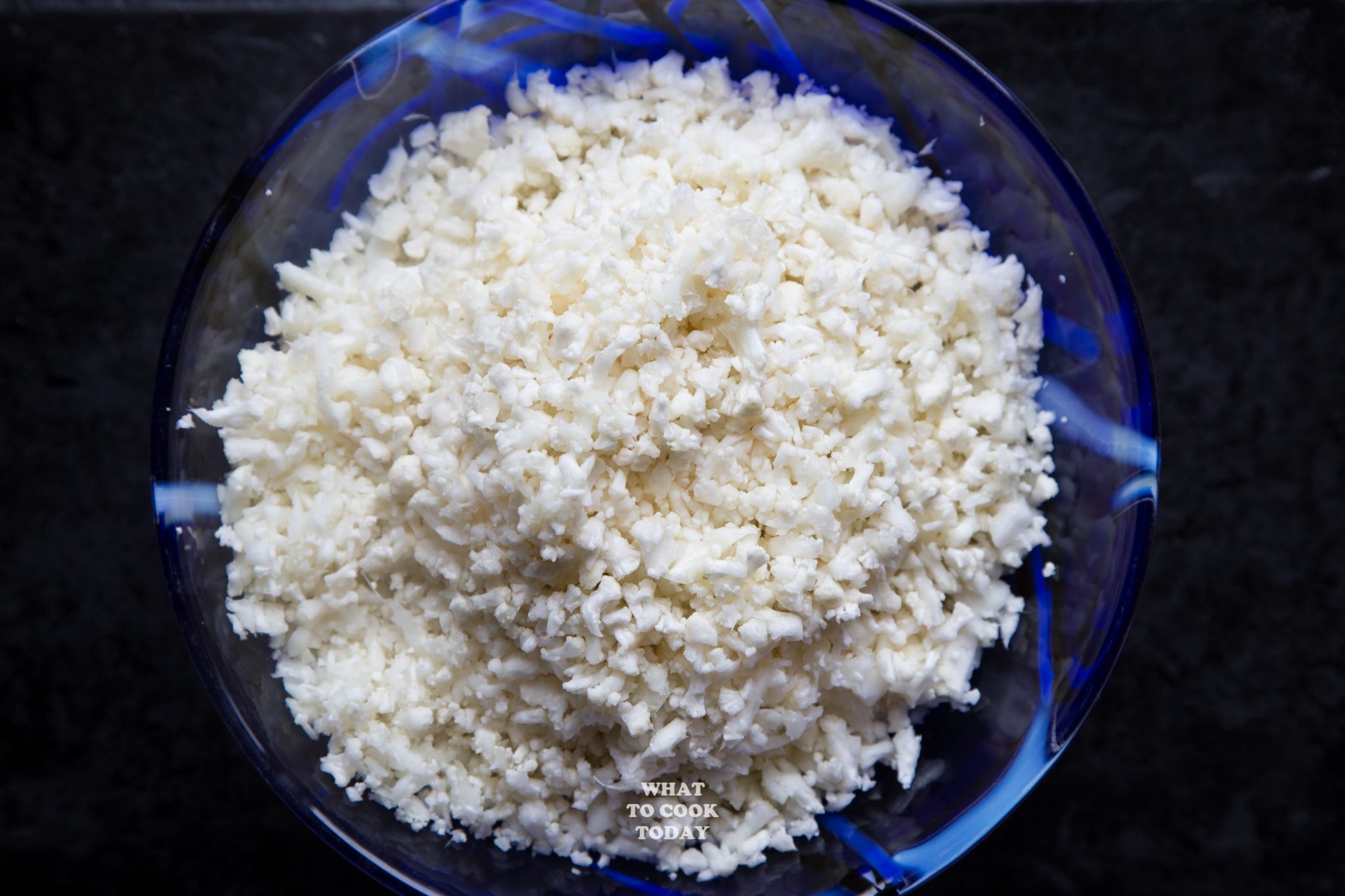 WHY IS MY CAULIFLOWER FRIED RICE IS "WET"?
There could be few possibilities:
1. Make sure when you wash the cauliflower, you pat it really dry after that or they will be "wet" when you stir fry them
2. Season with salt at the very end. If you use salt early at the beginning, the salt will draw out water from the cauliflower and makes your stir fry "wet"
3. You might be using too much liquid sauces in your stir fry that makes your cauliflower rice "wet". I don't use soy sauce to make the fried rice like I would with some other fried rice. I use salt to season at the very end.
4. Not adequate heat may also make your stir fry "wet" or soupy. I suggest not making to0 large of a batch especially when using Instant Pot.


Now I don't have any more excuse not to eat cauliflower anymore 😉

This blog post contains affiliate links. I earn a small commission when you made purchase at no extra cost to you. Learn more.
*Recipe is written for 6-quart Instant Pot. Cooking time should remain the same for 8-quart size but will take longer to pressurize. For mini duo (3-quart), I suggest to half the recipe and use the same amount of time to cook*
Instant Pot Turmeric Cauliflower Fried Rice
Ingredients
1

medium head of cauliflower

1

Tbsp

cooking oil

3

cloves

garlic

finely minced

1

large

bell peppers

seeded and sliced

½

cup

sweet corn

thawed if frozen

½

cup

green peas

thawed if frozen

1

cup

leftover meat such as turkey, rotisserie chicken, ham, sausage

1

tsp

turmeric powder
Garnishes:
Chopped roasted unsalted peanuts

1

stalk

green onion

finely chopped

1

small bunch fresh cilantro leaves

finely chopped
Use one of these recommended kitchen gadget:
Instructions
Preparing the cauliflower:
Wash the cauliflower head and then pat dry. It is important to pat it dry so when you stir fry they won't be "wet" and soupy. Remove the bottom part of the cauliflower and then cut it in half. You may use a grater (coarse part) to shred the cauliflower. I use a food processor to pulse it into a grain consistency, by cutting into large florets first and then pulse them in food processor
Cooking with Instant Pot:
Press saute button and wait until it says "HOT". Add oil and then swirl to coat the bottom of the pot. Add garlic and stir-fry for 10 seconds. Add bell peppers and stir fry for another 1 minute. Add corn, peas, meat (if using) and saute for another 1 minute. Add cauliflower rice, and turmeric. Stir to mix everything. Cook until the cauliflower rice is soft but not mushy. Add seasonings. Remove from the heat
Cooking with skillet/wok:
Preheat your large skillet/wok. Add in cooking oil and swirl to coat the bottom of the skillet/wok. Add garlic and stir-fry for 10 seconds. Add bell peppers and stir fry for another 1 minute. Add corn, peas, meat (if using) and saute for another 1 minute. Add cauliflower rice, and turmeric. Stir to mix everything. Cook until the cauliflower rice is soft but not mushy. Add seasonings. Remove from the heat
Serving:
Garnish with chopped roasted peanuts, green onion, and cilantro leaves. Serve warm


You might also like:
Kung Pao Steak and Cauliflower Fried Rice
Farfalle with Cheesy Cauliflower Sauce
Cap Chay / Indonesian Stir-fried Vegetable