Chinese Watercress Soup-Nutrient-rich watercress served as soup is popular soup in Chinese household. Sai Yong Choy Tong is suitable for everyday consumption and can be part of confinement food as well.
Sai Yong Choy Tong reminds me of mom. Mom made this soup so often. It's so simple yet it's very flavorful. My mom sometimes made it with pork ribs but somehow the sight of pork ribs was a turn off to my brother. So mom usually made it with a little bit of chicken meat. My sister in law will make this soup without any meat at all but with lots of garlic, which is very tasty too.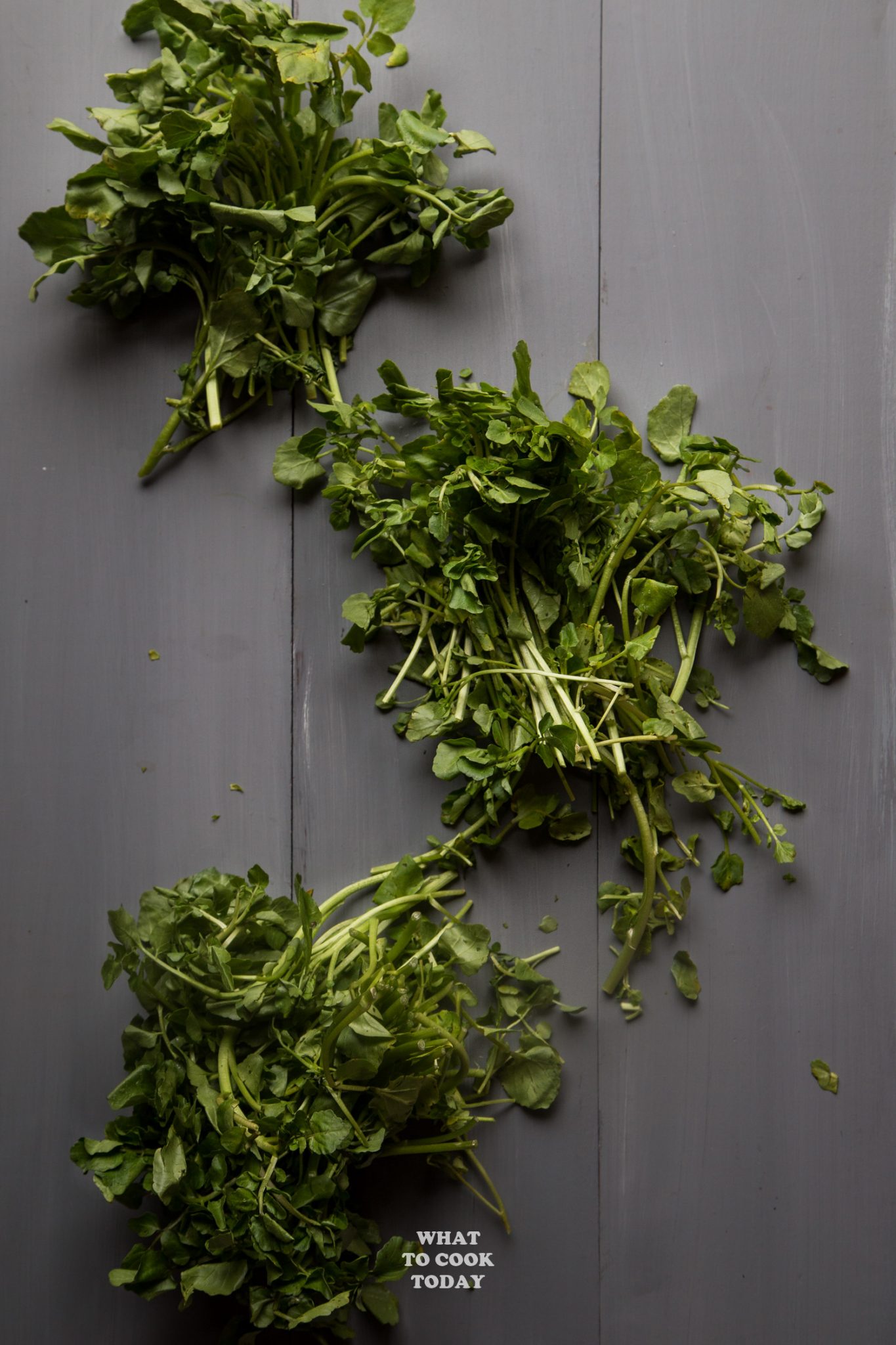 10 years ago, watercress is unheard of here in the U.S. But now major grocery stores carry watercress as a salad.
Watercress is dirt cheap in Indonesia and I believe everywhere in Southeast Asia. Literally "dirt cheap" because they grow near the "gutter" (at least in Indonesia) and people just pick them up and wash them thoroughly with salt and vinegar before cooking. The watercress here in the U.S. is really clean and "good" looking and of course cultivated, not in a "gutter" lol!
Mom also likes to add red dates and goji berries to the soup. I remember when I was still doing my confinement , mom would make this soup too by adding more ginger, sesame oil, and also a little bit of cooking wine.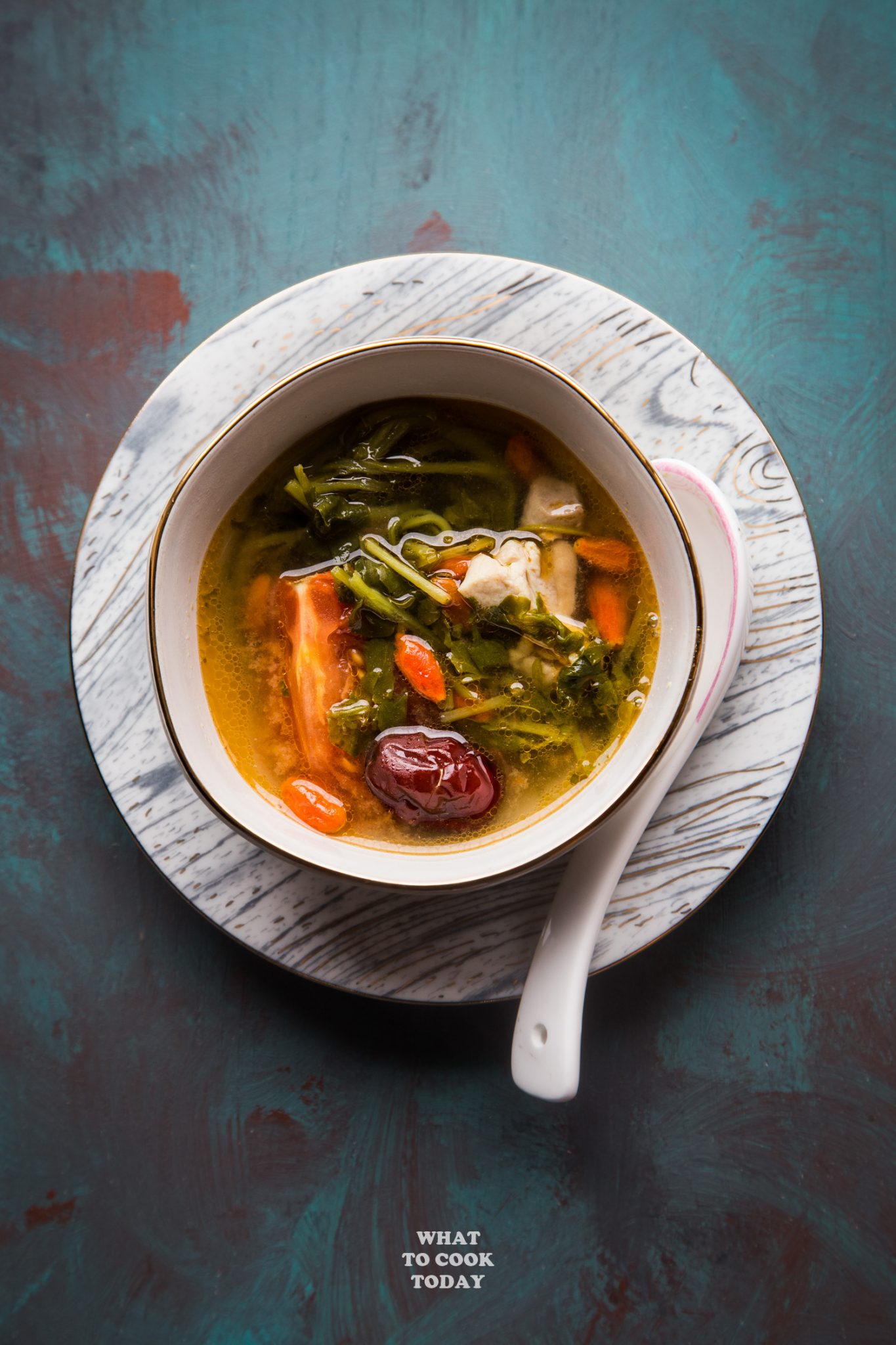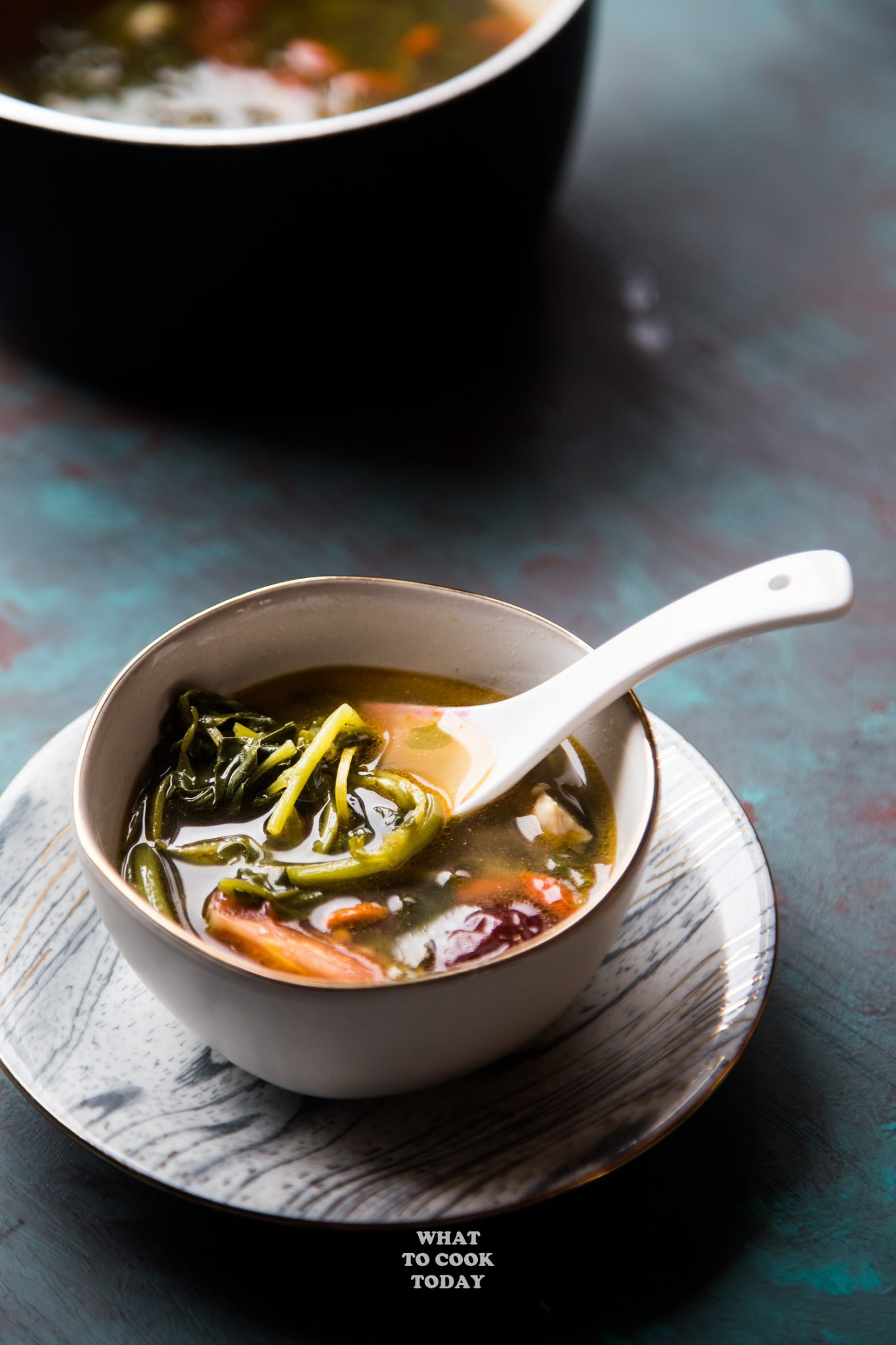 If you have not tried watercress soup before, I highly recommend it because it's very easy to make yet it's so tasty and nutritious!

This blog post contains affiliate links. I earn a small commission when you made purchase at no extra cost to you. Learn more.
*Recipe is written for 6-quart Instant Pot. Cooking time should remain the same for 8-quart size but will take longer to pressurize. For mini duo (3-quart), I suggest to half the recipe and use the same amount of time to cook*
Chinese Watercress Soup (Sai Yong Choy Tong)
Ingredients
6

cups

chicken broth

300

gr

fresh Chinese watercress

washed

4

cloves

garlic

peeled and smashed with side of the knife

2

slices of 3-inch fresh ginger

peeled and lightly bruised to release flavor

200

gr

boneless skinless chicken thighs

cut into small bite size

1

large tomato

quartered

¼

cup

goji berries

washed
Cooking equipment recommended (use either one):
Instructions
Cooking with instant pot:
Place all the ingredients in the insert of instant pot, except for goji berries, salt and sugar. Pressure cook on high for 5 minutes. Wait for 1 minute and then turn the steam handle to venting. Open the lid carefully. Stir in goji berries and the residual heat will soften the berries. Season with salt and sugar to taste.
Cooking on stove-top:
Place 8 cups of chicken broth in a pot and bring to a boil. Add garlic, ginger, chicken pieces, better than bouillon (or bouillon cube) and red dates. Lower the heat and let it simmer for about 15 minutes. Add the watercress and tomato, cook for another 10 minutes or until the watercress and its stems are soft. Add goji berries last and cook for another 5 minutes. Season with salt to your taste. Remove from the heat and serve while it is hot
Notes
Add more ginger if you are using this recipe for confinement. My mom even add some sesame oil and a bit of wine into the soup


You might want to check out:
Soup/Stew Recipe Collection
Instant Pot Recipe Collection