Learn how to make this easy, warming, and creamy Chinese-style sweet peanut soup with only 4 ingredients. You can cook this using an Instant Pot pressure cooker or on the stove. It is naturally gluten-free and dairy-free.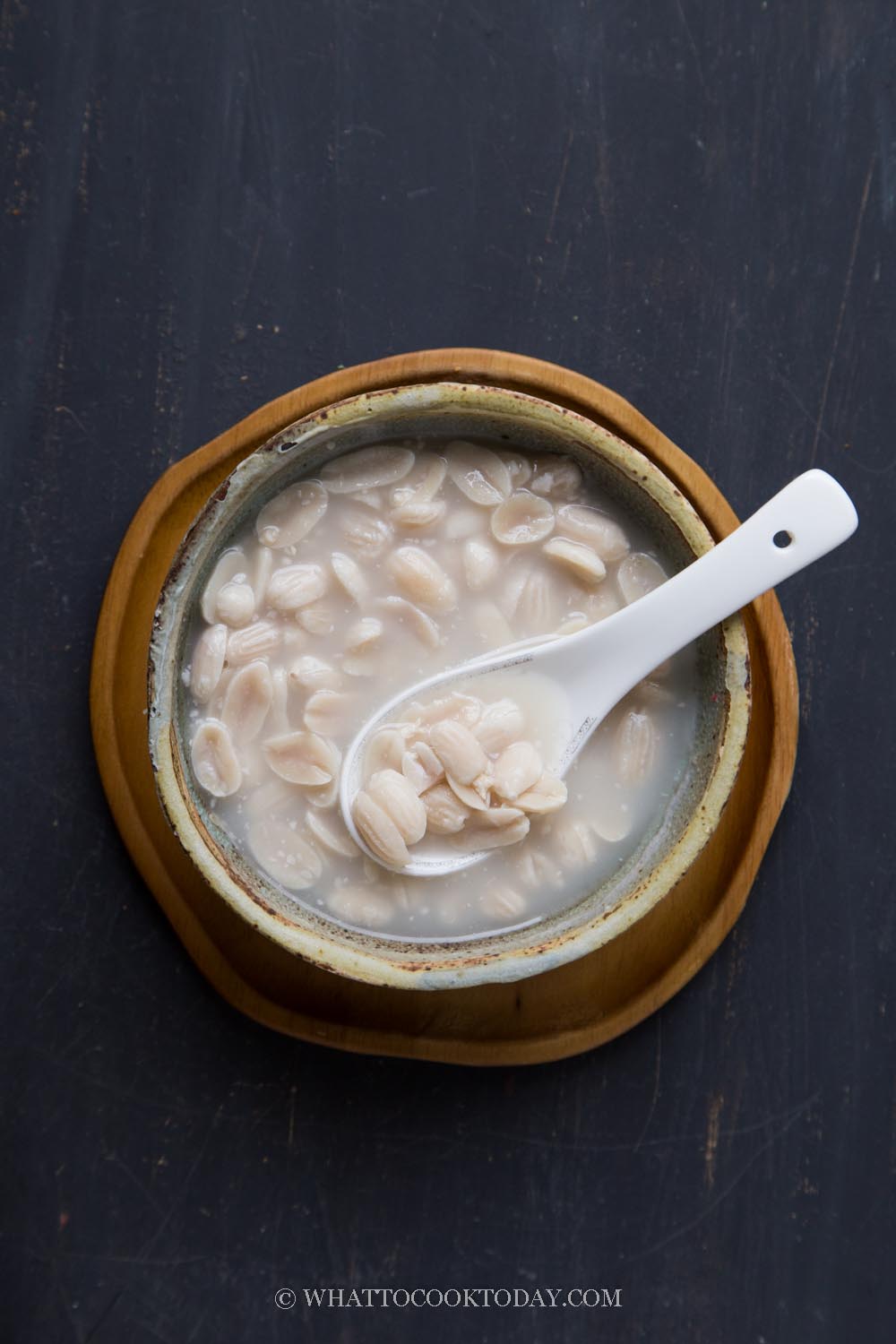 My husband says that I'm a peanut addict and sure I am. I love all kinds of nuts. This sweet peanut dessert soup is totally my kind of dessert. The soft but not mushy peanuts have the right amount of sweetness and creamy without any addition of cream or milk. In Indonesia, we have a similar sweet soup known as wedang kacang. Wedang kacang can be traced back to the city of Magelang located in Central Java. The peanuts are cooked until soft with pandan leaves, sugar, ginger, and then coconut cream is added for the creamy texture. Wedang kacang is usually served warm.
Why you'll like this recipe
1. Taste is spot-on
The family's feedback was the sweet peanut soup wasn't too sweet, the peanuts are perfectly soft
2. No soaking if you use pressure cooker/strong
Pressure cooking the peanuts saves some time and they are perfectly soft and not to mention convenient. No soaking is necessary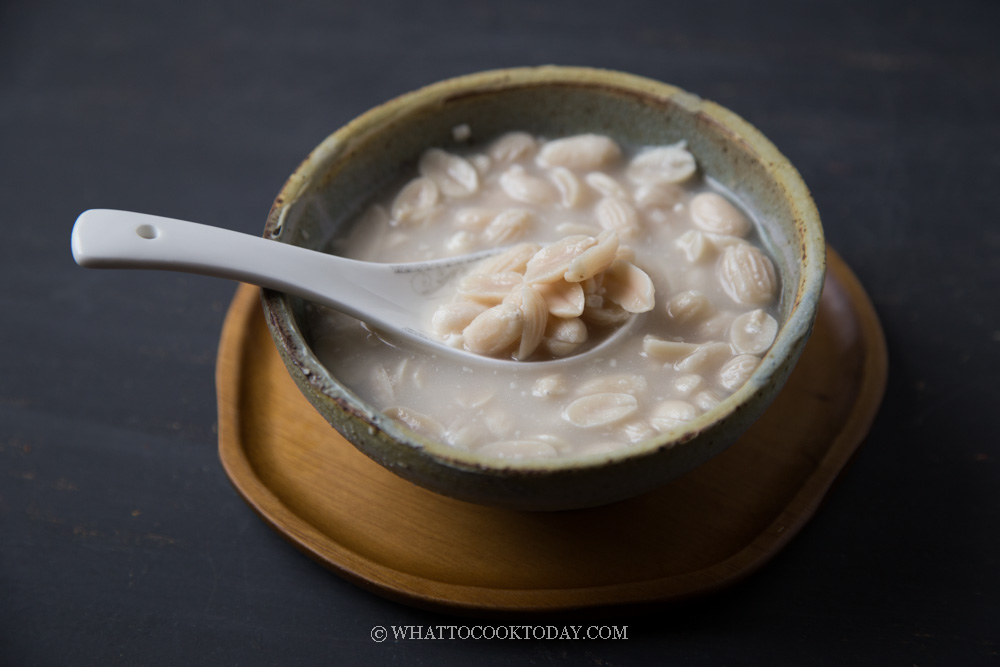 What kind of peanuts to use
Shelled and skinless peanuts are used to make this sweet peanut soup tong sui. I bought this from the store so I don't have to do all the work, removing shells and removing the skins.

How to make sweet peanut dessert soup with Instant Pot Pressure cooker
1. Rinse the peanuts in several changes of water and drain off the water
If you are cooking on the stove, soak the peanut in water for at least 4 hours or overnight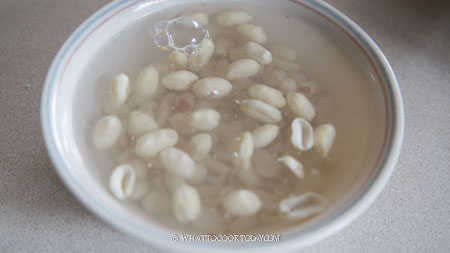 2. Place 1/3 of the peanuts in a blender with 1/3 cup of water (from the 4 cups allowance) and blend until smooth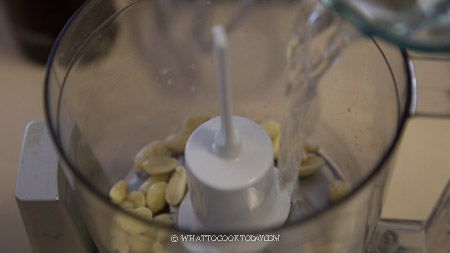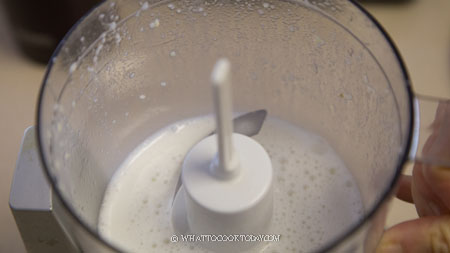 3. Put these blended peanuts, the remaining peanuts, and liquid in the inner pot of Instant Pot. Turn the steam release valve to sealing. Cook on high pressure for 45 minutes and do a natural release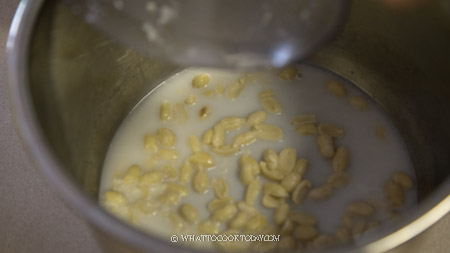 4. Carefully unlock the lid. Check the peanuts. They should remain in large pieces but you can easily break the peanuts with your fingers. This shows that the peanuts are soft enough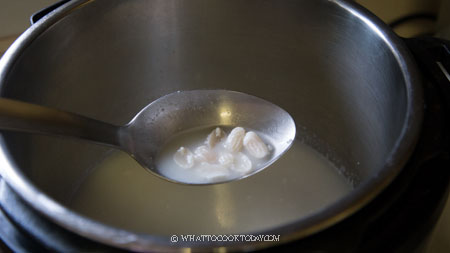 5. Turn on saute and add rock sugar. Cook until the sugar melts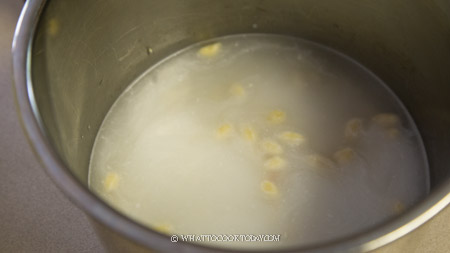 6. Serve it warm or chilled. I prefer a warm one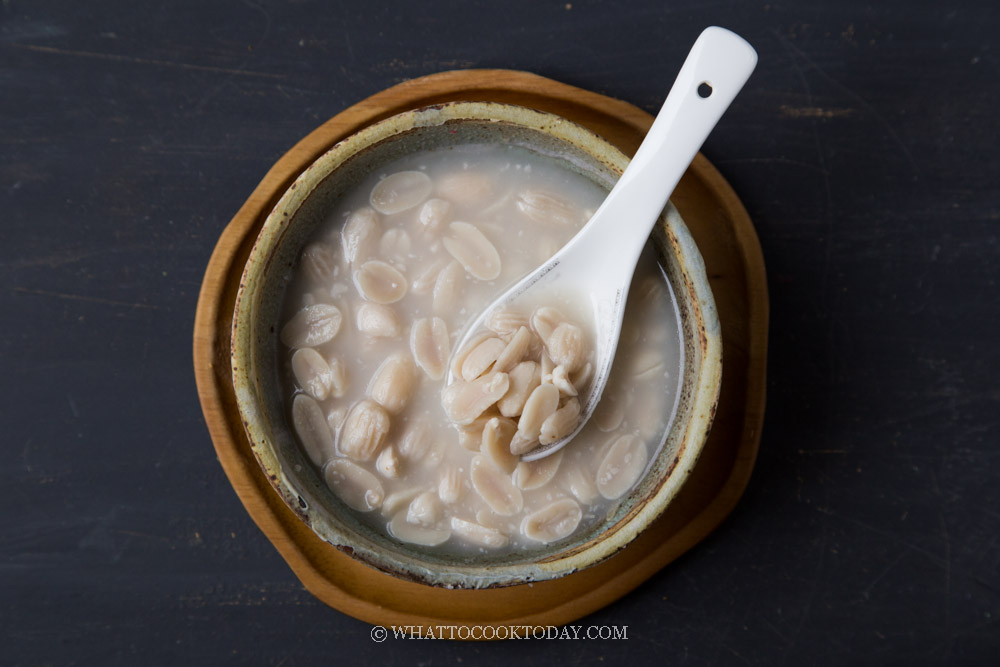 Did you make this sweet peanut dessert soup recipe?
I love it when you guys snap a photo and tag to show me what you've made 🙂 Simply tag me @WhatToCookToday #WhatToCookToday on Instagram and I'll be sure to stop by and take a peek for real!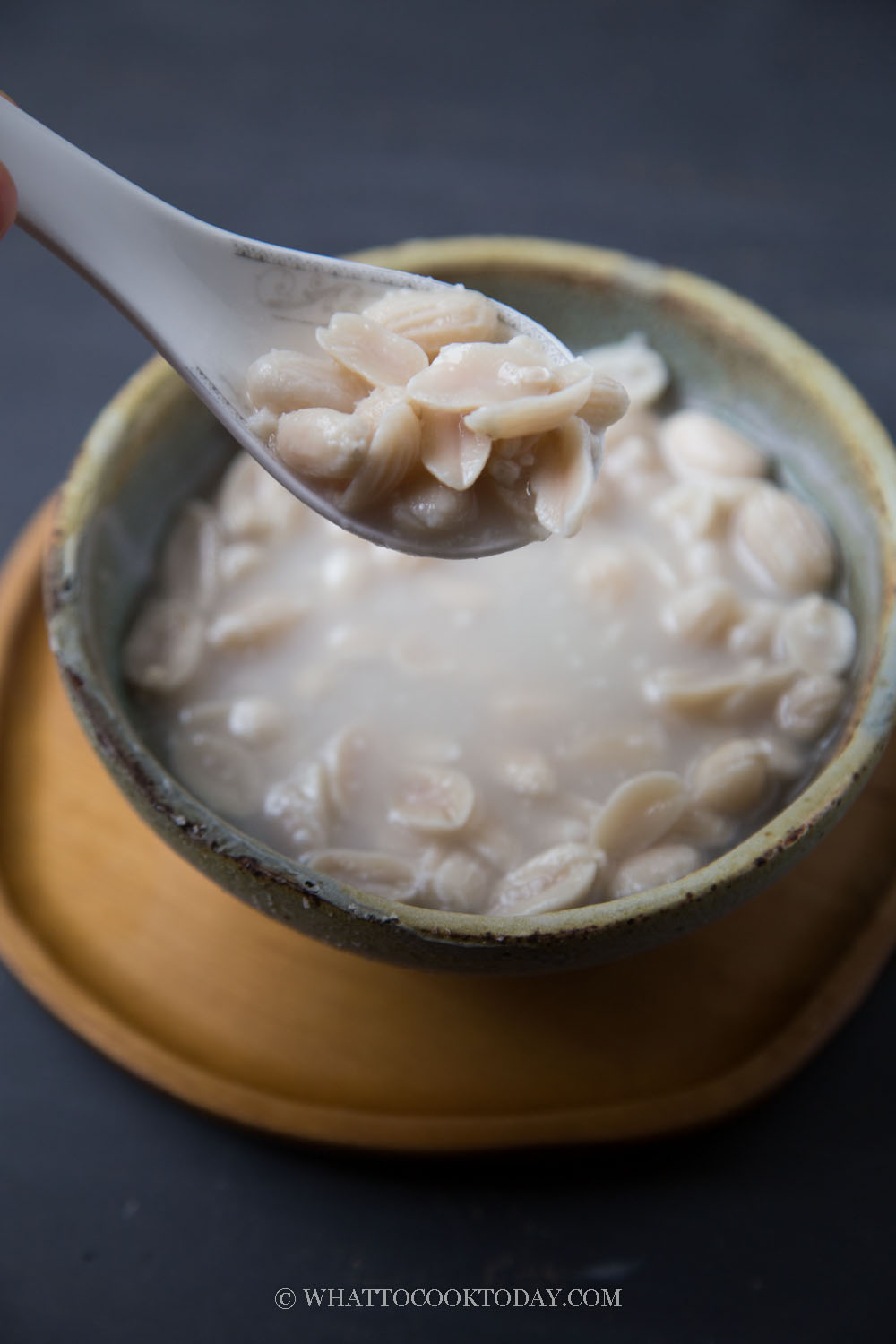 The recipe was last published in 2018 and I have improved the recipe and process on June 4, 2021.
Chinese Sweet Peanut Dessert Soup Tong Sui (Instant Pot)
Ingredients
300

gr

peanuts (shelled and skin removed)

4

cups

water

50

gr

rock sugar

½

tsp

salt
Optional:
Instructions
Rinse the peanuts in several changes of water and drain off the water

If you are cooking on the stove, soak the peanut in water for at least 4 hours or overnight
If cooking with Instant Pot pressure cooker:
Put 1/3 of the peanuts in a blender with 1/3 cup of water (from the 4 cups allowance) and blend until smooth

Place the remaining peanuts, blended peanuts, and remaining water in the inner pot of instant pot. Cover the lid and turn the steam release valve to seal. Press pressure cooker, high pressure, and set the timer to 45 minutes

Once the timer is up, wait 5 minutes and then release pressure. Carefully unlock the lid. Check the peanuts. They should remain in large pieces but you can easily break the peanuts with your fingers. The peanuts should taste creamy too. This shows that the peanuts are soft enough. Turn on saute and add rock sugar and salt. Cook until the sugar melts

Have a taste. Add more sugar if you like it sweeter. Serve warm
Cooking on the stove:
Put 1/3 of the peanuts in a blender with 1/3 cup of water (from the 4 cups allowance) and blend until smooth

Place pre-soaked peanuts, blended peanuts, and water in a large heavy-bottom pot. Bring to a boil and then lower the heat to simmer. Cover the lid and cook for about 1 hour or until the peanuts can be easily mashed between two fingers, but not to the point of mushy. They should remain in large pieces but you can easily break the peanuts with your fingers. The peanuts should taste creamy too. This shows that the peanuts are soft enough.

When they are done cooking, stir in the rock sugar and salt and cook until the sugar dissolves

Have a taste and add more sugar as needed to your taste. Serve warm
For extra creaminess:
Stir in a bit of coconut milk if you want some creaminess
Recommended products:
Nutrition
Serving:
1
serving (without coconut milk)
|
Calories:
487
kcal
|
Carbohydrates:
29
g
|
Protein:
18
g
|
Fat:
37
g
|
Saturated Fat:
5
g
|
Sodium:
812
mg
|
Potassium:
494
mg
|
Fiber:
6
g
|
Sugar:
16
g
|
Calcium:
48
mg
|
Iron:
2
mg