This incredibly easy, humble, yet delicious minced beef/ground beef soup is a classic Chinese soup that is quick to make and satisfying at the same time.
What is West Lake beef soup?
The name of this soup sure is intriguing. This West Lake beef soup originated from Hang Zhou, where the famous scenic West Lake is. The West Lake beef soup is a classic Chinese soup known by pretty much every household and everyone has his/her own variations. One thing in common is that the soup is always prepared with some minced/ground meat, usually beef, and egg whites that are drizzled into the soup. The overall look is like ripples, resembling those at the West Lake. So, the soup is named after West Lake.
Basic Main Ingredients
West Lake beef soup is a very versatile and forgiving recipe. You can pretty much use whatever you like in the soup IMHO. If you don't have one thing, you can use another or just leave them out. Here are the basic that you will often see in West Lake Beef soup:
Minced/ground beef
The soup is traditionally made with beef flank that is finely chopped manually using a Chinese cleaver. I use store-bought ground beef 93% lean. You can also substitute beef with other meat such as ground pork or chicken if you prefer
Shiitake mushrooms
I use dried shiitake mushrooms that I soaked in warm water. You are welcome to use fresh shiitake mushrooms or other mushrooms of your choice or skip them altogether
Egg whites
The egg whites are a must in making West Lake beef soup. You can also use whole eggs including the yolk if you don't want to be bothered by what to do with leftover yolks, this will make the soup a bit heavier
Chicken broth
I use store-bought good quality chicken broth
Ginger
Ginger slices add a nice touch to the soup, giving that "warmth"
Cilantro leaves
It's not uncommon to see cilantro leaves as a finishing touch in many Chinese or Asian food in general. You can skip it if you don't like or use other fresh herbs like flat-leaf parsley instead
Seasonings
Seasonings usually include soy sauce, sesame oil, salt, sugar, ground white pepper, and Chinese wine.
Potato starch
I use potato starch (not potato flour) to thicken the soup. You can also use sweet potato starch or cornstarch to thicken the soup
How to easily cook West Lake beef soup
If you prefer to use beef flank instead, use a cleaver to finely mince the meat. In a large heat-proof bowl, combine the meat with the marinade ingredients and let them marinate for about 30 minutes when you prepare other things
Add the chicken broth, water, chicken powder, sugar, a pinch of salt, pepper, ginger slices, and mushrooms to a medium-sized pot. Bring to a boil and then lower the heat to let it simmer for about 5 minutes. Remove the ginger
Ladle some of the broth over the beef in a heat-proof bowl
Break and separate the meat as you mix so the meat won't clump together when you put it into the soup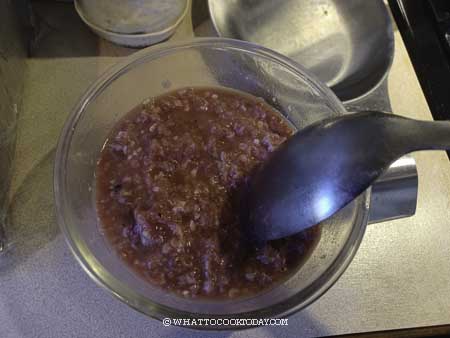 Pour this back into the soup and cook until the meat is no longer pink. Some scum may arise, scoop them off. Have a taste and adjust the seasoning to your preference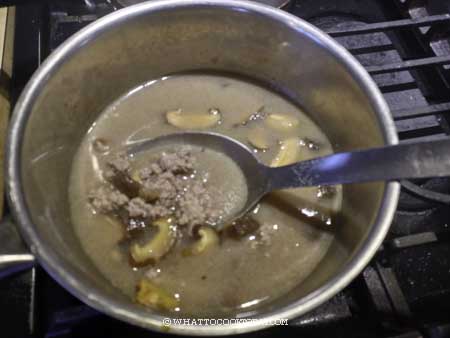 Combine potato starch with water to form a paste. Add this to the soup as you stir. The soup will thicken slightly.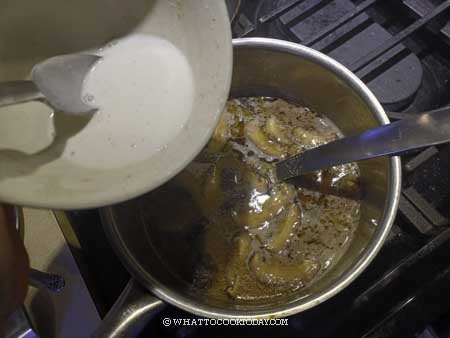 Then slowly drizzle in the lightly beaten egg whites as you slowly stir the soup. Turn off the heat. Add sesame oil and cilantro leaves just before serving. Serve the soup while it's still warm
Variations
Meat: you can use ground pork, ground chicken, ground turkey
Meatless: you can use soft or medium-firm tofu cubes
Did you make this West Lake Beef Soup recipe?
I love it when you guys snap a photo and tag it to show me what you've made 🙂 Simply tag me @WhatToCookToday #WhatToCookToday on Instagram and I'll be sure to stop by and take a peek for real!
West Lake Beef Soup (西湖牛肉羹)
Ingredients
Instructions
If you prefer to use beef flank instead, use a cleaver to finely mince the meat. In a large heat-proof bowl, combine the meat with the marinade ingredients and let them marinate for about 30 minutes when you prepare other things

Add the chicken broth, water, chicken powder, sugar,pinch of salt, pepper, ginger slices, and mushrooms to a medium-sized pot. Bring to a boil and then lower the heat to let it simmer for about 5 minutes. Remove the ginger

Ladle some of the broth over the beef in a heat-proof bowl and break and separate the meat as you mix so the meat won't clump together when you put it into the soup

Pour this back into the soup pot and cook until the meat is no longer pink. Some scum may arise, scoop them off. Have a taste and adjust seasoning to your preference

Combine potato starch with water to form a paste. Add this to the soup as you stir. The soup will thicken slightly. Then slowly drizzle in the lightly beaten egg whites as you slowly stir the soup. Turn off the heat. Add sesame oil and cilantro leaves just before serving. Serve the soup while it's still warm
Nutrition
Serving:
1
serving
|
Calories:
237
kcal
|
Carbohydrates:
12
g
|
Protein:
13
g
|
Fat:
15
g
|
Saturated Fat:
4
g
|
Polyunsaturated Fat:
2
g
|
Monounsaturated Fat:
7
g
|
Trans Fat:
1
g
|
Cholesterol:
37
mg
|
Sodium:
736
mg
|
Potassium:
322
mg
|
Fiber:
1
g
|
Sugar:
2
g
|
Vitamin A:
2
IU
|
Vitamin C:
1
mg
|
Calcium:
32
mg
|
Iron:
1
mg