These eggless white almond cookies are packed with the aroma of nutty almonds, and crunchy texture. They are incredibly easy to put together and do not need any special kitchen gadget.

What is a white almond cookie?
These popular Chinese New Year cookies get their name from the pale whitish appearance after baking. The white almond cookies also have almond flakes (or we called it sliced almonds here in the U.S) added to the cookie dough, no baking soda and/or baking powder and egg wash are used. The traditional Chinese almond cookies usually use ground almonds (almond flour), dotted with a whole almond or slice almond on top and then brushed with egg wash before baking so they have a golden brown appearance.

How to make white almond cookies
1. Toast the sliced almonds on a dry pan until lightly golden brown over medium-low heat. Remove and let them cool down completely
You can also toast them in the oven by spreading them evenly on a baking sheet and bake at 350 F preheated oven for 5-8 minutes or until golden brown. Remove from the oven and cool down completely
2. Preheat oven to 350 F (180 C) for a conventional oven. Lower the temperature by 20 degrees if you have a convection oven. Line a large baking sheet with parchment paper. Combine all the dry ingredients in a large mixing bowl with a whisk.


3. Then gradually add the oil as you mix everything with a spatula. It won't come into a dough yet


4. Switch to using your clean hands, add the toasted almond flakes and knead into a non-sticky dough


5. Place the cookie dough in between two parchment papers and use a rolling pin to roll it out to about 1/2 inch (1.3 cm) thick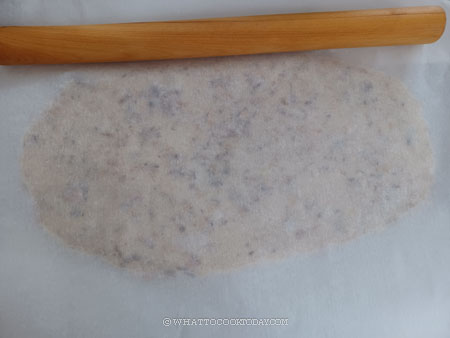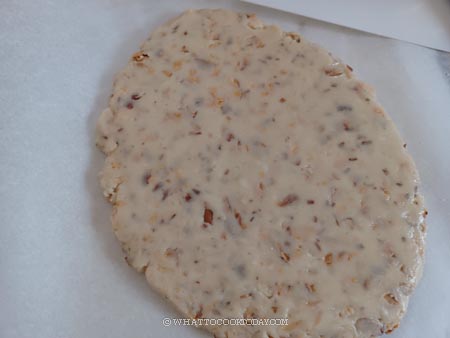 6. Use a 1.5-2 inch round cookie cutter and cut the dough out as closely as possible (so you don't have to re-roll the scrape dough too many times later). I don't have a cookie-cutter that size, so I just use a 1-inch nozzle tip as my cookie cutter


7. Place the cut dough on a prepared baking sheet, about 1/2 inch apart. They don't expand much. Gather the scrape dough and flatten again and repeat the same step above


8. Bake in a preheated oven on the middle rack for about 30 minutes if your cookies are about 1.5-2 inch in diameter. For a small 1-inch like mine, I baked for 20 minutes. The top should be kinda pale in color and the bottom is just lightly golden brown. Let the cookies cool down on the pan completely

Tips
1. I use super-fine almond flour. If you ground your own almond flour, make sure they are skinless and grind them as fine as possible
2. I recommend using peanut oil as it really brings out the aroma of the cookies even more, but of course, you can use any neutral-tasting cooking oil as you wish

Did you make this white almond cookies recipe?
I love it when you guys snap a photo and tag to show me what you've made 🙂 Simply tag me @WhatToCookToday #WhatToCookToday on Instagram and I'll be sure to stop by and take a peek for real!

Recipe is improved and updated on February 21,2022 .
Chinese New Year White Almond Cookies (白杏仁饼)
Instructions
Toast the sliced almonds on a dry pan until lightly golden brown over medium-low heat. Remove and let them cool down completely

You can also toast them in the oven by spreading them evenly on a baking sheet and bake at 350 F preheated oven for 5-8 minutes or until golden brown. Remove from the oven and cool down completely

Preheat oven to 350 F (180 C) for a conventional oven (bottom heat only). If you have convection oven (top and bottom heat, no fan), lower the temperature by 20 degrees. Line a large baking sheet with parchment paper
Prepare the cookie dough:
Combine all the dry ingredients in a large mixing bowl with a whisk. Then gradually add the oil (start with half the amount first and see) as you mix everything with a spatula. It won't come together into a dough yet. Switch to using your clean hands, add the toasted almonds and knead into a dough. It may seem like the dough is a bit dry and won't come together, but it will, just keep kneading and it will come together. Don't be tempted to add more oil unless the dough is really dry and won't come together
Shaping:
Place the cookie dough in between two parchment paper and use a rolling pin to roll it out to about 1/2 inch (1.3 cm) thick. Use a 1.5-2 inch round cookie cutter and cut the dough out as closely as possible (so you don't have to re-roll the scrape dough too many times later). I don't have cookie-cutter that size, so I just use a 1-inch nozzle tip as my cookie cutter 🙂

Place the cut dough on a prepared baking sheet, about 1/2 inch apart. They don't expand much. Gather the scrape dough and flatten again and repeat the same step above

You can also just pinch off about 10 grams of dough and roll it into a ball, then flatten slightly with your palm if you don't want to roll out the cookies
Baking:
Bake in a preheated oven on the middle rack for about 30 minutes if your cookies are about 1.5-2 inch in diameter. For a small 1-inch like mine, I baked for 20 minutes. The top should be kinda pale in color and the bottom is just lightly golden brown

Let the cookies cool down on the pan completely
Storing:
Once the cookies have cooled down completely, transfer to an air-tight container and they can be kept for weeks this way
Recommended products:
Nutrition
Serving:
1
cookie
|
Calories:
49
kcal
|
Carbohydrates:
4
g
|
Protein:
1
g
|
Fat:
3
g
|
Saturated Fat:
1
g
|
Polyunsaturated Fat:
1
g
|
Monounsaturated Fat:
2
g
|
Trans Fat:
1
g
|
Sodium:
30
mg
|
Potassium:
17
mg
|
Fiber:
1
g
|
Sugar:
1
g
|
Vitamin A:
1
IU
|
Calcium:
7
mg
|
Iron:
1
mg