Learn how to easily make this gluten-free cookie made with combinations of mung bean flour, almond flour, and roasted almond pieces. They are nutty, pleasantly crumbly, and just lightly sweet. A perfect addition to Chinese New Year cookies and as an edible gift.

Our trip to Macau more than decades ago brings back a memory of these Macau almond cookies. Besides, the famous Portuguese Egg Tart, Minchi, Porkchop Buns, and many other amazing Macanese food, the almond cookies are also a must-to-try if you visit Macau. Macau almond cookies are different from these Chinese Almond Cookies.
The recipe rundown
Taste: Nutty, nice aroma from the mung bean flour, just the right amount of sweetness
Texture: Crisp on the outside and crumbly interior. I love biting into little pieces of chopped almond nuts too
Level: Medium
Pros: This recipe is gluten-free and dairy-free
Cons: It can be tricky trying to get the right consistency of the cookie "dough" because they don't resemble a cookie dough
Let's talk ingredients
1. Mung bean flour
You can purchase mung bean flour (moong dal) from your local Asian grocery store or Indian grocery store. You can also make your own mung bean flour
2. Almond flour
Make sure you purchase finely ground blanched almond flour (skin has been removed). How about almond meal? Almond meal is also made with ground almond, but the skins are still intact and they are coarser in texture compared to almond flour
3. Roasted whole almonds
I use unsalted roasted whole almonds. The roasted almonds give a nice aroma
4. Icing sugar
Do not replace icing sugar with granulated sugar or caster sugar
5. Cooking oil
This recipe doesn't use butter, lard, or shortening. I use neutral-tasting oil
6. Water (as needed)
Mung bean flour VS Mung bean starch
Please note that mung bean flour and mung bean starch are not the same things. The two are used interchangeably most of the time, but they are actually not the same thing. The flour is made by grinding the whole beans. The starch is made by extracting the starch from the beans. They give different results when you use them in cooking and baking. The flour is beige/yellowish in color. The starch is white in color
Special moulds
Macau almond cookies are made by using a special wooden mould to imprint a nice design on the cookies. I don't have this and so I have used mooncake press mould, which has an almost similar shape.


I have also used this kuih bangkit mould for smaller cookies. In fact, the making of Macau almond cookies reminds me of the same process of kuih bangkit too.

How to make Macau mung bean almond cookies
1. Place the whole almonds in a food processor and pulse a few times to roughly chop the nuts. You can also just use a knife to roughly chop them. Set aside


2. Put all ingredients in a mixing bowl, except for water, and stir to combine them well


3. Add 1 teaspoon of water at a time. We are not looking for a cookie dough here, it's pretty much just a loose mixture. Use your palm to squeeze the mixture, if it stays without crumbling, the mixture is moist enough


4. The mixture will crumble only if you push it with your fingers and that's the way it supposed to be


5. Dust the mould with some icing sugar. If you use mooncake mould, scoop some of the mixtures into the mould cavity, about 15 grams, and press the mixture to tightly pack it


6. Then gently press the plunger down and release the cookie


7. If you use kuih bangkit mould, dust the mould with some icing sugar. Scoop the mixture to fill up the cavities and use your fingers to press the mixture down


8. Scrape off excess using a knife


9. Tap the mould on a countertop to release cookies


10. Bake the cookies for 30 minutes for large size cookies and about 20 minutes for smaller cookies. Remove from the oven and let them cool down on the tray for 10 minutes and then gently transfer to a cooling rack to let them cool down completely before storing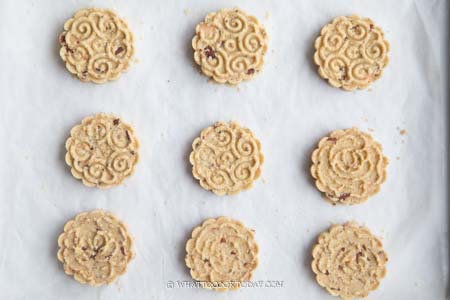 These Macau mung bean almond cookies are pretty addictive. My kids didn't seem to like them at first, but after munching a few of them, they told me that they enjoy the nutty taste and texture.

Variations
Flavor: In Macau, the almond cookies sold by this Koi Kei Bakery comes in different flavors. Some with salted egg yolk, black sesame seeds, pork floss, or lard added in the cookies instead of pieces of almonds.
The ratio of mung bean flour to almond flour: I use a 50/50 ratio here. Most recipes use more mung bean flour than almond flour. Our family actually prefer the one made with 50/50 ratio. You can definitely adjust the ratio by using more mung bean flour than almond flour or more almond flour than mung bean flour. You can also make this recipe entirely without using mung bean flour and only almond flour. The recipe is quite forgiving as long as you get the texture consistency right and add water as needed (especially if you alter the flour ratio).

How to store
Once they have cooled down completely on a cooling rack, simply transfer them to an air-tight cookie jar or container. They can be kept for weeks.
Did you make this Macau mung bean almond cookie recipe?
I love it when you guys snap a photo and tag to show me what you've made 🙂 Simply tag me @WhatToCookToday #WhatToCookToday on Instagram and I'll be sure to stop by and take a peek for real!

Macau Mung Bean Almond Cookies
Instructions
Place the whole almonds in a food processor and pulse a few times to roughly chop the nuts. Set aside

Line a baking sheet with parchment paper. Preheat oven to 285 F (140 C)
Prepare the "dough" (more of a loose mixture than a dough):
Put all ingredients in a mixing bowl, except for water, and stir to combine them well. Add 1 teaspoon of water at a time. We are not looking for a cookie dough here, it's pretty much just a loose mixture. Use your palm to squeeze the mixture, if it stays without crumbling, the mixture is moist enough, but if it crumbles easily, add another teaspoon of water
Shape the cookies:
Dust the mould with some icing sugar. If you use mooncake mould, scoop some of the mixture into the mould cavity, about 15 grams, and press the mixture to tightly pack it. Then gently press the plunger down and release

If you use kuih bangkit mould, dust the mould with some icing sugar. Scoop the mixture to fill up the cavities and use your fingers to press the mixture down and then scrape off excess using a knife. Tap the mould on a counter top to release cookies

Arrange the shaped cookies on a baking tray. These almond cookies will not expand during baking
Bake the cookies:
Place the baking tray in the oven, middle rack, bottom heat only, no fan. Bake the cookies for 30 minutes for large size cookies and about 20 minutes for smaller cookies

Remove from the oven and let them cool down on the tray for 10 minutes and then gently transfer to a cooling rack to let them cool down completely before storing
Recommended products: