These light as air, crisp, and sweet egg white meringue cookies are fun to make and can be customed into many different flavors and colors. It's perfect for Chinese New Year or any holiday celebrations. All the tips you need to make meringue cookies successfully.


Oh..meringue cookies..meringue cookies! Why do you taste so darn good! After making my 10-minute kaya jam, which only uses egg yolks, I have some egg whites left and immediately I thought about this meringue kisses cookies. In Singapore and Malaysia, these meringue cookies or biskut meringue is also called ice cream cookies. If you have lots of egg whites leftover after all those Chinese New Year or Christmas baking, well, you know what to do 🙂
The recipe rundown
Taste: Not cloyingly sweet with a nice flavor from whatever you use to flavor it
Texture: They are so light yet crunchy and somewhat melty after that. It's so addictive!
Level: Intermediate
Pros: They are so pleasant to pop into the mouth and munch. Kids to adults LOVE meringue cookies
Cons: Meringue cookies require a long baking time at low temperature and resting, but they are mostly passive-time. They are also very sensitive to humidity. So please read all the important tips below before you start making them
Ingredients
1. Egg whites
Use room-temperature egg whites. Some people swear by cold egg whites, but I swear by room-temperature egg whites. They whip up into a stiffer and loftier peak
2. Cream of tartar
I recommend not to omit the cream of tartar. The cream of tartar actually stabilizes the whipped meringue so it doesn't get deflate easily. If you don't have any, you can substitute with an equal amount of acid like lemon juice, apple cider vinegar or vinegar
3. Sugar
I use granulated sugar. You can use caster sugar too. Do not cut down on the amount of sugar. These meringue cookies are not cloyingly sweet. The sugar is needed to create that nice glossy and stiff meringue. Cutting down the sugar and the meringue won't turn out right
4. Cornstarch
Cornstarch helps to absorb moisture in your meringue, in other words, another ingredient that helps to stabilize the meringue. If you leave in a humid place, you definitely don't want to skip this.
5. Flavor of your choice
I use ube extract and pandan extract and also cocoa powder to color and flavor these meringue cookies
Important tips to whip egg whites to a stiff peak
To make good meringue cookies, you need the egg whites to be whipped into a nice, glossy, and stiff pointed tip. When you hold it up, it doesn't move. You turn the bowl upside down, it won't drip. That's the stiff peak we want.
1. Choose the day when it's not so humid if possible. It's not an issue here during winter here as the air is extremely dry. But if it's humid where you are, it's harder to reach that stiff peak.
2. Make sure to use a glass or metal bowl to whip egg whites. The plastic bowl can absorb grease from whatever you use it for previously.
3. Make sure there is no trace of oil in your mixing bowl and whip attachments
4. Separate the egg whites from the yolks when they are still cold. It's easier to do so. Keep the yolks for other use (like making this 10-minute kaya jam)
5. Bring egg whites to room temperature. It is easier to whip to stiff peak
6. DO NOT skip cream of tartar or another acid substitute such as lemon juice, apple cider vinegar, or vinegar
7. Use a stand mixer to whip egg whites if you have one as it gets the job done twice faster compared to using a hand mixer
8. Do not cut down on the amount of sugar. This will affect the texture of the meringue and please add sugar in batches
How to flavor and color meringue cookies
Liquid extract/essence: Using liquid extract is the easiest to flavor and color meringue. The choices are limitless here. I've tried pandan extract, ube extract, coconut extract, lemon extract, almond extract, orange extract, mint extract, etc. I suggest no more than 1/2 teaspoon of liquid extract for 2 egg-white meringue. The liquid extract is added after the meringue has reached a stiff peak
Powder flavoring: you can use cocoa powder, matcha powder, beetroot powder, etc. Please take note not to add too much of the powder extract like cocoa powder as the meringue seems to be less stiff because of the fat content of the cocoa powder. I suggest no more than 1/2 to 1 Tbsp of powder flavoring for 2 egg-white meringue. Add powder flavor after meringue has reached a stiff peak
Food coloring: You can use gel or liquid food coloring. Use just a drop or two of them. Don't use too much, especially the liquid food coloring as liquid affect the texture of the meringue
How to add other mix-ins to meringue cookies
The possibility is limitless here. You can add mini chocolate chips, crushed Nestum cereal, crushed nuts, sesame seeds, oh…the possibilities! Just know that if you added mix-ins like this, you won't be able to pipe the meringue because they will get stuck on the nozzle (which happened to me before and it was pretty disastrous). So you can just spoon a dollop of the meringue instead

How to make meringue cookies
1. Start beating the egg whites at medium speed (speed 6 on Kitchen Aid) until foamy, about 1 minute


2. Add cream of tartar or another acid substitute. Continue to beat for another minute


3. Start adding sugar in 3 to 4 batches. Once the sugar is all in, increase to high speed (speed 8 on Kitchen Aid) and beat until the mixture reach a very stiff peak


4. When you lift the whisk up, the meringue has a pointy tip that doesn't move


5. Add cornstarch and whisk for another 5 seconds or so to mix it in


6. Add liquid extract, food coloring, or coloring or powder flavoring at this point. Whip again for another few seconds until it just mixes in. Don't overbeat the meringue anymore


7. Transfer half of the meringue mixture into a piping bag with a fitted nozzle and start piping the meringue into a round shape and going up resembling a tear-drop. The size really is up to you, but I would say about 1 to 1 1/4 inch in size and about 1/2 to 1 inch apart


8. Put in a preheated oven. I used a middle rack and my oven has a bottom heat source, no fan. Bake for the next 1 hour. After one hour is done, turn off the oven but do not open the oven door. Leave the meringue in the oven for at least 1 hour. You can even leave them in the oven for 3-4 hours or overnight if you leave at a very humid place. This will dry up the meringue cookies nicely and they will stay crisp for a long time. Let the cookies cool down completely inside the oven and not on the counter if humidity is an issue where you are

Now you have beautiful meringue cookies that are crisp and just so delightful waiting for you to eat them!!!

Cracks on meringue
Sometimes you may see some hairline cracks on the meringue. They do not affect the taste and texture but well, just not cosmetically perfect. This can be caused by several things:
1. Overwhipped meringue. Once the meringue reaches a stiff peak, you don't want to overbeat it anymore. You can always stop halfway to check on the consistency. It should be thick, glossy, voluminous, and stiff. You know you are done whipping
2. Oven temperature is too high. You can lower the temperature next time
3. Try to pipe the cookies on the same tray the same size as much as you can so they bake evenly at the same time. I have a mixture of small and large on the same tray and you can see the smaller ones (the green ones) had some cracks on them
Meringue is sticky and chewy. How to fix it?
That's the sign that the meringue needs longer baking. They could also have absorbed too much moisture from your surrounding especially if the humidity is high where you are. Simply put them back inside the oven at 250 F (120 c) for another 10-15 minutes
Okay, I know that's a lot of reading right there (and lots of typing for me too LOL!) but I hope you find them useful and you can make these meringue cookies successfully at home.
Now look at the inside 🙂 *HEART EYES*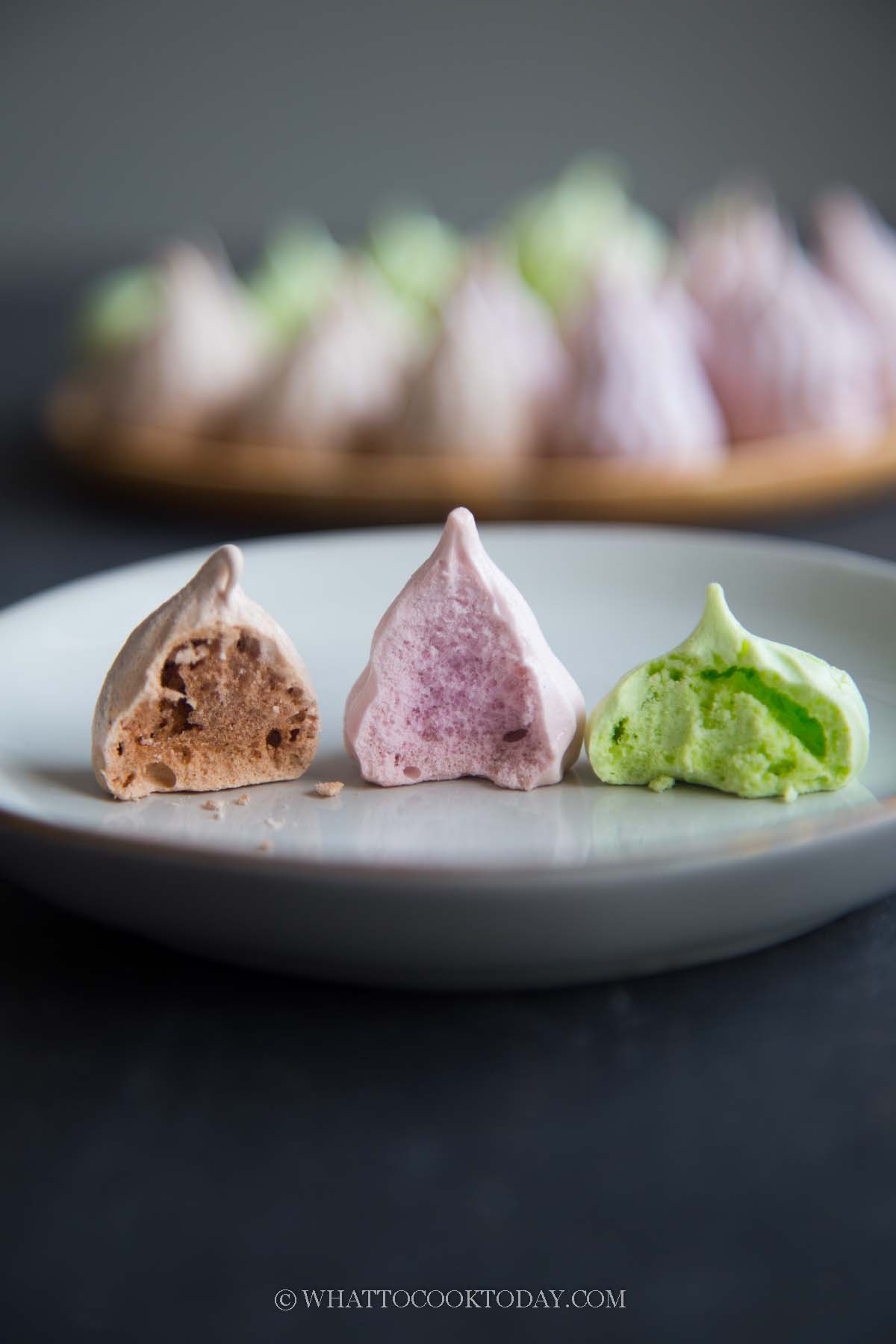 Did you make this recipe?
I love it when you guys snap a photo and tag to show me what you've made 🙂 Simply tag me @WhatToCookToday #WhatToCookToday on Instagram and I'll be sure to stop by and take a peek for real!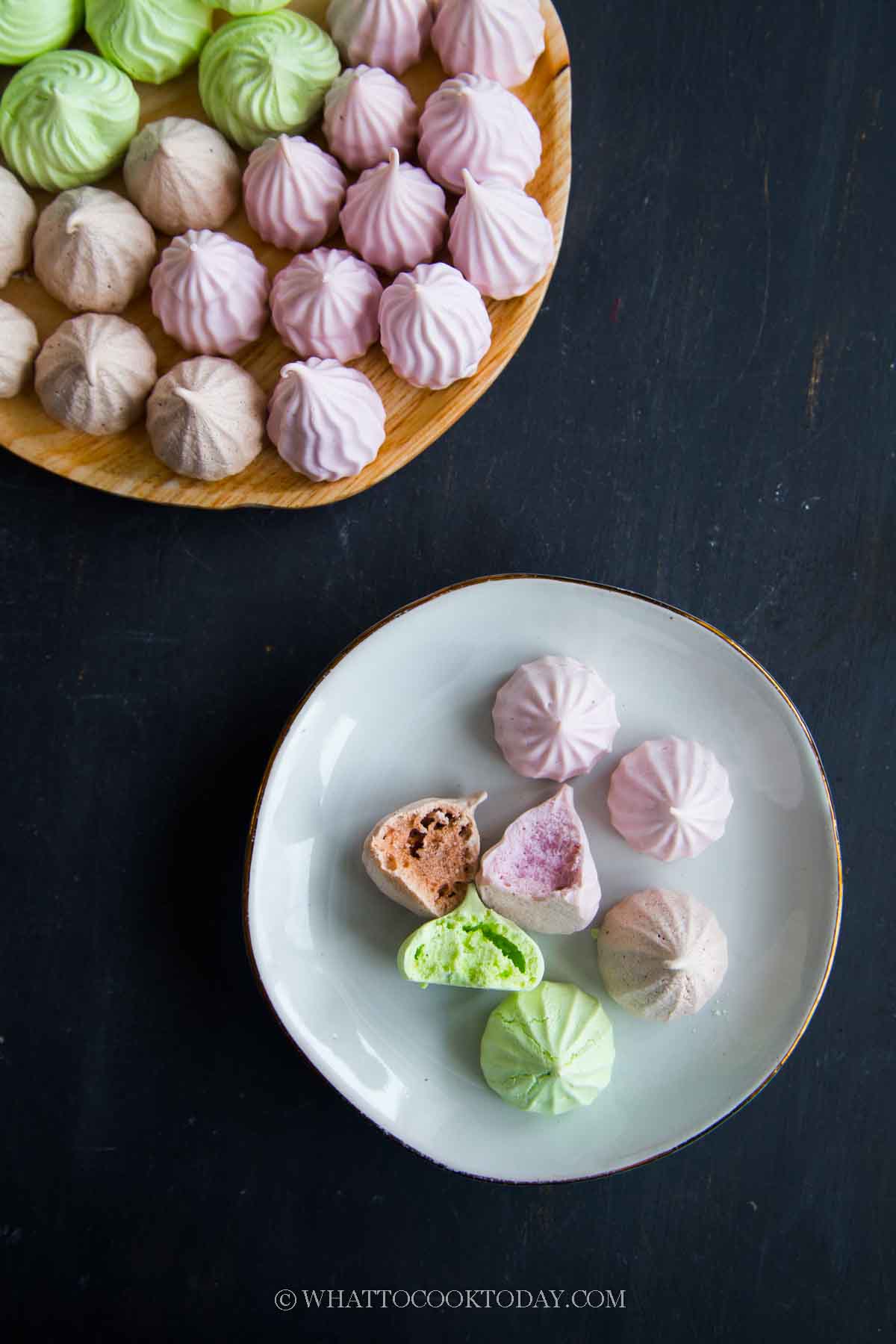 Pandan, Ube, and Cocoa Meringue Kisses Cookies (Biskut Meringue)
Ingredients
60

gr

egg whites

2 large egg whites , at room temperature

¼

tsp

cream of tartar

or lemon juice, vinegar, or apple cider vinegar

70

gr

granulated sugar

1 ½

Tbsp

cornstarch
Flavoring and color (use any one of these):
If you want to add some mix-ins (choose one):
15

gr

finely chopped nuts

15

gr

unsweetened desiccated coconuts

15

gr

Nestum cereal

crush into smaller pieces

15

gr

cornflakes cereal

crush into smaller pieces
Instructions
Separate the egg whites from the yolks when they are still cold. It is easier to do so. Keep the yolks for other use (like making this 10-minute kaya jam). Leave the egg whites for 30 minutes at room temperature

Line a large baking sheet with parchment paper. Prepare a piping bag with a fitted nozzle of your choice. If you plan to add mix-ins like chocolate, nuts, etc, skip the piping bag because they will get stuck on the nozzle
Whip the meringue:
Preheat oven to 250 F (120 C). If you use a convection oven, preheat at 225 F (107 C). Start beating the egg whites at medium speed (speed 6 on Kitchen Aid) until foamy, about 1 minute. Add cream of tartar or another acid substitute. Continue to beat for another minute. Start adding sugar in 3 to 4 batches

Once the sugar is all in, increase to high speed (speed 8 on Kitchen Aid) and beat until the mixture reach stiff peak. When you lift the whisk up, the meringue has a pointy tip that doesn't move. Add cornstarch and whisk for another 10 seconds or so to mix it in
Add flavoring or coloring :
Add liquid extract or coloring or powder flavoring at this point. Whip again for another few seconds until it just mixes in. Don't overbeat the meringue anymore
If you choose to add mix-in:
Fold in the mix-in using a swipe and fold-over method using a rubber/silicone spatula until they are combined. Be careful not to overmix that you deflate the meringue
Transfer to a piping bag (skip if you add mix-in to the meringue):
Transfer half of the meringue mixture into a piping bag with a fitted nozzle and start piping the meringue into a round shape and going up resembling a tear-drop. The size really is up to you, but I would say about 1 to 1 1/4 inch in size and about 1/2 inch apart

If you use mix-in, simply use a spoon to scoop a dollop and place it on parchment paper. The shape may not be as uniform as using a piping bag, but try your best to make them the same size so they bake evenly at the same time

Put in a preheated oven. I used a middle rack and my oven has a bottom heat source, no fan. Bake for the next 1 hour. After one hour is done, turn off the oven but do not open the oven door. Leave the meringue in the oven for at least 1 hour. You can even leave them in the oven for 3-4 hours or overnight if you leave at a very humid place. This will dry up the meringue cookies nicely and they will stay crisp for a long time. Let the cookies cool down completely inside the oven and not on the counter if humidity is an issue where you are

The meringue should be dry to touch and doesn't stick to the parchment paper anymore after that. If they are still sticky and wet, you can continue to bake them at 250 F (120 C) for another 10-15 minutes to crisp them up
Storing:
Once they have cooled down completely inside the oven, store them in an air-tight container. They stay crispy for 2 weeks in the container at room temperature where I am because it's winter now and the air is extremely dry and humidity in our house is only 30% (yikes, dry skin!!)

If you live in a humid place, store the meringue in an air-tight container and keep them in the fridge. The fridge is cool and dry, which is better for the meringue than the hot humid air out there
Recommended products: