The combination of buttery and melt-in-your-mouth eggless cookie dough and savory pork floss, roasted seaweed, and toasted sesame seeds are some of our family's favorites. If you enjoy sweet and savory cookies, you don't want to miss out on this one.

A friend of mine gave me a funny look when I told her about these pork floss seaweed cookies. She thought it sounds too weird 🙂 Well, it may sound very weird but to me, it's weird and unusual in a good way. I always dig sweet-savory combination in cookies, cakes, and dessert 😉
The recipe rundown
Taste: the sweetness from the butter cookie dough pairs well with the savory taste of meat floss, Korean roasted seaweed, and nutty aroma from the toasted white sesame seeds. I love the combo for sure!
Texture: Melt-in-mouth texture with tiny bits of meat floss in there
Level: Easy
Pros: This is a very easy recipe to make and does not require a mixer
Cons: It's definitely not waist-friendly 🙂
Ingredients
1. Butter
I use unsalted butter, but you can use salted butter and omit the salt in the recipe
2. Icing sugar
Icing sugar is also known as confectioner's sugar. I don't recommend replacing it with granulate sugar or caster sugar
3. All-purpose flour
All-purpose flour is equivalent to wheat flour with medium gluten-content
4. Cornstarch
This is similar to what they call cornflour in Singapore and Malaysia, but we call it cornstarch in North America. It's the starch extracted from the corn. Don't be mistaken with cornmeal, which is grind-up corn
5. Salt
6. Pork floss
Pork floss is available in Asian grocery stores. You can use chicken floss, fish floss, etc
7. Roasted seaweed
I use Korean roasted seaweed snack pack. They are salted and ready for consumption
8. Toasted white sesame seeds
Toasted white sesame seeds add a nice nutty aroma to the cookies

How to easily make pork floss seaweed cookies
1. Line your baking sheet with parchment paper. Let butter comes to room temperature and soft. You can easily mash them with a spatula or a whisk. Mix it with the icing sugar. You can also use a mixer to cream butter and icing sugar until just combined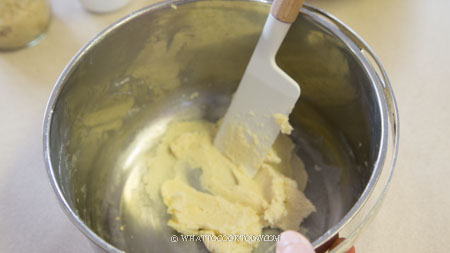 2. Stir in the meat floss mixture and combine well.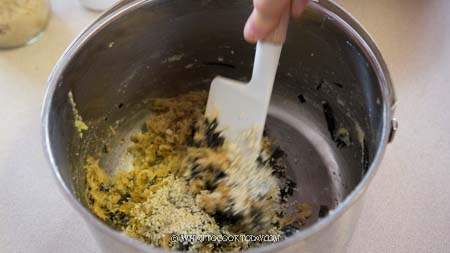 3. Sift in the dry ingredients. Use a spatula to fold and combine into a sticky cookie dough


4. Cover and chill the cookie dough in the fridge for 30 minutes to 1 hour


5. Preheat oven to 350 F (180 C). I use a 1 Tbsp-size cookie scoop and scoop the cookie. You can use a spoon too or make them smaller if you wish. The dough is sticky but manageable because it's cold. Roll it into a round ball and place them about 1 1/2 inches apart. The cookies will spread some but shouldn't overspread


6. I suggest baking one tray at a time for the best result. Keep the other tray chilled in the fridge. I use a conventional oven (bottom heat, no fan). Place the tray in the middle rack and bake for 14-15 minutes for a soft melt-in-your-mouth texture. If your cookies are smaller, 12 minutes should do it. Add another minute or two if you want crispier cookies. The time is just a reference. Your oven may differ slightly
7. Remove from the oven and let them cool down on the pan for 5 minutes. They appear to be still very soft but will firm up as they cool down. Transfer to a cooling rack to let them cool down completely

How to store baked cookies
Simply let them cool down completely and then transfer them to a cookie jar with a tight-fitting lid. They can be kept for few weeks at room temperature. You can also freeze them. Simply transfer the cooled down baked cookies into a freezer bag, push out all the air, and seal. Keep them in the freezer for no more than one month for the best result
Make-ahead cookie dough and freeze
1. Prepare and shape the cookie dough into individual dough ball as directed in the recipe
2. Place them on a baking sheet lined with parchment paper. Don't let them touch each other. Freeze for 1 hour and then transfer to a freezer bag. They won't stick to each other anymore. Push all the air out and seal. Label and date the bag. They can be kept for up to 3 months
3. When ready to bake, do not thaw. Follow instructions in the recipe and you may need to add 2-3 minutes, depending on your oven and the size of the cookie you make

Did you make this recipe?
I love it when you guys snap a photo and tag to show me what you've made 🙂 Simply tag me @WhatToCookToday #WhatToCookToday on Instagram and I'll be sure to stop by and take a peek for real!

Melt-In-Your-Mouth Pork Floss Seaweed Cookies
Instructions
Cut the meat floss and seaweed into tiny pieces. Add sesame seeds and set aside
Prepare cookie dough:
Line your baking sheet with parchment paper. Let butter comes to room temperature and soft. You can easily mash them with a spatula or a whisk. Mix it with the icing sugar. You can also use a mixer to cream butter and icing sugar until just combined

Stir in the meat floss mixture and combine well. Sift in the dry ingredients. Use a spatula to fold and combine into a sticky cookie dough. Cover and chill the cookie dough in the fridge for 30 minutes to 1 hour
Shape the cookies:
Preheat oven to 350 F (180 C). I use a 1 Tbsp-size cookie scoop and scoop the cookie. You can use a spoon too or make them smaller if you wish. The dough is sticky but manageable because it's cold. Roll it into a round ball and place them about 1 1/2 inches apart. The cookies will spread some but shouldn't overspread
Bake the cookies:
I suggest baking one tray at a time for the best result. Keep the other tray chilled in the fridge. I use a conventional oven (bottom heat, no fan). Place the tray in the middle rack and bake for 14-15 minutes for a soft melt-in-your-mouth texture. If your cookies are smaller, 12 minutes should do it. Add another minute or two if you want crispier cookies. The time is just a reference. Your oven may differ slightly

Remove from the oven and let them cool down on the pan for 5 minutes. They appear to be still very soft but will firm up as they cool down. Transfer to a cooling rack to let them cool down completely