Soft and fluffy condensed milk infused mantou/steamed buns are steamed and then fried in the air fryer and served with more condensed milk on the side. Air fried mantou is a much healthier version with the same great taste.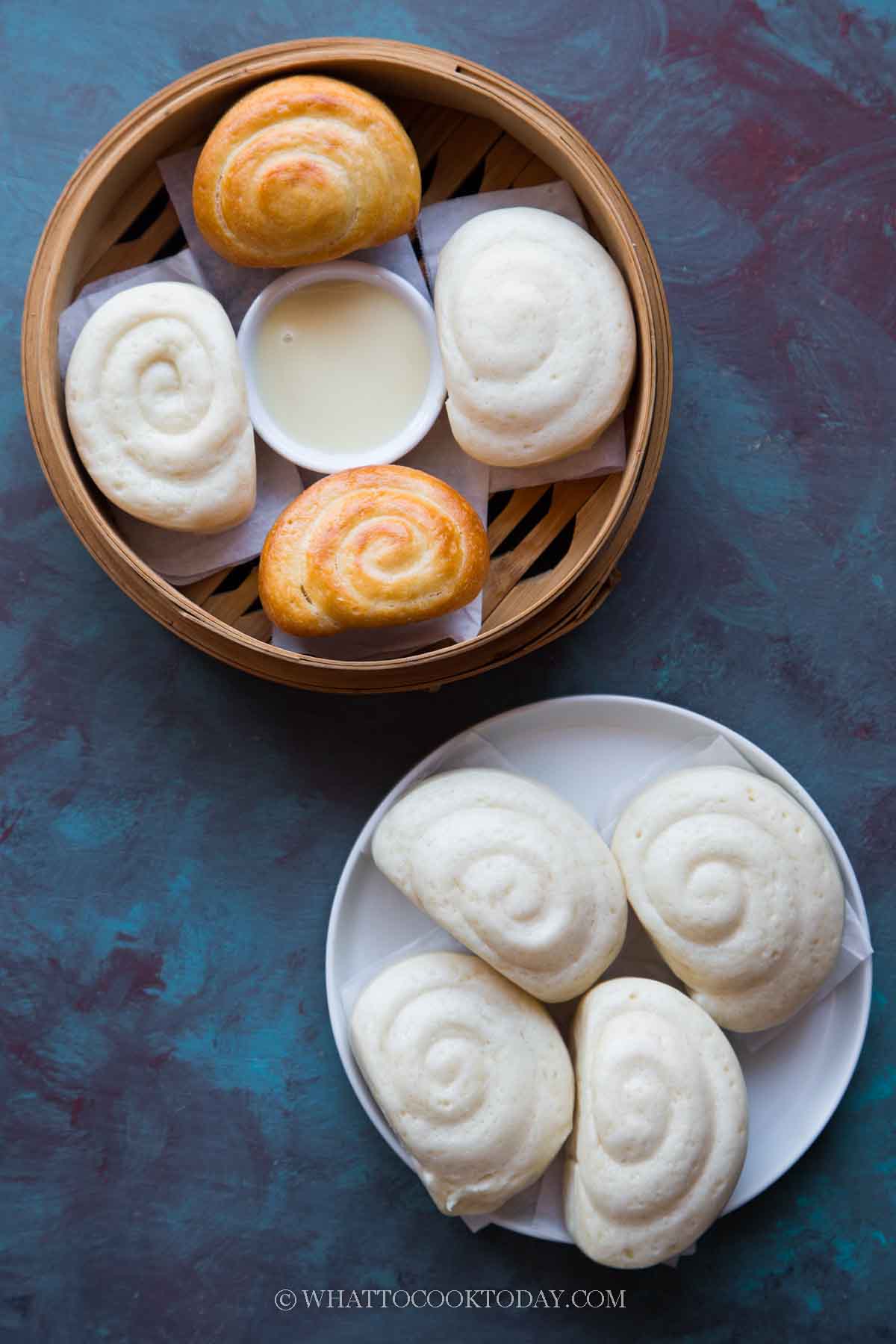 Fried mantou dipped in condensed milk is like my childhood favorite food ever! I love the crispy crust and soft fluffy texture inside smothered in the sweet, sticky, and creamy condensed milk. It's like a child's dream (my dream at least!). I begged my parents to get frozen mantou all the time 🙂 Then mom would fry me some and I ate them so intently, savoring every bite! But…as you grow up, you realize that you can't eat so much fried food all the time LOL! So, this is when the air-fried mantou comes to the rescue!
The air fryer has been in the market for so long now that most people seem to find this piece of kitchen gadget affordable and useful. I have used it to, well "fry" chicken, bake cakes, bake bread, reheat some foods, crisp up some foods, well, any chance I can use an air fryer, I will use it. It's so darn convenient! The air fryer is like a mini convection oven that cooks much faster than a traditional oven, which also means you want to watch out for the temperature and cooking time.
The recipe rundown
Taste: I love that faint hint of milky aroma in the buns. The buns on their own aren't sweet because they will be dipped in condensed milk
Texture: Steamed version is soft and fluffy and the air-fried version has a nice crispy crust on the outside and a soft fluffy texture on the inside
Level: Intermediate
Pros: By air frying the mantou we definitely cut down significantly on the calories for sure!
Cons: It's better to knead the dough with a stand mixer or a bread maker. Kneading by hands is not my forte LOL!
I use condensed milk in the mantou recipe
I used my basic soft and fluffy steamed buns recipe with some modification to include condensed milk in there. What does condensed milk do in steamed buns or bread? They produce softer buns with a nice milky aroma.
How to make condensed milk steamed buns
1. Place the flour/starch combinations, instant yeast, sugar, salt, oil, and condensed milk in a mixing bowl. If you use a breadmaker, simply follow instruction in your breadmaker on how to add ingredients and knead the dough. If you are using a stand mixer, use a dough hook attachment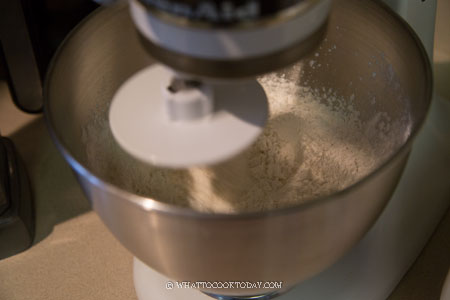 2. Gradually add 150 ml of cold milk and add more until you can form a dough. You will most likely need to add more milk if the dough is still a bit dry. Knead for 5 minutes until the dough is really smooth and stretchy and won't break when you pull on it. Cover and rest the dough for 15 minutes. This is to relax the gluten for easier shaping and rolling the dough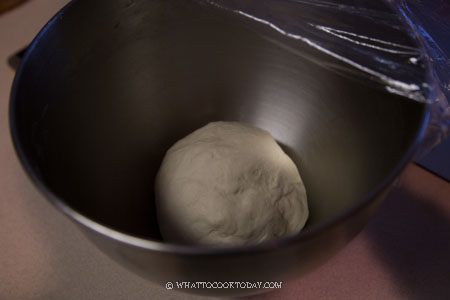 3. Dust your work surface with some flour. Roll out the white dough into about 12 x 8 inch rectangle with a rolling pin


4. Roll the dough up, starting from the side near you into a long log. Seam side down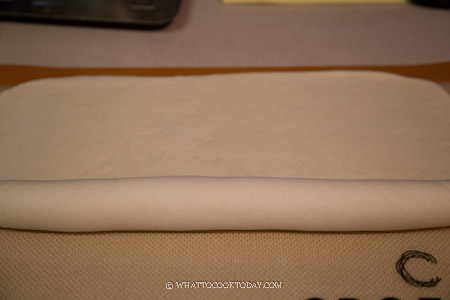 5. Use a serrated knife like a bread knife to cut into 10 pieces of mantou. I used to use a dough cutter and that is a bad idea as it doesn't give a very "clean" cut and it squeezes the shape. We need a sharp serrated knife, such as a bread knife and cut it in a sawing motion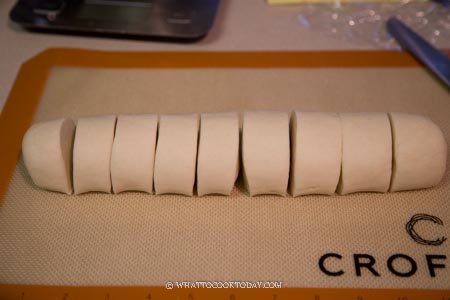 6. Place this freshly cut mantou on top of parchment paper (seam side down)


7. Cover and let the dough rise at room temperature or at a warm place. If it's winter where you are, you can use your oven "bread proof" function to let them proof in there, or simply turn on your oven to the lowest temperature and then turn off and after 15 minutes, place the shaped buns in there to let them proof. They won't necessarily double in size, but at least puff up to about 50% of the original size. This may take about 1 hour or so at a warm temperature. Don't go by the time, however. The dough should feel lighter after proofing and if you gently press on the dough it bounces back slowly. This is the sign that the dough has been sufficiently proofed


8. Bring the water in your steamer to a boil. LOWER THE HEAT TO MEDIUM. Place the buns in there, leaving about 1-inch space in between


9. Cover with a lid wrapped with a cloth, but leaving it about 1/4-inch gap for some steam to escape. Steam on medium heat for 10 minutes. As long as you steam them like this, the buns will not wrinkle and collapse later when you take them out from the steamer


10. Turn off the heat. DO NOT OPEN THE LID of the steamer. Let the buns sit there for 1 minute like this. The buns will not sink or wrinkle due to the sudden change in temperature


11. Remove the buns to a wire rack to let them cool down. This is to ensure the bottom of the steamed buns will not be wet and soggy. Let the steamed buns cool down completely before air frying them


12. Preheat your air fryer at 350 F (180 C) for 10 minutes. Brush the mantou with some cooking oil all over (you can use melted butter too if you want). Arrange some buns in the basket of the air fryer and air fry for about 8 minutes and then check to see the color. If they are not golden brown enough, air fry for another 2-3 minutes and check again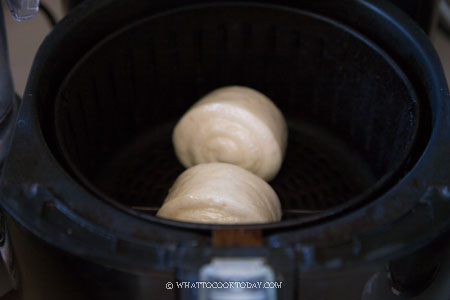 Now you can enjoy the fried mantou without much guilt 😉

How to make ahead
You can freeze the steamed mantou and fried them whenever you want. Here's how:
1. Let the steamed mantou cool down completely. Individually wrap them in a cling wrapper then put inside a freezer bag, push all the air out and seal
2. When you want to fry some, no thawing necessary. Simply preheat the air fryer at 350 F for 10 minutes
3. Brush the mantou with some oil or melted butter. Arrange inside the basket of an air fryer
4. Air fry at 350 F for 10 minutes and then check and see if they are warm through inside, if not, continue to cook until they turn golden brown and heated through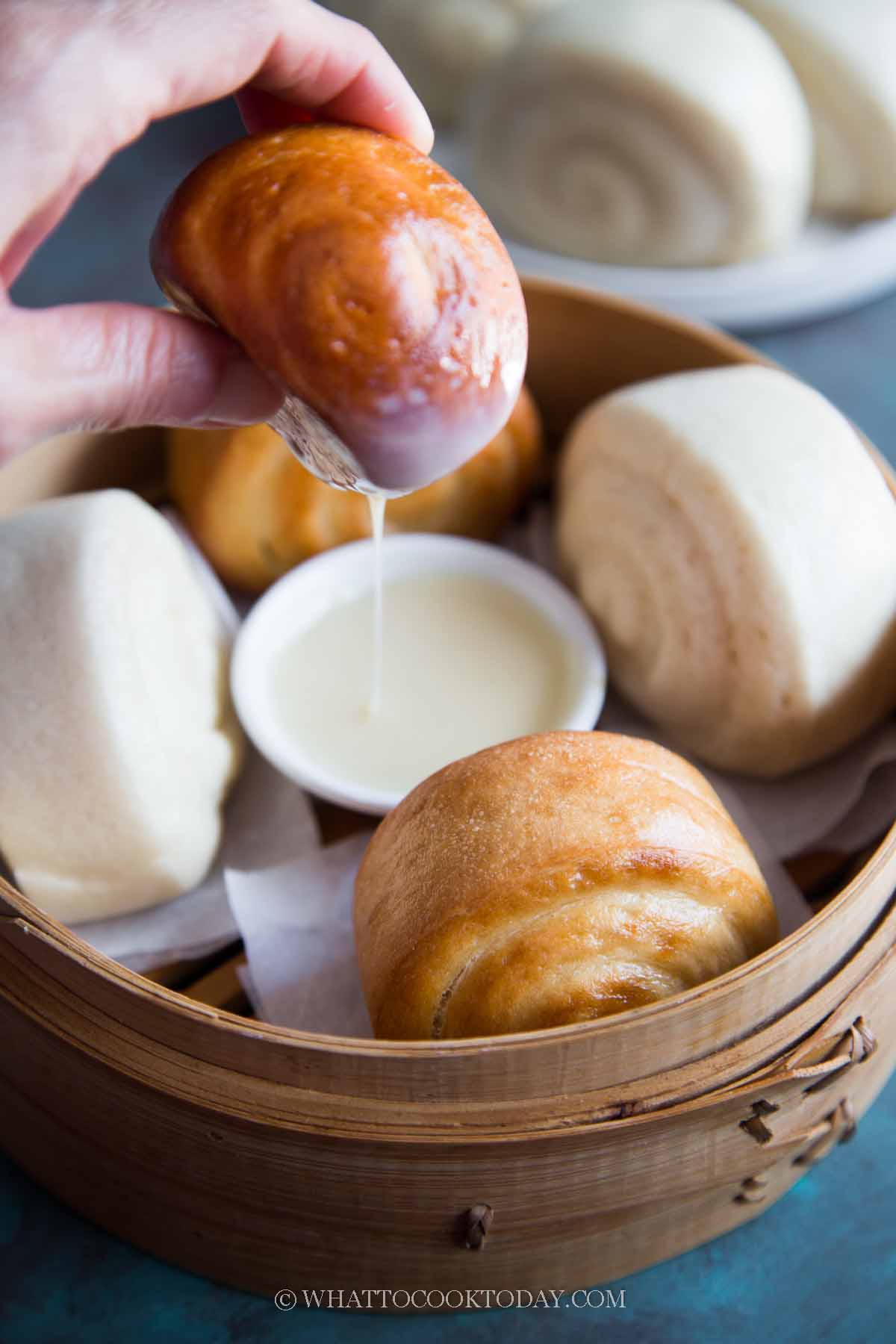 I love the crusty outside of the fried mantou but the inside is still soft and fluffy

Did you make this recipe?
I love it when you guys snap a photo and tag to show me what you've made 🙂 Simply tag me @WhatToCookToday #WhatToCookToday on Instagram and I'll be sure to stop by and take a peek for real!

Air Fryer Fried Condensed Milk Mantou
Ingredients
300

gr

cake flour

plus more for dusting

60

gr

wheat starch

can be substituted with potato starch (not potato flour) or cornstarch

4

gr

instant yeast

30

gr

sugar

¼

tsp

salt

80

gr

condensed milk

plus more to serve with the buns later

1

Tbsp

cooking oil

plus more to brush on the buns later

150

ml

-190 ml cold milk

this is the amount to start with you will need to add more as you knead the dough
Instructions
Prepare the dough:
Place the flour/starch combination , instant yeast, sugar, salt, oil, and condensed milk in a mixing bowl. If you use a breadmaker, simply follow instruction in your breadmaker on how to add ingredients and knead the dough. If you are using a stand mixer, use a dough hook attachment. Gradually add 150 ml of cold milk and add more until you can form a dough. You will most likely need to add more milk if the dough is still a bit dry. I would rather you start with the lowest amount of liquid and add more teaspoon by teaspoon until the dough comes together and continue to knead for 10-12 minutes until the dough is really smooth and stretchy and won't break when you pull on it
Rest the dough (to relax the gluten, not to proof the dough):
Cover and rest the dough for 15 minutes. This is not to proof the dough. It shouldn't double in size. This is to relax the gluten for easier shaping and rolling the dough
Shape the dough:
Dust your work surface with some flour. Roll out the white dough into about 12 x 8 inch rectangle with a rolling pin

Roll the dough up, starting from the side near you into a long log. Seam side down. Use a serrated knife like a bread knife to cut into 10 pieces of mantou. I used to use a dough cutter and that is a bad idea as it doesn't give a very "clean" cut and it squeezes the shape

Place this freshly cut mantou on top of parchment paper (seam side down)
Proof the dough:
Cover and let the dough rise at room temperature or at a warm place.  If it's winter where you are, you can use your oven "bread proof" function to let them proof in there, or simply turn on your oven to the lowest temperature and then turn off and after 15 minutes, place the shaped buns in there to let them proof. They won't necessarily double in size, but at least puff up to about 50% of the original size. This may take about 1 hour or so at a warm temperature. Don't go by the time, however. The dough should feel lighter after proofing and if you gently press on the dough it bounces back slowly. This is the sign that the dough has been sufficiently proofed
Steaming:
Bring the water in your steamer to a boil. Wrap the lid of your steamer with a kitchen towel to prevent moisture from dripping back on the steamed buns as this will create "burn" spots

LOWER THE HEAT TO MEDIUM. Place the buns in there, leaving about 1-inch space in between. Cover with a lid but leaving it about 1/4-inch gap for some steam to escape. Steam on medium heat for 10 minutes. As long as you steam them like this, the buns will not wrinkle and collapse later when you take them out from the steamer

Turn off the heat. DO NOT OPEN THE LID of the steamer. Let the buns sit there for 1 minute like this. The buns will not sink or wrinkle due to the sudden change in temperature
Cooling:
Remove the buns to a wire rack to let them cool down. This is to ensure the bottom of the steamed buns will not be wet and soggy. Let the steamed buns cool down completely before air frying them
Air frying the mantou:
Preheat your air fryer at 350 F (180 C) for 10 minutes. Brush the mantou with some cooking oil all over (you can use melted butter too if you want). Arrange some buns in the basket of the air fryer and air fry for about 8 minutes and then check to see the color. If they are not golden brown enough, air fry for another 2-3 minutes and check again
If you choose to deep fry the mantou on the stove:
Preheat about 2 inches of oil on a heavy-bottom pan. When you dip a skewer or chopstik in the oil and there are bubbles around them, the oil is ready. Lower the heat to medium. You need to fry one by one as the steamed mantou will float to the top when you put it inside the oil. Use a chopstick or tongs to help you submerge it into the oil to let it fry until nicely golden brown. Repeat with the rest. Drain extra oil on an absorbent paper towel

If the mantou is frozen, you may need to fry longer and watch the heat. Make sure to fry over medium heat. You don't want it to get burnt outside but the inside is still frozen
To serve:
Serve the freshly air-fried mantou immediately with some condensed milk to dip on the side. I love it with my 10-minute kaya too 🙂