Rice grains are cooked into porridge (or often called Congee in Asia) with some Yam/Taro, pork, shiitake mushrooms and served with toppings on condiments on the side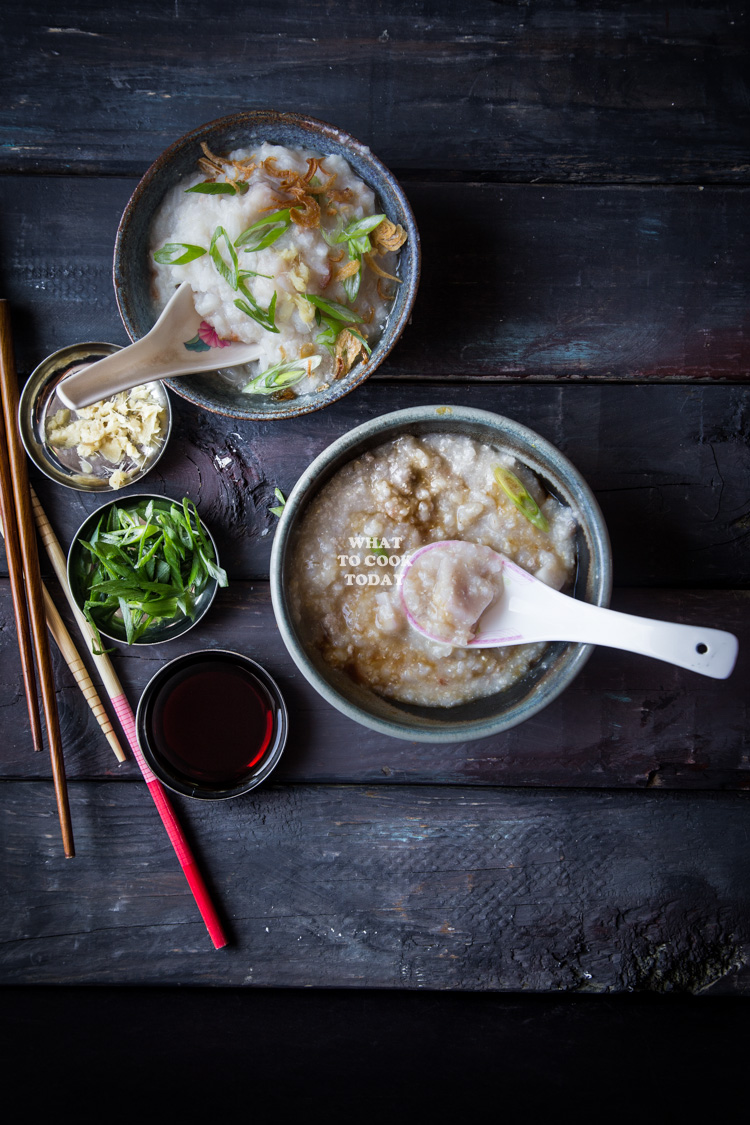 It's not unusual for us to have savory rice congee/porridge for breakfast in the morning. I know many of my American friends can't wrap their heads around the idea of eating savory porridge (or savory oatmeal for that matter). Perhaps I grew up with this and so I would say it's normal. Just like drinking cow's milk every morning was not a common thing in Asia (not at the time I was a kid!)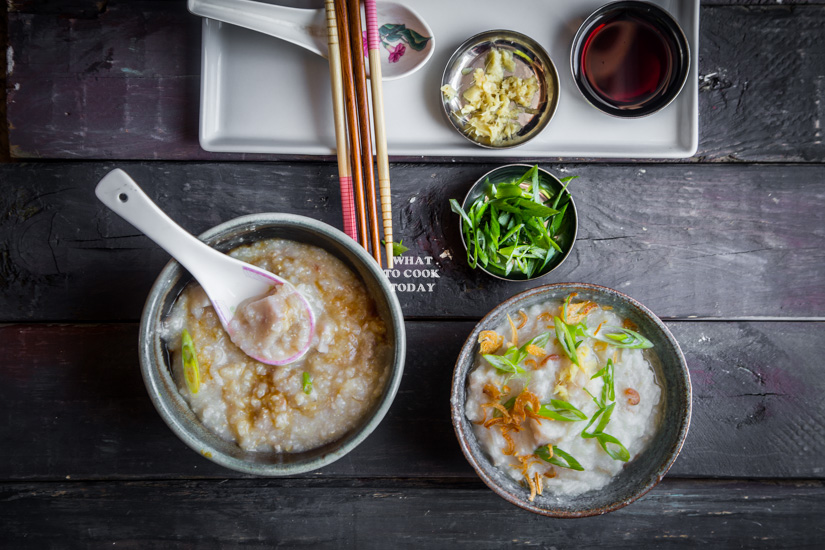 This Yam/Taro congee is my mom's friend's recipe. She is such a good cook and this congee is one of my favorite recipes from her. If you've been following me for a while, you know I'm a hopeless carb addict (because I love roots, tubers, noodles, pasta, rice, bread, seriously….anything that has carbs!). Yam/Taro is one of my weaknesses.
Yam/Taro Congee
Ingredients
1

cup

white or brown rice

rinse with cold water a few time and then drain off water (see note)

500

gr

yam/taro

peeled and cut into small cubes

300

gr

pork chin/jowl

cut into thin strips

50

gr

dried shrimps/hebi

soaked in warm water until soft,drain and then roughly chop

5-6 dried shitake mushrooms

soaked in warm water until soft and plump, then sliced

6 cups of water/chicken stock

2

Tbsp

cooking oil
Seasonings to marinate the pork:
1

Tbsp

soy sauce

1

Tbsp

corn starch

1

Tbsp

sesame oil
Toppings:
2

stalks

green onion

thinly sliced at an angle

1

stalk

Chinese celery

thinly slice

Fresh ginger

peeled and thinly sliced

Sesame oil

Soy sauce

White pepper powder
Instructions
Heat up 2 Tbsp of cooking oil. Add in the dried shrimp and saute until you smell a wonderful flavor, about 10-15 seconds. Add in the pork and saute until they turn color, add in the shiitake mushrooms and yams. Saute for about 1 minute and then splash in about 1/4 cup of water and bring it to a gentle boil and let it simmer until the yams are cooked through and soft

Prepare a big pot and add in 6 cups of water. Bring it to boil and add in the rice then lower the heat and continue to cook until the rice is soft and thickened. Add in the cooked meat mixture from no.1 and continue to cook for 10 minutes

Serve hot with sesame oil, ginger, Chinese celery, green onion and pepper
Recipe Notes
I used brown rice when I made this yam congee. I place the rice grain in a food processor and pulse it few times until they are broken. It cooks faster without having to soak the brown rice first when you do that
If you are questioning why we need to rinse the rice grains before cooking porridge, to me is to get rid of some impurities (for example arsenic). I know some of you do not like to loose that extra "starchiness" when you cook rice porridge, so, it's your call to rinse or not to rinse the rice!
Read my post on "
How to Cook Asian Rice Porridge
" for different water to rice ratio.
The term yam and taro is used interchangably in Asia, though I know it's not the same thing here in the U.S. You can google and see the difference 😉