CABBAGE ROLLS / KAALIKAARYLEET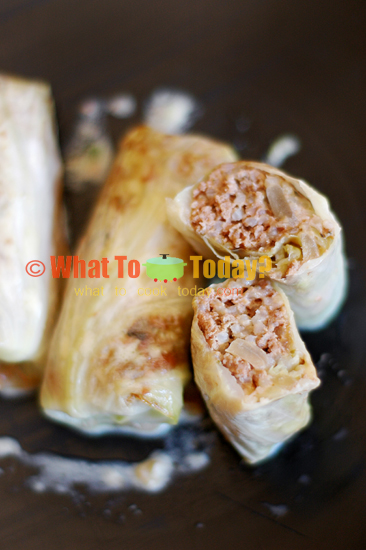 Cabbage rolls are pretty common dish across Europe (from my own observation anyway). I've seen cabbage rolls recipe in several different European cookbooks. Like many other cabbage rolls, this Finnish cabbage rolls or known as kaalikaaryleet are stuffed with rice, cabbage and ground beef. The filling is then wrapped with whole cabbage leave. This is a complete meal on its own if you ask me.
The cabbage rolls are pretty simple to make. The most complication you will encounter is perhaps in preparing the cabbage leaves to wrap the filling. Those part may take a bit more work, but not impossible to do. I like how the sauce has that sweet and savory taste, sweetness from the syrup and savory from the juices of the meat and cabbage. The cabbage rolls are yummy and they give you a feeling of home-cooked-meal comfort.
CABBAGE ROLLS / KAALIKAARYLEET (6-8 servings)
What you will need:
3 lbs head of cabbage
Water, salt
Filling:
¾ cup rice
1½ cups water
1 onion, chopped
1 Tbsp vegetable oil or butter
1 lb ground beef
1 large egg
2 cups chopped inner leaves from the cabbage
½ cup cream or half-and-half
1 cup cabbage cooking water
2 tsp salt
½ tsp pepper
1 tsp dried marjoram leaves
2 cups beef broth or cabbage cooking water
1 Tbsp heavy cream
On top:
2 Tbsp melted butter
2 Tbsp pure maple syrup
Instructions:
Carefully cut as much of the core as you can out of the cabbage with a small knife. This allows water to enter the cabbage and cooks it faster. Take a pot big enough to fit the cabbage comfortably, pour boiling water to cover, add salt to taste, bring to boil and let cook slowly 10-15 minutes, or until the cabbage leaves soften. Take the cabbage out onto a dish and let cool. Save the cooking water
In a small saucepan, bring the water and rice to boil, lower the heat, stir once, cover and simmer for 18 minutes. Let cool
Preheat oven to 350 F. Cook the chopped onion in the oil or butter until soft and lightly browned. In a mixing bowl combine the rice, onion, meat and egg. Loosen the leaves carefully from the cabbage one at a time. You should have about 15 leaves. Finely chop the broken ones and the smaller inner ones, and add to the meat and rice. Add the cream or half-and-half and enough of the cooking water to make a fairly loose mixture. Season with salt, pepper and marjoram
Thin out the stems of the cabbage leaves, spread the leaves out and fill each one with a full tablespoonful of the filling. Fold the sides in and roll up the leaves around the filling. Arrange the cabbage rolls into an oiled roasting pan, baste with the butter, drizzle the syrup over the rolls and bake for 1½-2 hours
Midway through the baking turn the rolls over and add the broth or water to the pan. Keep adding some cooking water into the pan, if the liquid seems to be evaporating. When cooked and nicely brown, remove the rolls from the pan. Scrape off all the bits at the bottom of the pan and strain the liquid. Add 1-2 Tbsp heavy cream to the juices and more salt, if needed. Heat and pour over the rolls. Serve with lingonberries, if available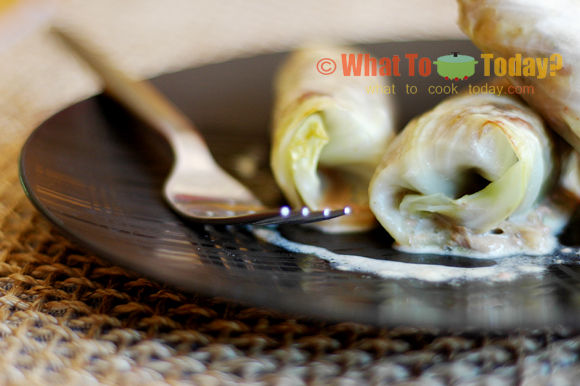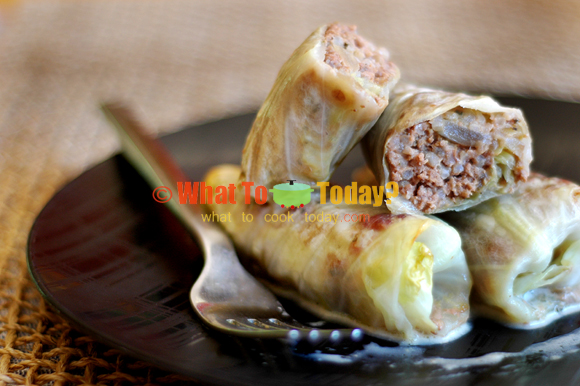 MORE DELICIOUS RECIPES HERE: