Delicious Indonesian style Martabak Mesir served with pickled cucumber and chili is addictingly good.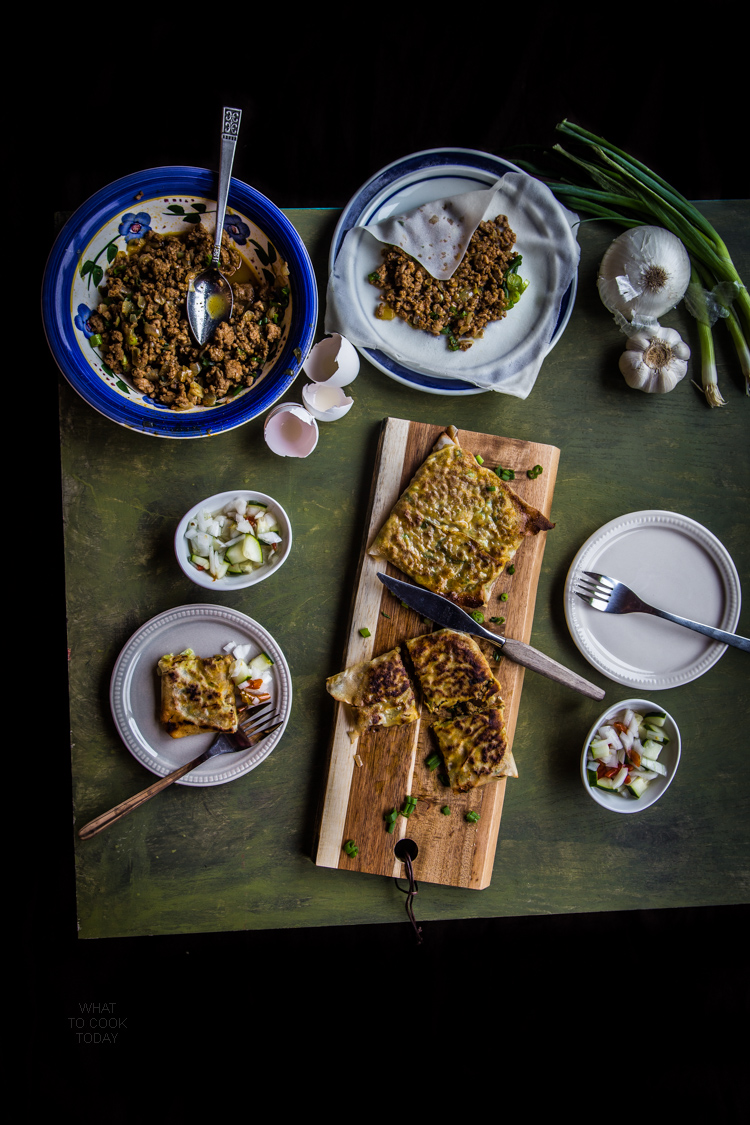 How many of you enjoy eating street food ? Something always appeal about street food to me. Perhaps it's the part where I see the sellers preparing food in front of me and something about the food wrapped in leaves, paper…the food as rustic as it can be. That's it.. I think it's the rustic part 🙂 Martabak is one of the popular street food where I grew up. I love every bite of these stuffed savory pancakes. Usually filled with ground meat and spices and then served with cucumber and shallots relish!! My advice is..don't eat martabak without the relish. It's just not the same ! Probably because that's the version I grew up eating and it's my comfort food.
Preparing the "skin/wrap" for martabak from scratch can be a little labor-intensive (okay..more than little maybe). If you have a mixer to prepare the dough, it should be easier. I shared recipe of making the dough from scratch and the cheat version…using spring roll wrapper 😉 I love them both just as much.
Martabak Mesir (Indonesian Beef Stuffed Pancakes)
Ingredients
6-8

large spring roll wrappers

if not making the wrap from scratch
Dough (if making the wrap from scratch):
2

cups

cake flour

1/2

cup

water

1/2

tsp

salt

1

egg

beaten

1

cup

of vegetable oil
Filling:
1/2

lb

of ground beef

5

shallots

peeled and finely chopped

6

cloves

garlic

finely chopped

1

thumb-size ginger

finely chopped

2

stalks of spring onion

finely chopped

2

eggs

beaten

2

Tbsp

of good-quality curry powder

1

Tbsp

of sugar

Salt to taste

One small bunch of coriander leaves

coarsely chopped

2

Tbsp

of cooking oil
Cucumber relish:
1/2

cup

white vinegar

1/2

cup

water

1/2

cup

fine white sugar

1

medium-size cucumber

leave the skin on and seeded

3

shallots

thinly sliced

2-3

red chili -optional

chopped

One small bunch of coriander leaves

coarsely chopped
Instructions
Preparing the dough (skip this if you use spring roll wrappers):
Mix the flour and salt in a mixing bowl. Add in the beaten egg and stir to mix. It will be dry and crumbly at this point. Add in the water bit by bit and then knead the dough for about 10 minutes and then move them to another bowl and rub the bowl with some oil to prevent sticking. Cover with plastic wrap and let it sit for about one hour

Knead the dough again briefly and then divide into 6 equal balls and then smooth each ball with your hand and place them back in a large bowl and pour the oil to cover the dough and let it sit overnight this time
Preparing the relish:
Cut the cucumber in half and then quartered, seeded and slice them. Mix the vinegar, water and white sugar and stir until the sugar dissolves. Add in the red chili (if using), shallots and coriander leaves
Preparing the filling (can be done one day ahead):
Heat a large skillet and then add in 2 Tbsp of oil. Add in the shallots, garlic and ginger and stir-fry until fragrant, about 2 minutes or so. Add in the ground beef and the curry powder. Use the spatula to break up the ground beef and cook for about 5 minutes. Add in the fish sauce and sugar and stir to mix. Have a taste and adjust seasonings to your liking. Stir fry until they are dry. Remove from the heat and let it completely cool before wrapping. You can prepare up to this step ahead of time

When ready to wrap, add in spring onion, coriander leaves and the egg. Give them a good stir and get ready to wrap
Wrapping and cooking (if using homemade dough):
Get a large non-stick skillet ready on low heat and smear with some oil

Preheat 1 Tbsp of cooking oil in a non-stick skillet .Prepare your work surface by lightly oil them and also oil your palms lightly. Get one dough at a time and place them on the work surface and use your fingers to gently press the dough out into an uneven circle and then use rolling pin to continue stretching the dough to an uneven square, about 8 x 8-inch in size. The dough should be quite thin and stretchy, but be careful not to tear them. Place this on top of the hot skillet and spoon about 1/6 of the filling into the middle of the dough and then fold the two sides up with spatula and followed by the top and bottom into a parcel and cook until golden brown and then flip to the other side and cook until golden brown. Repeat the whole process until you are finished with the filling and dough

When cool enough to handle, use a sharp knife to cut the martabak into 1-inch square and place them on the serving platter and serve immediately with cucumber relish on top or on the side
Wrapping and cooking (if using spring roll wrappers):
Get one spring roll wrapper. Place 1/6 of the filling into the middle of the dough and then fold the two sides up and followed by the top and bottom into a parcel. Preheat 1 Tbsp of cooking oil in a non-stick skillet and place the martabak (seam side down) on the pan and cook until golden brown and then flip to the other side and cook until golden brown. While you are cooking them, go ahead and wrap another martabak and then place them on the pan to be cooked and repeat the whole process until you are finished with the filling and dough

When cool enough to handle, use a sharp knife to cut the martabak into 1-inch square and place them on the serving platter and serve immediately with cucumber relish on top or on the side