Delicious egg fried rice topped with juicy pork chop and smothered in tomato sauce and generous melty bubbly cheese is one of the Hong Kong cafe's (Cha Chaan Teng) classic popular foods. It's pure comfort food.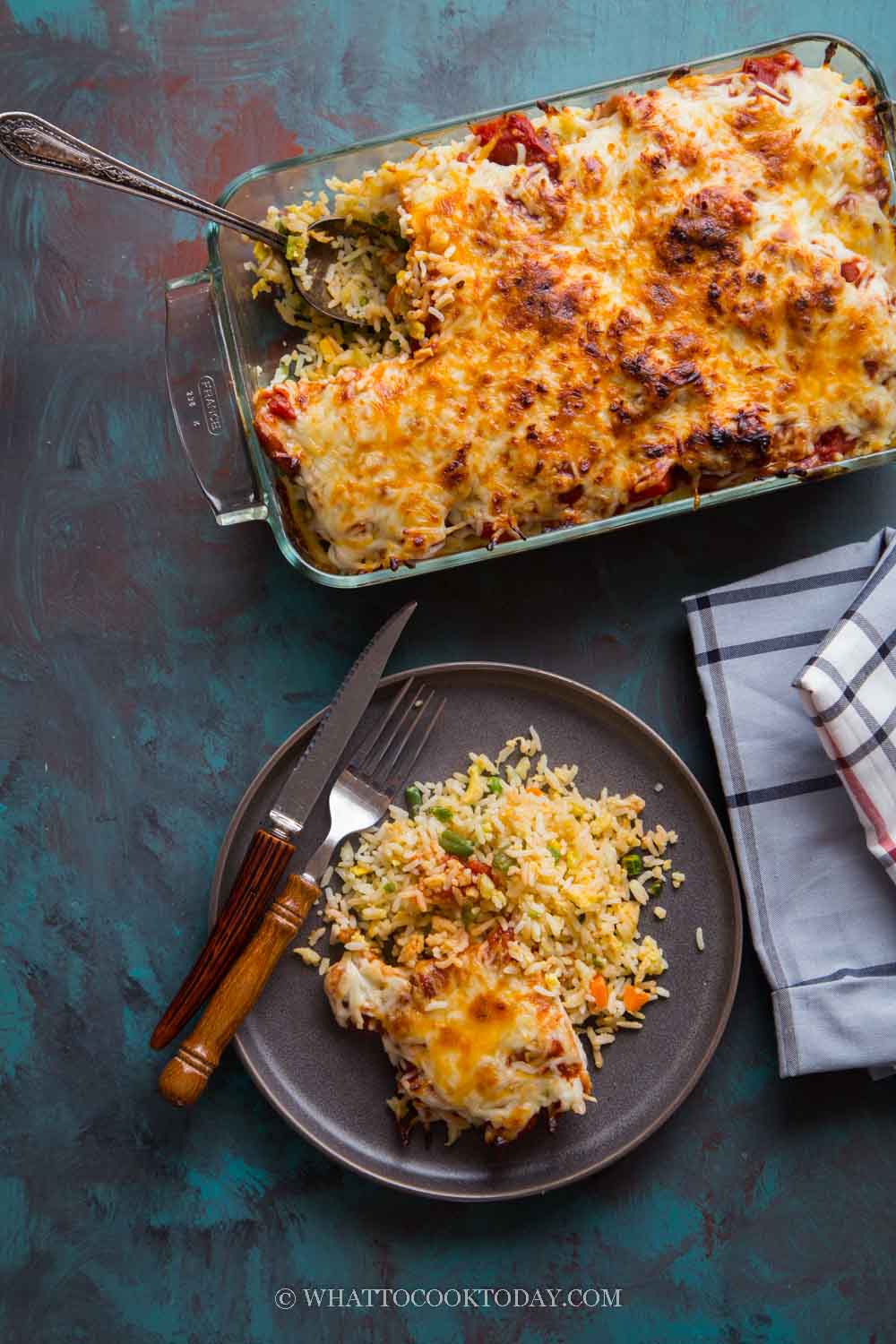 I love Hong Kong cha chaan teng's foods. They offered lots of West and East fusion type of food. The service is fast. The food portion is generous and affordable. Cha chaan teng literally means "tea restaurant". A more glamorous way to say it is Hong Kong style cafe! Baked pork chop fried rice is one of the classic and popular cha chaan teng foods on the menu and it needs not much introduction as most people that have tried this will agree that it is a pure comfort food.  Making it at home is not as complicated as it seems either.
The recipe rundown
Taste: Savory pork chops, fried rice, and melty bubbly cheese with slightly tangy and sweet tomato sauce
Texture: Tender pork chops with some gooey cheese and fluffy grains of fried rice
Level: Easy
How to make Hong Kong baked cheesy pork chop fried rice
1. Use a meat mallet to tenderize the pork chops. I don't have one, so I just cover the meat with a cling wrap and just use a pestle to gently tenderize the meat


2. Put the rest of the ingredients for the pork chops to marinate them. It is best if you can marinate for at least one hour or overnight for a better flavor


3. I usually cook some rice the day before I plan to make this recipe. Let the rice cool down completely and then I store it in the fridge. This will "dry" the rice grains out, which is the best for making fried rice.


4. Mix the rice with the eggs. Add the mixed vegetables and stir to combine. Preheat a large wok or skillet on high heat.


5. Add 3 Tbsp cooking oil. Lower the heat to medium-high. Pour the rice mixture in. Everything seems so wet at this point. Just keep stirring. It will be heavy at first but as you cook the mixture it will get lighter and lighter because the eggs are cooked through as you stir them


6. Stir fry until the mixture is dry and then season with salt, pepper, and sugar to your preference. Add a bit of sesame oil. Stir to combine everything


7. Preheat oven to 350 F (180 C). You can use canned diced tomatoes or fresh tomatoes. If you use fresh garlic and onion, add 1 Tbsp of cooking oil to the pan. Stir fry until the onion is soft, about 3 minutes or so. Pour the tomatoes into the pan, followed by ketchup, salt, sugar, and pepper. Continue to simmer until the tomato sauce is reduced and thickened slightly. Have a taste and add more salt and/or sugar as needed


8. Preheat a large skillet. Add 1 Tbsp of cooking oil. Add pork chops, in batches, and cook for about 2-3 minutes on each side. Remove from the skillet and continue cooking the next batch


9. Spread the rice onto an 8×12 inch casserole dish or baking dish.


10. Lay the pork chops on top


11. Pour the tomato sauce on top, covering all the rice and pork chops.


12. Topped with a generous amount of cheese. Make sure it covers everything


13. Bake at a middle rack for about 10 minutes or until the cheese melts and bubbly. Remove from the oven and serve while it's warm

Tips
1. Tenderize the meat for the best result
2. Marinate the meat overnight if you plan ahead
3. Cook rice the day before you plan to serve this dish. Overnight rice makes the best fried rice
4. Tenderize the meat for the best result
How to store and reheat leftovers
Leftovers can be stored in the fridge for 3 days. For longer storage, you can wrap the whole dish with few layers of cling wrap and then a final layer of aluminum foil. Keep it in the freezer for no more than one month for the best result.
When ready to serve, thaw it overnight in the fridge and then remove the cling wrap and cover with an aluminum foil and bake at 350 F for 10 minutes or until heated through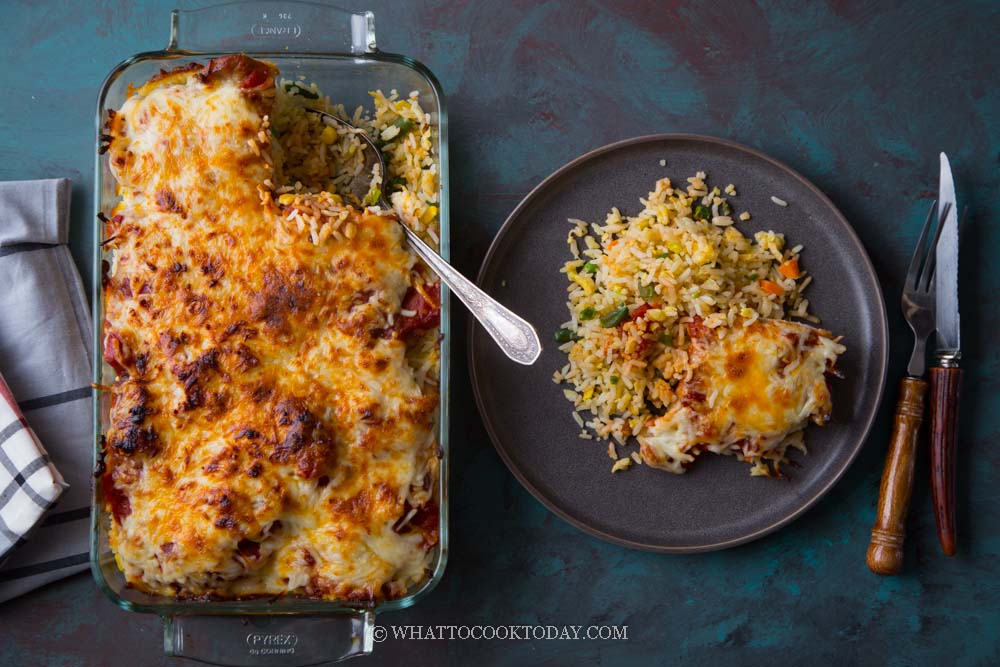 Did you make this recipe?
I love it when you guys snap a photo and tag to show me what you've made 🙂 Simply tag me @WhatToCookToday #WhatToCookToday on Instagram and I'll be sure to stop by and take a peek for real!

Hong Kong Baked Cheesy Pork Chop Fried Rice
Ingredients
Tomato sauce:
1

large

onion

(diced) or 1 Tbsp onion powder

2

cloves

minced garlic

or 2 tsp garlic powder

6

large

tomatoes

diced, or 400 grams canned diced tomatoes

4

Tbsp

ketchup

2

tsp

sugar

or as needed

Salt

to taste

¼

tsp

ground pepper
Topping:
2

cups

shredded cheese

or more as needed, I use mozzarella and cheddar combination
Instructions
Prepare the pork chops:
Use a meat mallet to tenderize the pork chops. I don't have one, so I just cover the meat with a cling wrap and just use a pestle to gently tenderize the meat

Put the rest of the ingredients, except for the cooking oil, for the pork chops to marinate them. It is best if you can marinate for at least one hour or overnight for a better flavor
Cook the egg fried rice:
I usually cook some rice the day before I plan to make this recipe. Let the rice cool down completely and then I store it in the fridge. This will "dry" the rice grains out, which is the best for making fried rice

Mix the rice with the eggs. Add the mixed vegetables and stir to combine. Preheat a large wok or skillet on high heat. Add 3 Tbsp cooking oil. Lower the heat to medium-high. Pour the rice mixture in. Everything seems so wet at this point. Just keep stirring. It will be heavy at first but as you cook the mixture it will get lighter and lighter because the eggs are cooked through as you stir them. Stir fry until the mixture is dry and then season with salt, pepper, and sugar to your preference. Add a bit of sesame oil. Stir to combine everything
Prepare the tomato sauce:
Preheat oven to 350 F (180 C). You can use canned diced tomatoes or fresh tomatoes. If you use fresh garlic and onion, add 1 Tbsp of cooking oil to the pan. Stir fry until the onion is soft, about 3 minutes or so. Pour the tomatoes into the pan, followed by ketchup, salt, sugar, and pepper. Continue to simmer until the tomato sauce is reduced and thickened slightly. Have a taste and add more salt and/or sugar as needed
Cook the pork chops:
Preheat a large skillet. Add 1 Tbsp of cooking oil. Add pork chops, in batches, and cook for about 2-3 minutes on each side. Remove from the skillet and continue cooking the next batch
Assembling:
Spread the rice onto an 8x12 inch casserole dish or baking dish. Lay the pork chops on top. Pour the tomato sauce on top, covering all the rice and pork chops. Topped with a generous amount of cheese. Make sure it covers everything

Bake at a middle rack for about 10 minutes or until the cheese melts and bubbly. Remove from the oven and serve while it's warm
Recommended products:
Nutrition
Serving:
1
serving
|
Calories:
430
kcal
|
Carbohydrates:
46
g
|
Protein:
28
g
|
Fat:
14
g
|
Saturated Fat:
6
g
|
Trans Fat:
1
g
|
Cholesterol:
157
mg
|
Sodium:
881
mg
|
Potassium:
604
mg
|
Fiber:
3
g
|
Sugar:
5
g
|
Vitamin A:
2051
IU
|
Vitamin C:
15
mg
|
Calcium:
196
mg
|
Iron:
2
mg