Learn how to make soft and buttery checkerboard cookies (biskut papan dam) with a flavor of vanilla and pandan in one cookie. A Step-by-step guide is included to ensure you can replicate this at home.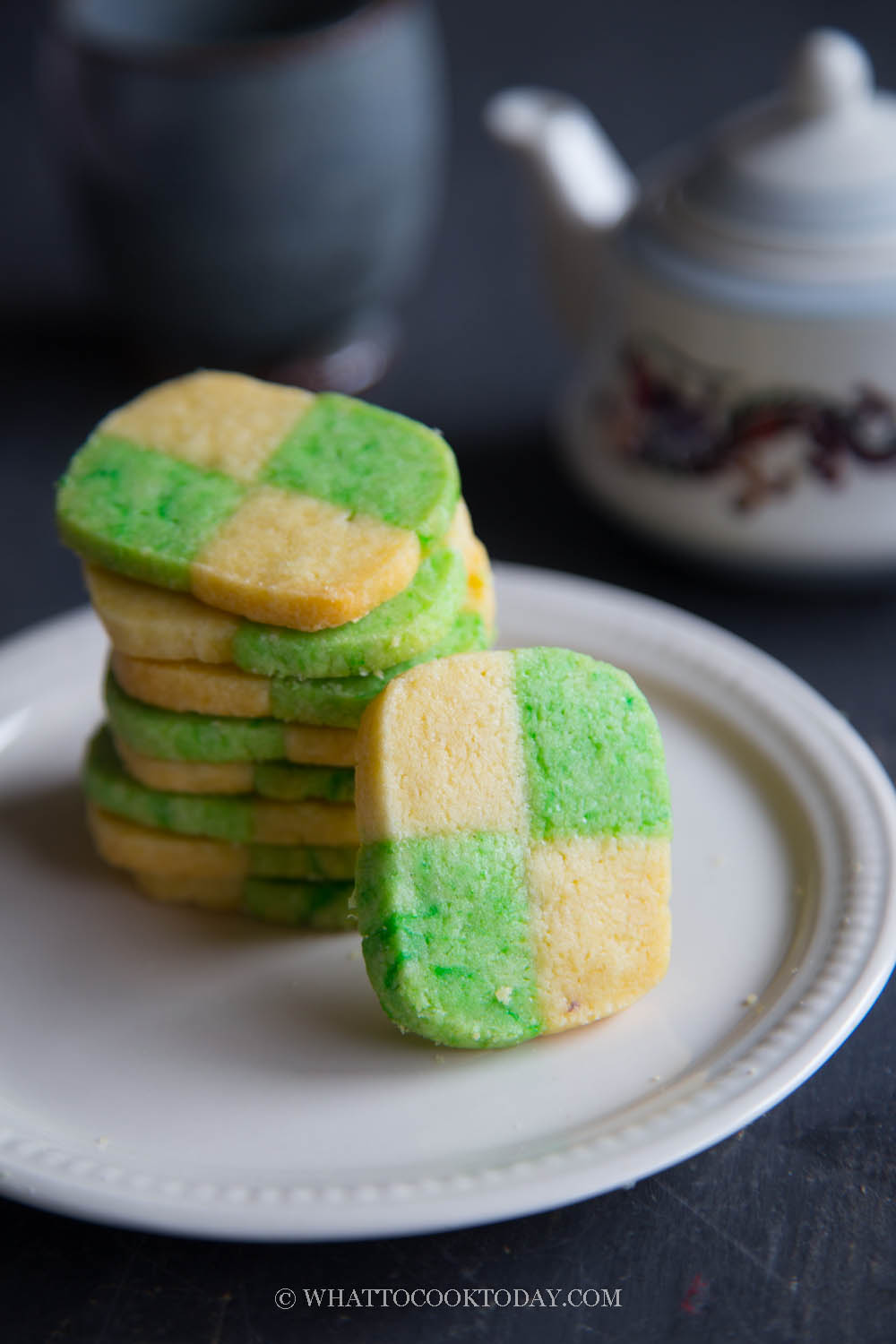 My kids love checkerboard cookies. They think it's fun to eat because of the pattern 🙂 These checkerboard cookies I made here are really simple ones, with only 2 x 2 patterns. You can definitely go with 3 x 3 or 4 x 4 if you want. These checkerboard cookies are also popular in Malaysia, especially for Hari Raya (Kuih Raya) and Chinese New Year celebrations.
The recipe rundown
Taste: Buttery with the right amount of sweetness
Texture: Soft and buttery
Level: Intermediate
Pros: You don't have to prepare two doughs separately. And if you don't care for pandan flavor, you can always substitute with whatever you like. The common one is the cocoa powder
Cons: Trying to make the dough logs with sharp corners as much as possible can be a bit challenging, but it can be done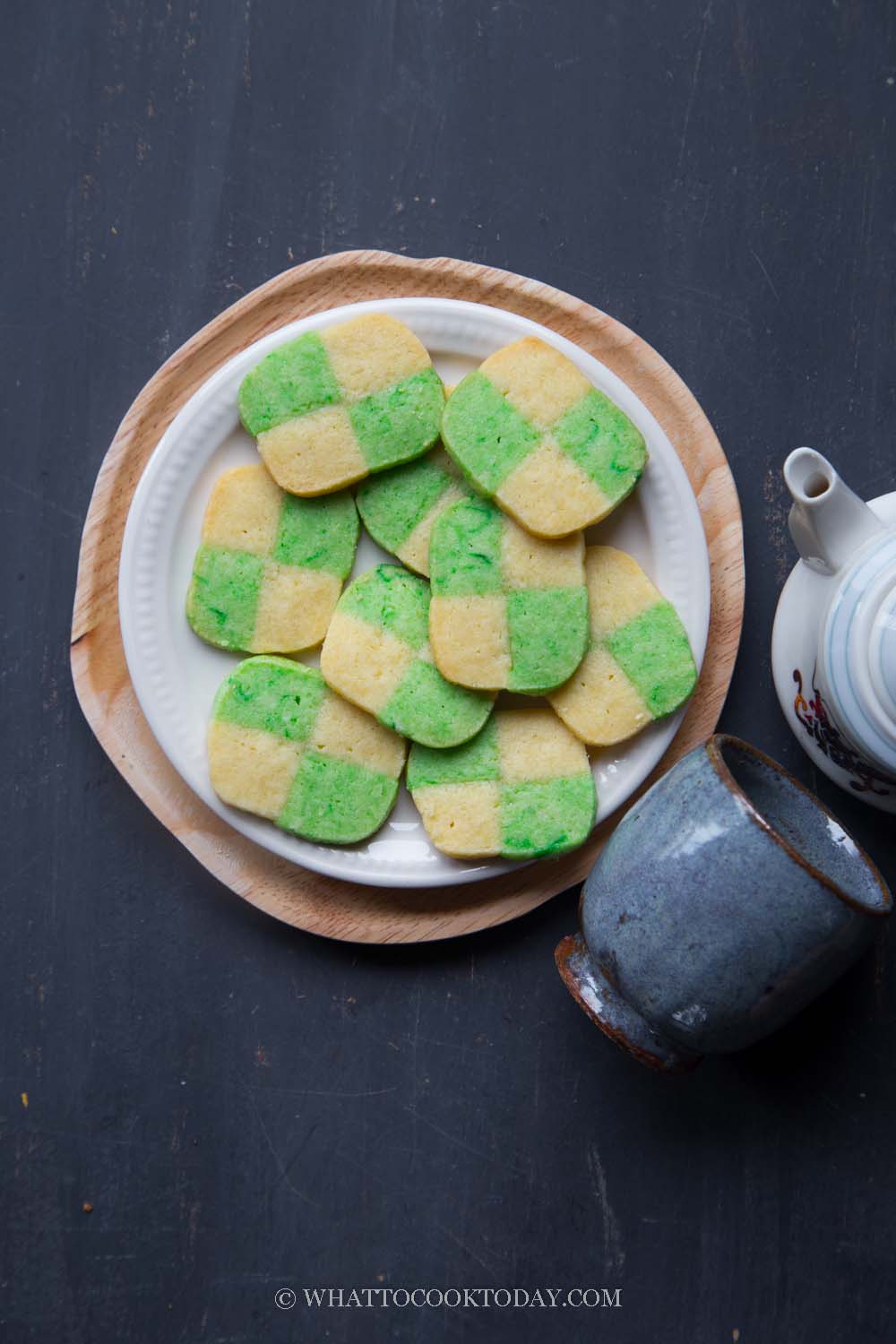 How to make this easy pandan checkerboard cookies
1. Combine flour with salt. Set aside. Place butter and sugar in a mixing bowl. I use a stand mixer fitted with a paddle attachment. Cream butter and sugar until combined and light in color, about 2 minutes over medium speed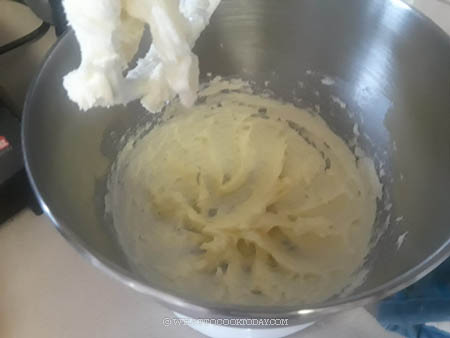 2.Add the yolks and flour, and salt and continue to mix for another minute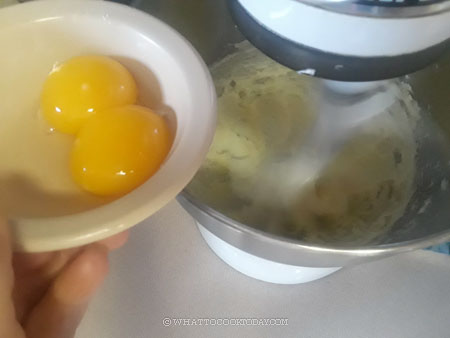 3. Reduce the speed to low and add the flour mixture. Don't overmix. Scrape the side of the bowl halfway if needed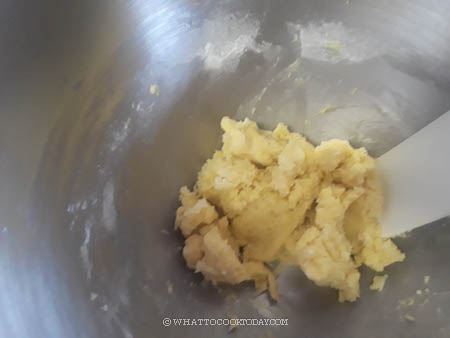 4. Divide the dough into two equal portions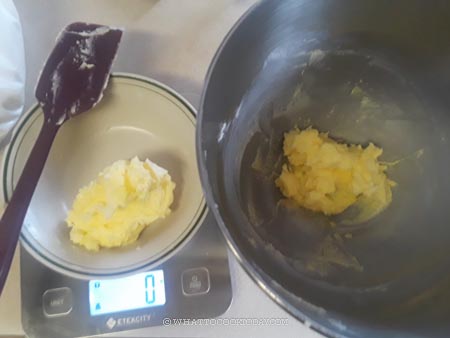 5. Add pandan essence to one dough and combine. Add vanilla extract to the other and combine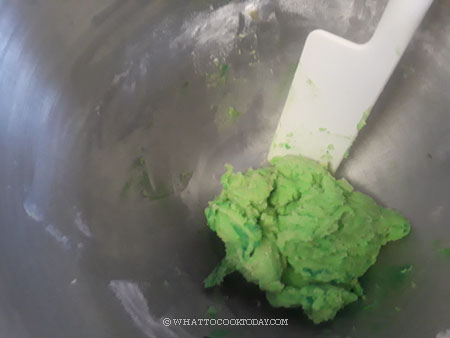 6. Shape each dough into a log, about 8 inches long and 1 1/2 inches tall. I use a dough scraper to help me shape the log as sharp as possible. Shape the other dough into a similar size too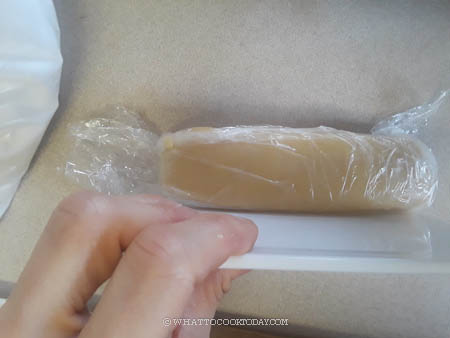 7. Shape the other dough into a similar size too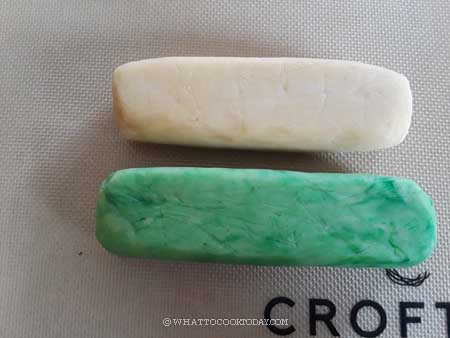 8. Wrap each dough in cling wrap and put on a flat surface like a baking sheet or a plate and refrigerate for at least 1 hour. I actually put them in the freezer for 1 hour and they are easier to work with


9. Use a very sharp knife to cute each dough into half. So now you have 2 green dough logs and 2 vanilla dough logs.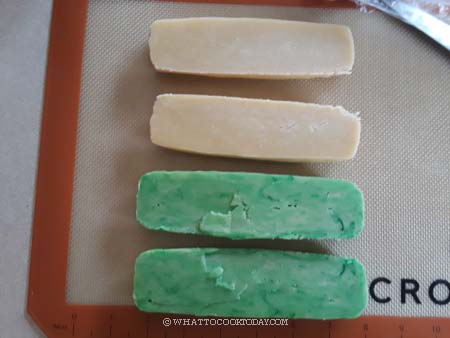 10. Brush with egg white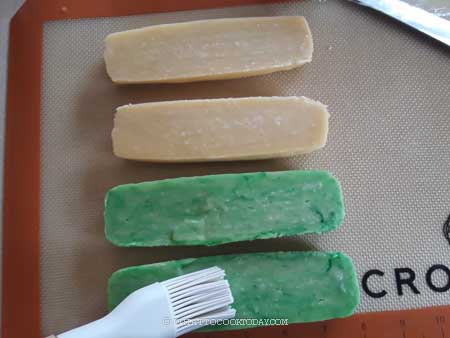 11. Stack each dough with a different color on top. The egg white acts as a glue here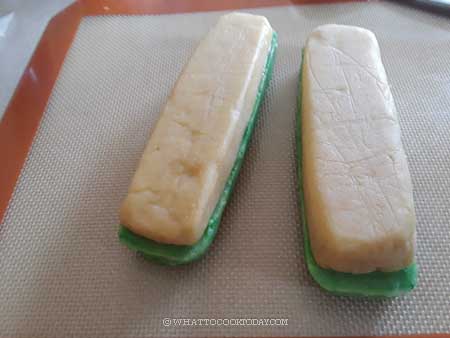 12. Then cut each log into half again


13. Turn the cut side up and brush with egg white again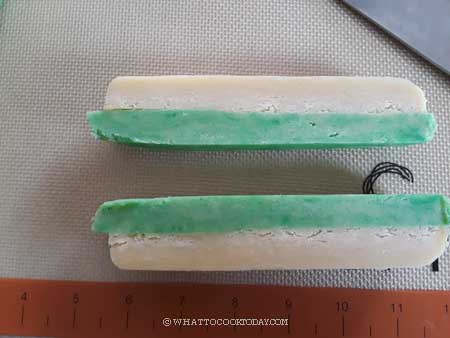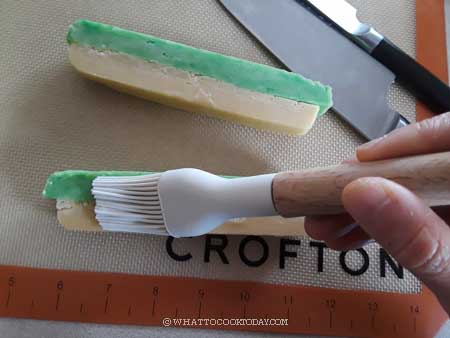 13. Stack each dough with the opposite color (to resemble a checkerboard pattern). The two ends may not be as neatly aligned, but don't worry, we will trim those off later.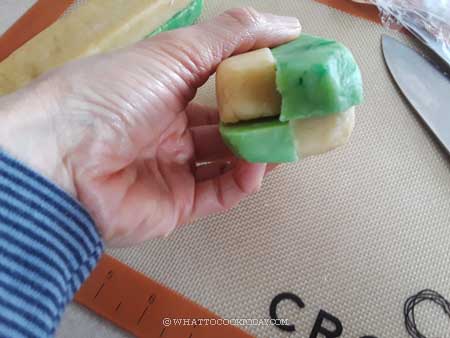 14. Wrap the two logs again in cling wraps and refrigerate for another hour


15. Preheat oven to 350 F (180 C). Line a baking sheet with parchment paper. Remove the dough logs from the fridge and trim off the uneven part with a very sharp knife. Cut the log into about 1/4-inch thick cookies


16. Place on a baking sheet. Leave about 2 inches in between them to allow a bit of spreading. They shouldn't spread too much


17. Bake in the preheated oven for about 10 minutes or until the bottom of the cookie (the vanilla dough) is lightly golden brown. Let them cool on the pan for about 1 minute and then remove to a cooling rack to let them cool down completely before storing

To make ahead
You can prepare the dough up to the point where you are done shaping and stacking the dough. Simply wrap them in a cling wrap and put in a freezer bag, push all the air out and seal. They can be kept for up to 3 months. When ready to bake, simply remove from the freezer and cut into 1/4-inch thickness and bake as directed. If it's too frozen to cut, let them sit on the counter for few minutes and then cut. You may need an extra minute or so to get them to golden brown.

Did you make this pandan checkerboard cookies recipe?
I love it when you guys snap a photo and tag to show me what you've made 🙂 Simply tag me @WhatToCookToday #WhatToCookToday on Instagram and I'll be sure to stop by and take a peek for real!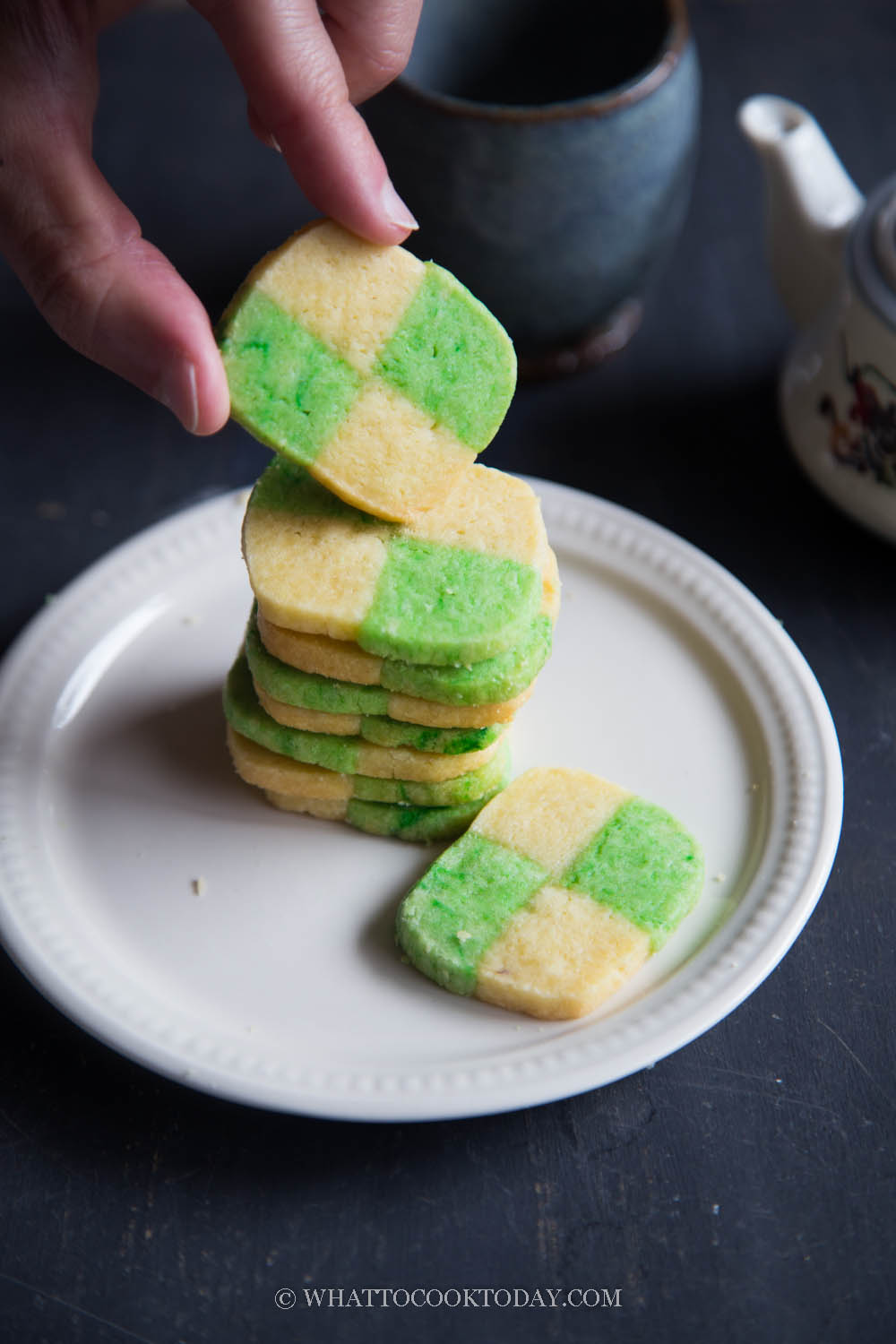 The recipe is adapted from King Arthur Baking's with some modifications in process.

Easy Pandan Checkerboard Cookies (Biskut Dam Pandan)
Instructions
Prepare the cookie dough:
Combine flour with salt. Set aside. Place butter and sugar in a mixing bowl. I use a standmixer fitted with a paddle attachment. Cream butter and sugar until combined and light in color, about 2 minutes over medium speed

Add the yolks and continue to mix for another minute. Reduce the speed to low and add the flour mixture to combine. Don't overmix. Scrape the side of the bowl halfway if needed

Divide the dough into two equal portions. Add pandan essence to one dough and combine. Add vanilla extract to the other and combine
Shaping:
Shape each dough into a log, about 8 inches long and 1 1/2 to 2 inches tall. I use a dough scraper to help me shape the log as sharp as possible. Make shape the other dough into similar size too

Wrap each dough in cling wrap and put on a flat surface like a baking sheet or a plate and refrigerate for at least 1 hour. I actually put them in the freezer for 1 hour and they are easier to work with

Use a very sharp knife to cute each dough into half. So now you have 2 green dough logs and 2 vanilla dough logs. Turn the cut side up and brush with egg white. Stack each dough with a different color on top (refer to photos above for visual). The egg white acts as a glue here

Then cut each log into half again. Turn the cut side up and brush with egg white again. Stack each dough with the opposite color (to resemble checkerboard pattern). You two ends may not be as neatly aligned, but don't worry, we will trim those off later. Wrap the two logs again in cling wraps and refrigerate for another hour
Trim and bake:
Preheat oven to 350 F (180 C). Line a baking sheet with parchment paper. Remove the dough logs from the fridge and trim off the uneven part with a very sharp knife. Cut the log into about 1/4-inch thick cookies and place on a baking sheet. Leave about 2 inches in between them to allow a bit of spreading. They shouldn't spread too much

Bake in the preheated oven for about 10 minutes or until the bottom of the cookie (the vanilla dough) is lightly golden brown. Let them cool on the pan for about 1 minute and then remove to a cooling rack to let them cool down completely before storing
Storing:
Cookies can be store in an air-tight container for about 4-5 days. For longer storage, transfer the baked cookies to a freezer bag, push all the air out and seal the bag. They can be kept frozen for about one month

You can also freeze the dough logs for about 3 months and simply cut them into 1/4 inch slices and bake. They may need a minute or two extra time to bake into lightly golden brown at the bottom
Nutrition
Serving:
1
cookie
|
Calories:
52
kcal
|
Carbohydrates:
5
g
|
Protein:
1
g
|
Fat:
3
g
|
Saturated Fat:
2
g
|
Trans Fat:
1
g
|
Cholesterol:
17
mg
|
Sodium:
15
mg
|
Potassium:
7
mg
|
Fiber:
1
g
|
Sugar:
2
g
|
Vitamin A:
106
IU
|
Calcium:
3
mg
|
Iron:
1
mg