Eggless soft bread loaf made with mashed purple sweet potato and shaped into beautiful wool rolls and filled with easy custard cream.

I love making bread with different varieties of potatoes. Regular potatoes, orange sweet potatoes, and these purple sweet potatoes. They also contribute to the softness of the bread. This is my second post for the wool rool bread. The first one I made was this Wool Roll Milk Bread with Char Siu Filling. I used a tangzhong dough to make that bread too. This round I use an eggless bread recipe and it worked out pretty good too. It's not as soft as the tangzhong rolls, but it still give good result. The mashed potatoes help with keeping the bread soft.
What kind of purple sweet potatoes to use?
You can use Okinawan purple sweet potatoes, Stokes sweet potatoes, you can also use the Filipino ube purple yam. Okinawan and stokes sweet potatoes have less moisture compared to ube purple yam. They tend to be drier, but you can compensate that by adding some liquid to the dough.
The color change
The natural purple color is notorious for changing color because it reacts with acid and base. If the liquid you use is more acidic, it will turn more pinkish. If the liquid you use is more basic, it may turn bluish-green too. I added some purple sweet potato powder and that's how I get a nice deep purple color. You can also add an ube extract to get that nice purple color that won't change. Just keep in mind that even if the color changes after you bake, it doesn't alter the taste of the final product. It's just more of a visual.

How to make purple sweet potato wool roll bread loaf with custard cream
1. Whisk egg, sugar, and salt in a bowl. Gradually add in milk as you are whisking. Sift in all-purpose flour and cornstarch into the mixture and whisk again. There will be some lumps. Don't worry.


2. Put the saucepan over low heat. Add butter and continue to stir until butter started to melt and continue to cook until the custard thickened. Remove from the heat


3. Cover with a cling wrap touching the custard to prevent a layer of skin from forming. Chill in the fridge until it's firm, about 2 hours or longer


4. Add all ingredients into a mixing bowl. I use a stand mixer fitter with a dough hook attachment. Knead on lowest speed for about 1 minute and then turn one level up and knead. The amount of liquid needed really depends on how moist the sweet potato is. If the dough can't come together because it's too dry, add milk or water, about 1 tablespoon at a time, until you can get a smooth dough. Knead until the dough is soft and not sticky, about 5 minutes or so


5. Oil a large bowl and put the dough in. Cover and place it in a warm place. It may take 1 to 1 1/2 hour to proof the dough until they are about double in size
6. Line your bread pan with parchment paper, overlapping on all four sides and let the extra hang out to the side for easier lifting out from the pan later. When you press on the dough, the indentation should stay. The dough is done proofing for the first round. Punch the dough down to release all the air bubbles. Give it a few knead. Cover and let it rest for about 5 minutes. It will be easier to roll out
7. After that, roll the dough out into about 1/2 inch thickness. The width should be about the same as the length of your bread pan and about 13 inch long


8. Use a pizza cutter or a dough scraper and cut the other 2/3of the dough into long strips (as shown in the photo above). Make sure you really cut through each strip for the best result


9. Spread the custard cream on the other 1/3 of the dough


10. Fold the two sides over to cover the custard cream


11. Then gently roll up like a Swiss roll


12. Gently pick it up and place inside the prepared pan. Cover with a towel or plastic wrap and let the dough proof again for the second time until the dough comes up about 1/2 inch above the rim of the pan, may take 45 minutes to 1 hour


13. 15 minutes before the end of the second round of proofing, preheat the oven to 350 F (180 C). Brush the top of the bread with some milk and put the bread pan in the middle of the oven and bake for 30-35 minutes or until lightly golden brown on the top. The bottom of the bread should sound hollow too when you tap on it. Lift the bread up by grabbing the overhanging parchment paper and let the bread cools down completely on a cooling rack before slicing

How to store the bread
Freshly baked bread can be stored at room temperature for about 3 days. Wrap them up with a cling wrap and put them inside a zipper bag. After that, I recommend freezing the loaf instead of keeping it in the fridge. They tend to get dry when you store them in the fridge. I usually pre-slice the bread and then wrap 2 or 4 slices at a time with a cling wrap. So I don't need to thaw the whole bread loaf. I can simply get however much I need. Let them sit at the counter to thaw. If you are pressed for time, remove the cling wrap and wrap them in a foil and reheat in the oven at 350 F for 10 minutes or until warm enough. You can also warm it up in an air fryer for 5 minutes or so

Did you make this purple sweet potato wool roll bread with custard cream recipe?
I love it when you guys snap a photo and tag to show me what you've made 🙂 Simply tag me @WhatToCookToday #WhatToCookToday on Instagram and I'll be sure to stop by and take a peek for real!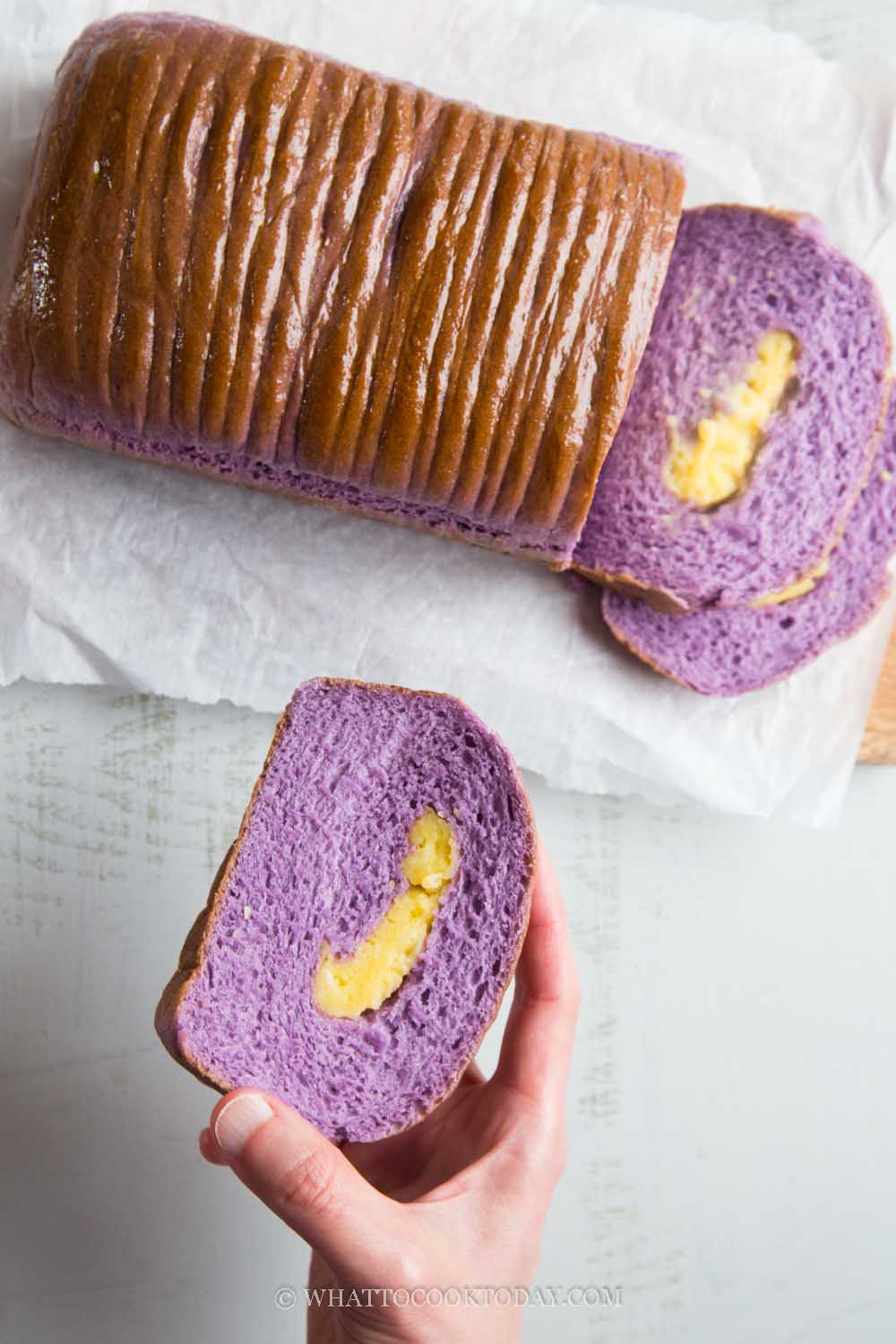 Purple Sweet Potato Wool Roll Bread With Custard Cream
Ingredients
For the dough:
360

gr

all-purpose flour

2

tsp

instant yeast

50

gr

sugar

200

gr

mashed purple sweet potato

get about 350 grams raw purple sweet potato

50

gr

softened butter

can be substituted with coconut oil

½

tsp

purple sweet potato powder

optional, for deeper color

Water or milk

as needed
For custard cream:
2

large

eggs

beaten, about 58-60 grams each with a shell

40

gr

sugar

½

tsp

salt

200

ml

whole milk

you can use low-fat milk too or other nut milk

15

gr

all-purpose flour

15

gr

cornstarch

½

tsp

vanilla extract

50

gr

butter
Instructions
Prepare the custard cream:
Whisk egg, sugar, and salt in a bowl. Gradually add in milk as you are whisking. Sift in all-purpose flour and cornstarch into the mixture and whisk again. There will be some lumps. Don't worry. Put the saucepan over low heat. Add butter and continue to stir until butter started to melt and continue to cook until the custard thickened. Remove from the heat. Cover with a cling wrap touching the custard to prevent a layer of skin from forming. Chill in the fridge until it's firm, about 2 hours or longer
Prepare the dough:
Peel the sweet potato and cut it into small cubes. Steam for 10-15 minutes or until you can easily mash with a fork. Alternatively, you can also pressure cook on high pressure in Instant Pot for 2 minutes if you cut into small cubes. Mash the sweet potoates while they are still warm

Add all ingredients into a mixing bowl. I use a stand mixer fitter with a dough hook attachment. Knead on lowest speed for about 1 minute and then turn one level up and knead. The amount of liquid needed really depends on how moist the sweet potato is. If the dough can't come together because it's too dry, add milk or water, about 1 tablespoon at a time, until you can get a smooth dough. Knead until the dough is soft and not sticky, about 5 minutes or so
First proofing:
Oil a large bowl and put the dough in. Cover and place it in a warm place. It may take 1 to 1 1/2 hour to proof the dough until they are about double in size
Shaping:
Line your bread pan with parchment paper, overlapping on all four sides and let the extra hang out to the side for easier lifting out from the pan later. When you press on the dough, the indentation should stay. The dough is done proofing for the first round. Punch the dough down to release all the air bubbles. Give it a few knead. Cover and let it rest for about 5 minutes. It will be easier to roll out

After that, roll the dough out into about 1/2 inch thickness. The width should be about the same as the length of your bread pan and about 13 inch long. Use a pizza cutter or a dough scraper and cut the other 2/3of the dough into long strips (as shown in the photo above). Make sure you really cut through each strip for the best result. Spread the custard cream on the other 1/3 of the dough
Second proofing:
Fold the two sides over to cover the custard cream and then gently roll up like a Swiss roll. Gently pick it up and place inside the prepared pan. Cover with a towel or plastic wrap and let the dough proof again for the second time until the dough comes up about 1/2 inch above the rim of the pan, may take 45 minutes to 1 hour
Baking:
15 minutes before the end of second round of proofing, preheat oven to 350 F (180 C). Brush the top of the bread with some milk and put the bread pan in the middle of the oven and bake for 30-35 minutes or until lightly golden brown on the top. The bottom of the bread should sound hollow too when you tap on it
Cool down:
Lift the bread up by grabbing the overhanging parchment paper and let the bread cools down completely on a cooling rack before slicing
Recommended products: