Learn how to make the spongiest steamed sponge cake with only 4 ingredients. The sponge cake doesn't use oil, butter, baking powder, or baking soda. All the tips you need to know to make a really good steamed pandan sponge cake. Be sure to watch the recipe video tutorial too.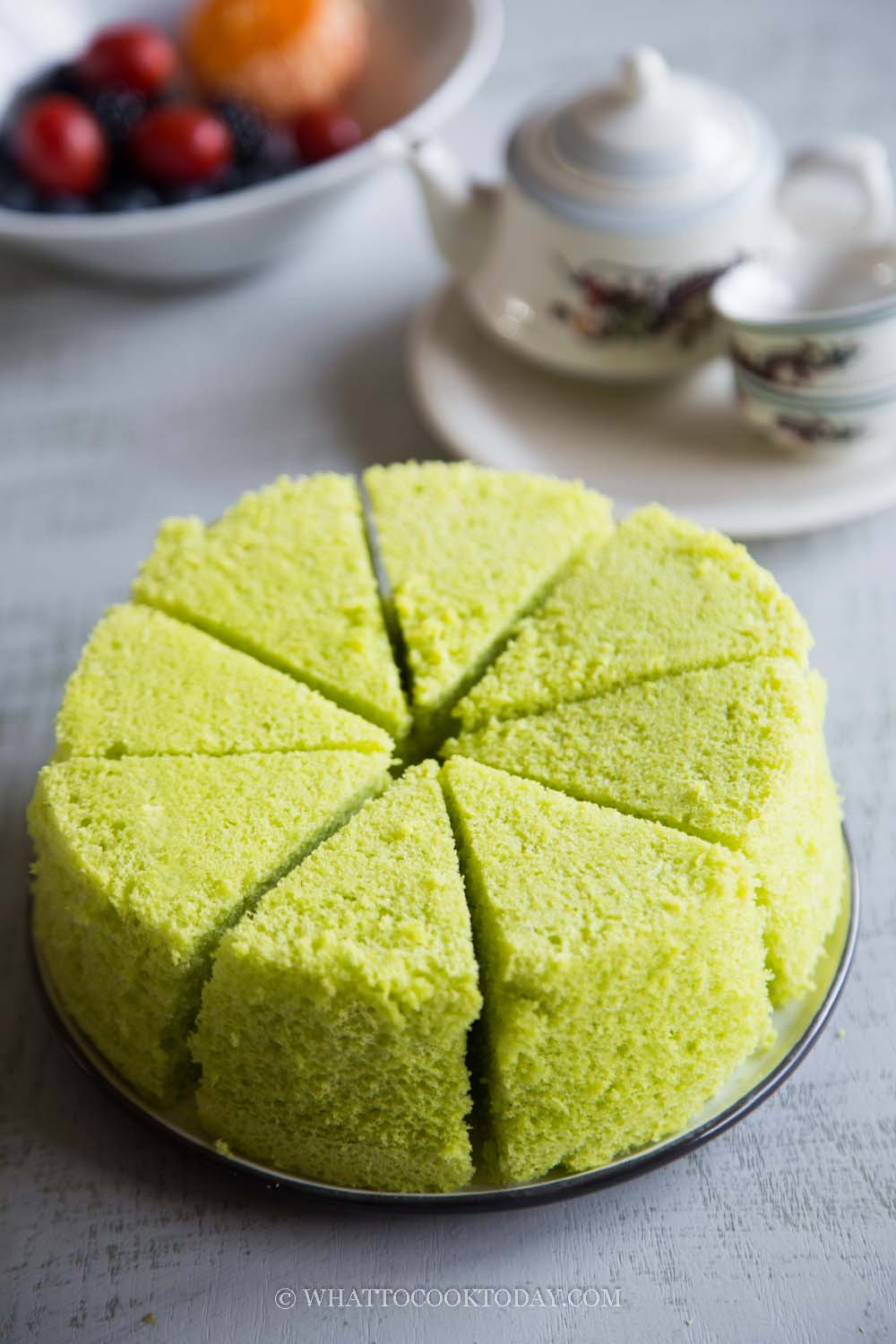 This is probably one of the recipes with the shortest ingredients I've ever typed. Only 4 ingredients. Well, 5 if you decide to use a small pinch of salt to enhance the flavor of the sponge cake. It's unbelievable that this sponge cake is so soft and super spongy even without any addition of oil and chemical leavening agents such as baking powder or baking soda, that we usually add to our cakes. If you don't have an oven, you can now make a sponge cake on the stove using a steaming method.
The recipe rundown
Taste: Lightly sweet and has a nice "eggy" aroma
Texture: It has a nice spongy texture like it supposed to be
Level: Intermediate
Pros: This is perfect to eat on its own or as a base for any cake you want to decorate. It's a low-fat sponge cake compared to other sponge cake that uses oil or butter and more sugar
What's the difference between this pandan sponge cake and pandan chiffon cake?
Classic sponge cake usually doesn't have any additional fat or oil added. The only source of fat is from the eggs. Though, of course, you also see sponge cakes with oil or butter added to it too, but in general, they usually don't, like in this pandan sponge cake recipe. Sponge cake usually also uses egg separation method, meaning the egg white is beaten separately into a meringue and then folded into the yolks batter. This recipe, however, uses a whole-egg method, kinda similar to the genoise sponge.
Chiffon cake is like a hybrid between classic sponge cake and genoise sponge. Chiffon cake uses egg-separation method, but also has oil or another type of fat added to the cake, just like how I make this pandan chiffon cake.
Do I need baking powder or baking soda for this cake?
No you don't. We actually don't need baking powder or baking soda for sponge cake or chiffon cake, to be honest. If you whip the batter correctly, the cake will rise nicely. A lot of time people use it as an "insurance" that the cake will rise.
How to make really good steamed pandan sponge cake with only 4 ingredients
1. Let the eggs come to room temperature. It is important that they are not cold or they will take a long time to beat to a thick creamy consistency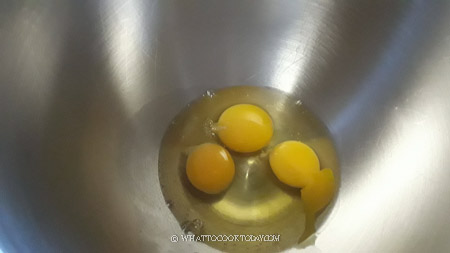 2. I use a 6-inch round pan with removable base. You can use regular 6-inch round pan and just line the bottom with a parchment paper. No need to line the side of the pan so the cake can climb tall. You can also use springfoam pan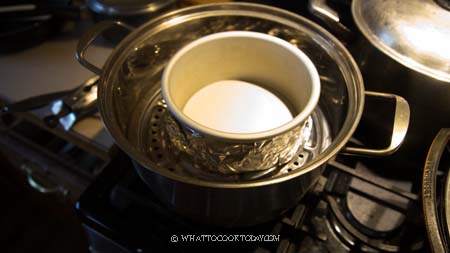 3. I like to add a small pinch of salt to the recipe as it really brings out the overall flavor. If you decide to use salt, add this to the cake flour and whisk to combine. Set aside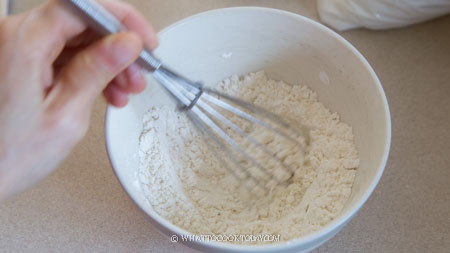 4. Place egg yolks and all of the sugar in the mixing bowl.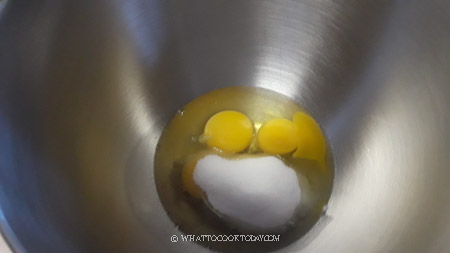 5. I use a stand mixer with a paddle attachment. You can use a hand mixer too. It will just take a bit longer compared to stand mixer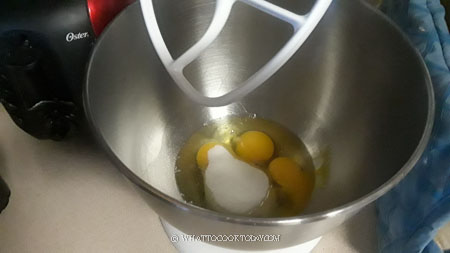 6. Start beating the eggs and sugar at a high speed. (speed 8 on my Kitchen Aid)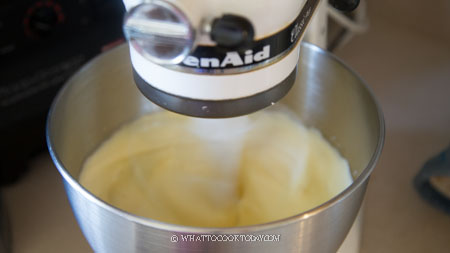 7. We want to beat them until they are thick, pale, and creamy. It is VERY important to beat to this stage or your cake will turn out dense. The cake relies on this to be spongy and soft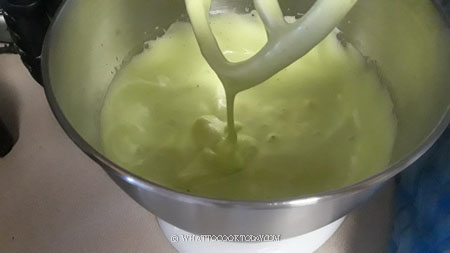 8. When you have reached the ribbon stage, switch to low speed and add pandan essence and gradually add the flour mixture. Try to get all the flour in less than one minute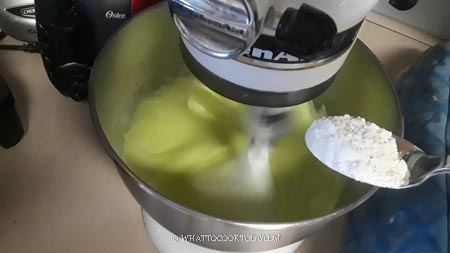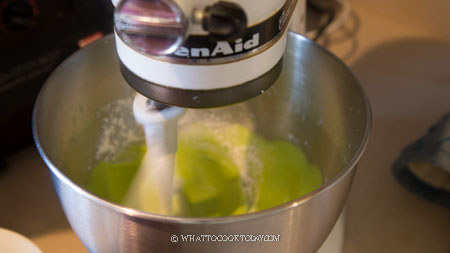 9. Stop the mixer and then use a rubber spatula to scrape the side of the bowl and gently fold any loose flour you see into the batter. Swipe down and gently fold over until you don't see any more loose flour. Really gentle about this. You don't want to deflate the batter. At the same time, make sure the water in your steamer is on a rolling boil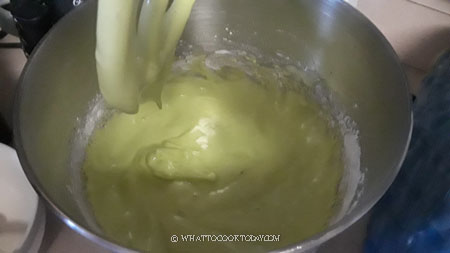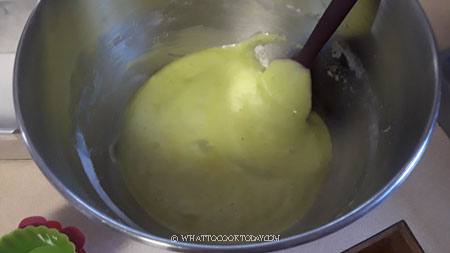 10. Pour the batter into a prepared cake pan. Use a skewer or chopstick to go around the cake to pop any large bubbles inside the batter. These air bubbles will create large holes inside your cake later
11. Lower the heat to medium and put the cake pan inside the steamer.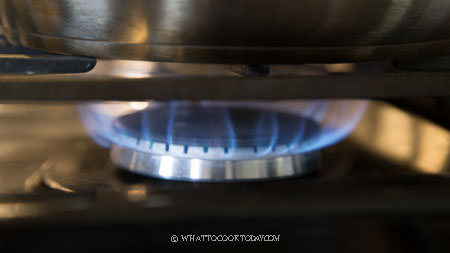 12. Gently close the lid, leaving about 1/2 inch gap to let steam escape. This helps the cake rises slowly and water condensation won't drip on the cake. When it rises slowly, it won't collapse when you take it out from the steamer. Steam over medium heat with a lid slightly open for the next 45-50 minutes. The cake will slowly rise high and has a dome top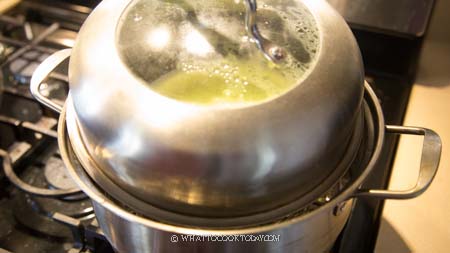 13. When the cake is done steaming, wait for 5 minutes before taking it out from the steamer. The dome top will gradually flatten down. This is normal. The cake should not collapse, however. Carefully remove the lid gently so the water won't drip on the cake surface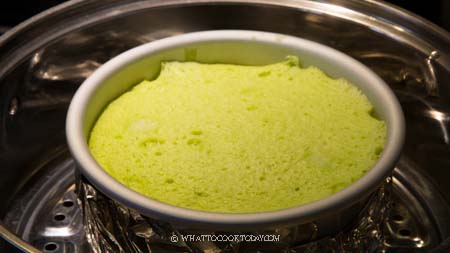 14. Let the cake cools down. The side of the cake may pull away from the pan too. Loosen the side of the cake and then gently turn it over to unmould. Peel off the parchment paper on the bottom and you can let the bottom be your top if you prefer the look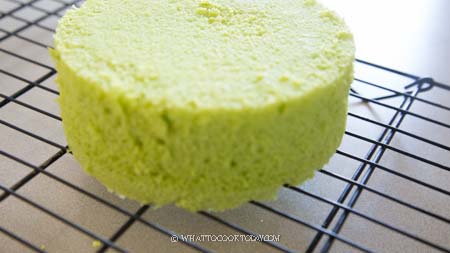 And there you have it a perfectly steamed pandan sponge cake that is so spongy. You can even hear the squishy sound when you squish the cake and watch it bounces back!!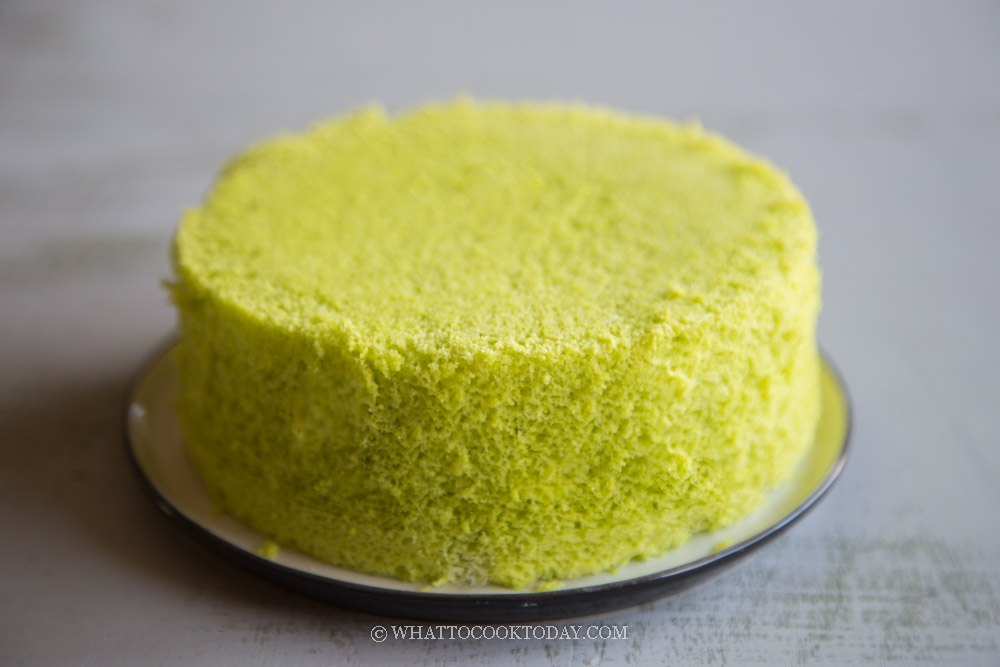 Important tips for success
1. Eggs must be at room temperature
2. Steamer must be ready for steaming when you are done preparing the cake batter
3. You have to beat the batter to a thick, pale, creamy consistency. Test for ribbon stage (refer to video for visual)
4. Fold the flour mixture into the cake batter gently to avoid deflating the cake batter
5. Steam the cake over medium heat, NOT high heat
6. Make sure to leave about 1/2-inch gap during steaming to allow some steam to escape
7. Wait for 5 minutes before removing the cake from the steamer
8. Unmould the cake when it has cooled down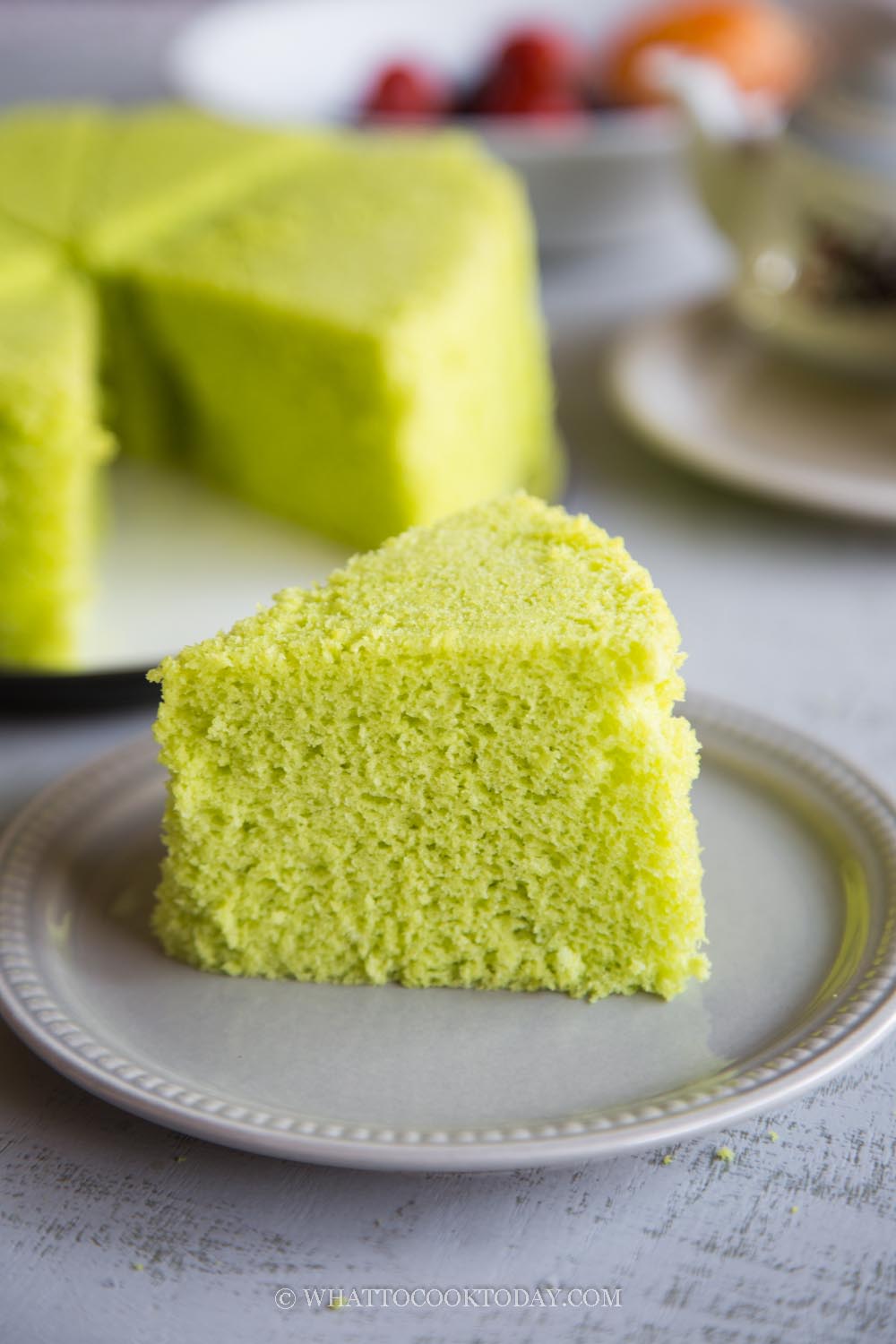 How to store steamed pandan sponge cake
1. Let the cake cools down completely
2. Wrap the cake with cling wrap and it can be kept at room temperature for about 3 days
3. For longer storage, cling wrapped the cake and then put in the freezer bag, push all the air out and seal the bag. They can be kept frozen for up to one month
4. When ready to serve, thaw in the fridge overnight, or you can steam from frozen in the steamer until they are heated through
Did you make this steamed pandan sponge cake with only 4 ingredients recipe?
I love it when you guys snap a photo and tag to show me what you've made 🙂 Simply tag me @WhatToCookToday #WhatToCookToday on Instagram and I'll be sure to stop by and take a peek for real!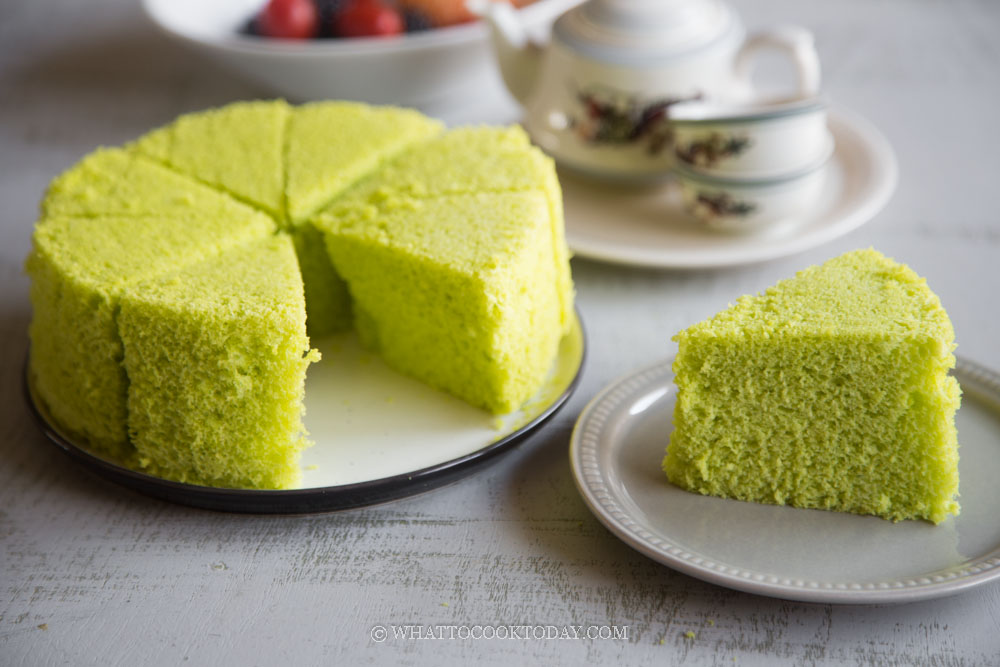 Recipe is adapted from here.
Steamed Pandan Sponge Cake (Whole-egg method, 4-ingredients only)
Ingredients
3

large

eggs

room temperature, about 58-60 grams each with a shell

50

gr

granulated sugar

60

gr

cake flour

½

tsp

pandan essence

or other essence of your choice
Instructions
Things to prepare:
Let the eggs come to room temperature. It is important that they are not cold or they will take a long time to beat to a thick creamy consistency

I use a 6-inch round pan with removable base. You can use regular 6-inch round pan and just line the bottom with a parchment paper. No need to line the side of the pan so the cake can climb tall. You can also use springfoam pan

Get your steamer ready. Please make sure the water is enough or steaming for about 50 minutes and get it to a gentle rolling boil when you start beating the eggs and sugar. The steamed has to be ready to go when the cake batter is ready
Prepare the cake batter:
I like to add a small pinch of salt to the recipe as it really brings out the overall flavor. If you decide to use salt, add this to the cake flour and whisk to combine. Set aside

Crack eggs and all of the sugar in the mixing bowl. I use a stand mixer with a paddle attachment. You can use a hand mixer too. It will just take a bit longer compared to stand mixer

Start beating the eggs and sugar at a high speed. (speed 8 on my Kitchen Aid). We want to beat them until they are thick, pale, and creamy. It is VERY important to beat to this stage or your cake will turn out dense and soft. The cake relies on this to be spongy and soft

It took me about 8 minutes at a high speed to get to what we call a "ribbon stage". When you drop the batter, it doesn't disappear immediately. It stays for a minute or so before disappearing. If yours disappear immediately, your batter is not thick enough yet. Continue beat until you reach this stage. Please refer to the video to know what to look for if you are not sure about the ribbon stage

When you have reached the ribbon stage, switch to low speed and add pandan essence and gradually add the flour mixture. Try to get all the flour in less than one minute. Stop the mixer and then use a rubber spatula to scrape the side of the bowl and gently fold any loose flour you see into the batter. Swipe down and gently fold over until you don't see any more loose flour. Really gentle about this. You don't want to deflate the batter. At the same time, make sure the water in your steamer is on a rolling boil

Pour the batter into a prepared cake pan. Use a skewer or chopstick to go around the cake to pop any large bubbles inside the batter. These air bubbles will create large holes inside your cake later
Steaming:
Lower the heat to medium and put the cake pan inside the steamer. Gently close the lid, leaving about 1/2 inch gap to let steam escape. This helps the cake rises slowly and water condensation won't drip on the cake. When it rises slowly, it won't collapse when you take it out from the steamer. Steam over medium heat with a lid slightly open for the next 45-50 minutes. The cake will slowly rise high and has a dome top

When the cake is done steaming, wait for 5 minutes before taking it out from the steamer. The dome top will gradually flatten down. This is normal. The cake should not collapse, however. Carefully remove the lid gently so the water won't drip on the cake surface
Cooling down:
Let the cake cools down. The side of the cake may pull away from the pan too. Loosen the side of the cake and then gently turn over to unmould. Peel off the parchment paper on the bottom and you can let the bottom be your top if you prefer the look
Nutrition
Serving:
1
slice
|
Calories:
78
kcal
|
Carbohydrates:
12
g
|
Protein:
3
g
|
Fat:
2
g
|
Saturated Fat:
1
g
|
Trans Fat:
1
g
|
Cholesterol:
70
mg
|
Sodium:
100
mg
|
Potassium:
34
mg
|
Fiber:
1
g
|
Sugar:
6
g
|
Vitamin A:
101
IU
|
Calcium:
12
mg
|
Iron:
1
mg