Savory soy milk soup lightly curdled by vinegar and served with Chinese fried crullers (you tiao) and other savory toppings are popular breakfast food in Taiwan. Learn how to put this together in no time.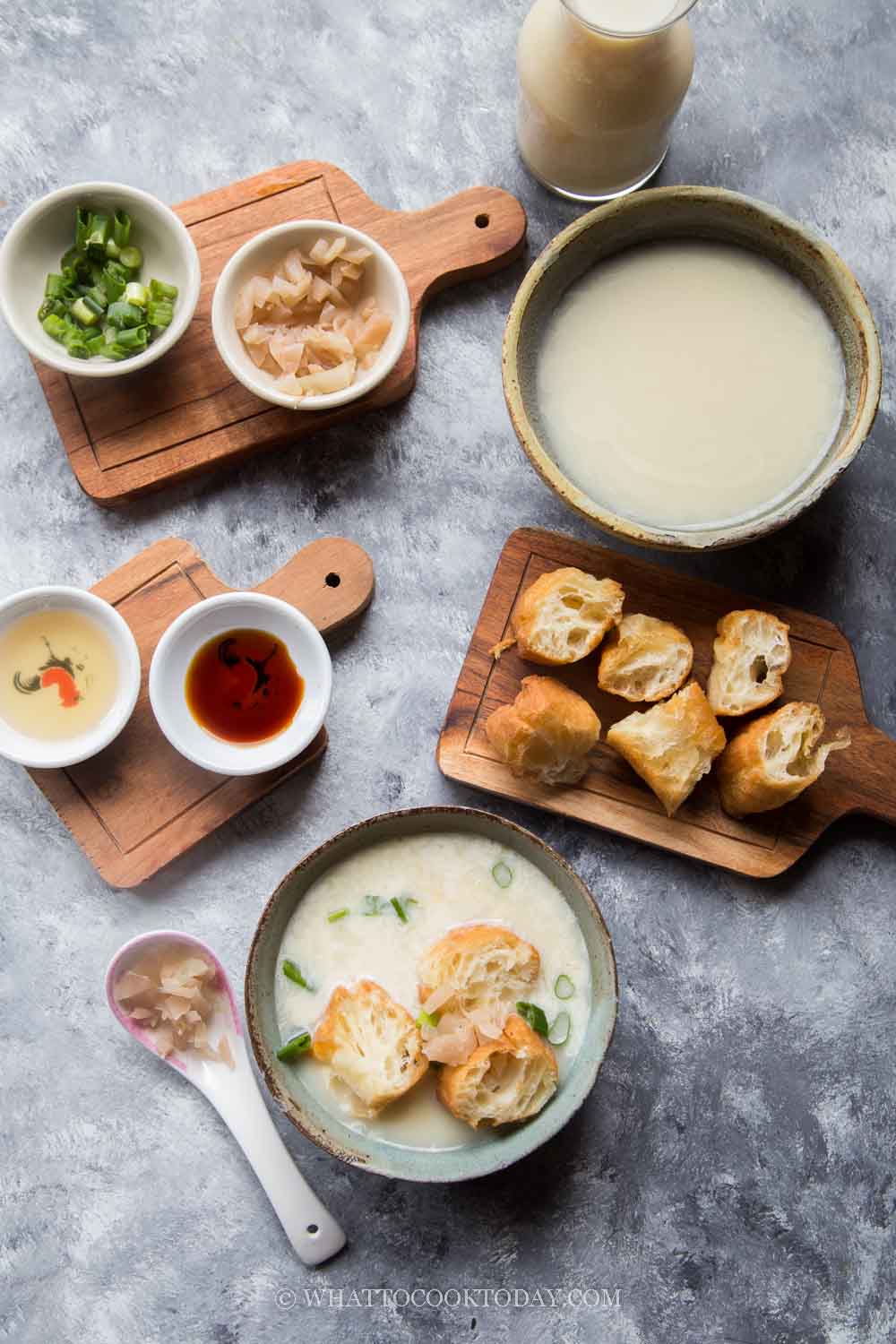 I have heard about this popular Taiwanese-style savory soy milk soup or known as xian dou jiang for a while but I haven't had a chance to try this myself. I have only had the unsweetened soy milk soup with fried you tiao and also make the dou hua (soy milk pudding) served with ginger syrup. Xian means salty/savory and dou jiang means soy milk.
So I made some fresh soymilk using Instant Pot (without soaking) not too long ago and decided I want to try out this xian dou jiang.
The recipe rundown
1. Taste: Slightly tangy (from the vinegar), salty (from the pickled veggies, soy sauce, and other savory toppings you put), umami (if you include dried shrimp, I didn't this round)
2. Texture: Silky smooth soy milk goes super well with that pair of crispy you tiao (Chinese fried crullers) and also some texture from other toppings you add on. I love that tiny little "curds" that form when you put vinegar into the soy milk
3. Level: Easy (if you use store-bought soy milk)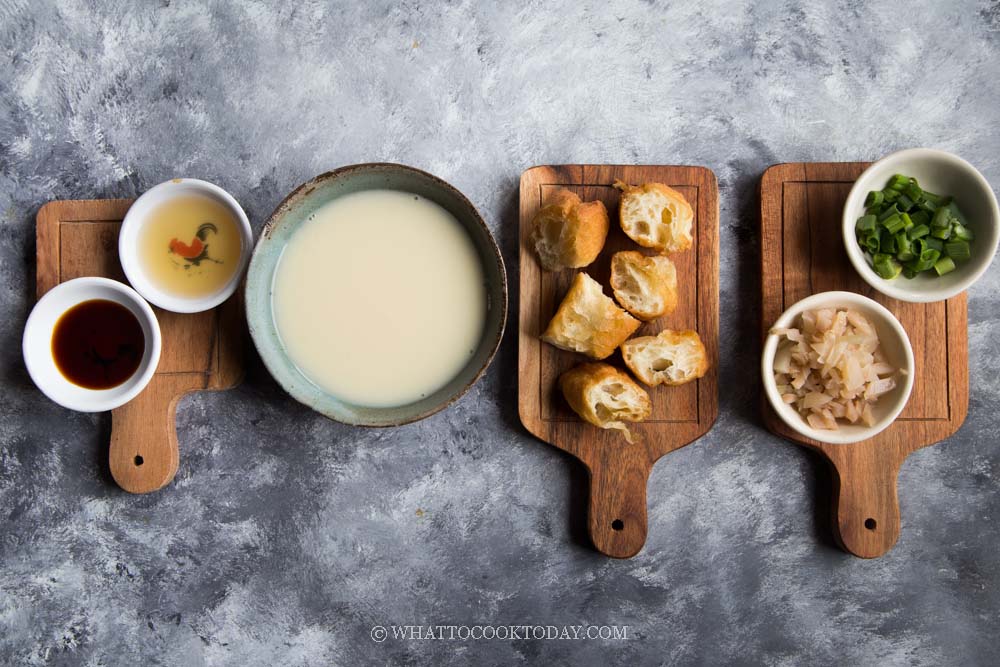 How to easily make Taiwan xian dou jiang
1. Finely minced the pickled mustard and green onion.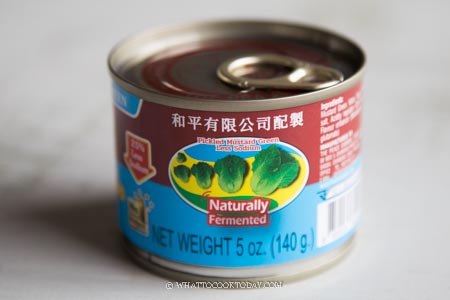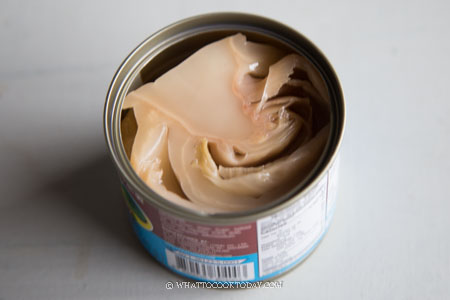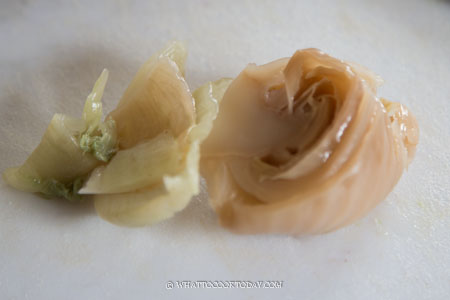 2. If the youtiao is frozen, you can re-crisp them in the oven at 350 F (180 C) for about 8-10 minutes or until heated through and crispy. Separate the youtiao pair and cut into large pieces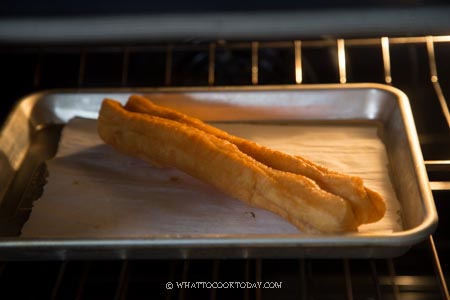 3. When all the toppings are ready to go, pour the soymilk into a saucepan and bring it to a boil and then lower the heat to let it simmer for about 1 minute. Turn off the heat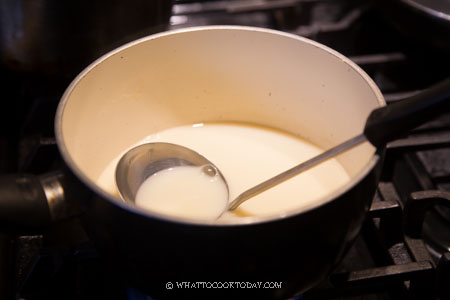 4. Divide the soymilk into serving bowls, about 1 cup each. For EACH bowl, add 1 tsp of rice vinegar and then stir a little bit. You will see a very mild curdling going on because of the vinegar
5. Next add 1 tsp of soy sauce, 1 Tbsp of zha cai, a sprinkle of green onion, and serve with youtiao on the side

Topping Ideas
What you want to put as toppings are really limitless. I've seen some people use tiny dried shrimp/ xiā pí (虾皮), preserved chai poh, strips of roasted seaweed, omelet strips, roasted peanuts, sesame oil, sesame seeds. Really…you are limit by your own creativity. What I used in this recipe are the most basic that you will see in most xian dou jiang.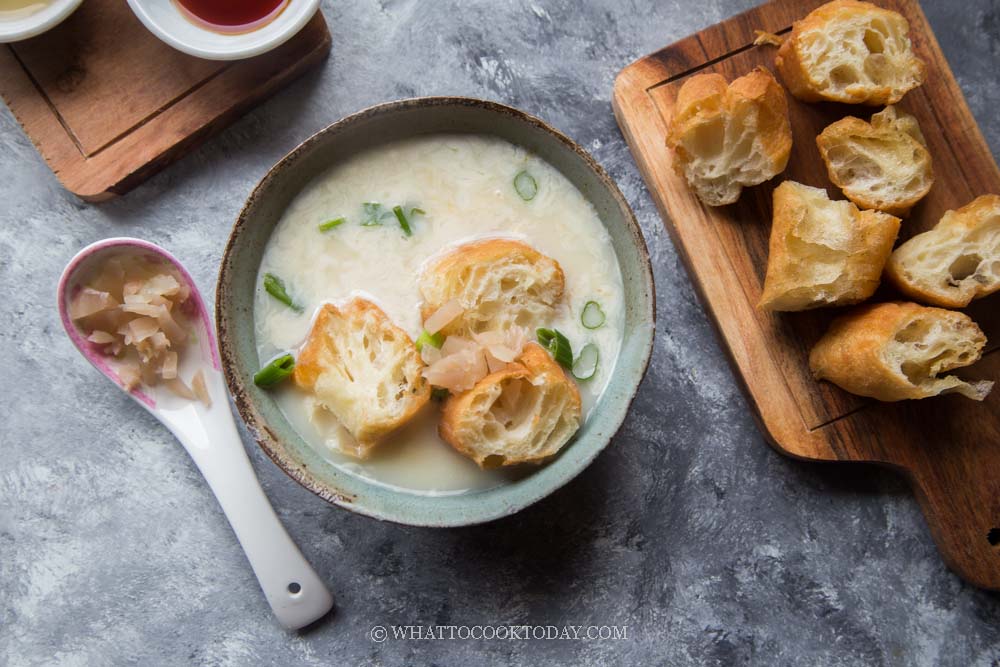 Did you make this xian dou jiang recipe?
I love it when you guys snap a photo and tag to show me what you've made 🙂 Simply tag me @WhatToCookToday #WhatToCookToday on Instagram and I'll be sure to stop by and take a peek for real!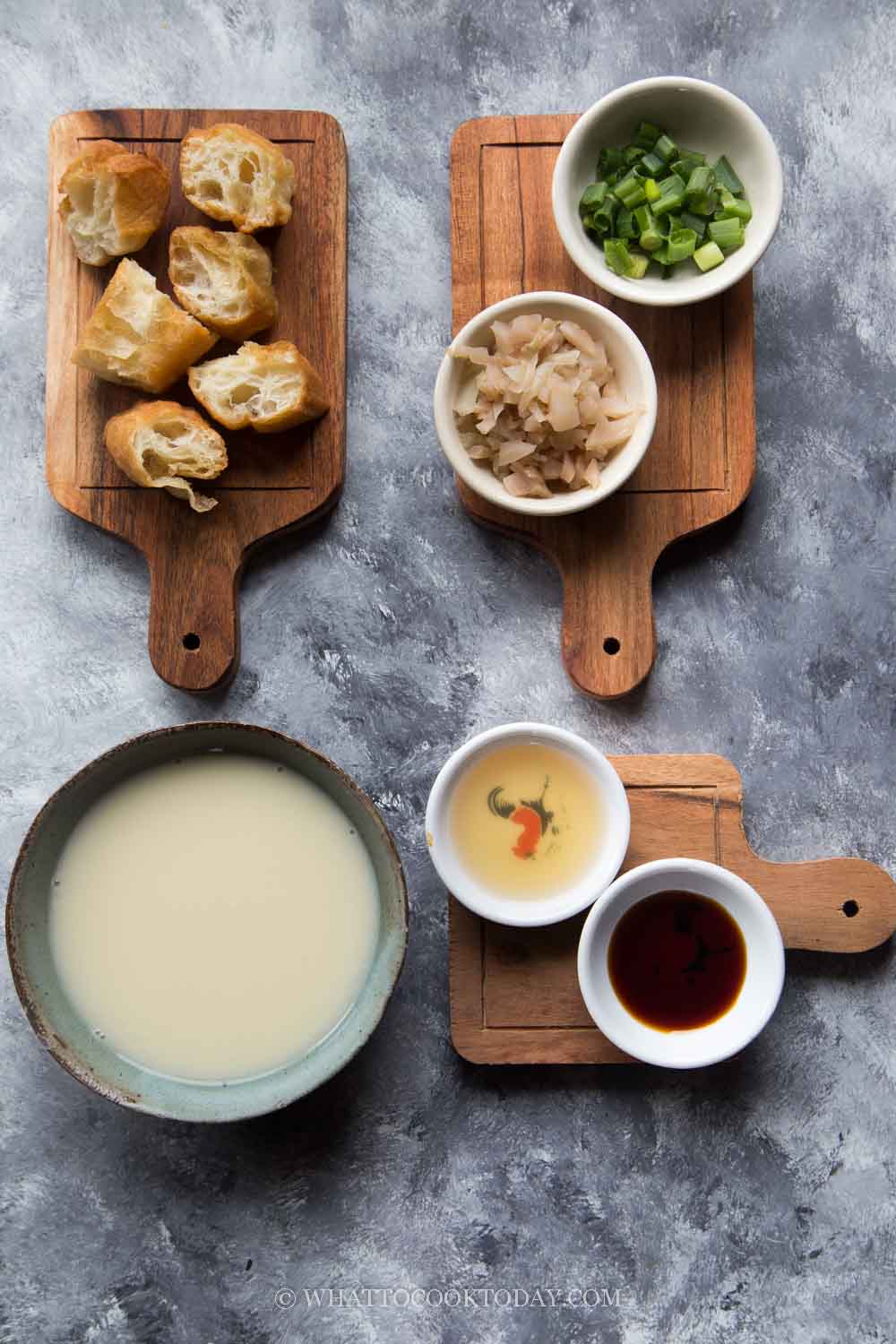 If savory soymilk soup isn't your cup of tea, perhaps you may be interested in this super easy soymilk pudding with ginger syrup.
You can also make your own unsweetened or sweetened soymilk easily with an Instant Pot without soaking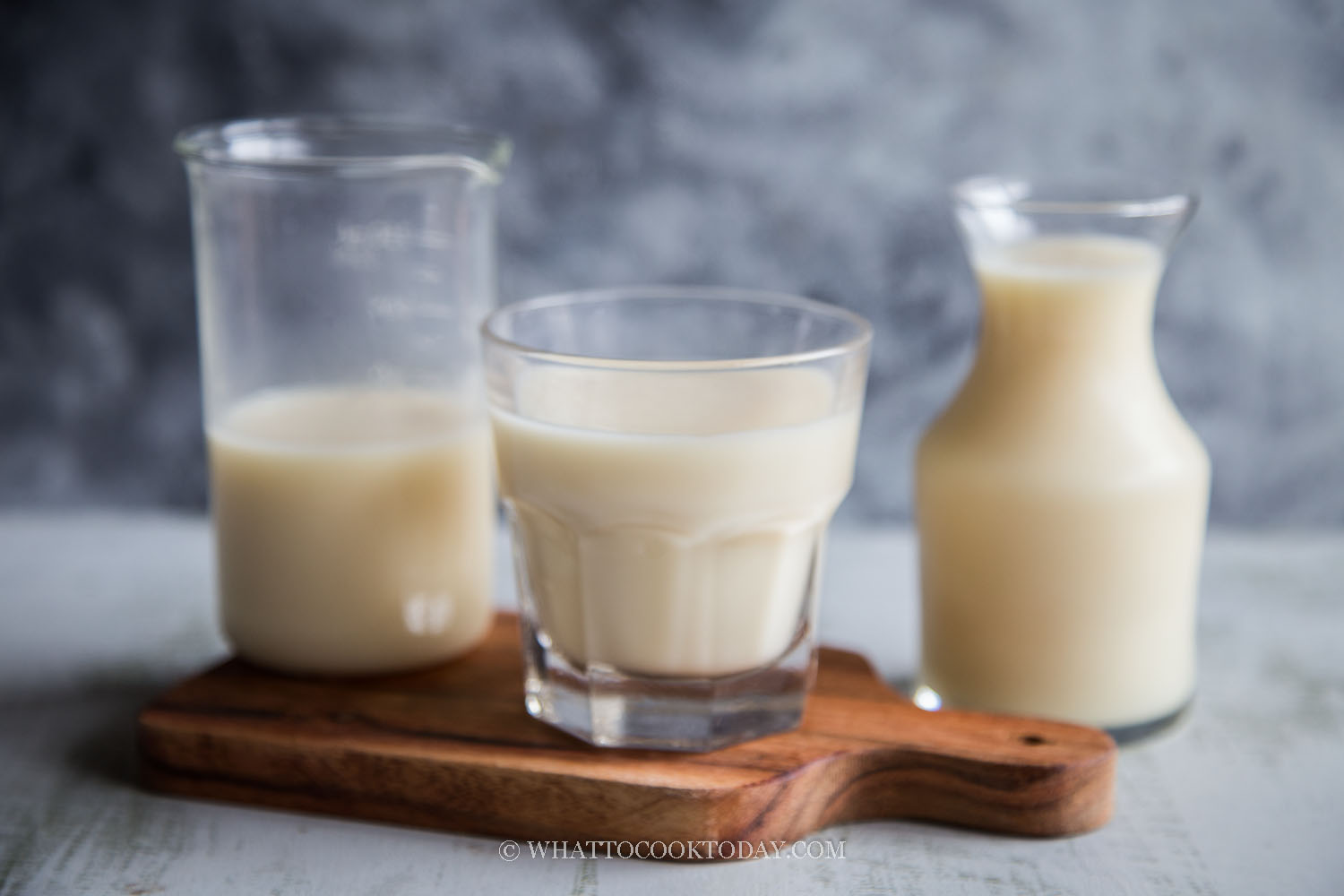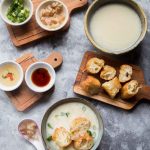 Taiwanese Savory Soy Milk (Xian Dou Jiang)
Ingredients
Toppings (you can use any savory toppings you like):
1

Tbsp

rice vinegar

1

Tbsp

soy sauce

3

Tbsp

Chinese pickled mustard

(zha cai)

1

stalk

green onion

finely minced

2

pairs

you tiao

Chinese fried crullers
Instructions
If you want to make your own soymilk, you can try this recipe. Otherwise, you can get store-bought organic unsweetened soymilk

Finely minced the pickled mustard and green onion. If the youtiao is frozen, you can re-crisp them in the oven at 350 F (180 C) for about 8-10 minutes or until heated through and crispy. Separate the youtiao pair and cut into large pieces

When all the toppings are ready to go, pour the soymilk into a saucepan and bring it to a boil and then lower the heat to let it simmer for about 1 minute. Turn off the heat
To put everything together:
Divide the soymilk into serving bowls, about 1 cup each. For EACH bowl, add 1 tsp of rice vinegar and then stir a little bit. You will see a very mild curdling going on because of the vinegar. Next add 1 tsp of soy sauce, 1 Tbsp of zha cai, a sprinkle of green onion, and serve with youtiao on the side
Nutrition
Serving:
1
serving
|
Calories:
92
kcal
|
Carbohydrates:
6
g
|
Protein:
8
g
|
Fat:
4
g
|
Saturated Fat:
1
g
|
Sodium:
564
mg
|
Potassium:
337
mg
|
Fiber:
2
g
|
Sugar:
1
g
|
Vitamin A:
584
IU
|
Vitamin C:
1
mg
|
Calcium:
321
mg
|
Iron:
1
mg