Make this soft, wobbly, and smooth Chinese-style tau foo fah from soybean milk (or any milk) with 5 ingredients only without using any chemicals and served with delicious ginger syrup.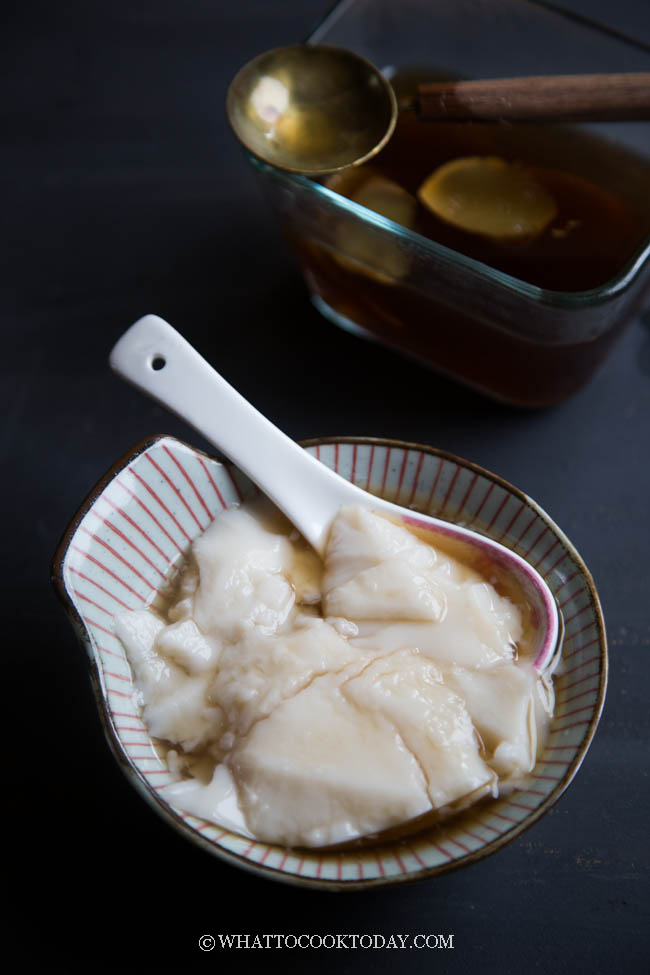 Tau foo fah in Cantonese or dou hua in Mandarin or tau huay in Hokkien or Kembang Tahu Jahe in Indonesian language, is one of my favorite childhood desserts/snacks. The version I grew up with was the sweet version. I've heard about the savory version, but never had it before. My mom used to purchase this from the market and I simply love how wobbly and incredibly soft the dou hua is. The seller usually has a special large wide round and almost flat spatula that is quite sharp to "cut" through and scoop the dou hua into a serving bowl. So you can see the dou hua layer by layer in the bowl. I don't have that special spatula to cut, so mine doesn't look as nice, but the dou hua still tastes heavenly.
INGREDIENTS
You only need 3 ingredients to make this dou hua : Plain unsweetened soybean milk, agar agar powder or gelatin powder, vanilla extract.
For the ginger syrup: fresh ginger, brown/white sugar, water.

WHY YOU WILL LIKE THIS TAU FOO FAH RECIPE
1. NO CHEMICALS
Traditional tau foo fah is made by boiling the soybean milk and then GDL or gypsum powder is added to help the soybean coagulate into a pudding-like texture. This recipe doesn't use that and only utilize the good ol' agar agar powder or gelatin powder
2. EASY AND CONVENIENT RECIPE
You don't have to make the soybean milk from scratch. You can if you want to. I use organic unsweetened soybean milk and it turned out just as good and so much less work for real
3. HIGHLY CUSTOMIZABLE
You can use other types of nut milk or dairy with this recipe. I have tried with almond milk, cashew milk, and regular cow's milk and they work just great. You can even adjust the texture of the dou hua by adjusting the amount of agar agar to use in this recipe
With that said, are you ready to make some tau foo fah? 😉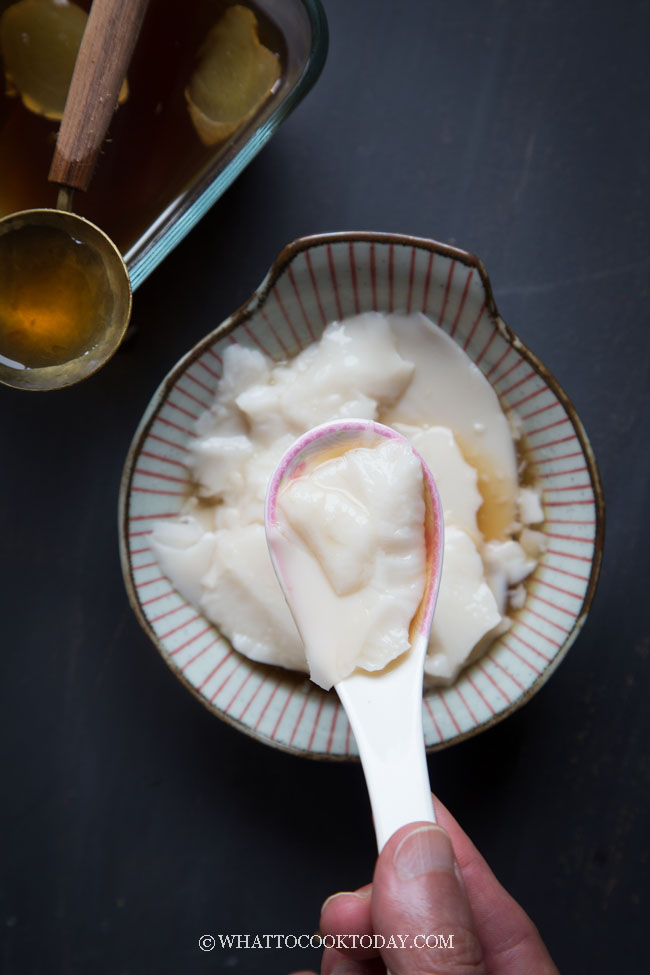 HOW TO MAKE GINGER SYRUP FOR TAU FOO FAH
Place everything in a saucepan and bring to a boil and then lower the heat to let it simmer for 5 minutes. Turn off the heat. Let the ginger slices sit in there to release more flavor. Prepare the day before and the aroma of the ginger will be more intense if you like that.

HOW TO MAKE TAU FOO FAH WITH AGAR AGAR POWDER
1. MIX SOYBEAN MILK WITH AGAR AGAR POWDER
Stir to mix until you no longer see the agar agar powder lumps.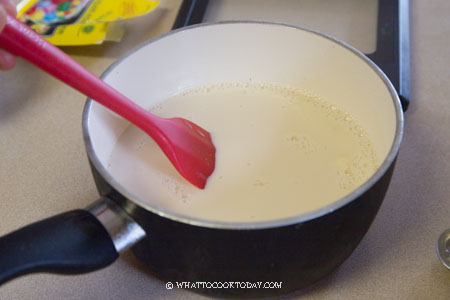 2. BOIL THE SOYBEAN MILK
Boil it over high heat while keep stirring at the same time. The soybean milk might catch at the bottom and get burnt if you stop stirring.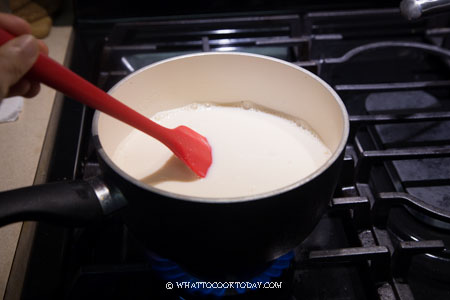 Once it has comes to a boil, lower the heat and continue to simmer for another 5 minutes. Make sure the agar agar powder has dissolved (it should be). Stir in the vanilla extract.


3. STRAIN THE MIXTURE
Remove from the heat and strain into another pot or container . Let it cool down at room temperature for about 15-20 minutes


4. CHILL THE TAU FOO FAH
Then cover with a cling wrap, try not to touch the surface and carefully transfer to the refrigerator and chill for at least 2 hours. I recommend 4 hours for a better texture. You can chill it overnight too. Once it sets, it should have nicely coagulated, but jiggly when you gently shake it. That's the right texture.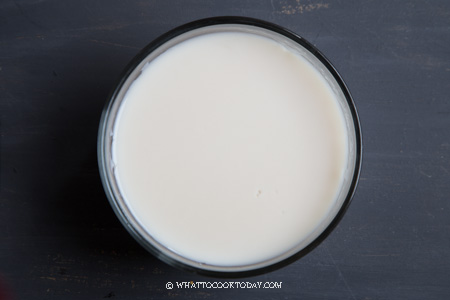 ADJUST THE TEXTURE OF TAU FOO FAH
You can adjust the texture of the tau foo fah by adjusting the amount of agar agar powder.
Use 1/2 tsp agar agar powder: for super softer texture. My husband said it's too soft but my mom likes the texture
Use 3/4 tsp agar agar powder (which I use in this recipe): for soft texture. My husband said it's perfect. My mom said it's almost perfect 🙂
Use 1 tsp agar agar powder: for a firmer texture. I think this is a bit too firm for our taste, but you may like it
HOW TO SERVE TAU FOO FAH
1. THINLY SLICE THE TOFU
There's a special flat sharp spatula that they use to thinly slice the bean curd pudding into serving bowl. I don't have it. I just use regular spoon.
2. SPOON OVER THE GINGER SYRUP
Add a few spoonfuls of ginger syrup on the tau foo fah

What do you think? It's not that bad right? 🙂 I like how convenient it is to make. If you are all hardcore and want to make your own soybean milk you certainly can.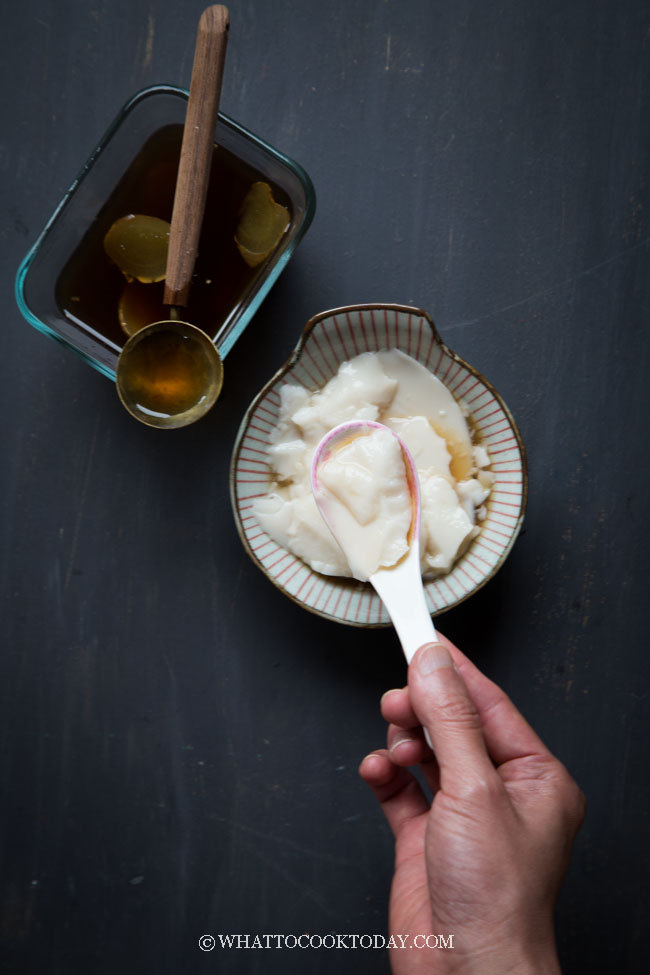 YOU MAY ALSO LIKE THIS
DID YOU MAKE THIS EASY TAU FOO FAH RECIPE?
I love it when you guys snap a photo and tag to show me what you've made 🙂 Simply tag me @WhatToCookToday #WhatToCookToday on Instagram and I'll be sure to stop by and take a peek for real!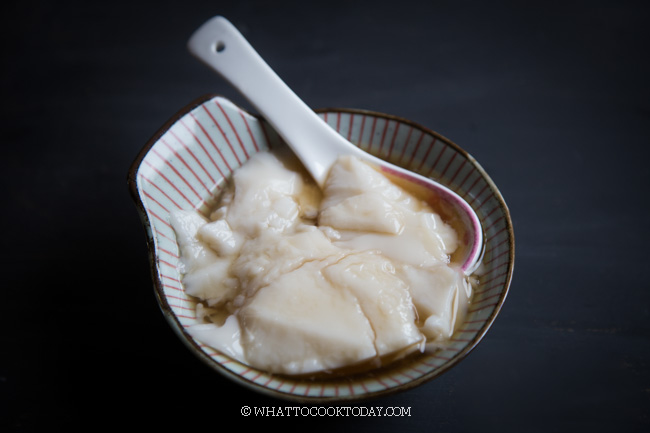 Instruction for making dou hua with gelatin powder is added on April 20, 2022.
Dou Hua /Tau Foo Fah (Soybean Pudding-using agar agar or gelatin)
Ingredients
750

ml

unsweetened plain soymilk

or other type of milk

1

tsp

vanilla extract
Ginger syrup:
1

cup

water

1

cup

brown sugar

or you can use white sugar, but adjust the amount to 1/2 cup or to your taste as it is sweeter

1

inch

knob of ginger

peeled and thinly sliced
Instructions
Prepare the ginger syrup (best to prepare the day before):
Place everything in a saucepan and bring to a boil and then lower the heat to let it simmer for 5 minutes. Turn off the heat. Let the ginger slices sit in there to release more flavor. I like to prepare this the day before I plan to serve and discard the ginger on that day. The syrup will have more aroma from the ginger
If using agar agar:
Put all ingredients for pudding, except for vanilla extract, in a large pot over medium-high heat. Continue to stir and make sure you don't let the bottom of the pot catches the soymilk and burn. Once it has comes to a boil, lower the heat and continue to simmer for another 5 minutes. Make sure the agar agar powder has dissolved (it should be) and you don't see anymore specks. If the agar agar doesn't dissolves, the pudding won't set properly when you chill it. Stir in the vanilla extract

Remove from the heat and strain into another container. Use a spoon to gently scoop up the froth/bubbles so the surface of the dou hua will be smooth later. Let it cool down at room temperature for about 15-20 minutes and then proceed to chilling
If using gelatin:
Sprinkle the gelatin over 1/2 cup of milk and let it bloom for 5 minutes. While waiting, add the rest of the milk to a large pot and bring to a gentle simmer and then turn off the heat. Let it cool down a little bit. Stir in the bloomed gelatin and whisk until dissolved. You want to make sure the gelatin really dissolves

Gently pour this into a large container. Remove the bubbles by using a strainer. Let it cool down at room temperature and then proceed to chilling
Chilling:
Cover with a cling wrap, carefully not to touch the surface and transfer to the refrigerator and chill for at least 4 hours.You can chill it overnight too. Once it sets, it should have nicely coagulated, but wobbly when you gently shake it. That's the right texture
Serving:
There's a special flat sharp spatula that they use to thinly slice the bean curd pudding into serving bowl. I don't have it. I just use regular spoon and serve with few spoonfuls of ginger syrup on the tau foo fah
Storing:
Since this is made with agar agar powder, try not to keep the tau foo fah longer than 3 days in the fridge. The longer it sits, the more watery it will get. Definitely do not recommend freezing
Notes
For a softer texture, you can use 1/2 tsp of agar agar powder
For a firmer texture, you can use 1 tsp of agar agar powder
Recommended products: