Soft, fluffy, and slightly chewy Hakka hee pan infused with aromatic mashed bananas. No artificial flavoring.
Banana is one of my favorite ingredients to tinker with. I love them in bread, cakes, sweets, and dessert! The aroma of the banana, while it's baking or steaming, is just insanely good! My collection of hee pan/xi ban is simply not complete without the banana hee pan version 🙂
What's the best banana to use
I use very ripe cavendish bananas because that's the most abundant here. You can use any of your favorite bananas. The riper they are, the better as they will be naturally sweet and very aromatic
How to make banana hee pan
1. Put the yeast, water and sugar in a small bowl. Stir to combine and then let it sit for 10 minutes. The mixture will turn foamy and bloom. This shows that the yeast is active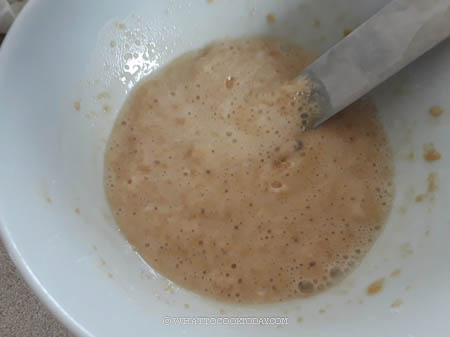 2. Cut banana leaves into about 4×4 inch square and brush with some oil. Mash the banana with sugar. The mixture will turn a bit watery. Set aside

3. Add the yeast mixture and oil and stir to combine. Add glutinous rice flour, all-purpose flour, and salt

4. Knead until you get a rough dough. Start with half the amount of water first. The amount of water needed may vary slightly depending on the bananas. You may not need to add water. Cover and rest for 15 minutes.

5. Then go back and knead into a soft and smooth dough

6. Divide the dough into 8 equal pieces

7. Oil both of your palms lightly (don't make it too greasy) and roll the dough into a smooth round ball and place it on the banana leaves and flatten it with your palm to form a disc. Repeat with the rest of the dough balls

8. Cover with a clean tea towel and put in a warm place to let them proof for about 1 hour or until the dough is puffy. It may take longer than 1 hour in a colder climate. I found that if the dough is properly proofed, the hee pan will have fluffy with a slightly chewy texture. They will puff up to about 50% of their original size and feels really light. If you gently press with your finger, it will bounce back slowly and leave a bit of indentation. If it bounces back immediately, proof a bit longer
9. Arrange the proofed buns inside the steamer. Start with a cold steamer that you have filled up with some water. Wrap the lid with a towel to prevent condensation from dripping on the buns. If you use a bamboo basket, you don't need to do this.

10. Turn the stove on and adjust the heat to medium. When the water comes to simmer, crack the lid open to allow some gap a bit to let steam escape. Start the timer and set it to 15 minutes and let them steam over medium heat with the lid slightly opened and DO NOT crank up the heat. When 15 minutes are up, allow 5 minutes before opening the lid

11. Then transfer the hee pan out onto a cooling rack to let them cool down a little bit. Use a kitchen shear to trim the extra banana leaves if you want a neat presentation. They can be served warm or at room temperature
Did you make this banana hee pan recipe?
I love it when you guys snap a photo and tag it to show me what you've made 🙂 Simply tag me @WhatToCookToday #WhatToCookToday on Instagram and I'll be sure to stop by and take a peek for real!
Banana Hee Pan / Xi Ban
Instructions
Cut banana leaves into about 4×4 inch square and brush with some oil

Mash the banana with sugar. The mixture will turn a bit watery. Set aside
Prepare the dough:
Put the yeast, water and sugar in a small bowl. Stir to combine and then let it sit for 10 minutes. The mixture will turn foamy and bloom. This shows that the yeast is active

Add the yeast mixture and oil and stir to combine. Add glutinous rice flour, all-purpose flour, and salt. Knead until you get a rough dough. Start with half the amount of water first. The amount of water needed may vary slightly depending on the bananas. You may not need to add water. Cover and rest for 15 minutes. Then go back and knead into a soft and smooth dough
Shaping:
Divide the dough into 8 equal pieces. Oil both of your palms lightly (don't make it too greasy) and roll the dough into a smooth round ball and place it on the banana leaves and flatten it with your palm to form a disc. Repeat with the rest of the dough balls
Proofing:
Cover with a clean tea towel and put at a warm place to let them proof for about 1 hour or until the dough is puffy. It may take longer than 1 hour in a colder climate. I found that if the dough is properly proofed, the hee pan will have fluffy with a slightly chewy texture. They will puff up to about 50% of their original size and feels really light. If you gently press with your finger, it will bounce back slowly and leave a bit of indentation. If it bounces back immediately, proof a bit longer
Steaming:
Arrange the proofed buns inside the steamer. Start with a cold steamer that you have filled up with some water. Wrap the lid with towel to prevent condensation from dripping on the buns. If you use bamboo basket, you don't need to do this.

Turn the stove on and adjust the heat to medium. When the water comes to simmer, crack the lid open to allow some gap a bit to let steam escape. Start the timer and set it to 15 minutes and let them steam over medium heat with the lid slightly opened and DO NOT crank up the heat. When 15 minutes are up, allow 5 minutes before opening the lid
Cooling down:
Then transfer the hee pan out onto a cooling rack to let them cool down a little bit. Use a kitchen shear to trim the extra banana leaves if you want a neat presentation. They can be served warm or at room temperature
Nutrition
Serving:
1
bun
|
Calories:
95
kcal
|
Carbohydrates:
18
g
|
Protein:
2
g
|
Fat:
2
g
|
Saturated Fat:
0.2
g
|
Polyunsaturated Fat:
0.4
g
|
Monounsaturated Fat:
1
g
|
Trans Fat:
0.01
g
|
Sodium:
38
mg
|
Potassium:
77
mg
|
Fiber:
1
g
|
Sugar:
2
g
|
Vitamin A:
8
IU
|
Vitamin C:
1
mg
|
Calcium:
4
mg
|
Iron:
1
mg