Super soft and wobbly milk ginger milk pudding made with only three ingredients. There is no agar agar or gelatin used in this pudding. The ginger works its magic to give you this amazing super soft pudding. All the tips you need to make this successfully at home.
What is ginger milk pudding?
This Chinese-style ginger milk pudding is made by combining cow's milk with ginger juice. The mixture will solidify after sitting for a few minutes to give you a super soft and wobbly pudding.
How can ginger curdle milk?
Ginger contains an enzyme called ginger protease (zingibain) that reacts with the casein in milk by denaturing it to form curds. That's how ginger solidifies dairy milk. It's not a firm solid, it's a very soft wobbly sort of texture. This process can only happen when the temperature is right. The ideal temperature is between 70-75 C (158 C -167 F).
What kind of ginger to use?
There are so many controversies about this part. Young ginger or old ginger. Many swears by old ginger. I have tried both and they both work for me though. So, feel free to use old ginger if you want to play it safe. Young ginger tends to give a "spicier" taste is what I notice.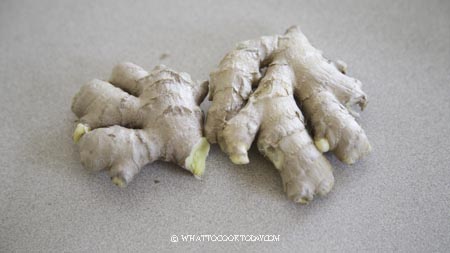 What kind of milk to use?
1. Only dairy milk from mammals
Traditional ginger milk pudding is made with buffalo milk. Buffalo milk is higher in protein compared to cow's milk. This only works with dairy milk as it contains casein, the protein we need to react with ginger protease. DO NOT try with coconut milk, soy milk, almond milk, etc, it will not work (or at least it didn't work for me!). Some have also reported that homogenized milk does not work either. Some have reported that they have tried milk powder, UHT milk, and lactose-free milk and they worked. I haven't tried those two personally.
2. Fat content of milk
The fat content doesn't seem to interfere with the gelling process. I have tried whole milk and low-fat milk and they both worked, BUT, the whole milk version tastes so much better and the skim milk version seem to get watery much faster in my case. Whole milk also gives you a richer taste compared to low-fat or skim milk
3. Protein content of milk matters
The protein content of the milk DOES matter. The higher the protein content, the firmer the pudding is. Traditional ginger milk pudding made with buffalo milk is firmer compared to the one made with cow's milk. Buffalo milk is higher in protein
Milk temperature matters A LOT!
I didn't do an extensive experiment on this but I did try to heat up the milk to 85 Celcius (185 F) and also to 75 Celcius (167 F). The texture of the pudding is softer when I heated up the milk to 75 Celcius (the temperature would have dropped by around 70 F by the time I poured the milk into the ginger juice). When I heat the milk up to 85 Celcius, the texture is a bit "rougher", not as smooth. Both temperatures sets the pudding up nicely though, just slightly different in texture.
How much ginger juice to use
1:10 ratio
I have tried using 1:10 ratio between the ginger juice and the milk. It gives me a very very soft texture and quite fragile.
1: 8.3 ratio
So I tried 1: 8.3 ratio and I like this better as it is still very soft but not overly fragile
How to make ginger milk pudding
1. Leave the skin on the ginger until when you are ready to use them to make this dessert. Give it a rinse with water to get rid of any impurities. Peel the skin off using a spoon is easier to get into the nook and cranny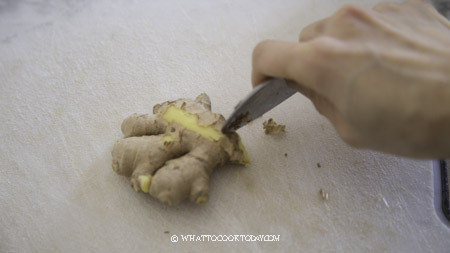 2. Use a grater to grate the ginger. If you are making a bigger batch, say doubling the recipe, you can use a blender or a food processor to grate the ginger. Just make sure it's fine enough so you can squeeze the juice out. Give it a few pulses and avoid over-blending it to avoid overheating the ginger, which may destroy the enzyme in the ginger (I'm not sure it will or not, but just to be on the safe side). I did use a blender and it worked for me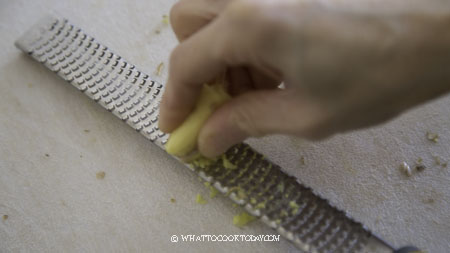 3. Use a cheesecloth or a strainer to squeeze the ginger juice out as much as you can. Try to use the juice within 20 minutes after squeezing. The enzyme in the juice has a short half-life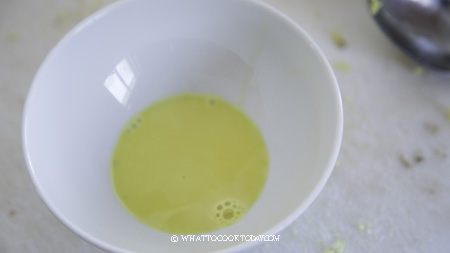 4. Prepare two small bowls. Like Chinese rice bowl or ramekins or something similar. Give the ginger juice a really good stir as the starch tends to settle at the bottom. Scoop about 15 ml of ginger juice (about 1 tablespoon) into each bowl
5. Put the milk, sugar, and milk powder in a saucepan. Whisk them to combine.

6. Turn the heat over to medium-low heat. Heat it up until it reaches 75 Celcius (by the time we pour it into the milk the temperature would have dropped to 70 Celcius or slightly lower, which is the temperature we are aiming for). The milk should not come to a boil and should not form a skin. If it boils, the protein casein may get destroyed by the high heat. If the skin is formed, most likely the pudding will not set because most of the protein is trapped in the skin. Unless you use skim milk, which has no fat and skin is less likely to form. So, stir the milk and heat it up slowly to prevent skin from forming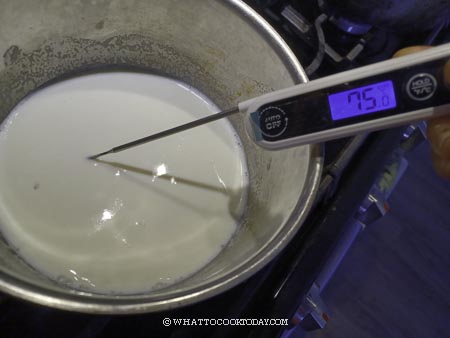 7. Quickly stir the ginger juice in the bowl and then stop stirring and pour half of the milk mixture into the bowl at a height, of about 3 inches or so, and at one go, you don't need to be too gentle here. This will naturally "stir" the juice and the milk to combine them. This is what they call the milk and the ginger "knock" together in Chinese.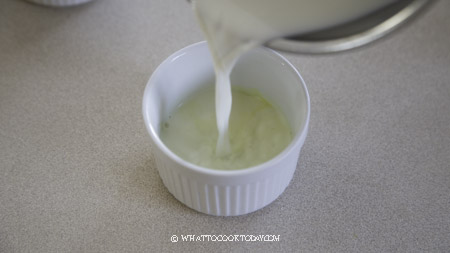 8. Once the milk is in, DO NOT stir them or even move the bowl at all. You need to let them sit for 10-15 minutes undisturbed. If you stir, this will break the coagulation process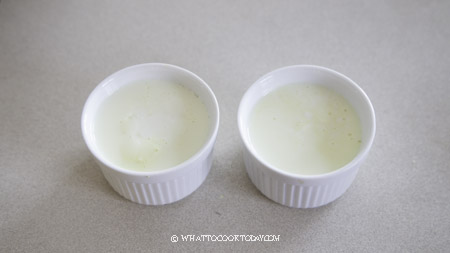 9. You can check if it is done or not by very gently placing a small spoon (not too heavy) on top of the pudding. If it doesn't sink, you have successfully made a ginger milk pudding. If it sinks, well, you can try again next time.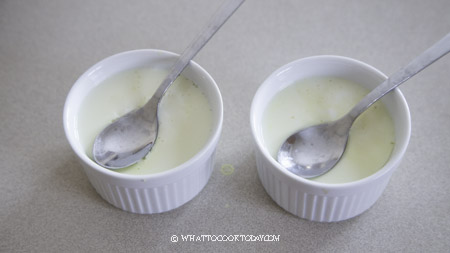 10. Serve immediately while it's still warm. Consuming it after it's freshly made is the best. The texture is very soft and wobbly. It's almost borderline between liquid and pudding. So don't be surprised by how soft it is. That's the way it is.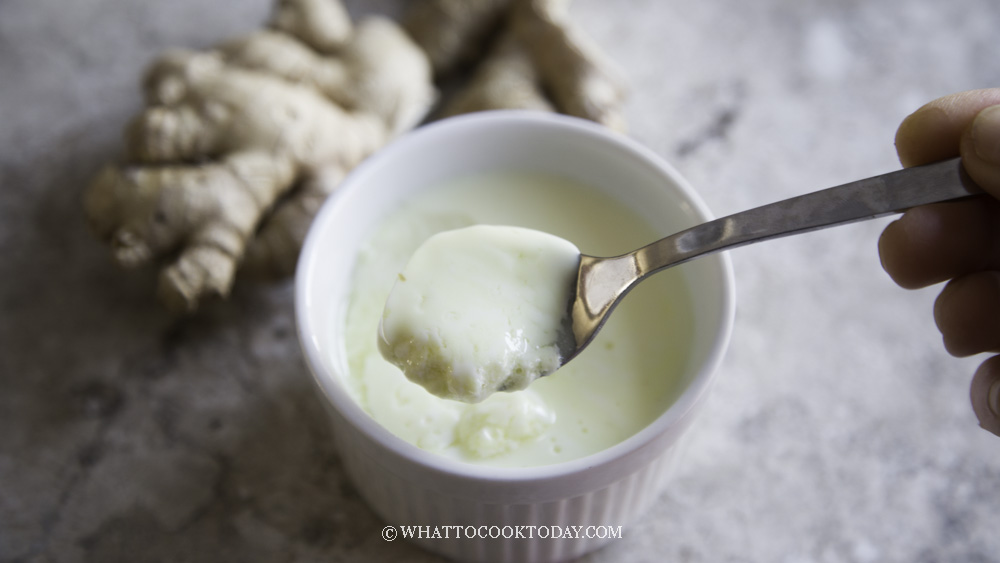 Important tips (please read this)
This is a very simple recipe but finicky at the same time. You only need three ingredients but the conditions have to be quite precise for the reaction to happen.
1. Leave the skin on
Don't peel the skin off the ginger until you are ready to use them to make this dessert. The skin helps to protect the enzyme in the ginger
2. Only use freshly squeezed ginger juice
You cannot squeeze out ginger juice and put it in the fridge to be used later. It will not work. The enzyme is destroyed after sitting around for a while (trust me, I found out the hard way!). Once you squeeze the juice out, you need to use it immediately. Can you use a food processor or blender to grate the ginger? Yes, if you make more than 2 bowls, it's probably easier on your arm to use a food processor than to manually grate the ginger. I have tried this as well and it didn't affect the result. Try to use ginger juice within 20 minutes for a higher success rate. The enzyme in the ginger juice has a short half-life.
2. You need a thermometer
The temperature is probably the most important factor here. The reactions can only take place when the temperature is right. The milk needs to be heated up to 75 Celcius (167 Fahrenheit). It's hard to get the temperature right if you don't have a thermometer. Too warm, the enzyme is destroyed. If not warm enough, the enzyme won't activate. We heated the milk to that temperature but by the time we pour it into the bowl, the temperature has dropped to 70 C or slightly lower and below as what I have observed. So if you heated to only 70 C, by the time you pour it into the bowl, the temperature would have dropped down further and it may not work
3. Stir the ginger juice
Make sure you stir the ginger juice before pouring it into a bowl because ginger contains starch and it tends to settle at the bottom if you don't give it a stir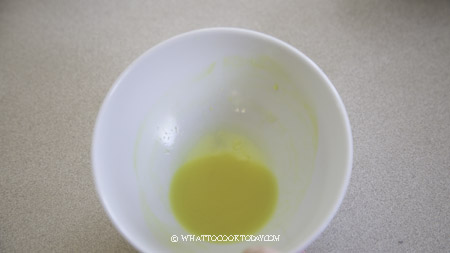 4. Pour the milk from a height
You want to pour the milk from a height so this action will naturally "stir" the milk and the enzyme to combine them well for the reaction to happen. The temperature also drops when you pour the milk into the juice and this creates an ideal temperature of around 70-75 C for the reaction to occur
4. Do not stir the mixture after pouring
You can quickly stir the ginger juice in the bowl before pouring the milk. Once you have poured the milk into the ginger juice, DO NOT stir them. DO NOT move the bowl around please! Let the two do their own things and in 15 minutes, you will have your pudding (fingers crossed). I had experimented with stirring the mixture after I poured the milk in, and sure enough, that batch failed to coagulate!
5. Serve warm
This ginger milk pudding is traditionally served warm. I tried to keep it in the fridge overnight and it holds up pretty well, but you can see that it starts to separate. So my advice is to consume it on the same day if possible
Should I add milk powder?
Adding milk powder increases its protein content and it helps to let the gelling process takes place much faster and produce a slightly firmer pudding. My family likes the taste better too when milk powder is added. They said much richer in taste.

Did you make this ginger milk pudding recipe?
I love it when you guys snap a photo and tag it to show me what you've made 🙂 Simply tag me @WhatToCookToday #WhatToCookToday on Instagram and I'll be sure to stop by and take a peek for real!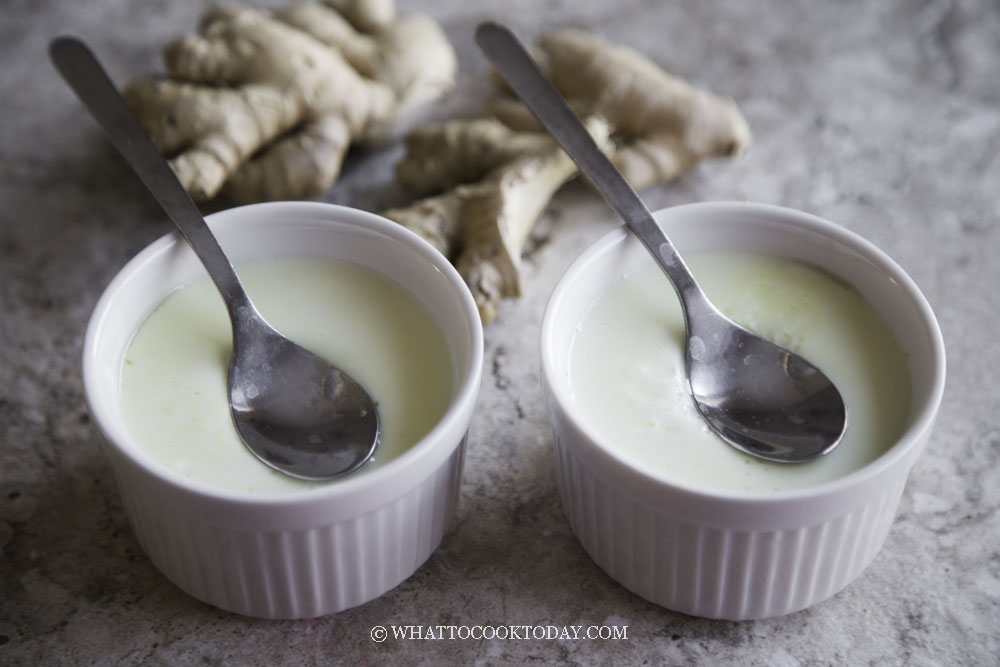 How To Make Ginger Milk Curd/Pudding
Ingredients
30

gr

Ginger juice

freshly squeezed from 100 grams ginger

250

gr

Whole milk

It has to be dairy milk

15

gr

Sugar

or sweetener of your choice

15

gr

milk powder

optional, but recommended
Instructions
Grate the ginger:
Leave the skin on the ginger until when you are ready to use them to make this dessert. Give it a rinse with water to get rid of any impurities. Peel the skin off. Peel the skin off using a spoon is easier to get into the nook and cranny. Use a grater to grate the ginger.

If you double the recipe, you can use a blender or a food processor to grate the ginger. Just make sure it's fine enough so you can squeeze out the juice. I pulse it several times to avoid overheating the ginger during blending as we don't want to destroy the enzyme in the ginger

Use a cheesecloth or a strainer to squeeze the ginger juice out as much as you can. Try to use the juice within 20 minutes after squeezing. The enzyme in the juice has a short half-life

Prepare two small bowls. Like Chinese rice bowl or ramekins or something similar. Give the ginger juice a really good stir as the starch tends to settle at the bottom. Scoop about 15 ml of ginger juice (about 1 tablespoon) into each bowl
Heat up the milk:
Put the milk, sugar, and milk powder in a saucepan. Whisk them to combine. Turn the heat over to medium-low heat. Heat it up until it reaches 75 Celcius (by the time we pour it into the milk the temperature would have dropped to around 70 C or slightly lower, which is the temperature we are aiming for)

The milk should not come to a boil and should not form a skin. If it boils, the protein casein may get destroyed by the high heat. If skin is formed, most likely the pudding will not set because most of the protein is trapped in the skin. Unless you use skim milk, which has no fat and skin is less likely to form. So, stir the milk and heat it up slowly to prevent skin from forming
Pour milk into the bowl:
Quickly stir the ginger juice in the bowl and then stop stirring and pour half of the milk mixture into the bowl at a height and at one go, you don't need to be too gentle here. This will naturally "stir" the juice and the milk to combine them. Once the milk is in, DO NOT stir them or even move the bowl at all. You need to let them sit for 10-15 minutes undisturbed (10 minutes works for me). If you stir, this will break the coagulation process
After 10 minutes:
You can check if it is done or not by very gently placing a small spoon (not too heavy) on top of the pudding. If it doesn't sink, you have successfully made a ginger milk pudding. If it sinks, well, you can try again next time. The texture is very soft and wobbly. It's almost borderline between liquid and pudding. So don't be surprised by how soft it is. That's the way it is

Pay attention to the notes I have written in the post above. This is a simple recipe but very finicky and requires the right conditions for the reactions to happen. Many people have to try it several rounds to get it right (including myself!). So don't get discouraged if it doesn't happen for you in the first round
Serving:
Serve immediately while it's still warm. Consume it after it's freshly made is the best. You can keep it in the fridge for few hours and it holds up pretty well but will start to separate the longer you keep them
Nutrition
Serving:
1
serving
|
Calories:
143
kcal
|
Carbohydrates:
16
g
|
Protein:
6
g
|
Fat:
6
g
|
Saturated Fat:
4
g
|
Polyunsaturated Fat:
0.2
g
|
Monounsaturated Fat:
1
g
|
Cholesterol:
22
mg
|
Sodium:
76
mg
|
Potassium:
287
mg
|
Sugar:
16
g
|
Vitamin A:
273
IU
|
Vitamin C:
1
mg
|
Calcium:
222
mg
|
Iron:
0.04
mg