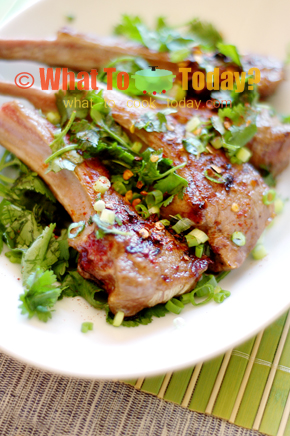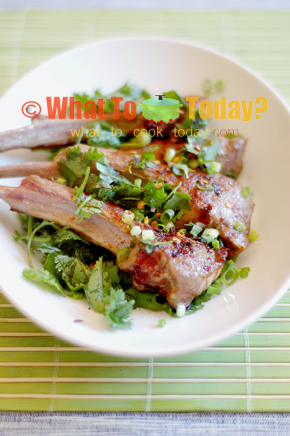 One of my most fond memories from childhood was the late supper we often had. Some food stalls started their business at late hour around 9:00 pm or later. These are the late night street food and I'm always thrilled whenever my dad rode his scooter to somewhere nearby and got all of us some grubs. Sometimes, either my brother or me would walk to nearby places to get them. It's not so much of the eating (though of course I won't deny I love the food we had), it's just so fun sitting together sharing our food sometimes even fought over the food. I might have some noodles, while my brother might have satay and my sister might have something else. Though you may think that's kind of "heavy" eating for late night, this was actually very popular, in fact still is in Asia. At certain streets, the later it is, the more crowd there are coming to have some good food.
When I saw this barbecued lamb chops in Revolutionary Chinese Cookbook by Fuschia Dunlop, the dish reminded me of the late night snacking. This barbecued lamb chops is from Yue Yang, one of the cities in Hunan province in China. People like to go to this barbecue restaurant at the tucked-away corner in the middle of the town to have barbecued meats. The meats are rubbed with Yue Yang style seasonings (five-spice powder, wine, sweet bean sauce, cumin, chili flakes) and then seared on the pan which resulted in a beautiful spice crust. Like, Fuschia Dunlop, I like my meat still pink and juicy inside. Of course, this type of medium rare cooking is not common in China because people should be eating fully-cooked meat. Even my mom agrees to this. I guess it must be the Western influence that has somehow changed my preference, but I really don't mind it because I really enjoy eating it that way.
The barbecued lamb chops are really good. The spices never overwhelm the lamb chops, which I always tell my husband that the lamb chop itself should be the star of the dish without too much this and that. This barbecued lamb chops recipe does exactly that. Try it and you'll be surprised by how good it is.
This recipe is adopted from Revolutionary Chinese Cookbook by Fuchsia Dunlop, published by Norton (US)/Ebury Press (UK). www.fuchsiadunlop.com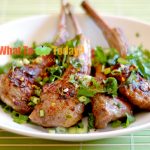 BARBECUED LAMB CHOPS/ 燒 烤羊 排
Instructions
Combine the soy sauce, sweet bean sauce, shaoxing wine, and five-spice powder in a nonmetallic bowl, and then apply to the lamb chops, with a little salt to taste, if you wish. Mix well and leave to marinate for at least 30 minutes

Meanwhile, finely slice the scallion greens. Tear the coriander leaves for the garnish; set aside

Heat a grill pan over a high flame until very hot. Brush the lamb chops with the oil and cook for 2-3 minutes, then flip over and scatter generously with cumin and chili flakes. Continue cooking for 2-3 minutes longer (2 minutes on each side if you like your meat pink and juicy like I do), scattering with scallions when nearly done

Place the chops on a serving dish, sprinkle with a little sesame oil (a couple of teaspoons). and scatter with coriander leaves