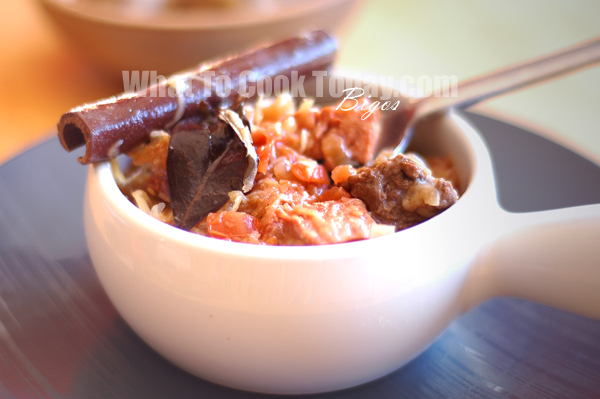 When a country proclaims a certain dish as a national dish, you just have to know that there gotta be reasons why they do so. Bigos is Poland's national dish (as well as Ukranian's). It is a traditional meat stew with typical ingredients may include sauerkraut, pork, sausage, venison, veal, wine, bay leaf and other herbs.
There are probably a lot of bigos recipes out there with different variety, after all, this is a national dish. Bigos is usually served on 2nd day of Christmas. It was no Christmas yet, but I don't see any reason why I should wait until Christmas to eat Bigos lol.
I actually made this dish a day in advance as suggested by the Polish & Russian The Classic Cookbook by Lesley Chamberlain and Catherine Atkinson, because you allow time for the flavor to develop. This recipe is using 4 different type of meats: pork loin, venison, beef and kielbasa sausages (yes..I know! Can't be anymore carnivore than this people!). You can serve it with mashed potato, boiled new potatoes or bread.
One spoon of this stew into my mouth, and I know why bigos is a national dish.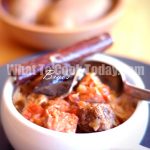 BIGOS
Ingredients
¼

cup

dried mushrooms

1

cup

stoned prunes

8

oz

lean boneless pork loin

8

oz

lean boneless venison

8

oz

chuck steak

8

oz

kielbasa

substitute with other sausage of your choice if you can't find kielbasa

¼

cup

plain flour

2

onions

sliced

3

Tbsp

olive oil

4

Tbsp

dry Madeira

2

lb

can sauerkraut

rinsed

4 to

matoes

peeled and chopped

4

cloves

2-

inch

cinnamon stick

1

bay leaf

½

tsp

dill seeds

2 ½

cups

stock

Salt and freshly ground black pepper
Instructions
Pour boiling water to completely cover the dried mushrooms and prunes in a bowl. Leave for 30 minutes, then drain well

Cut the pork, venison, chuck steak and kielbasa sausage into 1-inch cubes, then toss together in the flour. Gently fry the onions in the oil for 10 minutes. Remove

Brown the eat in the pan in several batches, for about 5 minutes, or until well browned; remove and set aside. Add the Madeira and simmer for 2-3 minutes, stirring

Return the meat to the pan with the onion, sauerkraut, tomatoes, cloves, cinnamon, bay leaf, dill seeds, mushrooms and prunes. Pour in the stock and season with salt and pepper

Bring to a boil, cover and simmer gently for about 2 hours, or until the meat is very tender. Uncover the lid for the last 20 minutes to let the liquid evaporate, as the stew should be more at the thick side. Sprinkle with chopped parsley. Serve immediately with boiled potatoes or bread