As a seafood lover, I can tell you that I don't really care much for a cooked salmon. I like to eat my salmon raw. I'm surprised that my hubby actually feels the same way (another sashimi-maniac). I hardly cooked salmon (besides for Fiorina). You can probably find just few salmon recipes here, including this one I'm posting.
This recipe, salmon kulebyaka, which is a Russian festive dish, is an exception though. I challenged myself to make this recipe because I wanted to see how it turned out and how it tasted. Hubby took the first bite and told me that it's a keeper. It really is. I like how it tasted. The butter, the salmon, the eggs, the dill-flavored rice all encased in a crisp puff pastry- that simply spells delicious.
With this recipe, here I started our journey to the other part of Europe 😉 with Polish & Russian The Classic Cookbook by Lesley Chamberlain and Catherine Atkinson.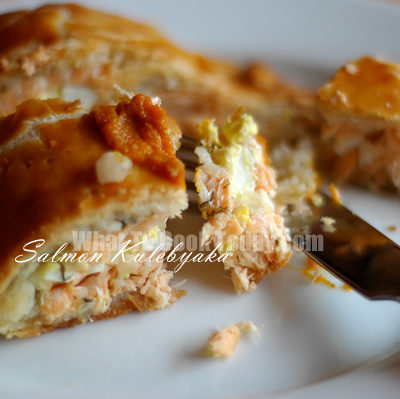 SALMON KULEBYAKA
Ingredients
4

Tbsp/ 2 oz butter

1

small onion

finely chopped

1

cup

cooked long-grain rice

1

Tbsp

chopped fresh dill

1

Tbsp

lemon juice

1

lb

puff pastry

defrosted if frozen

1

lb

salmon fillet

skinned and cut into 2-inch pieces

3

eggs

hard-boiled and chopped

1

egg

beaten for sealing and glazing

Salt and freshly ground black pepper
Instructions
Preheat the oven to 400 F. Melt the butter in a pan, add the finely chopped onion and cook gently for 10 minutes, or until soft

Stir in the cooked rice, dill, lemon juice, salt and pepper

Roll out the puff pastry on a lightly floured surface to a 12-inch square. Spoon the rice mixture over half the pastry, leaving a 1/2-inch border around the edges

Arrange the salmon on top, then scatter the eggs in between

Brush the pastry edges with egg, fold it over the filling to make a rectangle, pressing the edges together firmly to seal

Carefully lift the pastry on to a lightly oiled baking sheet. Glaze with beaten egg, then pierce the pastry a few times with a toothpick to make holes for the steam to escape at several different places

Bake on the middle shelf of the oven for 40 minutes, covering with foil after 30 minutes. Leave to cool on the baking sheet, before cutting into slices. Serve warm