Cambodian sausage/ Saik Krok Khmer is not your typical sausage. It is very well-seasoned with aromatic Southeast Asian spices and herbs, bold in taste, and has a great play of textures
This summer seems like a lot of things need to be replaced in our house. Remember our A/C was out since last week? well, it is still out! In fact, the repair guy just told us it wasn't repairable anymore! We need a new unit! Thank Goodness the weather has been forgiving since yesterday and hopefully throughout the weekend because we sure need time to shop for new unit! Oh well, just an unavoidable part of human life on earth I suppose. Things breaking down. Nothing lasts forever! Even our body deteriorates over time. What do you expect of an over a decade A/C?
Anyway, life moves on and I have been cooking minimally this week because of the A/C and hot weather. This cambodian sausage patties post is long overdue since few months ago. I have so many cooking that I've done since last year that I haven't even posted! geez!
Anyway, these Cambodian sausage patties are favorites in our house. The taste is amazing! Typical Southeast Asian complex and bold flavors! I love every bite of it. There is a great contrast between the soft sausage with the peanuts and mung beans that are in the meat patties.
Recipe is adapted from The Elephant Walk Cookbook by Katherine Neustadt and Longteine De Monteiro
Cambodian Sausage /Saik Krok Khmer
Ingredients
1 ½

lb

ground pork

½

cup

dried split mung beans

(soaked overnight)

½

cup

dried roasted peanuts

3

Tbsp

sugar

2

tsp

salt

1

large egg

(beaten)
Spice paste:
1 ½

stalk lemongrass

(thinly sliced)

1 ½

Tbsp

chopped fresh cilantro stems

3

cloves

garlic

(chopped)

1

large shallot

(chopped)

6

kaffir lime leaves

(use scissor to cut the middle veins out)

1-

inch

galangal

(peeled)

1

dried chili de arbol

4

Thai chili

6

Tbsp

coconut milk
Instructions
Place the soaked mung beans and peanuts in a food processor and coarsely chopped them. Scoop out and set aside

In the same food processor, grind all the ingredients for spice paste in a blender into space consistency. You may add a bit more coconut milk if you need to get it going

Mix the mung bean mixture, the spice paste, and ground pork and the rest of the ingredients

Wet your hands and shape 3 to 4 tablespoon of the sausage mixture into patties about 1/2-inch thick

Preheat a large non-stick skillet over medium to high heat with 1 Tbsp of oil. Pan fry the patties until they are golden brown, about 8 minutes on each side

Serve with rice, bread, or salad, and pickles if you wish. I happened to have pickled carrots (see note)
Notes
Recipe for pickled carrots are here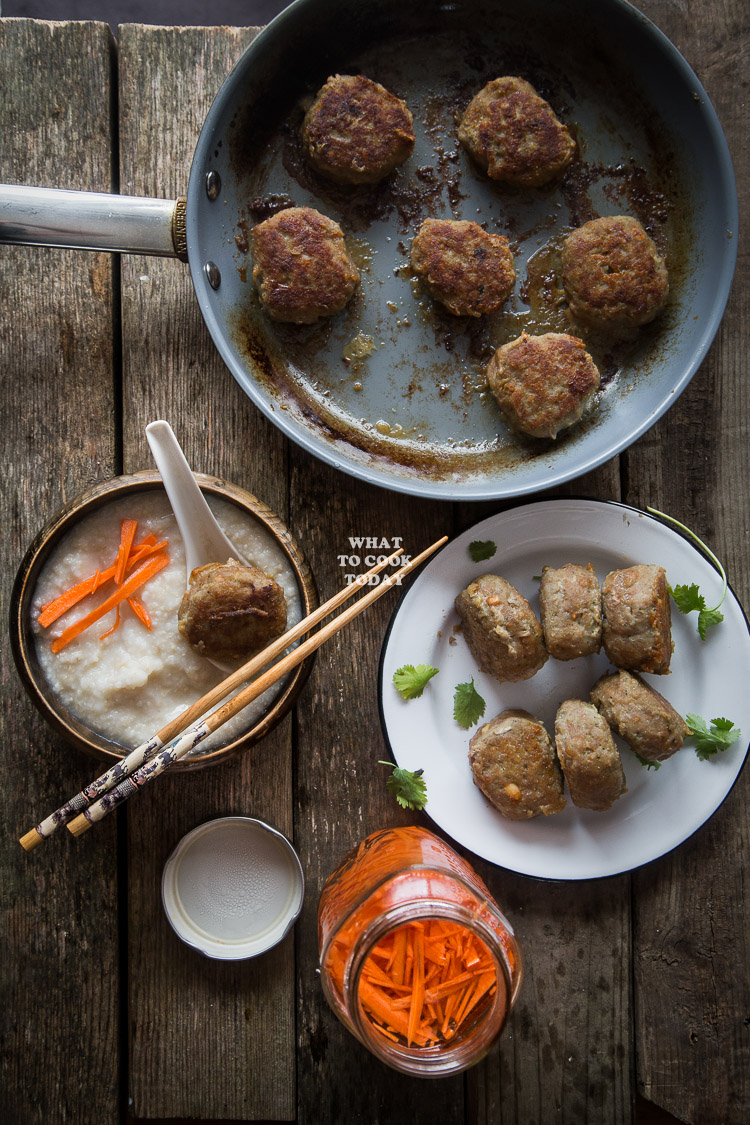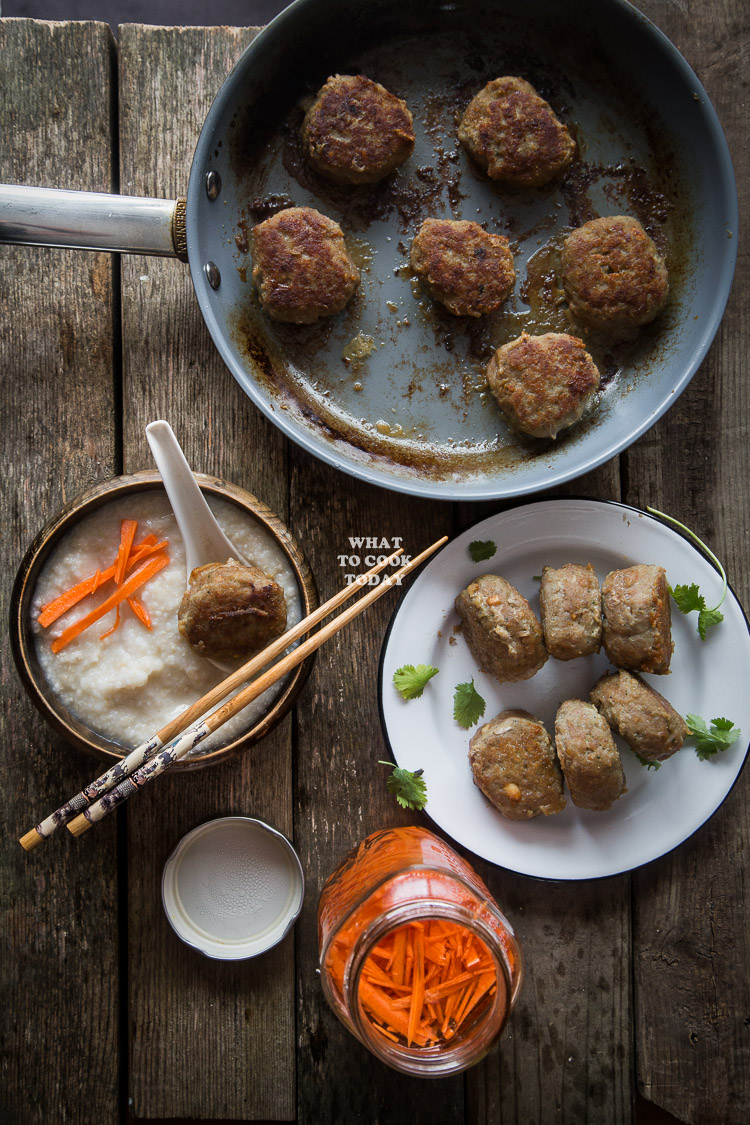 Love to eat them on their own or with the pickled carrots! What an explosion of taste!