Soft and fluffy spiral mantou (steamed buns) are favorites from kids to adults. They are fun to make and have a super soft fluffy texture and pretty spiral patterns.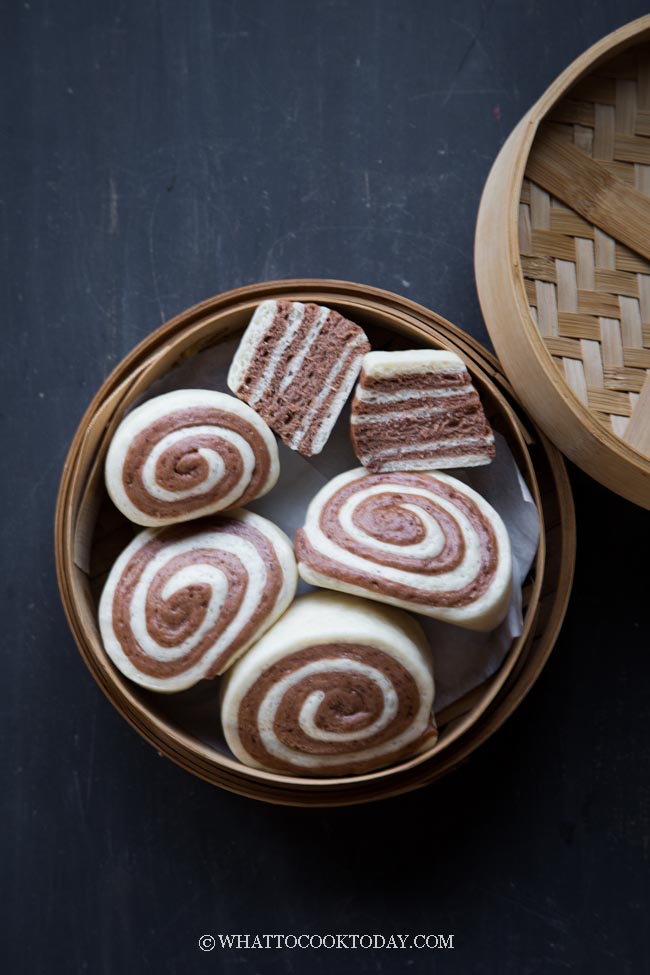 MILK SPIRAL MANTOU RECIPE
Mantou or Chinese plain steamed bun was my childhood favorite and still is. I remember having that for afternoon tea snacks. It's like the soft and fluffy steamed buns, but have the half-circle shape. Mantou is a staple of the Chinese. It can be eaten on its own or with some sweet spread like jams, condensed milk, etc or to accompany savory dishes. Mantou can be steamed or deep-fried too. This version I made here is spiral mantou. A spiral pattern is created by using doughs with two different colors: one plain dough and one chocolate dough using cocoa powder. It's a great way to add more visual and to infuse flavors.
IDEAS FOR COLORS AND FLAVORS
I suggest sticking with the powder form of flavoring for ease and simplicity. You only need to make one dough that you can split into two equal portions and add flavoring to one of them. If you want to use liquid or mashed veggies like beet juice, mashed pumpkin, you will need to make two doughs separately instead of making one main dough.
FOR NATURAL FLAVOR AND COLORING:
GREEN: Matcha powder
RED/PINK : Beetroot powder
CHOCOLATE: Cocoa powder
BLACK: Charcoal powder, black sesame seeds powder
Of course alternatively, you can always use gel food coloring

HOW TO SHAPE BASIC MANTOU AND SPIRAL MANTOU STEP-BY-STEP GUIDE
FOR BASIC MANTOU
Just roll the big dough into a long log and cut into 8 equal portions with a sharp serrated knife.
FOR SPIRAL MANTOU
1. PREPARE DOUGH AS DIRECTED IN THE RECIPE
I find it easier to prepare the dough twice than to prepare one large dough and split it into half and then to put it in color. It's much harder to color the dough evenly this way


2. ROLL PLAIN DOUGH INTO A THIN RECTANGLE


3. ROLL THE COCOA DOUGH INTO A THIN RECTANGLE TOO, ABOUT THE SAME SIZE WITH PLAIN DOUGH


4. PLACE THE COCOA DOUGH ON TOP OF THE PLAIN DOUGH (YOU CAN DO THE OTHER WAY AROUND TOO)


5. STARTING FROM THE SIDE NEAR YOU, ROLL THEM UP TIGHTLY INTO A LONG LOG
6. CUT INTO 8 EQUAL PORTIONS (you will have two extra ends)
IMPORTANT NOTE: Use a serrated knife (like a bread knife) to cut. I used to use dough cutter and it's not a cleaner cut and the pattern is also "skewed" because the cut is not clean.

7. PROOF
Place the cut spiral mantou on parchment papers. Cover with a clean cloth and place at a warm place to let them proof to about 50% their original sizes. Do not overproof the dough or your mantou will wrinkle and not as smooth. Proceed to steam as directed in the recipe below
You can do a quick finger test to see if the dough is proofed or not. Gently push down on the dough
The indentation will stay but will bounce back slowly. If it doesn't bounce back, you have over-proofed the dough. If it bounces back right away, you need to continue to proof it a bit longer
8. STEAM
Bring the water in the steamer to a boil. Wrap the lid with a cloth. Put the steamed buns in there and lower the heat to medium. Close the lid but leave about 1/4-inch gap to let some steam escapes. Steam for 15 minutes like this. This helps to prevent steamed buns from wrinkling and collapse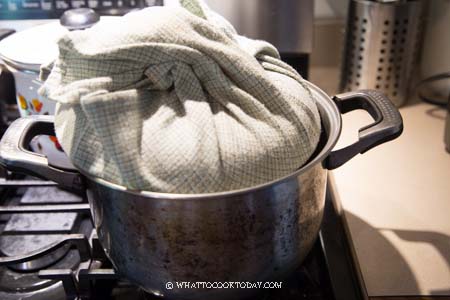 9. DO NOT RUSH TO OPEN THE LID
When they are done steaming, turn off heat and let them sit in the steamer for 5 minutes with the lid position remains ajar. After that remove and put on cooling rack. This will prevent the bottom of the steamed buns from getting soggy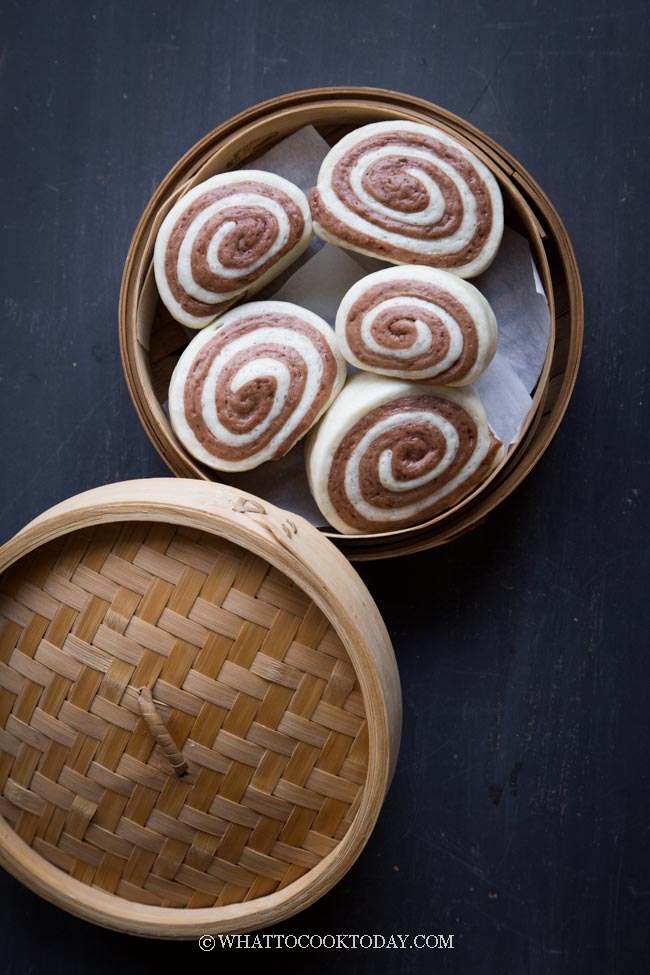 WHAT TO SERVE WITH MANTOU
Plain mantou can be eaten with a sweet spread like fruit jam, 10-minute kaya jam, or plain. Mantou can be served with savory dishes too, just like in the Western culture, where bread or rolls are served as a side dish.
My kids love any kind of steamed buns, but these…they love these even more! Perhaps it's the spiral of colors? These buns are just slightly sweet. The kids love to eat them on their own without any spread!

HOW TO MAKE SOFT AND FLUFFY MANTOU WITH NO WRINKLES
I wrote at length in this How to Make Soft and Fluffy Asian Steamed Buns on how you can make soft and fluffy steamed buns without wrinkles if you are interested to read more. In a nutshell, these are what you need to do:
1. Knead the dough until it's smooth and elastic
2. Start with room temperature milk so the yeast won't work so quickly producing all the gas and bubbles while you are shaping the mantou
3. Do not overproof the mantou
4. Steam over MEDIUM heat with the lid ajar during steaming
5. Let the steamed mantou sit in the steamer for 5 minutes before fully opening the lid
DID YOU MAKE THIS SOFT FLUFFY SPIRAL MANTOU RECIPE?
I love it when you guys snap a photo and tag to show me what you've made 🙂 Simply tag me @WhatToCookToday #WhatToCookToday on Instagram and I'll be sure to stop by and take a peek for real!


Recipe was originally published in 2017 and now updated with new photos, videos, and new details on steaming .
Soft and Fluffy Spiral Mantou (Chinese Steamed Buns)
Ingredients
For cocoa flavor (or any flavor you like)
Instructions
PREPARE PLAIN DOUGH:
Place the flour, instant yeast, salt, sugar, and cooking oil, in a mixing bowl. If you are using a stand mixer, use a dough hook attachment. Gradually add in milk. You may need more than 90 ml or not. Add more teaspoon by teaspoon until the dough comes together and continue to knead for 10-12 minutes on speed 2
PREPARE COCOA DOUGH:
Place the flour, instant yeast, sugar, and cooking oil, matcha/cocoa powder in a mixing bowl. If you are using a stand mixer, use a dough hook attachment. Gradually add in milk. You may need more than 90 ml or not. Add more teaspoon by teaspoon until the dough comes together and continue to knead for 5 minutes. If you are kneading by hands, about 15-20 minutes until the dough is no longer sticky and smooth. Cover and let it rest while you roll out the plain dough
HOW TO SHAPE MANTOU:
Dust your work surface with some flour. Roll out the white dough into about 12 x 8 inch rectangle with a rolling pin

Now we are going to roll out another dough, dust your work surface with some flour again. Roll the cocoa dough into roughly the same size as the plain dough. Place this dough on top of the plain dough

Roll the dough up, starting from the side near you into a long log. Seam side down

Use a serrated knife like bread knife to cut into 8 pieces of mantou. I used to use dough cutter and that is a bad idea as it doesn't give a very "clean" cut and it squeeze the shape. We need a sharp serrated knife, such as bread knife

Place this freshly cut mantou on top of parchment paper (seam side down)
PROOFING:
Cover and let the dough rise at room temperature or at a warm place.  If it's winter where you are, you can use your oven "bread proof" function to let them proof in there, or simply turn on your oven to the lowest temperature and then turn off and after 15 minutes, place the shaped buns in there to let them proof. They won't necessarily double in size, but at least puff up to about 50% of the original size. This may take about 30 mins to 1 hour at a warm temperature. Don't go by the time however
STEAMING:
Most likely your steamer won't be able to accommodate steaming all buns at one go. You may need to steam in 2 batches, which means, the rest of the batches will sit longer and continue to proof while waiting for the steamer. Not good for the buns! Here's what you can do: Make sure the cover them with plastic wrap and then place them in the refrigerator to slow down the yeast activity or halt it all together until they are ready to be steamed

Bring the water in your steamer to a boil. Wrap the lid of your steamer with a kitchen towel to prevent moisture dripping back on the steamed buns as this will create "burn" spots

LOWER THE HEAT TO MEDIUM. Place the buns in there, leaving about 1-inch space in between. Cover with a lid but leaving it about 1/4-inch gap for some steam to escape. Steam on medium heat for 15 minutes. This is especially important if you see that you have overproof the steamed buns (the steamed buns have doubled in size and they have widened to the side). As long as you steam them like this, the buns will not wrinkle and collapse later when you take them out from the steamer

Turn off the heat. DO NOT OPEN THE LID of the steamer. Let the buns sit there for 5 minutes like this. The buns will not sink or wrinkle due to the sudden change in temperature
COOLING:
Remove the buns to wire rack to let them cool down. This is to ensure the bottom of the steamed buns will not be wet and soggy
STORING:
If you make extra and plan to store them, place them on a baking sheet, not touching each other, and then put the entire tray inside the freezer for about 1 hour. They will harden, but not completely frozen yet. Transfer to a freezer bag and they will not stick to each other anymore. Try not to keep for more than 1 month
REHEATING:
They can go straight from freezer to steamer when you ready to eat them. Steam on high heat for 5 minutes and they are as good as new
Recommended products:
Check out this Soft and Fluffy No-Yeast Chinese Steamed Buns. These are so good and super easy to make!