Soft, fluffy, and lightly sweetened hua juan steamed buns are infused with mashed pumpkin and shaped into flowers.
SOFT FLUFFY PUMPKIN STEAMED BUNS
The couple months I had been making lots of basic steamed buns to make sure my soft fluffy steamed buns are replicable at others' kitchens. The kids didn't seem to mind it as steamed buns are their favorites, especially my daughter. She loves them plain or filled! Pumpkin season is not quite over yet and I got several packs of mashed pumpkin that I froze in the freezer. This pumpkin flower steamed buns are made using the basic recipe I mentioned above and added the mashed pumpkin. The steamed buns are soft, lightly sweetened, and have a mild flavor of pumpkin and absolutely vibrant with no artificial coloring.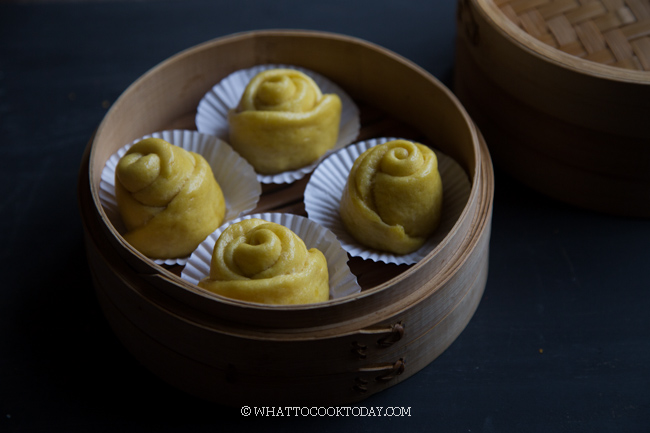 HOW TO MAKE PUMPKIN PUREE OR MASHED PUMPKIN FROM A FRESH PUMPKIN
1. COOK THE PUMPKIN:
-Using Instant pot pressure cooker
Cut the pumpkin into wedges. Remove seeds. There's no need to remove the skin. Pour 1 cup of water into the inner pot of instant pot. Place the collapsible steamer in there. Arrange your pumpkin wedges in there. Seal the lid. TUrn the steam release valve to seal. Press pressure cooker, high pressure and set timer for 5 minutes for small wedges and 8 minutes for large wedges. Wait 5 minutes and then fully release pressure
-Using a steamer
Cut the pumpkin into wedges. Remove seeds. There's no need to remove the skin. Bring the water in the steamer to a boil. Place pumpkin in the steamer and steam on high heat for 10-15 minutes or until the pumpkin is fork-tender and can be easily mashed
2. SCRAPE THE PUMPKIN FLESH
Use a spoon to easily scrape the flesh of the pumpkin and discard the skin
3. MASH OR PUREE THE PUMPKIN
If you want to make puree, simply put the pumpkin in a blender and blend away into a puree. Do not add any liquid, unless you are using it for a recipe. If you want to mash the pumpkin, use a fork to simply mash it
4. STORE THE EXTRA
I freeze the mashed pumpkin in 100 gr portion in a freezer bag. Push all the air out from the freezer bag and pack it flat so you can lay them flat in the freezer. They can be kept for 3 months in the freezer
CANNED PUMPKIN VS FRESH MASHED PUMPKIN
Canned pumpkin is widely available here in the U.S. If you don't feel like cutting your own pumpkin and then steam and mash it, yes, you definitely can use canned pumpkin. You can substitute with equal amount called for in the recipe.

HOW TO SHAPE THE FLOWER STEAMED BUNS
Once your dough is done with the 1st rise, here's what to do next:
1. Divide the dough into 48 small pieces
2. Keeping the rest covered, take 3-4 small doughs (I used 4 doughs in this example, I prefer 3 as the buns won't be too big) and roll each dough into about 4-inch circle and then overlap them by about 1-inch. Just gently press on the overlapped area so they won't come loose when you roll it up


3. Roll it up like a Swiss roll from the short side


4. This is how it looks like


5. Cut the roll into two with a sharp knife or dough scraper/knife


6. This will give you 2 large flower rolls


7. Place the cut-side down on a parchment paper or muffin paper

Easy as that 🙂 My daughter was all head over heels with this pumpkin flower rolls. I guess we do eat with our eyes first, don't we?

WHAT TO SERVE WITH THESE PUMPKIN FLOWER ROLLS
These rolls are so good on its own if you ask me. It's just lightly sweetened. My daughter like to eat them with honey, fruit spread/jam, my easy kaya jam, nutella. They can be served with savory dishes too, just like you would your regular dinner rolls.
HOW TO STORE AND REHEAT EXTRA STEAMED BUNS
Let the steamed buns cooled down completely. I usually individually wrap them with a plastic wrap and then place them inside a freezer bag. They can be kept in the freezer for up to 1 month. When ready to eat, they can go straight from freezer to the steamer. Steam for about 5 minutes and they are as good as new.

The best part is tearing the steamed buns apart and stuff it into the mouth!!!

This blog post contains affiliate links. I earn a small commission when you made purchase at no extra cost to you. Learn more.
Soft and Fluffy Pumpkin Hua Juan (Flower Steamed Buns)
Soft, fluffy, and lightly sweetened hua juan steamed buns are infused with mashed pumpkin and shaped into flowers.
PIN RECIPE
PRINT RECIPE
Ingredients
For the dough:
4

gr

instant yeast

300

gr

cake flour

40

gr

sugar

more if you want it sweeter

200

gr

mashed pumpkin

1

tsp

oil

50

ml

room temperature water

to start with
Instructions
Making the dough:
Place all ingredients for the dough in a mixing bowl. Use the dough hook attachment and start kneading the dough. Depending on how much liquid is in the mashed pumpkin, you may need a bit more all-purpose flour so the dough can come together into a non-sticky smooth dough or if the dough is too dry, you may add a bit water, teaspoon by teaspoon if needed

Knead the dough on medium speed for 5 minutes. If you are kneading by hands, about 10-15 minutes. Knead until the dough is smooth and no longer sticky
Shape:
Roll the dough into a long log. Cut into 48 roughly equal pieces

Keep the rest of the small doughs covered. Take 3 doughs. Work with 1 dough at a time. Flatten the dough with your palm and then roll it out into about 4-inch circle

Repeat with the other 2 doughs. Overlap each circle by about 1-inch. Gently press on the overlapped part to secure

Roll it up from the short side like rolling a Swiss roll

Cut it into two. Place the cut side down on a parchment paper or muffin paper. Repeat with the next 3 sets of the dough
Proofing:
Keep the flower shaped dough cover with a cloth and let them rise until about 50% of its original size, may take about 15-20 minutes or longer. They don't have to double in size. Do not overproof the dough
Steaming (you may need to steam in batches):
Most likely your steamer won't be able to accommodate steaming all buns at one go. You may need to steam in 2-3 batches, which means, the rest of the batches will sit longer and continue to proof while waiting for the steamer. Not good for the buns! Here's what you can do: Make sure the cover them with plastic wrap and then place them in the refrigerator to slow down the yeast activity or halt it all together until they are ready to be steamed

Bring the water in your steamer to a rolling boil

Arrange the buns in the steamer basket (if you use bamboo basket). Wrap the steamer's lid with a cloth (not needed with bamboo basket). Close the lid and lower the heat to LOW (not medium, LOW!) and let the buns steamed for 5 minutes

After 5 minutes, turn off the heat and let them sit for another 1 minute so the steamed buns won't shrink due to sudden temperature change. Remove from the steamer to a cooling rack so the bottom of the buns will not be wet and soggy

Continue to steam the rest of the buns