Homemade fortune cookies from scratch are nothing like store-bought ones. They are actually ten times better!! All the tips you need to know! It's going to be a conversation piece for any occasion you celebrate.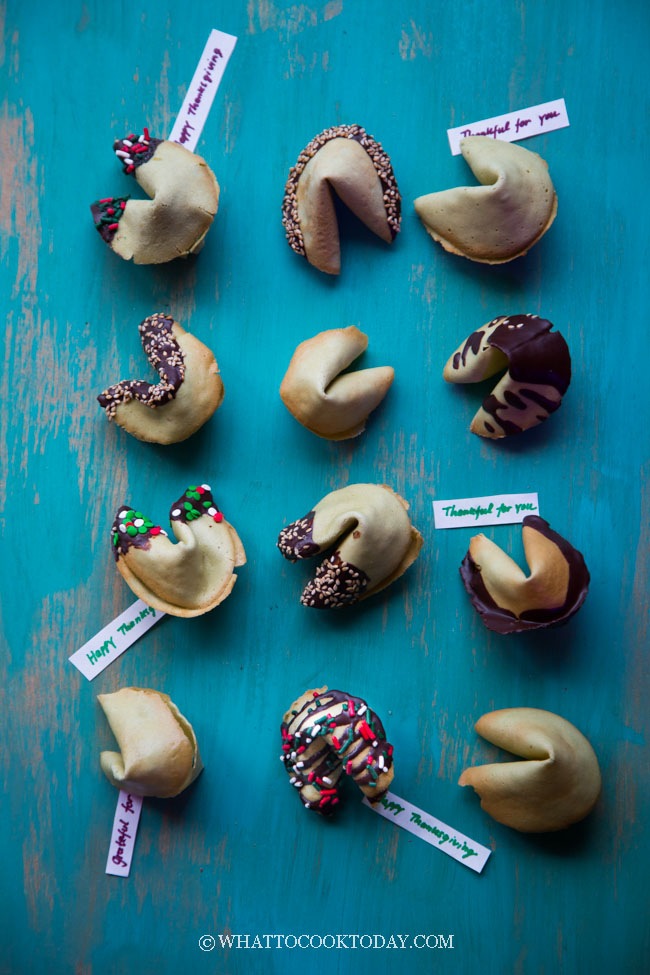 CUSTOM FORTUNE COOKIES
Most people in Asia don't really know about fortune cookies (I didn't until I come to the U.S.). Fortune cookie is not a tradition or culture from China but from what I read, it could be traced to the Japanese who has a similar cookie with a paper message not put inside of the cookie but rather wedged at the bent of the cookie. The Chinese sort of took over the production of the fortune cookies during World War II because most Japanese Americans were forced to the camps during that time. The fortune cookies are made with flour, sugar, egg whites, butter, flavoring, and then baked, a piece of paper is put on the baked cookies and quickly fold into shape while the cookies are hot.
HOMEMADE FORTUNE COOKIES ARE SIMPLY THE BEST
If you are reading this post, I'm sure you probably have tasted fortune cookies before at the Chinese restaurants here in the U.S. My kids and both my husband and I never really cared for them UNTIL I baked these matcha fortune cookies. My husband was even more surprised by how good homemade fortune cookies actually are!
They really taste nothing like the commercial ones! They just taste like delicious cookies! Fortune cookies are fun to make! It's like doing a craft and you get to eat your craft at the same time. I truly enjoy making them to be honest 🙂 Besides, these Thanksgiving fortune cookies are really going to be a great icebreaker and conversation piece after the meal!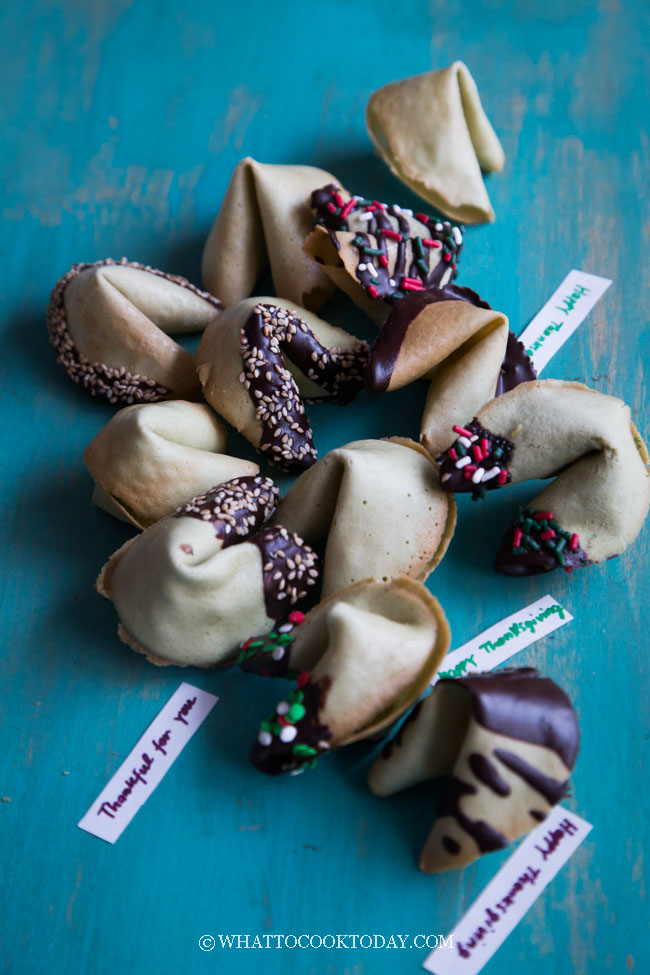 INGREDIENTS
Basic homemade fortune cookies only requires a handful of ingredients to make: egg whites, all-purpose flour, butter, flavoring (matcha powder in this case), and sugar. You probably have all these ingredients already in your fridge and pantry.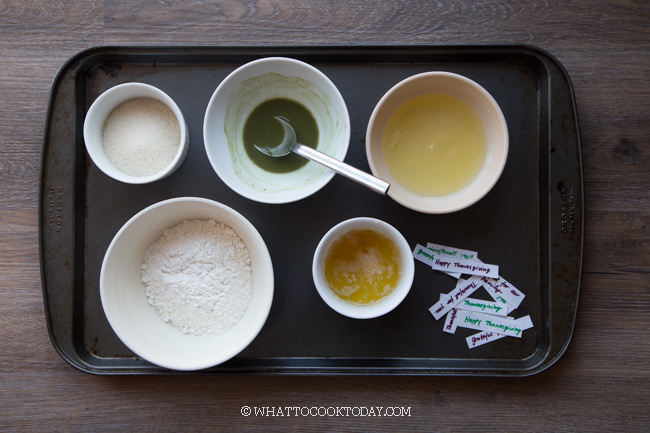 IMPORTANT TIPS YOU NEED TO KNOW TO MAKE FORTUNE COOKIES SUCCESSFULLY AT HOME
These fortune cookies are not difficult to make but do expect that first few cookies might fail on you and you might start cursing at me, but know that it's normal. Once you get the hang of it, you will flow right through! I've been there!
1. Write your fortune first
Seriously! Get this done before you start the baking. You WILL NOT have time to do this once you start the baking process. You'll end up getting super frustrated
2. Make sure you have time to do this.
They can be time-consuming if making them alone because you can only bake 2-3 cookies at the time
3. You need to work fast
You need to work fast and fold them into shape while they are hot or the cookies will set and you can shape them anymore. This is why it's important to only do no more than 3 cookies at a time. I actually highly recommend doing only 2 cookies at a time
4. Overbaking and underbaking
Overbaking and you won't be able to shape your cookies because they set so quickly. Underbaking and your cookies will be soft and when you shape them, they break. You need to come to the middle!
5. Use a silicone mat
Trust me it will make your life so much easier, don't even bother with parchment paper!
6. Only decorate the cookies after they have cooled down and turn hard and crispy or the cookies will turn soggy from soaking up the warm chocolate
USEFUL TOOLS TO MAKE FORTUNE COOKIES
1. Silicone mat – to prevent cookies from sticking to the baking sheets
2. Offset spatula – to easily loosen the cookies from the silicone mat and flip them over
3. Muffin tin – to hold the shape of the fortune cookies while cookies are cooling down
CUSTOMIZE FLAVOR
You can add fun colors to the cookie batter to make them more fun and vibrant. I used matcha green tea powder for flavoring and subtle green color.
Flavor idea: cocoa powder, red beets powder, charcoal powder, etc. and gel food coloring to add some fun colors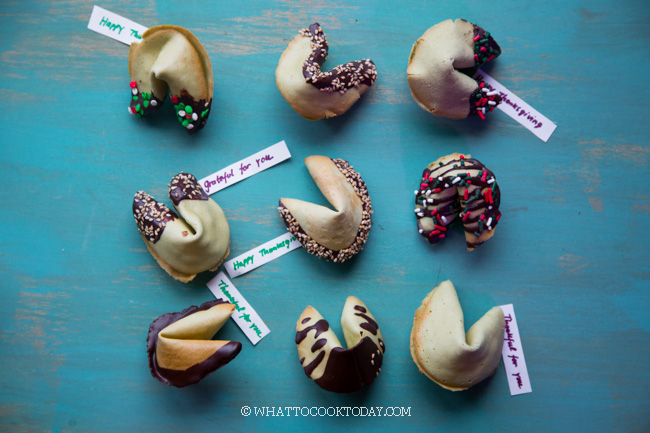 TIPS FOR THANKSGIVING MESSAGE FOR FORTUNE COOKIES
1. Size of paper
Cut out a paper about 4 inches in length and 1/2 inch in width. It's not too big and not too small but enough for you to write something
2. Message
I just write a few different messages like : Happy Thanksgiving, Grateful For You, Thankful For You. But you can write jokes, trivia questions, or fun facts about Thanksgiving or turkey. I've seen something like:
"The State of California consumes most Turkey"
"Why did turkey get arrested?" FOWL play
"What is a baby turkey called? A poult
These are just examples. Google it and you'll have more ideas
HOW TO MAKE FORTUNE COOKIES WITH PAPER INSIDE FROM SCRATCH
Remember this: You need to get everything ready within reach, work fast and smart
STEP ONE: PREHEAT OVEN AND PREPARE THE BATTER
1. Preheat oven to 340 F. Beat the egg whites until frothy, not stiff!
2. Add sugar, matcha paste, melted butter, and flour to the egg whites. Stir just until the flour disappears and the batter is smooth. The batter is semi-thin and spreadable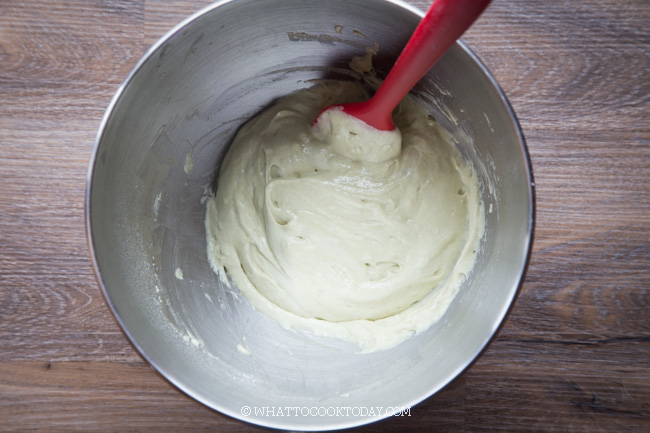 STEP TWO: BAKING
1. Scoop about 2 teaspoonfuls of the batter and use the back of a spoon and spread it out evenly into about 4-inch circle. Repeat with another one


2. Place this in the oven and set the timer (use timer on your phone) to 5 minutes. This is just an estimate time. If your cookies are smaller you may need less than 5 minutes. If you see the edge has golden brown color but the middle is still pale, the cookies are ready


STEP THREE: GET EVERYTHING YOU NEED READY AND SHAPE THE COOKIES
This means you need to have your turner, fortune, muffin tin, a cup or bowl ready within reach
1. Get them out of the oven and quickly grab a spatula to turn the cookie upside down. Loosely fold it in half to form a semicircle and quickly insert the fortune you've written.


Place the straight part of the semicircle at the edge of a cup or bowl and gently fold it down to form a fortune cookie shape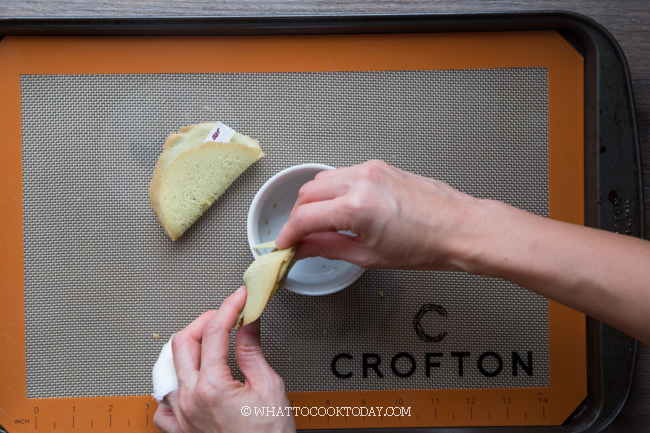 2. Place this inside a muffin tin to help hold its shape. Quickly repeat with the other one. Now do you see why I recommend not doing more than 2? You will drive yourself crazy if you do 🙂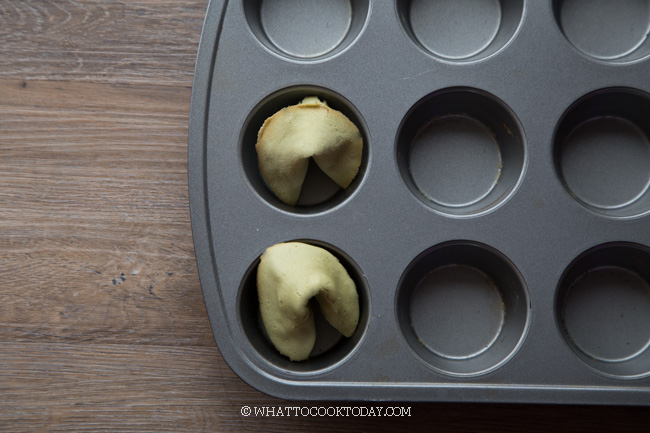 STEP FOUR: MELT CHOCOLATE AND DECORATE
1. Bring a small pot of water to a boil and then set a bowl large enough to sit on top of the pot and lower the heat to simmer. The chocolate will slowly melt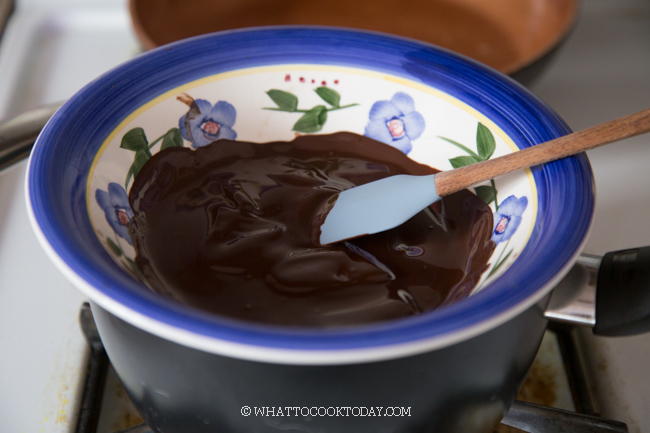 2. Dip the cookies in the chocolate, decorate with sprinkles and/or sesame seeds and then place on a cooling rack lined with parchment paper to let the chocolate set and solidify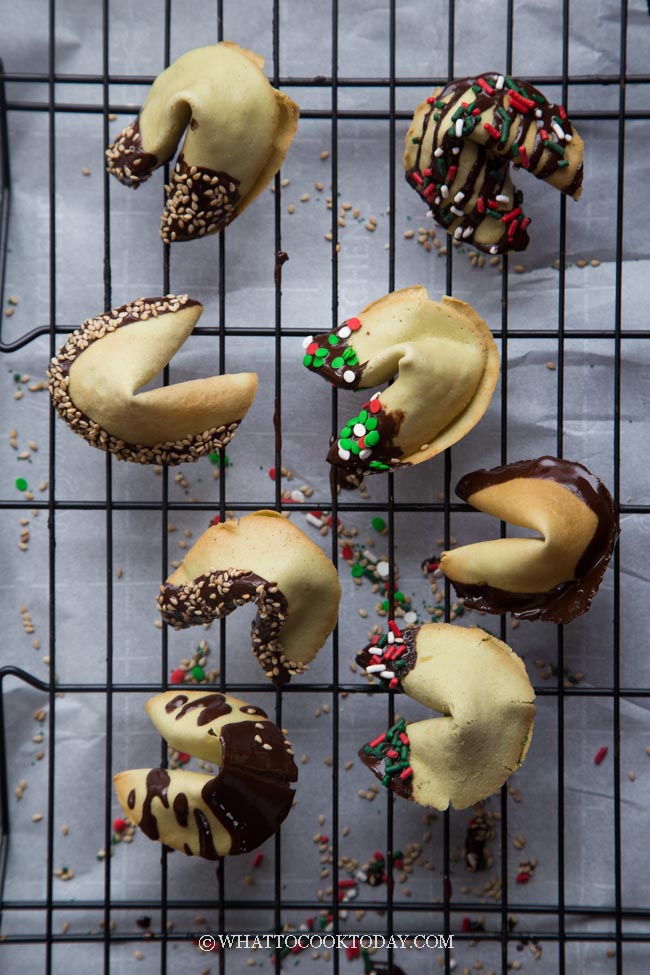 Even though I said Thanksgiving fortune cookies but really you can customize the message for any occasion like Chinese New Year, Valentine's Day, Birthday, Christmas, or really..any parties really!
So what do you think? Is it worth making? I would tell you yes!! It can be time-consuming and you really need to work fast and also, there's that very high chance that you fail for the first few cookies, BUT, fret not, you will breeze through it once you get the hang of it!! I failed the first 4 and after that, I was like a machine LOL! Now, I'm thinking about making more 🙂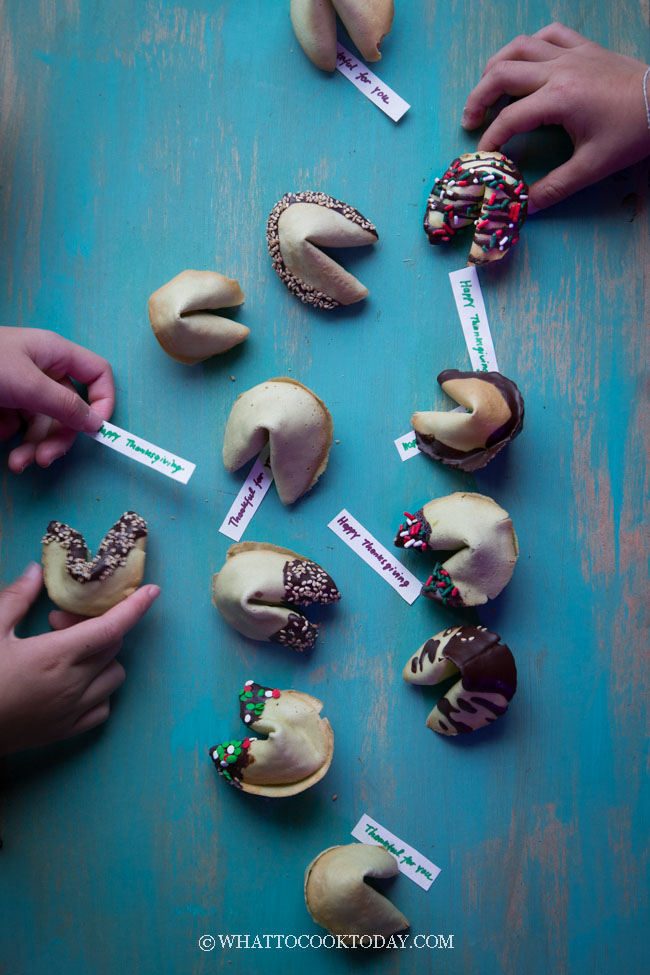 TROUBLESHOOTING
Cookies are not crisp
The cookies will crisp up after they have cooled down completely, if they are still not crispy, especially in the middle part, there could be a few possibilities:
You spread the batter too thick and the middle isn't cooked through. You can put them back in the oven and bake them at a lower temperature at 275 F for 5-7 minutes. You will need to reshape it after baking as the cookies may not hold their shapes.
You may need to adjust your oven temperature. The edge cooks way faster than the middle. You can try lower the temperature to 325 F and try to bake for 8-9 minutes and observe
Did you make this fortune cookie recipe?
I love it when you guys snap a photo and tag it to show me what you've made 
 Simply tag me @WhatToCookToday #WhatToCookToday on Instagram and I'll be sure to stop by and take a peek for real!

I have updated the recipe to a better version on November 20,2022. The cookies stay crispy  for days when stored in an air-tight container.
How To Make Fortune Cookies From Scratch (with Paper Inside)
Ingredients
To decorate (optional):
56

gr

baking chocolate

chopped

Sprinkles

White sesame seeds
Useful tool:
Instructions
This is quite labor intensive as you can only do 2 at a time. If you have someone to help you, that would be the ideal scenario

You can also draw two 4-inch circles on parchment paper to be used as a template and put this underneath a silicone mat to help you make cookies with consistent size

If you don't have caster sugar, put regular granulated sugar in a food processor or blender and process until they are fine in texture
Prepare cookie batter:
Preheat oven to 340 F (170C) for a conventional oven. For a convection oven, lower by 20 F or 15 C. Mix matcha with water into a paste. Set aside

Place egg whites in mixing bowl. Use a mixer or a balloon whisk to beat the egg whites until frothy. Just frothy, don't beat it until stiff, we are not making chiffon cake or French macarons 😉

Add sugar, vanilla extract, oil, and all the flour/starches into the egg whites. Stir just until the flour disappears and the batter is smooth, do not overmix as this will make your cookies chewy and tough. The batter is semi-thin and spreadable
Baking:
Get your spatula, fortune messages, and a cup or bowl ready near you. Line your baking sheet with a silicone mat and slip the template that you make (if you make one that is). Scoop about 2 teaspoonfuls of the batter and use the back of a spoon or an offset spatula to spread it out evenly into about a 4-inch circle. You don't want it too thick or too thin. Too thick and your cookies will be chewy in the middle, too thin and it breaks easily. Repeat with another one. You have two. Remove the template if you use 

Place this in the oven and set the timer (digital timer if possible) to 9 minutes. This is just an estimated time. If your cookies are smaller or thinner you may need less than 9 minutes. If you see the edge has golden brown color but the middle are still pale, the cookies are ready. If they are still pale all over, let them bake maybe an extra 1 minute and then take a look again
Shaping:
Get them out of the oven and quickly grab an offset spatula and run through the edge to loosen it up and turn the cookie upside down so the smooth side is facing down now. Loosely fold it in half to form a semicircle and quickly insert the fortune you've written. Place the straight part of the semicircle at the edge of a cup or bowl and gently fold it down to form a fortune cookie shape

Place this inside a muffin tin to help hold its shape. Quickly repeat with the other one. Now do you see why I recommend not doing more than 2 ? You will drive yourself crazy if you do 🙂
Continue baking with another set of two cookies:
Your baking sheet most likely is still warm from previous baking, but I found that this is not an issue as long as it's not too hot. Let it cool down for about 5 minutes before working on the next batch
Melt some chocolate (if you want to):
Once you are done with all the cookies, bring a small pot of water to a boil and then set a bowl large enough to sit on top of the pot and lower the heat to simmer. The chocolate will slowly melt
Decorate:
Only decorate the cookies after they have cooled down completely. Dip the cookies in the chocolate, decorate with sprinkles and/or sesame seeds and then place on a cooling rack lined with parchment paper to let the chocolate set and solidify
How to store:
Let them cool down completely and then store in air-tight container. They can stay crispy for about 2-3 days
Nutrition
Serving:
1
cookie without decoration
|
Calories:
78
kcal
|
Carbohydrates:
10
g
|
Protein:
1
g
|
Fat:
4
g
|
Saturated Fat:
2
g
|
Polyunsaturated Fat:
1
g
|
Monounsaturated Fat:
2
g
|
Trans Fat:
0.01
g
|
Sodium:
7
mg
|
Potassium:
56
mg
|
Fiber:
1
g
|
Sugar:
5
g
|
Calcium:
7
mg
|
Iron:
1
mg