Make this super easy Instant Pot char siu using pork ribs and that is perfectly tender and sticky. Finger licking food for sure!

COOKING THE WHOLE RIBS IN INSTANT POT
I love cooking the whole ribs in Instant Pot because it is so convenient and I can pretty much set and forget. Never really a big fan of cooking the whole ribs in a grill or oven. This super easy Instant Pot char siu ribs come out perfectly tender with that sweet and sticky char siu sauce smothered on it.

INGREDIENTS FOR INSTANT POT CHAR SIU RIBS
1. PORK RIBS
You can use either baby back ribs or spare ribs. Spare ribs are meatier and fattier if that's what you prefer. Spare ribs usually are bigger and took a bit longer to cook too. They are less expensive compared to baby back ribs too. I use baby back ribs in this case.
2. AROMATICS: GARLIC AND ONION
My mom likes to include this in her char siu sauce, which adds an extra punch to the sauce. You can use garlic and onion powder too if are really "lazy" 😉 (not judging).
3. HOISIN SAUCE
Hoisin sauce is widely available these days. So you may not need to hunt it down at Asian grocery store. It has a sweet and savory taste profile.
4. OYSTER SAUCE
Oyster sauce adds that mild umami profile to the sauce. You can definitely find this at the Asian store.
5. COOKING WINE
Usually the Chinese will use Shao Shing (Shao Xing) wine, but you can use dry sherry or Japanese sake.
6. CHINESE FIVE-SPICE POWDER
A little goes a long way with Chinese five-spice powder. It is usually made with fennel seeds, cinnamon, cloves, Sichuan peppercorns, and star anise.
7. HONEY
Honey is needed here to add sweetness and to make the sauce shiny and sticky.
HOW TO MAKE INSTANT POT CHAR SIU RIBS
1. PREPARE CHAR SIU SAUCE
Place onion and garlic in a food processor and finely chop them. Mix this with the rest of the char siu sauce ingredients and transfer to a saucepan. Cook this over medium heat until sugar melted and the sauce is bubbly. Remove from the heat.


2. PRESSURE COOK THE RIBS
Pour in 1/2 cup of water into the inner pot of instant pot. Place a trivet in there and place the ribs in a standing position. Cover the lid and press "pressure cooker" and make sure it's on high pressure. Set timer to 30 minutes. If you really want it to fall off the bone tender, 40 minutes will do. Once the timer is done, wait 10 minutes and then release pressure.


3. BROIL THE RIBS
Transfer to a rimmed baking sheet lined with aluminum foil, bone side down.


Brush with half of the char siu sauce all over.


Let the ribs broil on low until the sauce is bubbling and have a nice brown but not burn. Remove from the oven and brush with the remaining sauce and serve.

The ribs came out tender and we just couldn't stop licking those fingers!!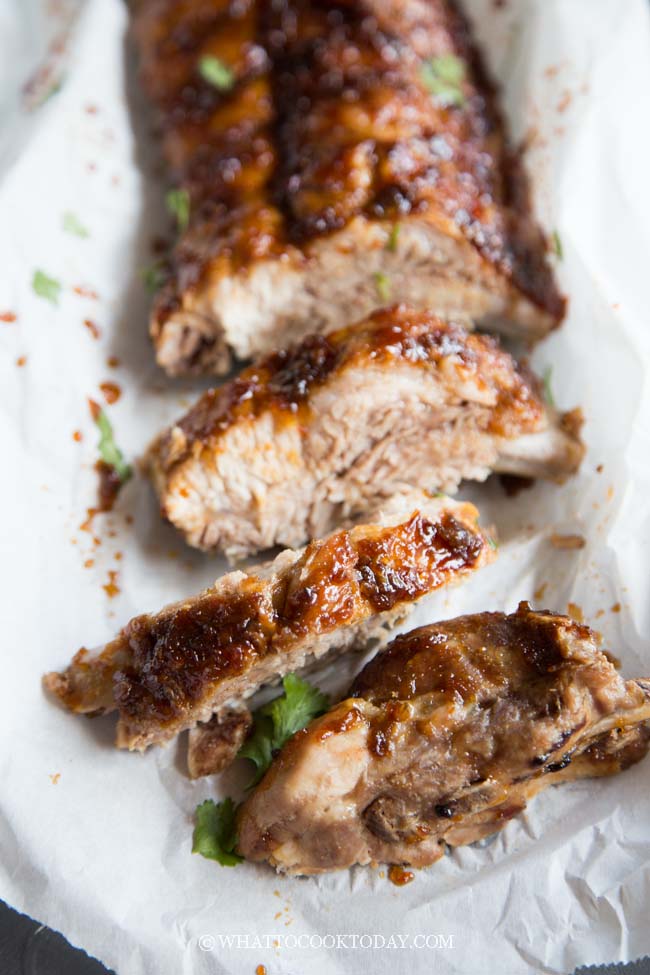 HOW TO STORE STORE LEFTOVER RIBS
Simply wrap them tightly in a foil and store in the refrigerator for up to 3 days max if possible.

HOW TO REHEAT LEFTOVER RIBS
Remove the ribs from the fridge for about 15 minutes. Preheat oven at 300 F. Place them in the oven and cover with a foil and reheat for about 15-20 minutes or until heated through.
May I tempt you?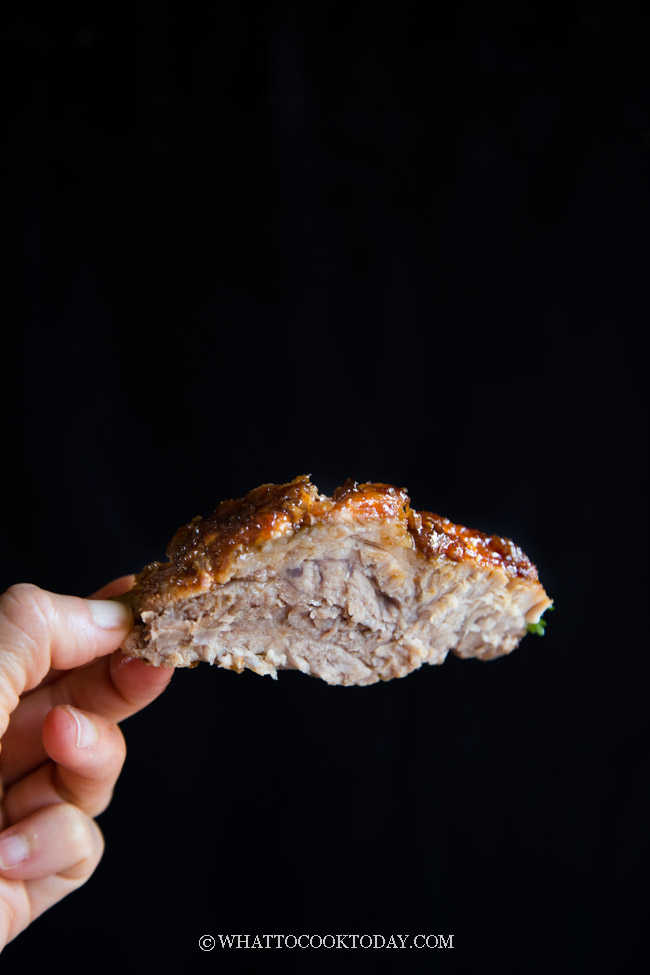 DID YOU MAKE THIS SUPER EASY INSTANT POT CHAR SIU RIBS RECIPE?
I love it when you guys snap a photo and tag to show me what you've made 🙂 Simply tag me @WhatToCookToday #WhatToCookToday on Instagram and I'll be sure to stop by and take a peek for real!
*Recipe is written for 6-quart Instant Pot. Cooking time should remain the same for 8-quart size but will take longer to pressurize. For mini duo (3-quart), I recommend to half the recipe and use the same amount of time to cook. Cooking time doesn't change because the time is based on the size of your pot not the quantity of the food*

Super Easy Instant Pot Char Siu Ribs
Ingredients
1

big slab pork ribs or spare ribs
Ingredients to grind:
1

small

onion

or 3 Tbsp onion powder

5

cloves

garlic

or 2 tsp garlic powder
Instructions
Prepare the sauce:
Place onion and garlic in a food processor and finely chop them. You can skip this if you use powdered onion and garlic. Mix this with the rest of the char siu sauce ingredients and transfer to a saucepan. Cook this over medium heat until sugar melted and the sauce is bubbly. Remove from the heat
Pressure cook the ribs in Instant Pot:
Remove any excess fat from the ribs and remove the membrane located at the back

Pour in 1/2 cup of water into the inner pot of instant pot. Place a trivet in there and place the ribs in an upright position, circling around the inner pot, with the meat side facing out. Cover the lid and press "pressure cooker" and make sure it's on high pressure. Set timer to 30 minutes if using baby back ribs. If you really want it to fall-off-the-bone tender, 40 minutes will do. For spare ribs, set timer to 35 minutes and 45 minutes for fall-off-the-bone tender.Once the timer is done, wait 10 minutes and then release pressure

Transfer to a rimmed baking sheet lined with aluminum foil, bone side down. Brush with half of the char siu sauce all over, saving the half for after broiling
Broil in the oven:
Turn on the broiler to low. You can use high too, but I prefer low so it won't get char too quickly. Let the ribs broil until the sauce is bubbling and have a nice brown but not burn. Remove from the oven and brush with the remaining sauce and serve
Recommended products: